This recipe for Triple Chocolate Chip Bars is filled with white, milk and dark chocolate chips. They are the perfect mix between a cookie and a brownie – crisp on the outside, and soft & chewy on the inside. These bars are any chocolate lover's dream!
I really think I've outdone myself with these bars!
My son has been off from school with the flu this week and I wanted to make something that would lift his spirits. Like his Dad, he is a big chocolate lover so I wanted to make something really special.
Let me tell you – these bars are definitely special! My husband says they are brownies, but I say they are cookie bars because of the crispy outer shell, but please feel free to test them for yourself and weigh in on the debate.
As a base for this recipe, I used my Classic Chocolate Chip Blondies recipe. I used that one instead of the more obvious chocolate variety because it is by far the best cookie bar recipe I've ever made.
It's been perfected and I use that recipe for gifts at Christmas or any time I want to make a big splash with my baking skills. I know I've baked some impressive treats, but that recipe is a family favorite and loved by anyone who tries it.
I've used it as a base for my Salted Caramel & Dark Chocolate Blondies recipe which is by far the most popular recipe on this site. So, it was the logical starting point for these bars.
The only thing I changed is the addition of melted chocolate and cocoa powder and my goodness, what a good choice it was. I think I'll be adding these to my gift baskets this year!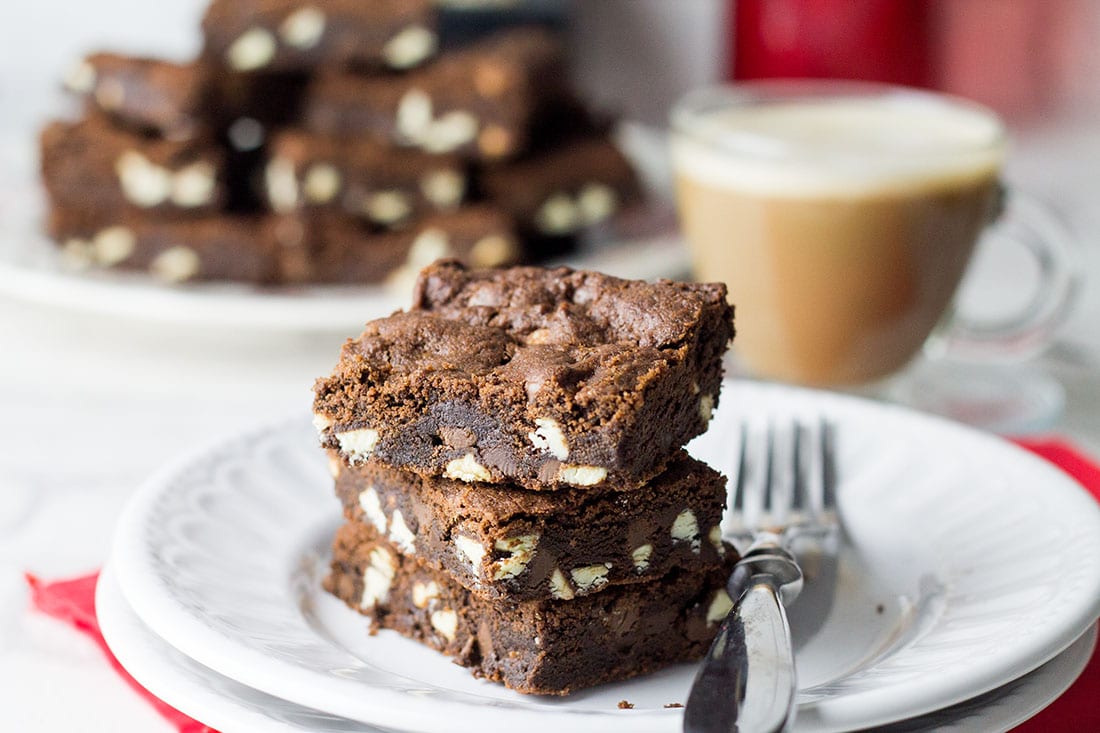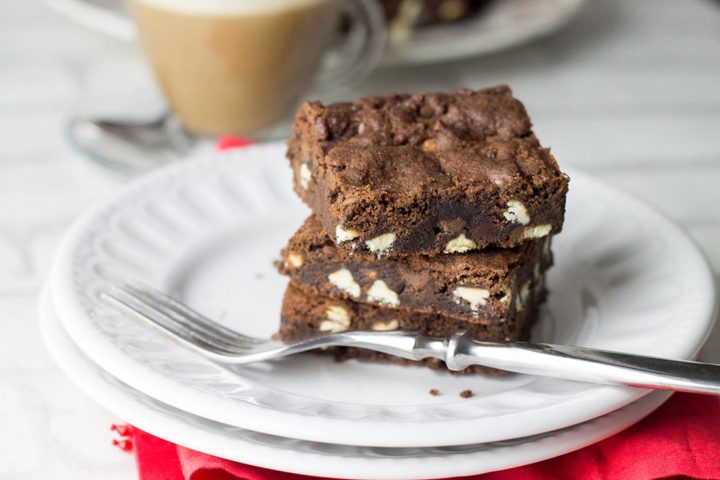 Stay Updated
Receive new recipes & dinner ideas straight to your inbox!
Let's Make Triple Chocolate Chips Bars
Is it a cookie? Is it a brownie? No, it's the perfect mix of the two! Once you've made these, you'll never go back.
Prep15 minutes
Cook30 minutes
Total45 minutes
Ingredients
1 cup Semi-Sweet Chocolate Chips to be melted
2 cups all-purpose/plain flour
¼ cup unsweetened Cocoa Powder
1 teaspoon salt
1 teaspoon baking powder
1 teaspoon baking soda/bicarbonate of soda
1 cup butter softened
1½ cups light brown sugar packed
¼ cup granulated sugar
2 large eggs at room temperature
1½ teaspoons vanilla extract
½ cup Semi Sweet Chocolate Chips
½ cup milk Chocolate Chips
½ cup white Chocolate Chips
Instructions
Preheat the oven to 350F/ 170C degrees.

Grease and flour an 8 x 12 baking pan.

In a microwave-safe bowl, melt 1 cup dark chocolate chips on medium power in 30-second intervals until just melted.

Sift the flour, Cocoa Powder, salt, baking soda, and baking powder together into a large mixing bowl.

In a large mixing bowl beat the butter, brown sugar and granulated sugar until fluffy.

Mix in the eggs one at a time, then add the vanilla. Add melted chocolate and mix until combined.

Mix in the flour mixture by hand until combined (this avoids a cake like consistency).

Fold in the chocolate chips.

Spread the dough into the prepared pan and smooth the top. Bake for 30 minutes. After 30 minutes, give the pan a little shake. If it jiggles in the middle, put the pan back in and try again every 5 minutes until there is no longer any jiggle.
Nutrition Information:
Calories: 445kcal (22%)| Carbohydrates: 55g (18%)| Protein: 4g (8%)| Fat: 23g (35%)| Saturated Fat: 14g (88%)| Cholesterol: 57mg (19%)| Sodium: 362mg (16%)| Potassium: 226mg (6%)| Fiber: 2g (8%)| Sugar: 38g (42%)| Vitamin A: 430IU (9%)| Calcium: 71mg (7%)| Iron: 2.5mg (14%)