Hi There. I'm Erren Hart and I am the writer, recipe developer, cook, and photographer behind Erren's Kitchen.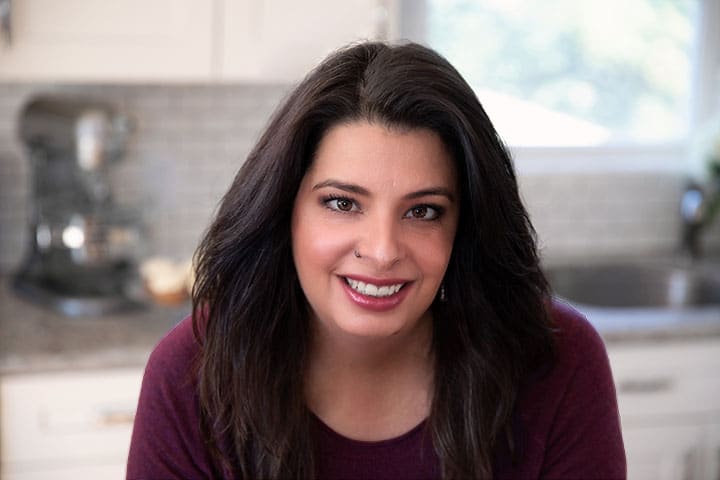 Since starting in 2014, I'm so fortunate that Erren's Kitchen has grown to be a popular food blog worldwide. My recipes are viewed well over a million times a month and I am so grateful to my audience for the support and dedication they've shown!
A Family Affair
With so much growth in recent years, I needed some help so it only made sense to turn to my husband. Happily married since 2005, my husband and I run Erren's Kitchen together. We're the lucky parents of a wonderful, clever son that we're hoping will join the business one day too!
Recipes To Reply On – From My Kitchen To Yours
No matter where you are in your cooking journey, my recipes are created to empower you as a home cook. They are tested and perfected before they're ever published so you can cook with confidence.
The Erren's Kitchen philosophy is all about giving you the tools you need to make the recipes a success in your kitchen too. From ingredient buying guides to cooking tips, and step-by-step videos, I do my best to share my knowledge and help you to not only recreate my recipes but be the best cook you can be!
A Little About Me…
Born in New York and raised in New Jersey, I started cooking at a very young age with my mother and Italian Grandmother.
This gave me the foundation for my passion for food and cooking from scratch. I've been studying the culinary arts in various forms ever since.
Having lived in England for fifteen years (from 2004 – 2019), along with my travels to different countries, I have the unique perspective of understanding how ingredients differ worldwide and try to reflect that in recipe development. I strive to use ingredients that can be easily found no matter where you are in the world.
What You'll Find On Erren's Kitchen
Recipes to Rely On – Not only will you find scrumptious recipes, but you'll also find a wealth of information to support you in your culinary journey.
Worldwide Recipe Conversions – Whether you cook using cups, milliliters, or grams, our recipes will convert the measurements for you.
No pre-packaged ingredients – except for a few small exceptions, I create my recipes using natural ingredients without the artificial additives and preservatives you find in prepackaged foods.
No Trendy Gimmicks – I don't chase trends just for the sake of it. Here you'll just get homecooked food, not flashy gimmicks.
Fresh, Delicious Food – From Srcratch
I love creating recipes that use fresh, simple ingredients instead of highly processed ones.
My blog reflects my beliefs on food and cooking – Food should be fresh, homemade, full of flavor, and simply delicious. Here you'll find easy-to-follow, tried, and tested recipes for everyone to enjoy!
If you have comments or questions, I would LOVE to hear from you!
You can follow me on Instagram, Facebook, Pinterest, or Twitter! Don't forget to sign up for my email list so you don't miss a single recipe!