With only 4 ingredients and some seasoning, this recipe for garlic Parmesan Roasted Brussels Sprouts will really be The Best Brussels Sprouts of Your Life!
Who knew Brussels Sprouts could be so exciting?  I mean really – Brussels Sprouts!
I guess I always thought of Brussels Sprouts as something that was served steamed, or dare I say, boiled to an inch of its life.  I guess that's why after bad childhood experiences, many of us wouldn't go near a Brussels Sprout again.
I think I was in my thirties and living in England before I had Brussels Sprouts as an adult.  My in-laws make them every year for Christmas.  They have them plain and steamed.  With a little butter, they're not bad, but they are far from exciting.
The excitement came in the form of a comment right here on this site.  I had a reader make my The Best Broccoli of Your Life recipe and commented that she loves the recipe and uses it with Brussels Sprouts as well.
Why this recipe works:
This recipe really couldn't be any simpler or more delicious.
It's a perfect side dish for weeknights but fancy enough for holiday dinners.
Roasting the Brussels Sprouts leaves them crisp on the outside and very tender on the inside.
Now, I've used the same recipe for different dishes like my Garlic Roasted Green Beans and my Garlic Roasted Carrots, but I never thought to try it with Brussels Sprouts.  I tried it last Thanksgiving and let me tell you – they really were outrageous!  The caramelized, crispy little beauties really were the star of the side dishes (Thank you, Melissa).
Here's how to make it:
Start with cleaning and trimming the brussels sprouts (if you haven't bought them cleaned for you).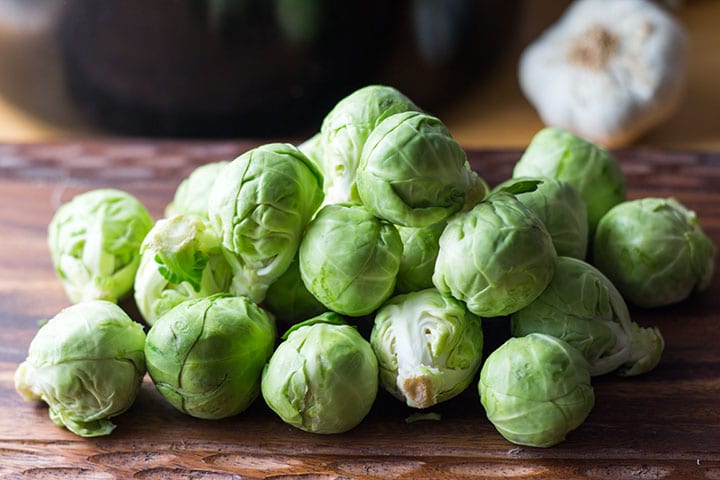 Halve the brussels sprouts, then place in a large roasting pan or a large baking sheet.
Add thinly sliced garlic to the pan.
Add grated Parmesan cheese, salt and pepper, and olive oil
Toss to coat.
Roast at 400F for 20 minutes.
Scatter with more fresh grated Parmesan cheese and serve.
I'll let you in on a little secret – I use this little gadget to slice my garlic.
 I'm telling you, if you don't have one, you need to get one because it is amazing!  You just fill it with peeled garlic, twist and thinly sliced garlic come out!  It's changed how I cook forever!  You can get one here on Amazon.com.  Just look at how thin it slices below!  It really did make preparing this dish a breeze!
Cook's Tips:
Dry your Brussels sprouts well.   The more dry they are, the crispier they'll be. If washing, use paper towels to pat them dry, or use a salad spinner to spin that liquid right off.
Brown is good. If you've never cooked Brussels sprouts this way, at first glance you may think it looks burnt out of the oven, but once you taste it, you'll know those little "burnt" areas are the best tasting parts!
When using untrimmed Brussels sprouts, trim off the dry part of the stem at the base of the sprout and any loose outer leaves. 
For extra caramelized area place the sliced brussels sprouts cut-side down at on the pan.  This will give a larger browned surface area.
Leave smaller sprouts hole to avoid over cooking.
On smaller sprouts that don't need to be halved, slice a cross in the stem (see the video). The stem is the toughest part of the Brussels sprout and the cross allows them to cook at the same rate as the tender area.
For an extra kick of flavor, try adding lemon zest before roasting and a squeeze of fresh lemon juice before serving.
Be sure to taste and season well before serving.
Brussels Sprouts Buying Guide:
Choose Brussels sprouts that feel tightly compacted and hard when squeezed.
Smaller sprouts tend taste sweeter, while larger sprouts taste more cabbage-like.
Untrimmed Sprouts are just as good as trimmed, and both should keep for several weeks refrigerated.
Watch the video showing how to make this recipe at the top of the post on PC and on mobile, under the recipe card.
★ Did you make this recipe? Please give it a star rating below!★
The Best Brussels Sprouts of Your Life
Jazz up your Brussels Sprouts with a hint of garlic and freshly grated cheese - making this simple side dish one that the whole family will love!
Ingredients
1

pound

Brussels Sprouts

Cleaned and trimmed

3

cloves

garlic

Thin sliced or chopped

1⁄4

cup

Parmesan Cheese

Freshly grated

salt and pepper

To taste

3

tablespoons

good quality olive oil
Instructions
Pre-heat the oven to 400F

If needed, clean and trim the Brussels sprouts and cut them in halves and place them in an oven safe dish.

Add the garlic, Parmesan cheese, salt, and pepper, followed by the olive oil. Toss to coat.

Roast in the oven uncovered for 20-25 minutes until crisp on the outside and tender on the inside. Serve with more grated cheese.
Nutrition Facts
The Best Brussels Sprouts of Your Life
Amount Per Serving
Calories 169
Calories from Fat 108
% Daily Value*
Total Fat 12g 18%
Cholesterol 4mg 1%
Sodium 129mg 5%
Potassium 450mg 13%
Total Carbohydrates 11g 4%
Protein 6g 12%
* Percent Daily Values are based on a 2000 calorie diet.
Update Notes: This post was originally published on: Dec 5, 2017, but was republished with an new photos, step by step instructions & photos, cooking tips, and a video in September of 2018.