This fast-track recipe for Quick & Easy Spaghetti Bolognese style meat sauce is bursting with Italian flavor and cooks in just 30 minutes!
Whether you're new to cooking or have advanced skills, this simple version of an Italian classic can be home cooked from scratch and enjoyed by the whole family.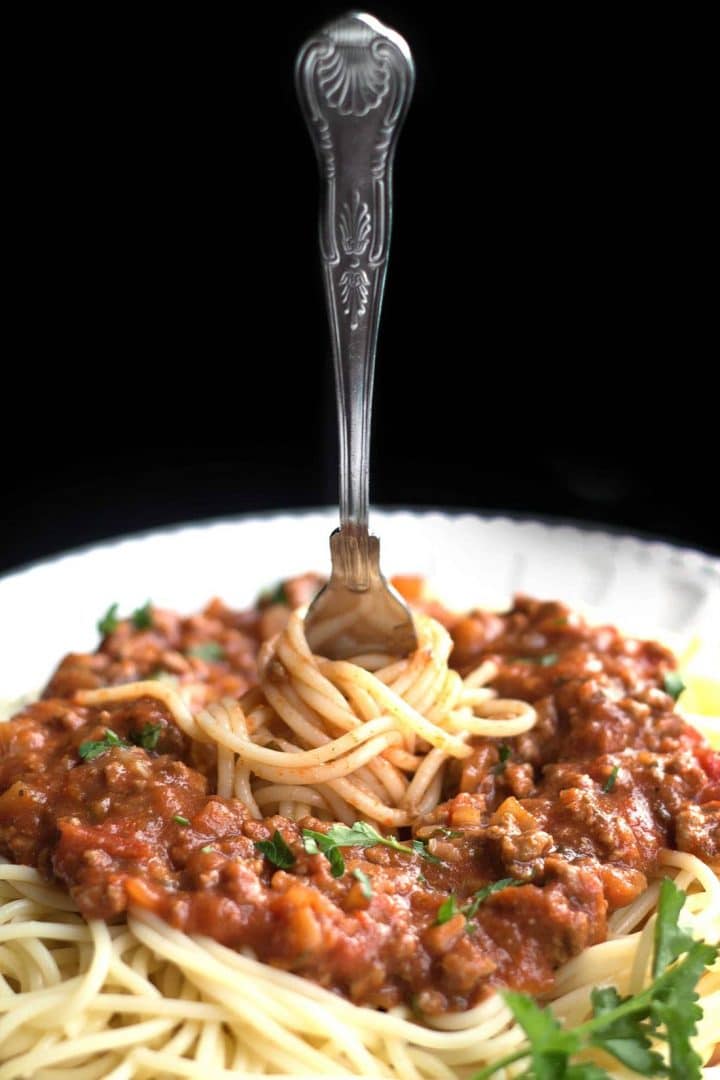 I grew up in an Italian American household, but my mother didn't really make Spaghetti Bolognese.  We grew up on Spaghetti and meatballs or Spaghetti and Sausage Ragu Sauce.
Most weekends we would get up early on Sunday mornings and help my mom with pealing and chopping garlic, mixing the meatballs with our bare hands & then rolling them to fry before adding them to the sauce.
I'll be honest, as a kid this wasn't my favorite thing to do on a Sunday morning, but if I didn't have to do it, who knows if I would have learned to cook at all.
Back then, every Sunday, the sauce would cook all day, and in our house, that was meat sauce.  Who knew meat sauce didn't have to take all day?
Why this recipe works:
Cooking with fresh, aromatics like garlic and onion add big flavors, which is key to quick and easy recipes.
Using a combination of fresh and dried herbs gives it a boost in flavor.
Seasoning the sauce well with salt and pepper makes all the difference in shortening cooking time; it brings out the flavors of all of the ingredients.
Making Spaghetti Bolognese meat sauce from scratch can be not only quick and easy, but delicious too!
To make the sauce, start with browning the meat until fully cooked and no pink shows at all in the meat (about 8 minutes). Drain and set aside.
Next add the onions, and saute until lightly golden, add the garlic and fry another minute.
Add the meat back to the pan.
Add the tomatoes.
Stir in seasoning and herbs.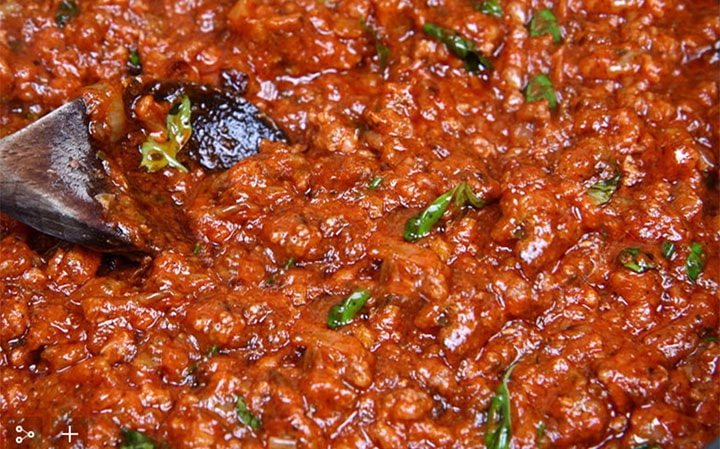 Simmer 15 minutes.
Serve with fresh cooked spaghetti.
It's a real crowd-pleaser and loved by adults and kids alike!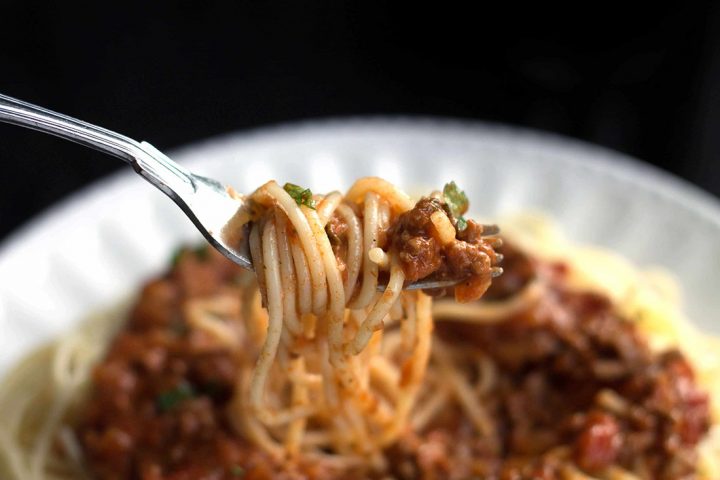 Cook's Tips:
Seasoning the meat with salt and pepper adds an extra kick of flavor which is key to speeding up the cooking time of this sauce.
Make this sauce your own by adding whatever fresh or dried herbs of your choice or even some red wine which can be added and cooked down before adding the tomatoes.
When adding the dried oregano, try rubbing it between your palms to release maximum flavor.
Use good quality tomatoes.  When shopping for ingredients, don't skimp, the better quality the tomatoes, the better the sauce will be.
If you have the time, simmering the sauce for longer will add a deeper flavor.
For extra depth of flavor, add a half cup of wine of your choice before adding the tomatoes.
Cooking Perfect Pasta:
Use a large pot with enough water to make sure pasta doesn't stick together.  A good rule of thumb is to use at least four quarts of water for every pound of pasta.
When cooking the pasta, salt like you mean it.  This is the only chance you get to add flavor to your spaghetti.
Test the pasta by tasting it.  Use the cooking time on the package as a guide, but set the timer one or two minutes early.  Taste pasta and go from there to ensure the texture is right.  Pasta should be al dente with a little bite.
Freezing and Making Ahead:
To freeze Bolognese sauce, store in an airtight, freezer safe container and freeze up to four months (once defrosted, it cannot be frozen again).
This Bolognese Sauce can be made ahead and refrigerated in an airtight container for two days.
★ Did you make this recipe? Please give it a star rating below!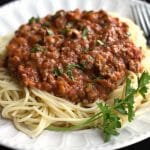 Quick & Easy Spaghetti Bolognese
This recipe is super simple version of a true Italian classic.
Ingredients
2

tablespoons

olive oil

1

large onion

chopped fine

1

lb

ground beef

1

(28oz)

can crushed or pureed tomatoes

3

cloves

garlic

chopped

1

teaspoon

dried oregano

1

good sized handful fresh parsley

chopped

Salt and pepper

to taste

½

lb

spaghetti

grated Pecorino Romano or Parmesan cheese for serving

optional
Instructions
Heat 1 tablespoon of the olive oil in a large pan over medium heat.

Add the ground beef and fry until fully cooked and no pink shows at all in the meat (about 8 minutes). Drain and set aside.

heat the remaining oil in the pan. Add the onions, and saute until lightly golden, 2 to 3 minutes.

Add the garlic and fry another minute.

Add the cooked meat, tomatoes, oregano, parsley and Bring to a boil.

Season with the salt and pepper. Reduce the heat to low, and cook for 15 minutes.

Meanwhile cook the spaghetti according to the package instructions. Drain and serve topped with the sauce and cheese (if using).
Nutrition Facts
Quick & Easy Spaghetti Bolognese
Amount Per Serving
Calories 487
Calories from Fat 171
% Daily Value*
Total Fat 19g 29%
Cholesterol 73mg 24%
Sodium 80mg 3%
Potassium 539mg 15%
Total Carbohydrates 46g 15%
Protein 30g 60%
* Percent Daily Values are based on a 2000 calorie diet.