This super simple recipe for Seasoned Baked Potato Wedges is a great recipe for fussy kids.  It turns an ordinary potato into delicious, homemade wedges that will top any frozen, oven fry by a mile!
This recipe is perfect for busy weeknights because it's so quick and easy to prepare and they taste like what you get from restaurants and pubs even though this is made in the oven and not deep fried.
And at just 165 calories for a big satisfying helping – what more could you want?
Make these Seasoned Baked Potato Wedges with burgers and it's truly is dinner on the table in under an hour.  Made from scratch.
Why this recipe works:
Roasting the potatoes at a high heat, makes the potato wedges soft and fluffy on the inside and crunchy on the outside.
The combination of spices adds a kick of flavor without the hassle of chopping garlic and onions.
Using low fat cooking spray makes them less oily in taste and much healthier.
The flavors used makes them a versatile side dish that works with anything from fish to steak.
These potato wedges are a sure crowd-pleaser and although they are full of flavor, they are also subtle enough to serve with a large variety of dishes.
Baked Potato Wedges are an easy and delicious way to serve potatoes. I created this recipe when I was craving seasoned fries.  I wasn't in the mood for all the peeling and I try not to deep fry anything.
So, with low fat and big in flavors in mind, this was what I created.
I'll tell you what – these are SO much better than any store bought frozen French fry you can ever buy.
Making them is simple.  Here's how you do it:
Start by washing the potatoes to get rid of any dirt (there's no need to peel them).
Then cut each potato in half lengthwise, cut each half into 2-4 wedges (depending on size) so that you end up with 6-8 wedges form each potato.

Add the wedges to a large mixing bowl, sprinkle with paprika, garlic powder, and onion powder.
Drizzle with about two tablespoons olive oil (or spay with low fat cooking spray}, and then toss everything together to coat.
Sprinkle with a salt and pepper to taste.
Place on a baking tray lined with non stick foil.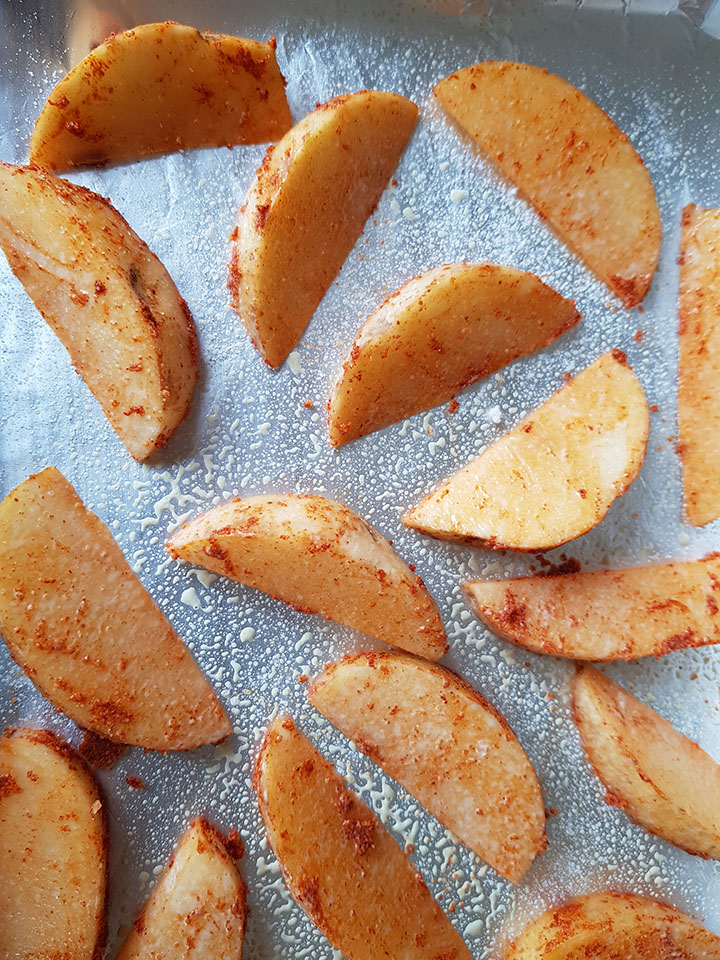 Bake for 35 – 40 minutes.
Serve fresh out of the oven and enjoy!
Love potatoes?  Why not try my recipe for Crispy Garlic Potato Roast, it's super simple and packed full of flavor!
COOK'S TIPS:
For fluffy wedges, use a waxy potato like Red potatoes, or Yukon Gold (although Russets will work too).  
Be sure to scrub the potatoes well as potatoes are not cleaned before being stocked at the grocery store.
Try mixing all the seasoning and spices in a Ziploc bag and then use it to toss the wedges in.  It's easier and gives good coverage.
Short on time?  Cooking time can be reduced if you cut the wedges thinner.
For Crisper Wedges:
Soak the potatoes in ice water:  If you have the time, once sliced, soak them for 30 minutes to remove some of the starch in the potatoes.  This allows the wedges to crisp up a little more than they would otherwise. 
Dry your wedges thoroughly:  Even if you don't soak the wedges, once sliced, lay the wedges out on paper towels, cover with more paper towels and press down to dry them completely.  The dryer the better.
Line a baking sheet with non-stick aluminum foil.  The surface of non-stick foil allows the potatoes to brown without sticking and burning.
Don't overcrowd the pan and be sure one of the flat sides is touching the foil.
For an extra crispy finish, turn the wedges half way through baking.
Variations:
For an extra kick of flavor, try omitting the garlic powder and adding fresh minced garlic, and grated Parmesan cheese and fresh herbs of your choice.
For a spicy hit, try adding cayenne pepper or crushed red pepper or red pepper flakes to the seasoning.
Reheating Wedges:
I'm often asked if these Baked Potato Wedges can be reheated.  Although I've been told you can, my opinion is that they just don't hold up as leftovers.
I have a soft spot for this recipe and would really love to know what you think if you try it. 🙂 And I'd love to know what YOUR potato wedge secrets are!!
Do you have a secret ingredient or technique for your famous wedges? Please share in the comments section below!
Watch the video showing how to make this recipe at the top of the post on PC and on mobile, under the recipe card.
★ Did you make this recipe? Please give it a star rating below!★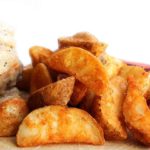 Seasoned Baked Potato Wedges
Healthier than fried, these chunky wedges are a true delight and perfect for busy weeknight meals. They're so good, they taste like what you'd get from a restaurant.
Ingredients
32

oz

waxy potatoes

(about 4 large potatoes)

1½

teaspoons

paprika

1

teaspoon

garlic powder

1

teaspoon

onion powder

sea salt

freshly ground black pepper

low fat cooking spray

or olive oil
Instructions
Preheat the oven to 400F/200C.

Wash the potatoes to get rid of any dirt (there's no need to peel them).

Cut each potato in half lengthwise, then cut each half into 2-4 wedges (depending on size. so that you end up with 6-8 wedges form each potato.

Add the wedges to a large mixing bowl.

Spray with low fat cooking spray (or If using olive oil, drizzle with about two tablespoons olive oil) then toss everything together to coat.

Season well with a salt and pepper.

Spread the wedges in a single layer over a large baking sheet lined with nonstick foil and bake for 35 to 40 minutes, or until golden and cooked through.

Remove from the oven and while they are still hot, season with salt to taste.
Recipe Notes
The nutrition information is reflecting low fat cooking spray.  Using olive oil will result in higher calories.
Tip: When using cooking spray - For extra crisp wedges, 1/2 way through the cooking time, spray again with the cooking spray and return to the oven.
Nutrition Facts
Seasoned Baked Potato Wedges
Amount Per Serving
Calories 165
% Daily Value*
Sodium 42mg 2%
Potassium 1057mg 30%
Total Carbohydrates 37g 12%
Protein 4g 8%
* Percent Daily Values are based on a 2000 calorie diet.
Update Notes: 
This recipe was originally posted in May of 2014, but was republished with step by step photos as well as nutritional information and video.
When I made these for the first time to shoot these wedges, I used low fat cooking spray instead of olive oil. Soon after, I started getting emails and comments from people saying that although they really enjoyed the recipe, their version didn't look like mine.  whether you make them with cooking spray or oil, they taste great, but they may look slightly different than the photos