This recipe for Quick & Easy Chinese Noodle Soup makes a super simple, aromatic broth that's packed with noodles and Asian flavor.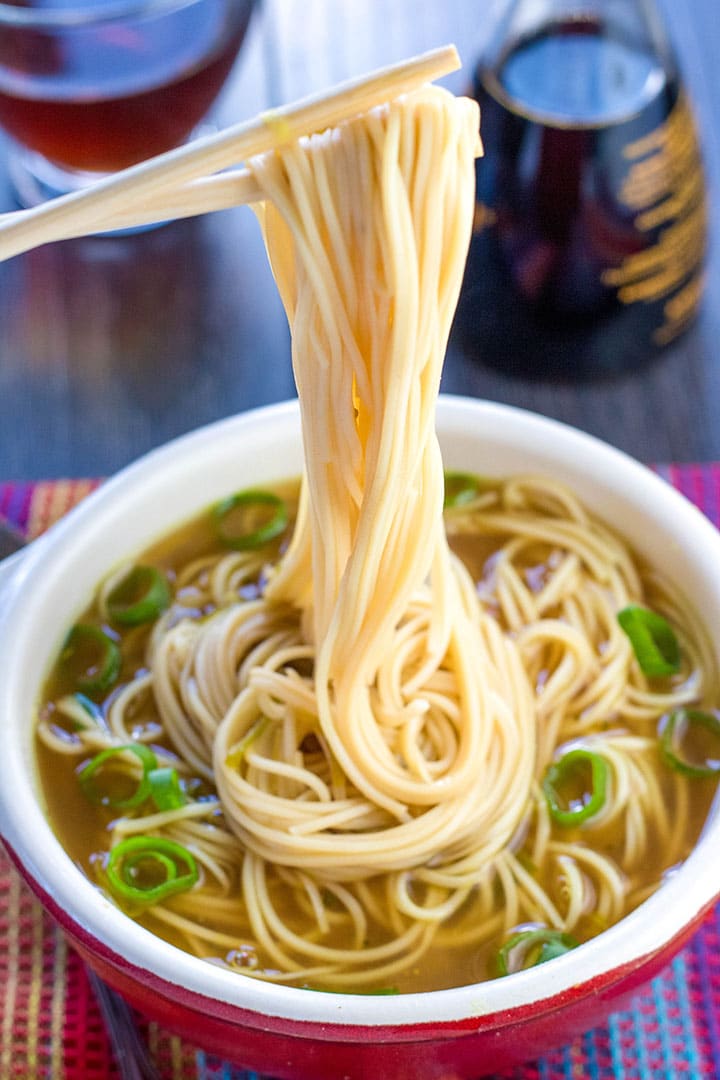 This is one of the most popular recipes here on Erren's Kitchen.  It's also one of my very first recipes I posted. So, it was time this post got a re-fresh.
In this update, I've included step by step photos and some tips and variations I think you'll really find useful.
This Chinese Noodle Soup is perfect for busy weeknights because it's so quick and simple and you can toss in any meat or vegetables you want.
The soup tastes authentic even though it calls for use store bought ingredients. And at only 236 calories for a generious bowl, it's a lot healthier than you get in restaurants.
This recipe is on the table in just 10 minutes – Homemade! What more could you want?
Why this recipe works:
The use of fresh ingredients makes it so much healthier than instant noodle soups that are loaded with unnatural ingredients.
The Asian flavors of the soy sauce and oyster sauce give it a rich authentic taste.
Cooking this dish all in one pot, not only makes it simple, but it flavors the noodles as they cook.
Once you try this recipe, you'll never go back to the packaged soups again!  Chinese cooking doesn't have to be complicated or difficult to make.
I know how easy it is to rip open a package of Ramon noodles to have a quick meal, but I'm telling you there really isn't a need.
This wholesome noodle soup is low fat, healthy and packed full of tasty ingredients.  So, don't let a lack of time ruin a meal, this speedy recipe is easy to whip up at the last minute.
I've created these recipes because I have cookbook after cookbook filled with pages of lovely looking Chinese noodle soups that quite often come with complicated directions.
My versions are not only quick and easy, but they are delicious too!  The best part is that they are made from fresh, simple ingredients and there's no packet of powder to be found.
If you make this soup (or any of my others), you'll never make the instant kind again!
Making the soup is so simple.  Here's how to make it:
In a large saucepan, heat the chicken stock and bring to a boil.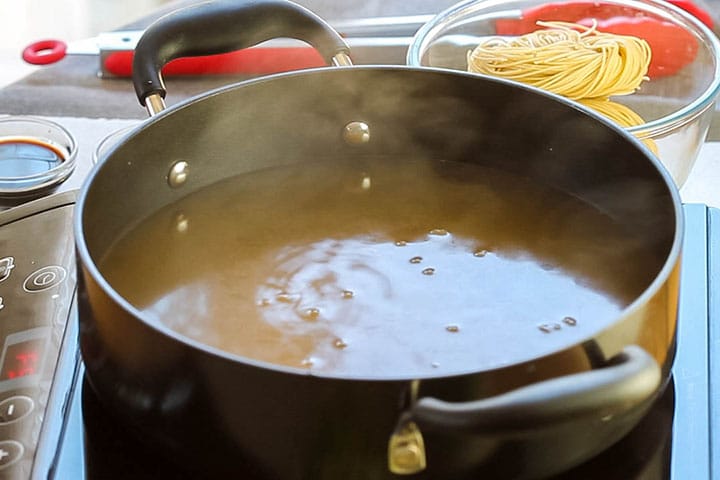 Add the green onions.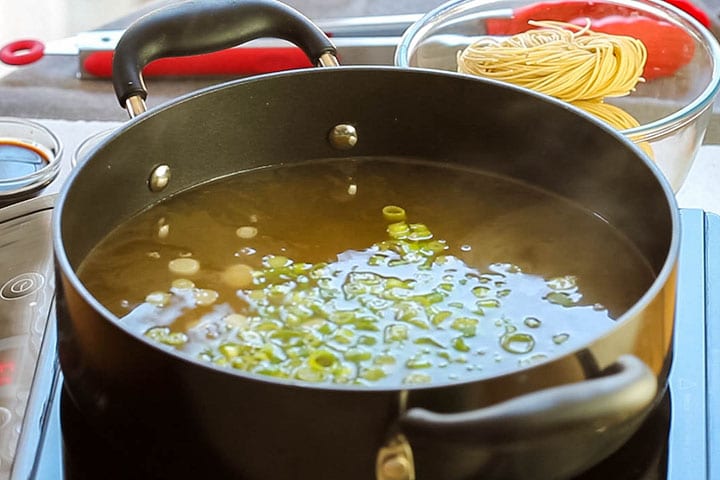 Add the Bok Choy or Chinese greens.
Add light & Dark soy sauce.
Add the  oyster sauce.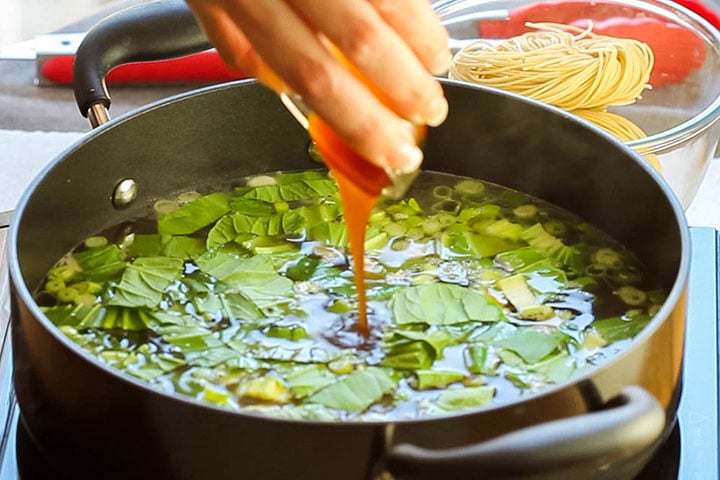 Add the noodles right into the soup.
Follow the instructions on your noodle's package for the cooking time. 
Once cooked, serve and enjoy!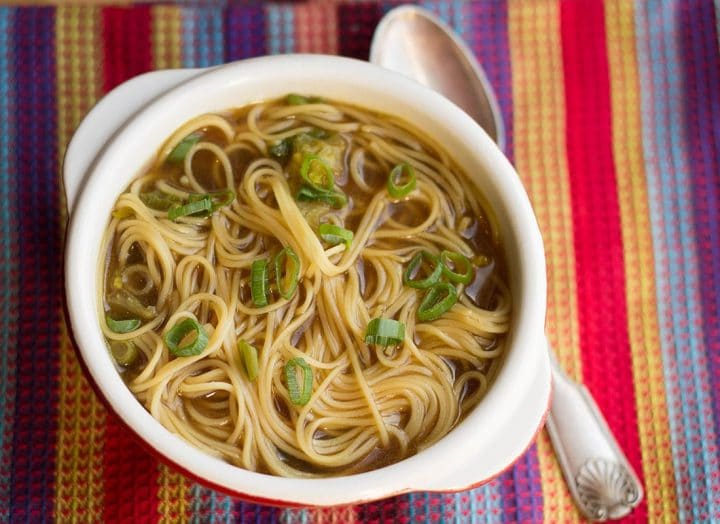 Cook's Tips:
Cooking the noodles separate:  If you are concerned that your noodles might suck up too much of the soup, just cook them separately (according to the package instructions), add them to the bowl and cover with the soup.
On Making your own stock:
This recipe tastes best with homemade stock.  I highly recommend making your own and storing it in the freezer.
Here's how to do it: 
Combine the beef or poultry bones, 1 large onion (with skin), 1 carrot, 2 celery stalks, a couple of bay leaves, salt and pepper in a large stockpot. Cover by about 2 inches of cold water.
Bring to a boil. Reduce the heat, and simmer for 3 to 4 hours, skimming off and discarding foam occasionally.
Strain stock through a fine sieve into a large bowl and discard solids. Cool stock to room temperature. Cover and refrigerate overnight. Skim solidified fat from surface, discard the fat and freeze in portions in a airtight container for up to 3 months.
Recipe Variations:
Meaty variation: Add leftover, cooked meats at the end to make it more of a complete meal.
Seafood variation: Add some raw shrimp during the last minute or so of the cooking process.  Once they turn pink, they're ready to serve.
Vegetarian Variation: Use vegetable stock and the vegetables of your choice. Cooking the vegetables separately is recommended so you control the firmness of the vegetables instead of over cooking then in the soup.
Love noodle soups?  Try one of my other recipes here on Erren's Kitchen:
Watch the video showing how to make this recipe at the top of the post on PC and on mobile, under the recipe card.
★ Did you make this recipe? Please give it a star rating below!★
Quick and Easy Chinese Noodle Soup
A delicious soup with plenty of vibrant flavors that's made all in one pot. Once you try this recipe, you'll never go back to the packaged soups again!

Ingredients
4

cups

chicken stock

3

green onions

finely sliced into rounds

1

tablespoon

oyster Sauce

1

tablespoon

low sodium light Soy Sauce

1

tablespoon

low sodium dark Soy Sauce

4

oz

Dried Chinese noodles

of your choice

4

leaves

Bok Choy/pak choi

sliced
Instructions
In a large saucepan, heat the chicken stock and bring to a boil.

Add the green onions, Bok Choy or chinese greens, soy sauces, oyster sauce & the noodles.

Reduce the heat and cook according to noodle package instructions (just until tender).

Serve hot
Nutrition Facts
Quick and Easy Chinese Noodle Soup
Amount Per Serving
Calories 236
Calories from Fat 9
% Daily Value*
Total Fat 1g 2%
Sodium 3440mg 143%
Potassium 660mg 19%
Total Carbohydrates 47g 16%
Protein 12g 24%
* Percent Daily Values are based on a 2000 calorie diet.
Update Notes: This post was originally published in April of 2014, but was republished with an updated recipe, new photos, step by step instructions, baking tips and a video in August of 2018.