Learn How to Make Stabilized Whipped Cream with this recipe for sweetened, stabilized whipped cream that will solve all your problems on how to get whipped cream to hold its shape for days.
This recipe is great to use for dessert toppings, frosting or pastry filling.
This is one of my most popular recipes here on Erren's Kitchen.  To date, it's been shared over 200k times.  I have used it for dessert fillings and toppings as well as frosting for countless recipes and its always a triumph.
That said, I thought it was time to give you some better step by step photos as well as a video showing it can be made using either a food processor or a mixer.
This recipe is close to my heart and I hope you enjoy it!
Have you ever tried to make a dessert using whipped cream that lost it's shape in no time flat?
You are not alone, but I'm here to help you make perfect whipped cream that will not only hold its shape but will stay looking beautiful for days.
The secret ingredient – skimmed milk powder (aka nonfat powdered milk or Nonfat Instant Dry Milk).
Why this recipe works:
The all-natural ingredients give a fresh, creamy taste that is simply delicious.
The powdered milk and confectionery sugar help thicken the cream and stabilize it so its easy to work with and holds its shape for days. 
I've seen a lot of whipped cream recipes that use gelatin, nondairy creamers and commercial cream stabilizers.  But I find the best way to make whipped cream that tastes natural and keeps its creamy texture without falling flat is ordinary powdered skimmed milk (If you can't find it in your supermarket, you can buy it here on Amazon).It's made from milk so it's natural in flavor, but still stabilizes the cream to hold its shape for days (scroll down for the complete recipe).
This Stabilized Whipped Cream Recipe can be used for Whipped cream frosting, pastry fillings, and much more.
Here's how to make it:
Add the skimmed milk powder, vanilla, and powdered sugar to the whipping cream.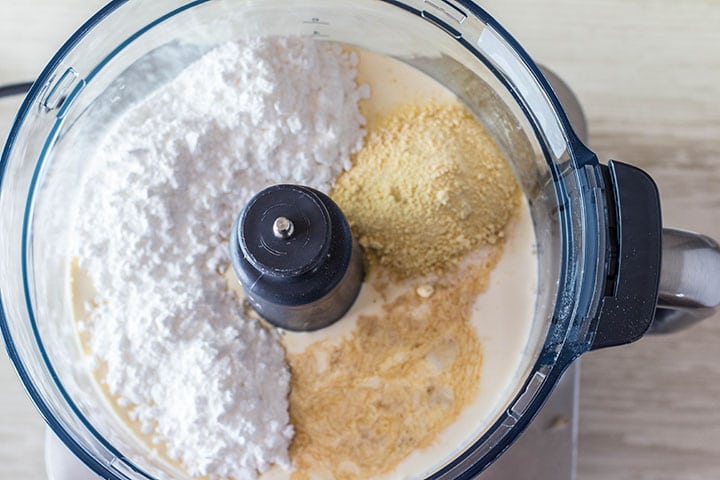 Whip until thick.  In a food processor, you'll start to see ripples as it thickens.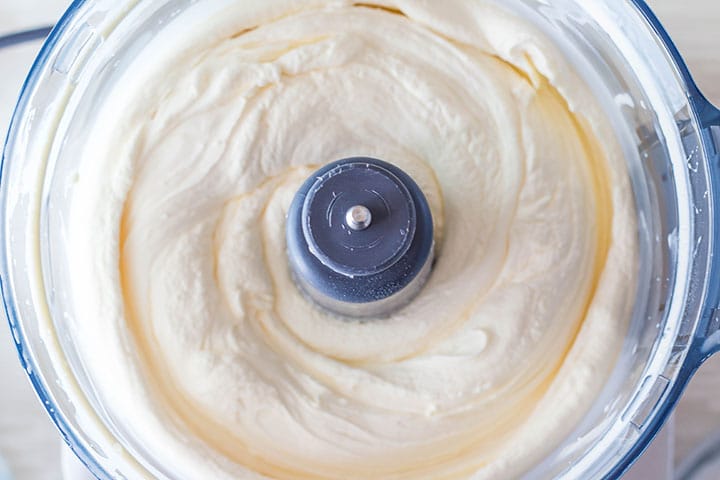 You'll know its ready when you are able to run a spoon through it with a well that holds its shape without any cream running into it.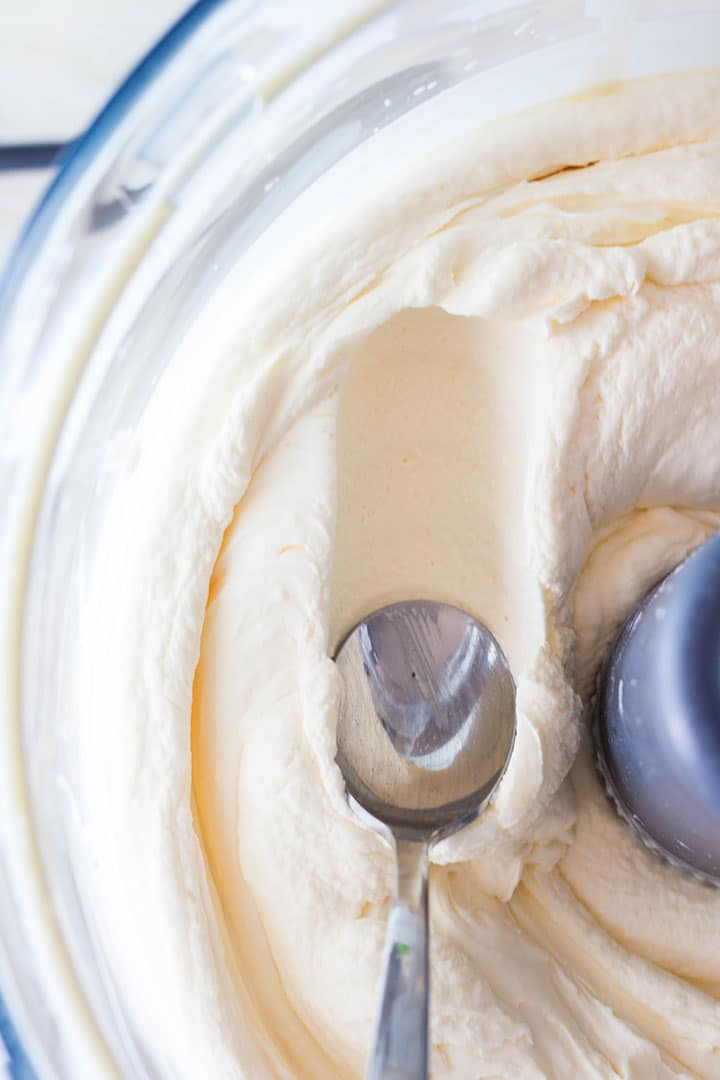 When removing the blade, you should be able to tip slightly it over the bowl with no whipped cream falling off the blade.
Pipe over the dessert of your choice.
Watch the video showing how to make this recipe at the top of the post on PC and on mobile, under the recipe card.
★ Did you make this recipe? Please give it a star rating below!★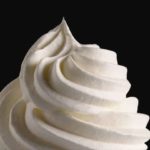 How To Make Stabilized Whipped Cream
This Easy Stabilized Whipped Cream recipe will hold up for days! It makes a great frosting or delightful whipped topping that's perfect for desserts, cupcakes or pastry.
Ingredients
1¼

cup

heavy cream (also known as double cream)

chilled

6-8

tablespoons

powdered sugar

1

teaspoons

vanilla extract

1

tablespoon

skimmed milk powder

aka nonfat powdered milk or Non fat Instant Dry Milk - on Amazon (see the link in the post above)
Instructions
Add powdered sugar (to taste), skimmed milk powder, and vanilla to the cream.

Using a food processor or mixer, whip the cream until it thickens (this doesn't take long at all so check often). When you run a spoon through it, and it holds it's shape without falling back into the gap, it's ready to use.

This recipe makes about 2 cups of whipped cream.
Nutrition Facts
How To Make Stabilized Whipped Cream
Amount Per Serving
Calories 156
Calories from Fat 117
% Daily Value*
Total Fat 13g 20%
Cholesterol 51mg 17%
Sodium 19mg 1%
Potassium 44mg 1%
Total Carbohydrates 7g 2%
Protein 1g 2%
* Percent Daily Values are based on a 2000 calorie diet.
Update Notes: This post was originally published on: Oct 12, 2015, but was republished with new photos, step by step instructions, tips, FAQs and a video in July of 2018.