This Pavlova recipe makes a scrumptious dessert for a hot summer's day. Choose your own topping for this summery delight that tastes as dreamy as it looks!
Believe it or not, before I moved to England, I never heard of Pavlova! Boy, was I missing out!
My closest English friend just loves the stuff and when I started this blog, she started requesting it. I have to say, I haven't made meringue in – well without aging myself, I'll just say a REALLY long time!
I was a little intimidated and kept putting it off. Then after seeing the twentieth Pavlova made on a cooking show this season, I decided to give it a try. Who knew you could make meringue in a food processor (with the whisk attachment of course)?
It took no time at all and much to my surprise, when I opened the oven after baking them, they looked like proper meringues! The true test came later when I cut them open to see if they had the marshmallowy center. Spoiler alert – they did!
If you're holding a Summer soiree why not try my Sweet Peach Iced Tea recipe, or Erren's Strawberry Cocktail to serve after dessert.
Why This Recipe Works:
Pavlova is really an easy dessert to make. Once you try it, you will make it over and over again.
The creamy texture and marshmallow center make for a light dessert perfect for summer.
Top this dessert with whatever fresh fruit is in season and a lovely whipped cream.
Here's How to Make It:
Start out by making the template for the meringues using two dessert plates on the baking paper. Use a pencil and then turn it over so it doesn't bake on the pencil side.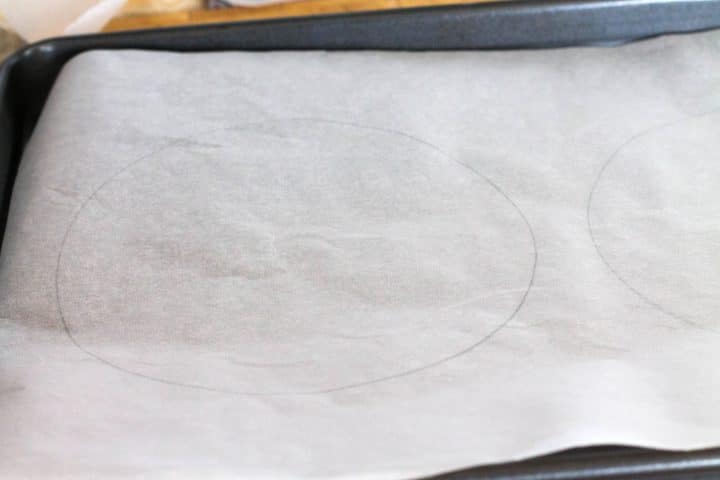 Then spread the meringue onto the template making a crater in the middle and baked them at 300F for an hour. A slow bake helps create the marshmallow center.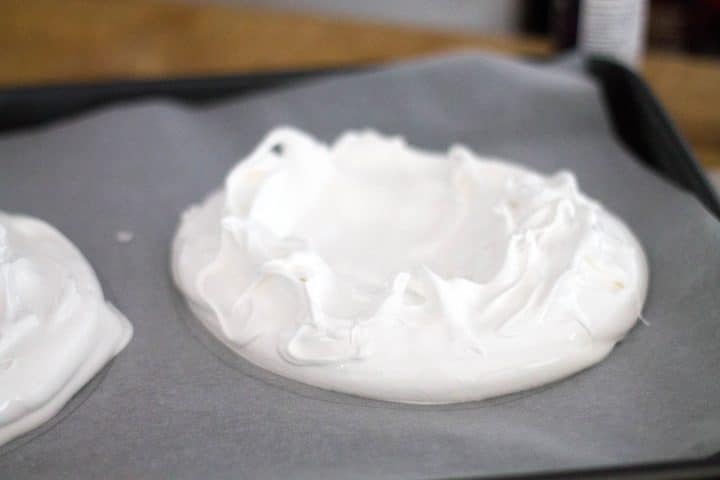 They cool in the oven (with the oven turned off of course). Once cooled (I left mine overnight), they are ready to fill.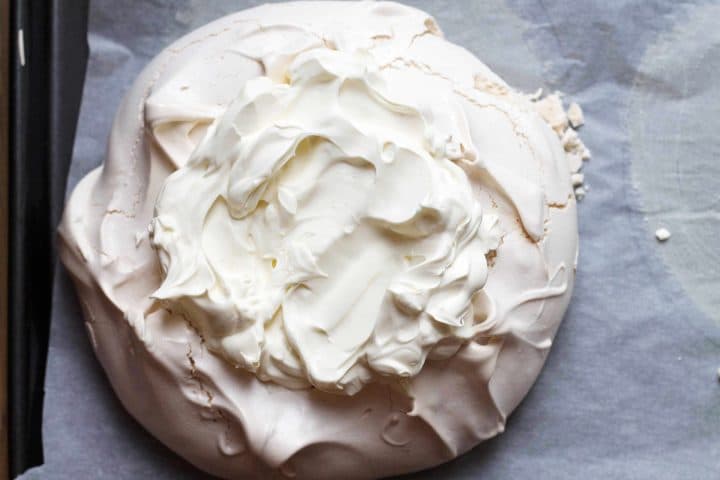 I was pretty impressed with myself after assembling these beauties. I took a quick shot on my phone and sent it right over to my friend just to brag. She too was impressed. I went straight to work on the photoshoot.
As soon as I was done, I went to my computer to transfer the photos and before they transferred, I had already cracked one open to taste it! It looked too good and I just had to try it!
Wow, am I such a Pavlova fan! The crisp, marshmallow of the meringue, combined with the creamy fresh cream and mixed fruit was unbelievably delicious!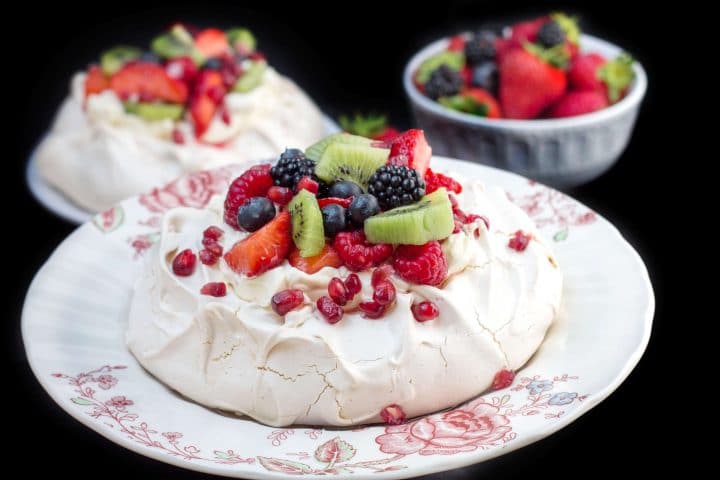 We nearly finished off both Pavlovas in 2 days and there was a little left on the third which my husband really looked forward to, but much to his disappointment, it went soggy.
This dish really is amazing, so if you've never tried Pavlova – don't wait – now is the time!
Baker's Tips:
If you plan to make it ahead, make the meringues and don't fill them until you plan to serve them. They will keep (unfilled) for a good few days in a well-sealed container.
Once filled, you can store them in the fridge for about two days.
You can leave them to cool overnight in the oven if needed.
Variations:
Stack Pavlova with cream and fruit in between layers for a cake-like dessert.
Add fruit puree with the meringue before baking for extra flavor.
★ Did you make this recipe? Please give it a star rating below!
Stay Updated
Receive new recipes & dinner ideas straight to your inbox!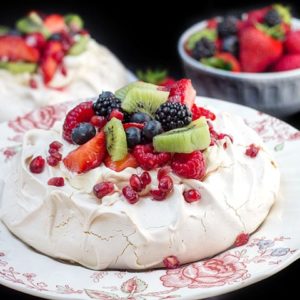 Let's Make Pavlova
Finish your meal off with this impressive dessert, packed with whipped cream and fresh summer fruit. A scrumptious treat for a hot summer's day
Prep30 minutes
Cook1 hour
Total1 hour 30 minutes
Cooling Time: 1 hour
Serves: 12 servings
Ingredients
4 egg whites
1¼ cups superfine sugar
1 tablespoon white wine vinegar
1 tablespoon cornstarch
1½ teaspoons vanilla extract
For the fruit:
2 cups mixed fruit of your choice
2 tablespoons water
2-4 tablespoons caster/superfine sugar to taste
For the cream:
1¼ cup whipping cream
6-8 tablespoons powdered sugar
1 teaspoons vanilla extract
1 tablespoon skimmed milk powder
Instructions
Preheat the oven to 300F/150C

Using a pencil, mark out the circumference of two dessert plates on parchment paper (about 3 inches apart from each other) for two Pavlovas or a dinner plate for one Pavlova. Flip the paper over so you are baking on the side without the pencil marks. You can see the circles through the paper.

Whisk the egg whites with a mixer until they form stiff peaks, then whisk in the sugar, 1 tablespoon at a time, until the meringue looks glossy.

Whisk in the vinegar, cornstarch, and vanilla.

Spread the meringue inside the circles, creating a crater in the middle by making the sides a higher than the middle.

Bake for 1 hour, then turn off the oven and let the Pavlova cool completely inside the oven (they can even be left overnight)
For the fruit:
When the meringue is cool, peel and cut the fruit (if needed). Add it to a medium bowl then add the water and sugar and mix to create juices.
For the cream:
Add powdered sugar (to taste), skimmed milk powder (This is to help give the whipped cream structure so it doesn't flatten out too quickly), and vanilla to the cream.

Using a food processor, whip the cream until it thickens (this doesn't take long at all so check often).

Spread half of the whipped cream into the craters of each Pavlova and do the same with the fruit.

My Pavlovas lasted two days in the fridge before going soft. However, each environment is different, so I recommend serving on the day of the assembly.
Nutrition Information:
Calories: 116kcal (6%)
Update Notes: This post was originally published in July of 2015, but was republished with new photos, step by step instructions and tips in June of 2018.