This Easy Banana Cake is great for using up overripe bananas in the fruit bowl. This delectable cake is incredibly moist and takes no time at all to throw together.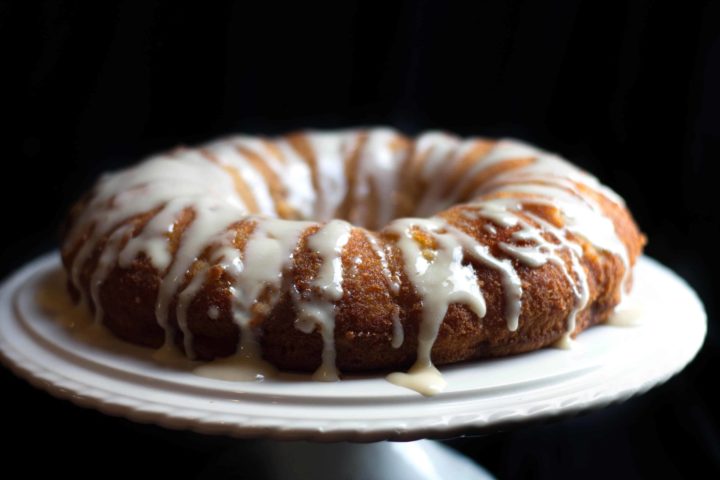 This simple cake is made by quite simply throwing all the ingredients in a food processor and blitzing it until combined!
This cake is so good, it really doesn't need the icing. It could be also served with just powdered sugar on top and nothing else! I swear I could eat it for breakfast!
I made this cake for my husband who was requesting banana bread, It came out unbelievably moist and delicious. I had a friend come over the following day for coffee.
I was in the middle of making a different cake when she arrived, but she saw this one and had to try it. She ate three pieces! Needless to say, I owe my husband another banana cake!
The best bananas to use for this cake are very ripe bananas – the riper the better. Mash them before adding them to the rest of the ingredients.
Tip: If you have fresh bananas that aren't very ripe, just warm them in the microwave for 30 seconds. It will allow you to mash the bananas easier.
After that, it's easy – just throw all the ingredients in the food processor and blitz on the lowest setting until combined (don't over blitz though or your cake could turn out too dense).
If you like my bundt pan, if you're in the US, you can one like mine from Amazon, here. If you're in the UK, click here). (As an Amazon Associate, a small commission is made from qualifying purchases), with just a light coating of Wilton's Cake Release (which is also available on Amazon. If you're in the UK, click here),(As an Amazon Associate, a small commission is made from qualifying purchases), the cake came out of the pan by just flipping the pan over onto the cooling rack. No struggling at all!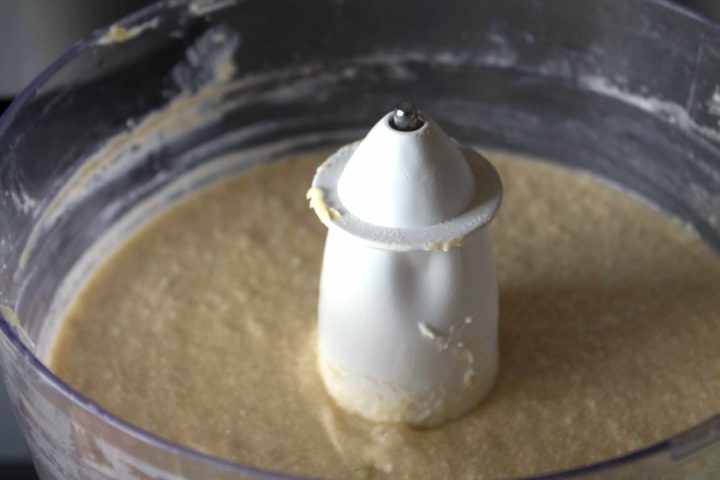 I apologize if the preparation photos haven't been great lately, but the dark and grey season has started in England and my kitchen is definitely not filled with a lot of natural light.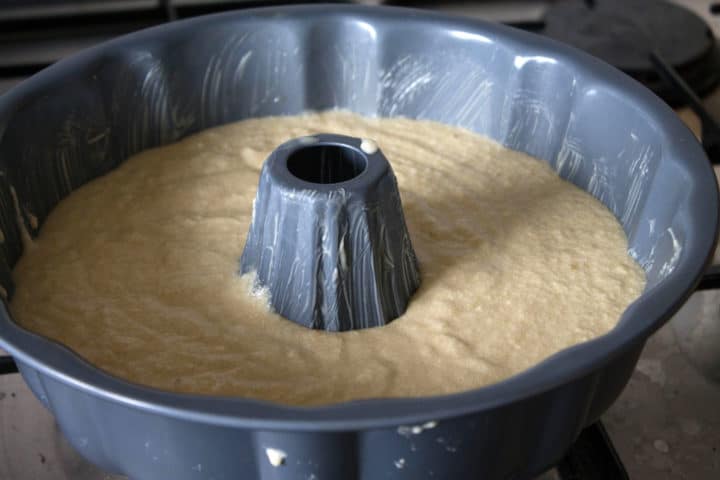 Bake in a bundt pan for 30-35 minutes or until a cake tester comes out clean.
I always allow bundt cakes to cool completely before removing them from the pan.
Once cooled, ice the cake with a simple drizzle icing.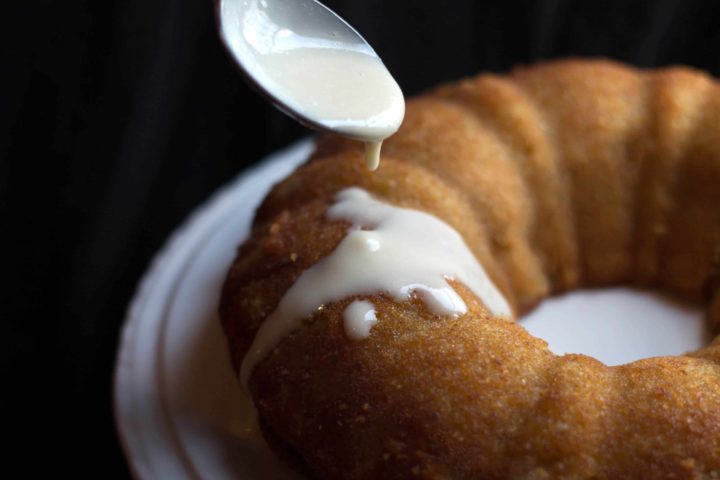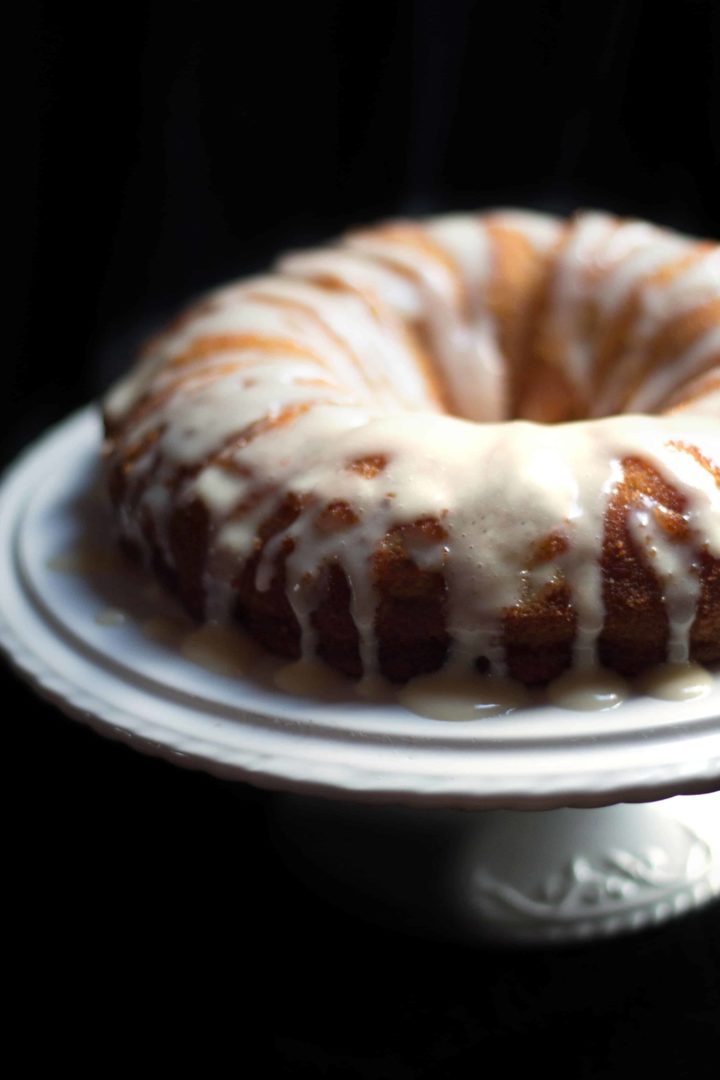 More Amazing Banana Recipes
Stay Updated
Receive new recipes & dinner ideas straight to your inbox!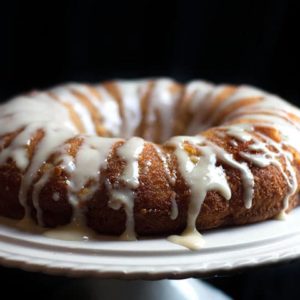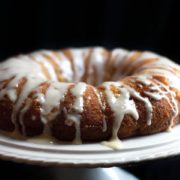 Let's Make
Easy Banana Cake
This simple yet delicious cake can be thrown together in no time, a great way to use up your overripe bananas.
Prep10 minutes
Cook35 minutes
Total45 minutes
Ingredients
For the cake
1½ cups Butter softened, plus extra for the tin
1½ cups granulated sugar
4 large eggs beaten
2½ cups all-purpose/plain flour
2 teaspoons baking powder
3 very ripe bananas mashed (add a bit of lemon juice if not using right away to avoid browning)
For the Icing:
3-5 tablespoons milk
2 tablespoons butter melted
1 cup powdered sugar
½ tsp vanilla extract
Instructions
Preheat the oven to 180°C or 350°F

Place all of the ingredients in a mixer or food processor and blend until everything is mixed.

Add the batter to a well greased 10 inch bundt pan and bake for 25-35 minutes or until a cake tester comes out clean.

Allow the cake to cool completely before removing from the pan.
For the Icing:
In a mixing bowl whisk together 2 tablespoons of the milk, the melted butter powdered sugar, and ½ tsp vanilla extract.

Add in more milk as needed 1 teaspoon at a time until it is the desired consistency.

Drizzle the icing over the cake once cooled.
Nutrition Information:
Calories: 648kcal (32%)| Carbohydrates: 83g (28%)| Protein: 4g (8%)| Fat: 34g (52%)| Saturated Fat: 21g (131%)| Cholesterol: 89mg (30%)| Sodium: 299mg (13%)| Potassium: 165mg (5%)| Fiber: 1g (4%)| Sugar: 52g (58%)| Vitamin A: 1040IU (21%)| Vitamin C: 0.2mg| Calcium: 65mg (7%)| Iron: 1.9mg (11%)