This beautifully flavorful recipe for Chinese Mushroom Noodle Soup is a quick & easy soup with an oriental twist that'll win over family and friends!
Lately, I'm obsessed with Chinese noodles!
I don't like to make anything in warm weather that takes more than a half-hour to cook so Chinese dishes fit the bill. I absolutely love Chinese soups but I am never satisfied with the noodle soups available from my local Chinese take out. The noodles are always soggy, the vegetables are waterlogged and the broth is always flat and tasteless. I'd much rather make it myself.
So I came up with this recipe and I couldn't be happier with the results. If you're a fan of Chinese Noodle dishes, you will love this soup, and if you love homemade Chinese food in general, why not try my Perfect Chinese Noodles (Lo Mein) or Chicken with Chinese Mushrooms.
I love cooking with dried mushrooms. They add so much flavor to every dish. I add the liquid and soak them into this broth and it gives such a beautiful hit of flavor.
Even with soaking the mushrooms, this recipe took only fifteen minutes to make. So it makes it even better! I also used a mixture of Chinese greens – Choy Sum & Pok Choy. I love both these vegetables and add them to a lot of my Chinese cooking.
I make a similar version that I add grated garlic and ginger too, but this was a simple quick meal so I left it out. I have to say, that will the mushroom liquid, this is so flavorful, it really wasn't missed!
Stay Updated
Receive new recipes & dinner ideas straight to your inbox!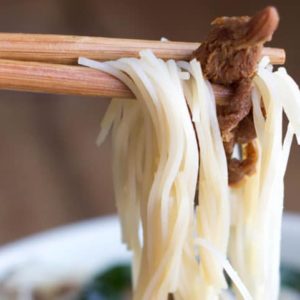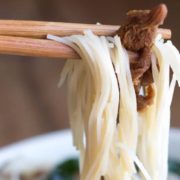 Let's Make Chinese Mushroom Noodle Soup
Who needs takeout with this wonderful Chinese Mushroom Noodle Soup recipe.
Prep10 minutes
Cook5 minutes
Total15 minutes
Ingredients
1 ounce dried morel, porcini or Chinese mushrooms
3 cups chicken or vegetable stock
3 green onions finely sliced into rounds
1 tablespoon oyster sauce
1 tablespoon light Soy Sauce
1 tablespoon low sodium Dark Soy Sauce
4 ounces Chinese noodles of your choice quick cook - no longer than 5 minutes
½ cup bok choy/pak choi chopped or sliced
½ cup choy sum chopped or sliced
Instructions
Soak the mushrooms in 2-3 cups of hot water for 10 minutes, then remove the mushrooms from the water with a slotted spoon and reserve 1 cup of the liquid.

Slice the mushrooms and set aside.

In a large saucepan, heat the chicken stock and bring to a boil.

Add the green onions, soy sauces, oyster sauce, mushrooms, mushroom liquid, Bok Choy, Choy Sum & the noodles. Return to a boil.

Reduce the heat and cook according to noodle package instructions (just until tender).

Serve hot.
Nutrition Information:
Calories: 361kcal (18%)| Carbohydrates: 63g (21%)| Protein: 13g (26%)| Fat: 4g (6%)| Saturated Fat: 1g (6%)| Cholesterol: 10mg (3%)| Sodium: 1895mg (82%)| Potassium: 554mg (16%)| Fiber: 1g (4%)| Sugar: 6g (7%)| Vitamin A: 1745IU (35%)| Vitamin C: 19.9mg (24%)| Calcium: 71mg (7%)| Iron: 2.1mg (12%)