This easy recipe for Japanese Chicken Curry is a healthier take on fried Chicken Katsu Curry. Impress your friends and family with this simple, fragrant, and flavorful dish.
Our town just had a new Japanese restaurant open. We're real foodies and make our way to any new restaurant that opens nearby. I'll be honest, besides sushi and hibachi grills, I've never really had Japanese food before, but after going to that restaurant, it's a new favorite.
They had a small lunch menu (we don't have a babysitter so we schedule days off to have lunch dates while our son is at school). It was set up into meals. You pick one appetizer option (I had amazing pan-fried dumplings), then you get a cup of Miso Soup (which was surprisingly delicious for a soup made from bean paste) and after that, you choose the main meal.
I had chicken teriyaki which was great, but my husband had a Chicken Katsu Curry. One taste and I dreamed about his lunch for days. So much that he had to take me back a week later so I could have my own. Of course, I had to figure out to make my own. I'm on a diet and they used thinly sliced chicken breast that was coated in panko bread crumbs and deep-fried.
Although that's good for a treat, it's not something I make on a regular basis. I cut the cried chicken and used boneless, skinless chicken thighs instead. This dish is loaded with tender chunks of chicken, carrots, and potatoes in a rich savory curry sauce. I'm telling you, if you are a fan of curry, you have to try this!
Stay Updated
Receive new recipes & dinner ideas straight to your inbox!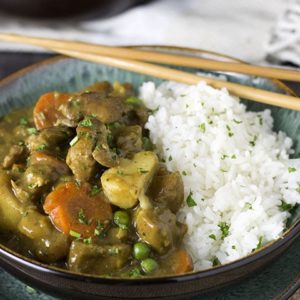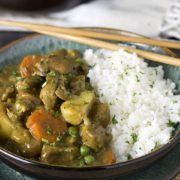 Let's Make
Japanese Chicken Curry
Impress your friends and family with this simple, fragrant and flavorful Japanese Chicken Curry.
Prep20 minutes
Cook25 minutes
Total45 minutes
Ingredients
6 boneless skinless chicken thighs with the fat trimmed and cubed
2 tablespoons of vegetable oil
2 onions sliced
4 large garlic cloves chopped
2 medium carrots sliced
2 tablespoons of plain flour
1 tablespoon of mild curry powder I used McCormick - UK Schwartz
2 cups of chicken stock
1 tablespoon of honey
2 tablespoons of soy sauce
2 teaspoons of garam masala
2 large potatoes peeled and cubed
½ cup of frozen peas
Instructions
Heat oil in a medium saucepan, start by browning the chicken on all sides. Remove from the pan and set aside.

In the same pan, add more oil if needed. Add the onion and garlic and cook until softened.

Add the flour, curry powder, and garam masala. Cook for 1 minute. Gradually stir in stock until combined; add the honey and soy sauce.

Add the browned chicken, carrots, and potatoes.

Slowly bring to the boil, turn down the heat and simmer for 25 minutes or until sauce thickens and the carrots are soft enough to eat. Add the peas and cook another minute.

Serve over rice.
Nutrition Information:
Calories: 464kcal (23%)| Carbohydrates: 38g (13%)| Protein: 42g (84%)| Fat: 16g (25%)| Saturated Fat: 7g (44%)| Cholesterol: 164mg (55%)| Sodium: 861mg (37%)| Potassium: 1257mg (36%)| Fiber: 6g (25%)| Sugar: 11g (12%)| Vitamin A: 5290IU (106%)| Vitamin C: 26.4mg (32%)| Calcium: 91mg (9%)| Iron: 6.4mg (36%)