This recipe for Homemade Chicken Noodle Soup makes a flavorful stock and a soup that will warm you up on a chilly day. What could be better than home-cooked chicken soup?
I have been making this soup since I was old enough to cook. It's how my grandmother made it and it's how my mother taught me. It's always been a much-loved recipe and I can't believe I haven't posted it before now.
Last week I caught my son's flu. There are many reasons it's terrible being so far from my family, but one of those things is that when I'm sick, my mom isn't around to make me chicken soup and I'm forced to make it myself.
Luckily, I've made this recipe so many times, I can make it in my sleep so it doesn't take a lot of effort.
I make my stock with chicken wings. I do this instead of using a whole chicken because, A) It's cheaper and I'm not wasting a whole chicken on stock and, B) You get a lot of flavor from the bones of the wings and when the stock is done, they have done their job and there's no dry overcooked meat to add to the soup.
I discard the wings and add boneless thighs to the soup its self, so it's super simple. If you don't want to waste what meat is on the wings, feel free to take the extra time to remove the meat before throwing away the bones.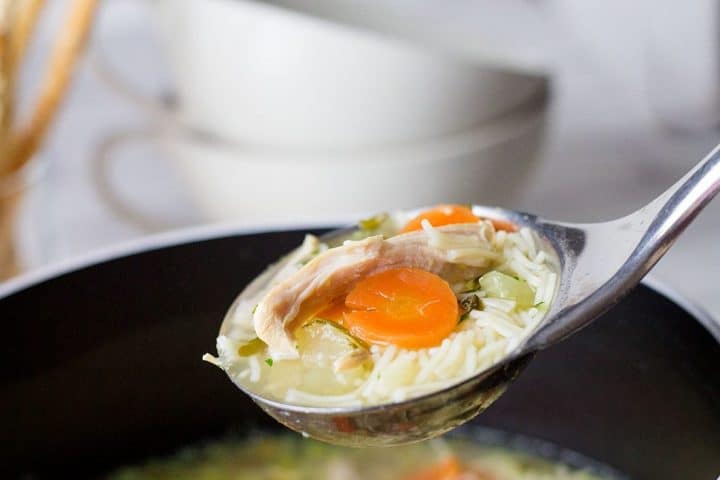 I didn't state how much pasta or noodles to use because everyone is different. I like a lot of noodles and my husband likes it soupy so I'm leaving it up to you.
The stock is really flavorful and it's a really wonderful soup. I hope you like it and it becomes a family favorite in your house too.
Other Soup Recipes You'll Love
★ Did you make this recipe? Please give it a star rating below!
Stay Updated
Receive new recipes & dinner ideas straight to your inbox!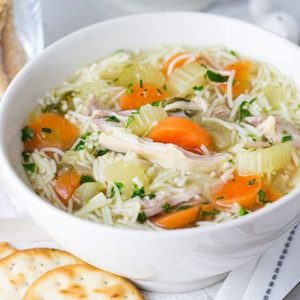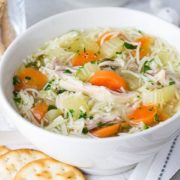 Let's Make Homemade Chicken Noodle Soup
Nothing says comfort like a steaming bowl of Homemade Chicken Noodle Soup. With this recipe, satisfaction is guaranteed!
Prep30 minutes
Cook2 hours 20 minutes
Total2 hours 50 minutes
Ingredients
For the stock:
2 pounds of chicken wings
2 carrots cut into large chunks
3 celery stalks cut into large chunks
2 large white onions peeled and halved
5 cloves of garlic peeled and crushed
a good handful fresh parsley
1 bay leaf
1 teaspoon of whole black peppercorns
For the soup:
2 tablespoons extra-virgin olive oil
1 large onion chopped
2 garlic cloves minced
3 medium carrots sliced
3 celery ribs sliced
1 bay leaf
8 cups of chicken stock from above recipe
8 boneless skinless chicken thighs
1 good handful fresh flat-leaf parsley finely chopped
Salt & pepper to taste
Pasta or noodles of your choice
Instructions
For the stock:
Place the chicken wings and vegetables in a large stockpot over medium heat. Pour in only enough cold water to cover (about 3 quarts); too much will make the broth taste weak. Toss in the parsley, bay leaves, and peppercorns, and allow it to slowly come to a boil.

Lower the heat to medium-low and gently simmer for about 1-½ hours, partially covered. As it cooks, skim any impurities that rise to the surface; add a little more water if necessary to keep the chicken covered while simmering.

When the stock is finished cooking, you can either discard the chicken wings with the vegetables or remove them to a bowl, wait until they are cool enough to handle, and remove the meat to add to the soup. Discard the skin and bones.

Carefully strain the stock through a fine colander into another pot to remove the vegetables. At the point, you can use the stock immediately for the soup or if you plan on storing it, place the pot in a sink full of ice water and stir to cool down the stock. Cover and refrigerate for up to one week or freeze.
For the soup:
Place a soup pot over medium heat and add the oil and coat the pan.

Add the onion, garlic, carrots, celery, and bay leaf. Cook and stir for about 5 minutes, until the vegetables are softened but not browned.

Add the stock, chicken thighs, and parsley. Stir to combine and bring to a boil.

Lower the heat and simmer for 15-20 minutes until or until the chicken is cooked through and the vegetables are tender.

Meanwhile, cook the pasta or noodles of your choice and drain.

Carefully remove the chicken to a cutting board and using a fork and knife, cut the chicken into bite-sized pieces and carefully, return to the soup.

Discard the bay leaf from the soup.

Add the pasta to bowls and cover with soup to serve.
Nutrition Information:
Calories: 647kcal (32%)| Carbohydrates: 39g (13%)| Protein: 56g (112%)| Fat: 28g (43%)| Saturated Fat: 7g (44%)| Cholesterol: 215mg (72%)| Sodium: 722mg (31%)| Potassium: 1243mg (36%)| Fiber: 3g (13%)| Sugar: 11g (12%)| Vitamin A: 8850IU (177%)| Vitamin C: 10.8mg (13%)| Calcium: 92mg (9%)| Iron: 3.4mg (19%)