This classic Victoria Sponge Cake with Whipped Cream recipe uses the classic ingredients of vanilla sponge cake, fresh whipped cream & raspberry jam.
Using a Stabilized Whipped Cream recipe that holds shape for days makes this a match made in heaven
I absolutely LOVE Victoria Sponge Cake. Whether you're serving it for a special occasion or just to satisfy a craving, You can't go wrong with this perfect cake.
When I first started this site, I posted a recipe for Victoria Sponge Cake with Buttercream instead of whipped cream. Whilst this is a wonderful cake, I had so many complaints!
People really care about keeping a Victoria Sponge just as it should be and that's with fresh whipped cream NOT buttercream.
Why This Recipe Works
Using a stabilized whipped cream helps the cake maintain its shape.
Adding a little sweetness to the cream makes it extra special.
This combination of classic sponge cake, jam, and cream is so simple but so impressive.
About the Cream
The only thing I did differently than a lot of English recipes I have seen is I've sweetened my whipped cream.
Americans will understand me when I say that unsweetened whipped cream is just one English thing that I can't do – ever. It's like making ice cream with no sugar. For Americans, it just wouldn't work. I hope on this occasion, I will be forgiven for messing with a British Classic (yet again).
That said, I also added skimmed milk powder to my whipped cream because it helps keep its shape and not flatten out like whipped cream normally does (although the jam did get absorbed into the cake a bit).
How to Make Victoria Sponge Cake with Whipped Cream
Mix all the ingredients in one bowl.
Divide the batter between two pans.
Bake for around 25 minutes.
Whip the cream
Assemble the cake with jam and whipped cream
Serve and enjoy!
This cake is absolutely delicious. The cake is perfectly fluffy and moist and full of buttery vanilla flavor (it's actually my go-to cake recipe and I've used it as a base for many of the cakes on this site). I have to say – I love Victoria Sponge Cake no matter what kind of cream it's filled with, but I have to admit, I can see why English people were so up in arms over it!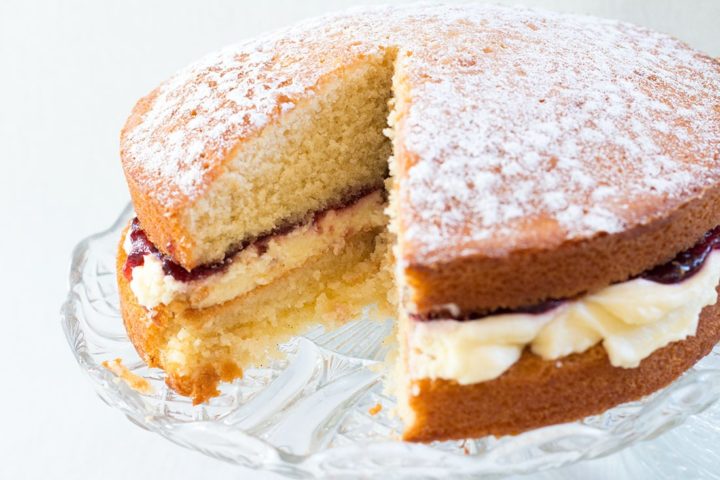 Stay Updated
Receive new recipes & dinner ideas straight to your inbox!
Let's Make Victoria Sponge Cake with Whipped Cream
This classic British cake is so simple, but most decadent cake you'll ever eat. Guaranteed!
Prep20 minutes
Cook25 minutes
Total45 minutes
Ingredients
For the cake:
1½ cup granulated/caster sugar
2¼ cup Softened Butter
6 eggs
2¼ cup flour
2 teaspoon baking powder
2 teaspoons vanilla extract
6 tablespoons milk
For the cream:
1¼ cup Whipping Cream
6 to 8 tablespoons powdered sugar
1 teaspoons vanilla extract
1 tablespoon skimmed milk powder optional
​½ cup good quality raspberry jam
Instructions
For the cake:
Preheat the oven to 180°C or 350°F

Place all of the ingredients in a mixer or food processor and blend until everything is mixed.

Split the batter between 2 greased 8 inch round tins, and bake for 25 minutes or until a cake tester comes out clean.

Cool completely.
For the cream:
Whip the cream until it forms soft peaks. Add powdered sugar (to taste), skimmed milk powder (if using – This is to help give the whipped cream structure so it doesn't flatten out too quickly), and vanilla. Mix in gently.

Place one layer of the cooled cake on a cake plate and the other half on a plate. Spread the whipped cream over the bottom layer and then spread the jam over the other and sandwich them together.

Dust with a powdered sugar before serving.
Tips + Notes
Please note: The metric conversion for this recipe is not a conversion, but an alternate recipe that was made using British ingredients. If you are outside the US, please follow those measurements for the best results.
Nutrition Information:
Calories: 490 (25%)| Carbohydrates: 29g (10%)| Protein: 5g (10%)| Fat: 39g (60%)| Saturated Fat: 23g (144%)| Cholesterol: 194mg (65%)| Sodium: 263mg (11%)| Potassium: 223mg (6%)| Sugar: 11g (12%)| Vitamin A: 1405IU (28%)| Vitamin C: 2.1mg (3%)| Calcium: 111mg (11%)| Iron: 1.3mg (7%)
Erren's Kitchen is written and produced for informational intentions only. We are not certified nutritionists, and the nutritional information found on this site has not been assessed or authorized by a nutritionist or the FDA. The nutritional information found in our recipes is offered as an estimate and should not be considered a guarantee or fact. The estimated data is provided as a courtesy and calculated through a third-party online nutritional calculator, spoonacular API. Although we do our best to provide accurate nutritional information, these figures should be considered rough estimates. Many factors, such as brands or products purchased and the nutritional fluctuations that naturally occur in fresh produce, can alter the effectiveness of the nutritional information in any recipe. Furthermore, various online calculators provide different results depending on their particular algorithms and nutrition fact sources. To obtain the most precise nutritional information in a provided recipe, you should calculate the nutritional information with the exact ingredients you are using when preparing the recipe using your preferred nutrition calculator.