Indulge in our decadent double chocolate chip cookies: perfectly crisp, chewy, and oozing with chocolate goodness. The best treat awaits!
If you're looking for the ultimate chocolate indulgence, look no further! Our double chocolate chip cookie recipe is the answer to your cravings. These cookies combine the perfect balance of crispy edges, chewy centers, and a rich, chocolatey, irresistible flavor. We've spent countless hours in the kitchen, perfecting this recipe to ensure every bite is a chocoholic's dream. So let's dive into the delicious world of double chocolate chip cookies and explore the secrets behind making these mouthwatering treats!
Why This Recipe Works
Using melted chocolate and cocoa powder creates a double dose of chocolate goodness, providing depth and richness to the flavor profile.
Brown sugar adds a hint of caramel-like sweetness and contributes to the chewiness.
Using Butter instead of shortening helps create tender cookies with crispy edges.
Bread flour keeps the cookies from spreading too much and adds extra chewiness to the cookie texture.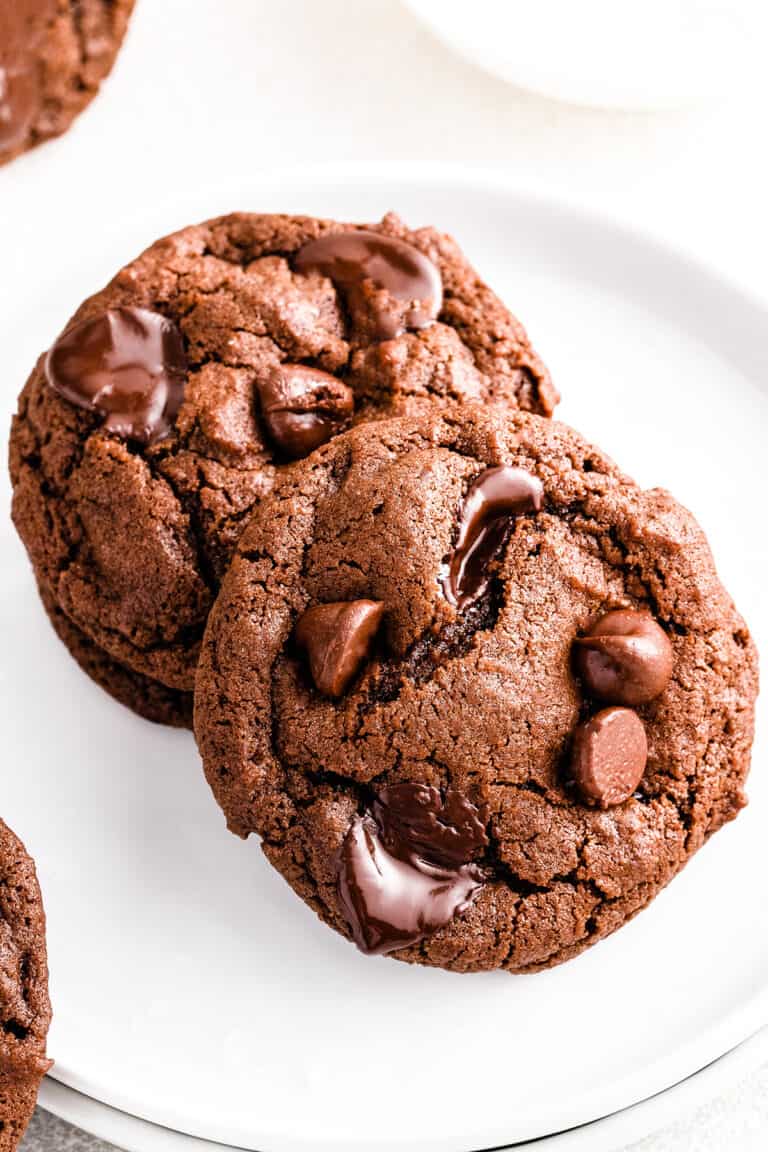 Ingredient Notes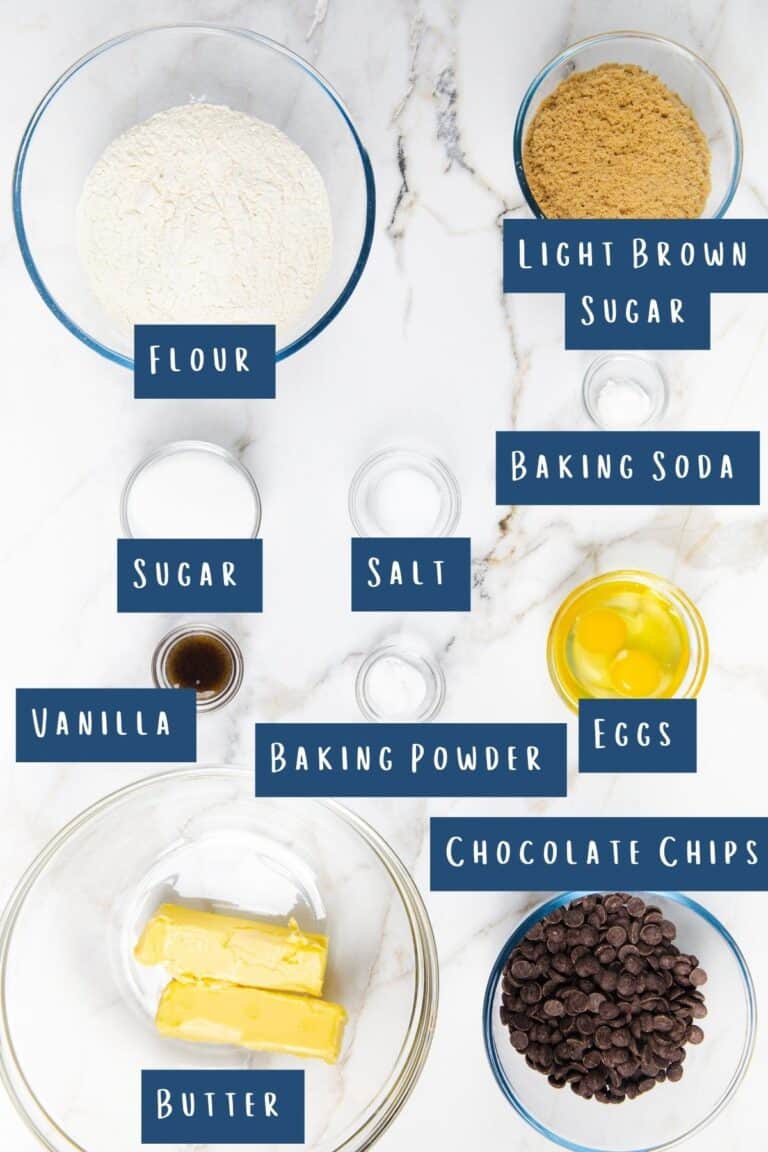 Chocolate Chips: Use your preferred chocolate chips! Milk chocolate chips are sweeter than semi-sweet, dark or bittersweet, so adjust sugar levels accordingly.
Flour: Standard all-purpose or plain flour works great, but you can substitute it with gluten-free if need be.
Bread flour: Bread flour is added to keep the cookies from spreading too much. You can replace it with an equal amount of all-purpose flour if necessary.
Unsweetened cocoa powder: Dutch-processed cocoa powder can be used for a smoother, less acidic taste.
Butter: I use salted butter, but if you're worried about salt levels, replace it with unsalted butter.
Sugar: Use either granulated or caster/superfine sugar.
Eggs: Use large eggs.
Vanilla: Vanilla extract or vanilla bean paste are suitable for this recipe. Almond extract or even coffee extract can be used for a unique twist on the flavor.
Step By Step Instructions
Start by preheating your oven to 325°F (163°C).
Melt 2 cups of chocolate chips in a microwave-safe bowl, using 30-second intervals. Stir between intervals until the chocolate is smooth and fully melted. For more information on how to melt chocolate properly, see my guide on How to Melt Chocolate.
In a medium bowl, sift together 1½ cups of all-purpose flour, ½ cup of bread flour, ½ cup of unsweetened cocoa powder, two teaspoons of baking powder, and ½ teaspoon of salt.
In a large bowl, cream together one cup of softened salted butter, ½ cup of granulated sugar, and one cup of packed light brown sugar until light and fluffy.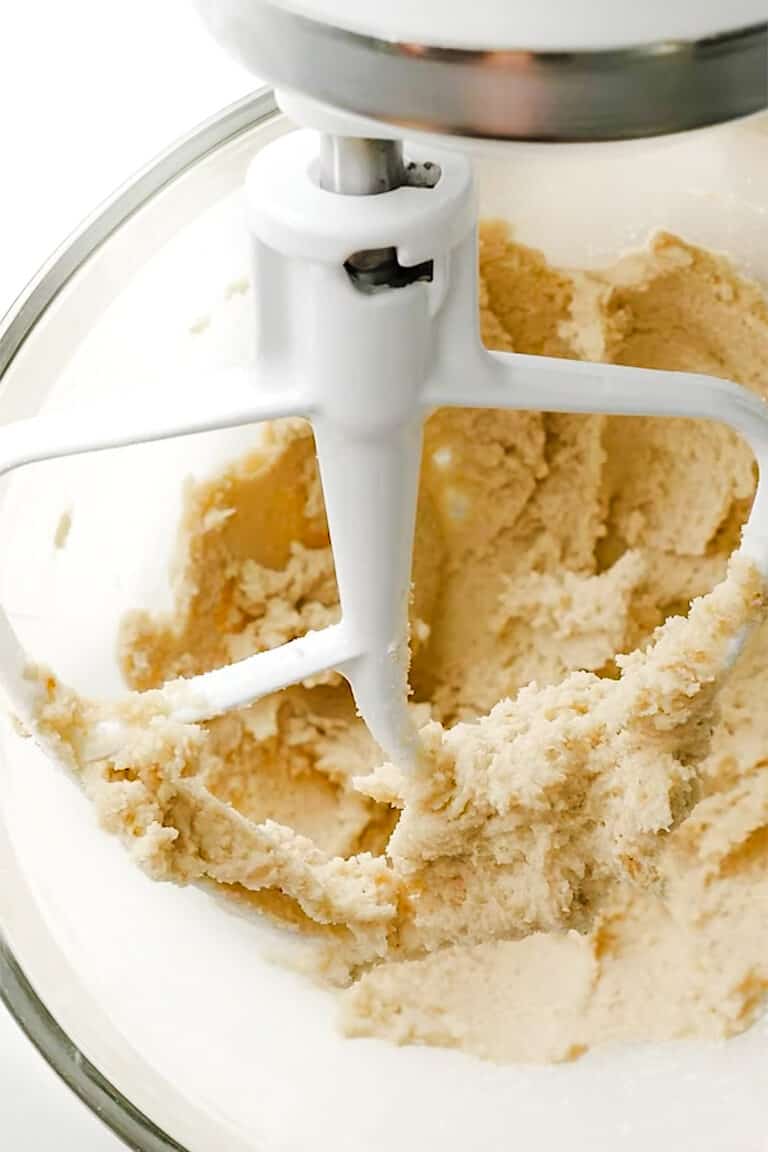 To save time, melt the butter instead of using the creaming method. Then mix the cooled butter with the sugar before adding the eggs and vanilla.
Add the cooled melted chocolate to the butter and sugar mixture.
Then add two eggs, one at a time, and two teaspoons of vanilla extract, blending well after each addition.
Fold the dry mixture into the wet mixture with chocolate chips gently until a uniform dough forms, being careful not to overmix.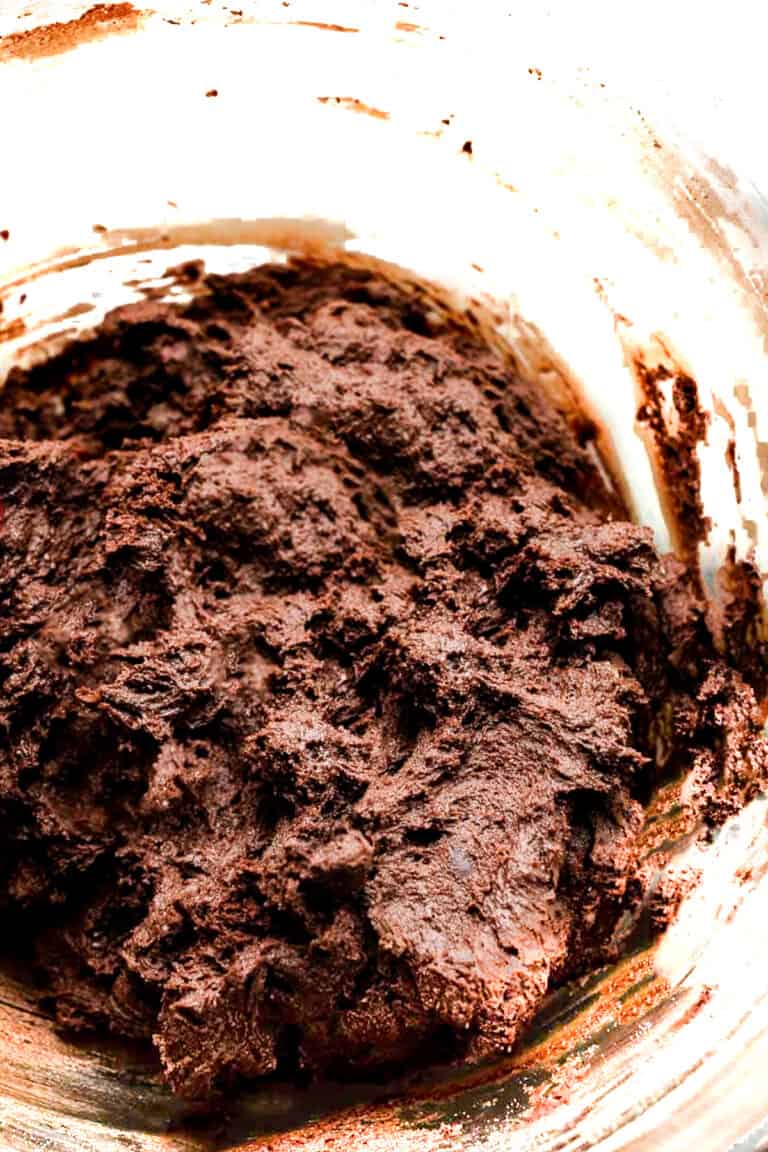 Portion the dough onto lined cookie sheets using a tablespoon or cookie scoop. Space the cookies 2 inches apart to allow for even baking and proper spreading.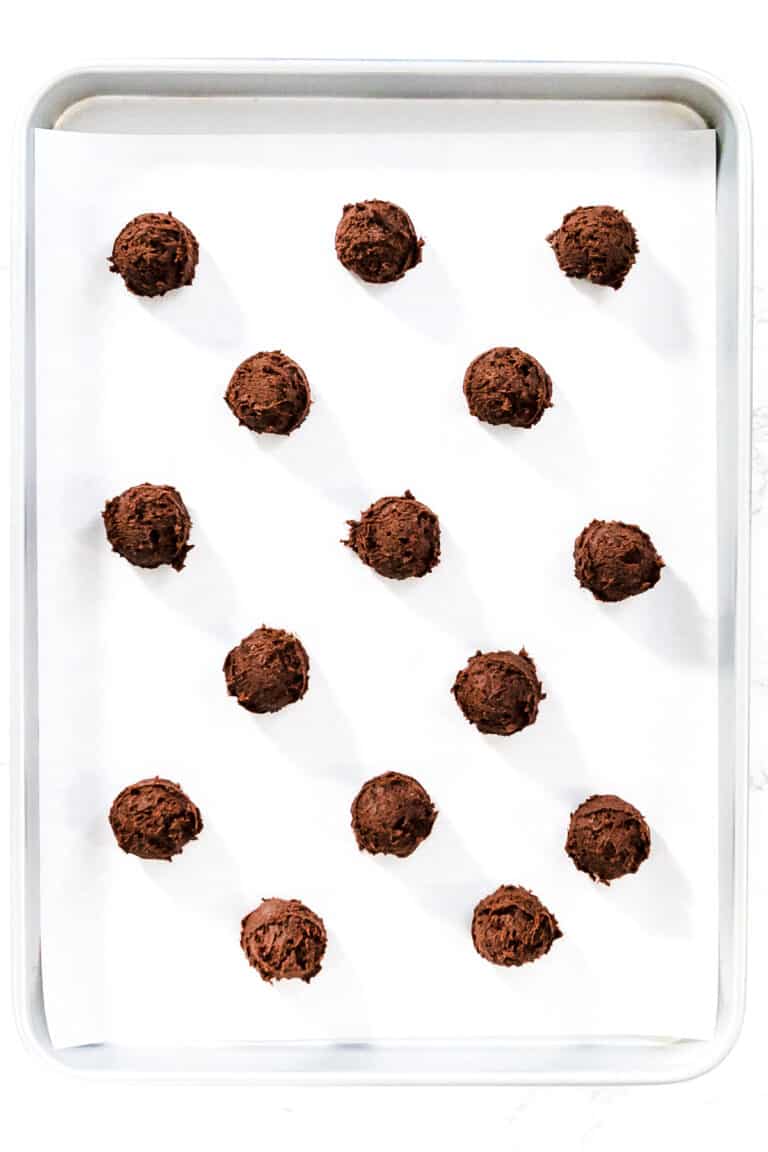 Bake the cookies for 12 to 14 minutes. Cracked tops indicate that they are perfectly baked.
Cool on the pan for 5 minutes before transferring them to a wire rack to cool completely. Once cooled, serve and enjoy the rich, chocolatey taste of your professionally crafted double chocolate chip cookies!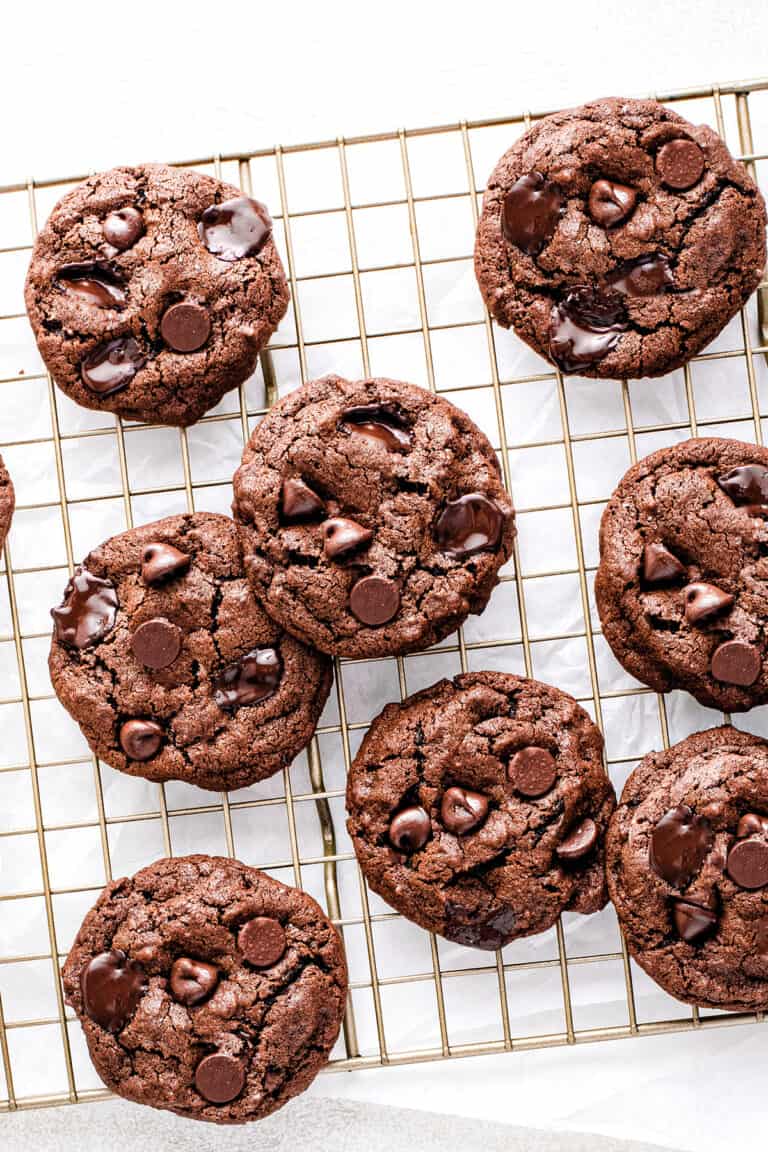 Storage & Freezing Instructions ❄
Storage: Store your double chocolate chip cookies in an airtight container at room temperature for up to 5 days. Keep the cookies fresh by adding a piece of bread to the container, which will help maintain their softness.
Freezing: You can freeze the unbaked cookie dough for up to 3 months. Scoop the dough onto a parchment-lined baking sheet and freeze until solid. Once frozen, transfer the dough balls to a freezer-safe bag or container.
To bake, place the frozen dough on a lined baking sheet. Follow the original baking instructions. Add 1 to 2 minutes to the baking time.
You can also freeze already baked cookies. Wrap them individually in plastic wrap and store them in a freezer-safe container or bag for up to 3 months.
Thaw the cookies at room temperature before enjoying them.
Erren's Top Tips
For thicker and chewier cookies, refrigerate the dough for 1 hour to 1 day before baking.
Use room-temperature ingredients – butter and eggs will combine better with dry ingredients that are already at room temperature.
Use an electric mixer to cream the butter and sugar properly. Cream them together until light and fluffy for about 3-5 minutes. This process is crucial for the cookie's texture and incorporates air, resulting in a lighter cookie.
Stir dry ingredients in by hand. Over-mixing can make cookies tough, which is easily done with electric mixers.
Invest in an oven thermometer to verify your oven's accuracy. Oven temperatures can vary, impacting baking time and the final results.
If your dough is too soft or sticky, refrigerate for 30 minutes to an hour before baking.
For even heat distribution, use heavy, light-colored baking sheets. Line them with parchment paper to prevent the cookies from sticking.
Use a cookie scoop to portion equal-sized dough balls for consistent results. Space the cookies at least 2 inches apart on the pan to allow proper spreading.
Let the cookies cool on the baking sheet for 5 minutes before transferring them to a wire rack. This allows the cookies to set and firm up slightly while still retaining their chewy texture.
Stay Updated
Receive new recipes & dinner ideas straight to your inbox!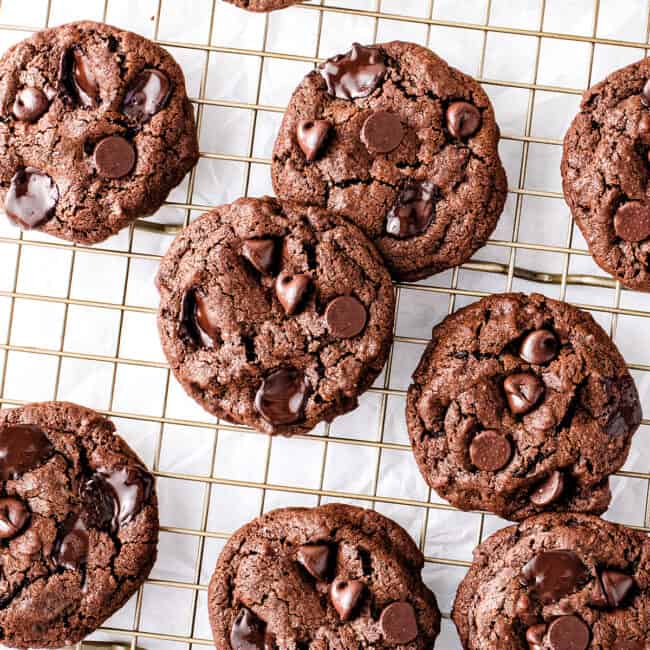 Let's Make Double Chocolate Chip Cookies
For the cookie lovers and chocoholics in your house – these rich, chewy cookies will not disappoint! Be sure to make plenty as they're sure to disappear!
Prep15 minutes
Cook12 minutes
Total27 minutes
Ingredients
4 cups semi-sweet chocolate chips
1¾ cups all-purpose/plain flour
¼ cup bread flour or extra all-purpose flour
½ cup unsweetened cocoa powder
2 teaspoons baking powder
½ teaspoon salt
1 cup salted butter softened
½ cup granulated sugar
1 cup packed light brown sugar
2 eggs
2 teaspoons vanilla extract
Instructions
Preheat oven to 325°F (163°C).

Melt 2 cups of the semi-sweet chocolate chips in the microwave in 30-second intervals, stirring after each interval until just melted. Set aside.

Sift together the all-purpose flour, bread flour, cocoa powder, baking powder, and salt in a medium bowl. Set aside.

In a large bowl, beat the softened butter, granulated sugar, and light brown sugar together until creamy. Add the melted chocolate and mix until combined.

Add the eggs, one at a time, and the vanilla extract to the butter mixture, mixing well after each addition.

Gradually add the dry ingredients to the wet ingredients, mixing by hand until fully combined.

Fold in the remaining 2 cups of semi-sweet chocolate chips.

Line cookie sheets with parchment paper or grease-proof paper. Drop the dough onto the prepared baking sheets, 2 inches apart, using a tablespoon.

Bake for 12 to 14 minutes or until the tops of the cookies have cracked.

Allow the cookies to cool on the baking sheets for 5 minutes before transferring them to a wire rack to cool completely.
Tips + Notes
For detailed information on how to properly melt chocolate, see my guide on How to Melt Chocolate.
If you like your cookies thicker and a bit chewier, you can refrigerate the dough before baking anywhere from 1 hour – 1 day.
The raw cookie dough can be frozen and thawed to bake whenever you'd like.
Use room temperature ingredients – butter and eggs will combine better with dry ingredients that are already at room temperature.
Use an electric mixer for Creaming the butter and sugar – An electric mixer forces air into the butter in a way that's not possible to achieve by hand. This makes cookies lighter.
Stir dry ingredients in by hand. Over mixing can make cookies tough which is easily done with electric mixers.
Nutrition Information:
Calories: 341 (17%)| Carbohydrates: 38g (13%)| Protein: 4g (8%)| Fat: 20g (31%)| Saturated Fat: 12g (75%)| Polyunsaturated Fat: 1g| Monounsaturated Fat: 6g| Trans Fat: 0.3g| Cholesterol: 36mg (12%)| Sodium: 121mg (5%)| Potassium: 262mg (7%)| Fiber: 3g (13%)| Sugar: 24g (27%)| Vitamin A: 271IU (5%)| Calcium: 49mg (5%)| Iron: 3mg (17%)
Erren's Kitchen is written and produced for informational intentions only. We are not certified nutritionists, and the nutritional information found on this site has not been assessed or authorized by a nutritionist or the FDA. The nutritional information found in our recipes is offered as an estimate and should not be considered a guarantee or fact. The estimated data is provided as a courtesy and calculated through a third-party online nutritional calculator, spoonacular API. Although we do our best to provide accurate nutritional information, these figures should be considered rough estimates. Many factors, such as brands or products purchased and the nutritional fluctuations that naturally occur in fresh produce, can alter the effectiveness of the nutritional information in any recipe. Furthermore, various online calculators provide different results depending on their particular algorithms and nutrition fact sources. To obtain the most precise nutritional information in a provided recipe, you should calculate the nutritional information with the exact ingredients you are using when preparing the recipe using your preferred nutrition calculator.