Everyone needs a treat now and then, and this Chocolate Chip Oatmeal Cookies recipe packed with chocolate and oats, is a real treat.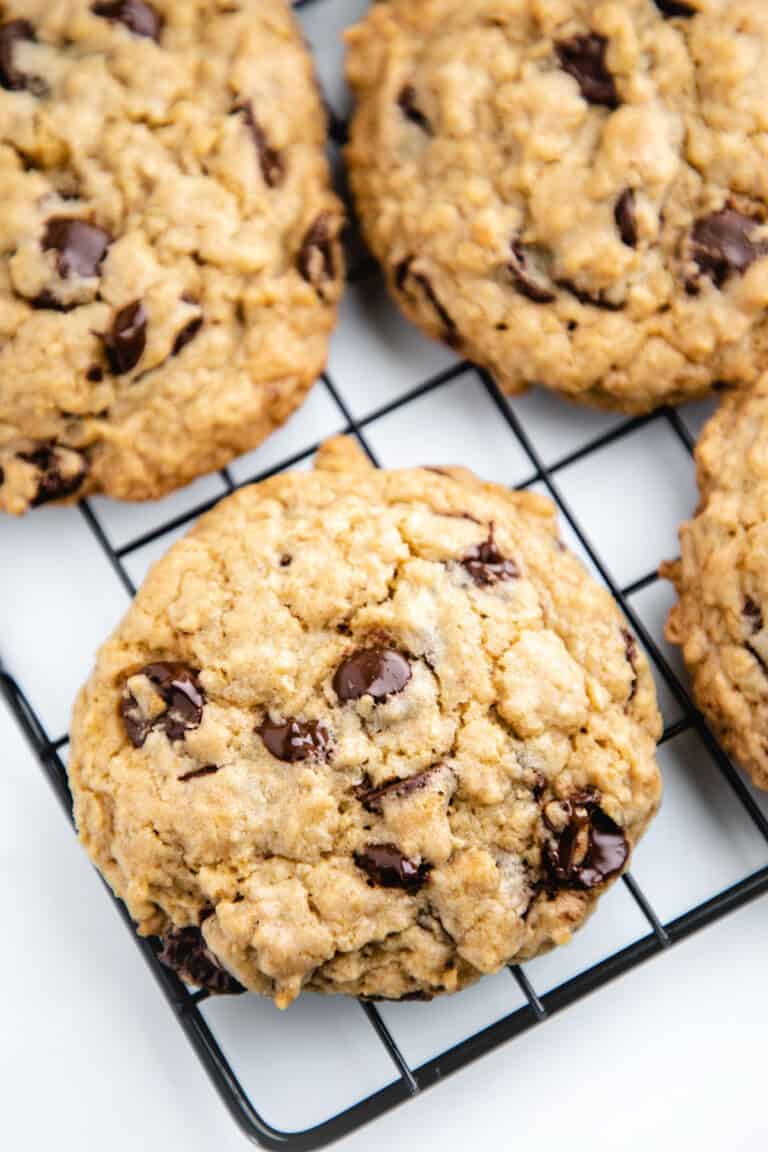 A good cookie is easy to come by, but an incredible cookie is an uncommon gift.
What better treat is there than homemade cookies? My family loves coming home to the house filled with the scent of fresh-baked cookies.
Two of their favorites are chocolate chip and oatmeal cookies. This recipe is the perfect hybrid of both and boy, do they love them!
My secret ingredient – Coconut. Just a little hint of it just takes the flavor of these cookies to another level. It's optional but try it! You won't be disappointed!
If you enjoy these, my Chocolate Chip Oatmeal Cookie Bars are the perfect traybake to add to your oatmeal cookie repertoire.
Why This Recipe Works
The combination of brown and dark brown sugar creates a chewier bite at the center of the cookie.
Using all brown sugar instead of white, results in a flavorful cookie with the perfect amount of sweetness.
Real butter gives the cookie a buttery richness that's hard to beat.
What kind of oats do you use for cookies?
Oatmeal is the star ingredient of any oatmeal cookie recipe, but the types of oats and their names differ from country to country. For this recipe, I have used both American old-fashion oats (also known as jumbo porridge oats internationally) which give a chewy, nutty texture similar to a granola bar, but I've also used American quick cook oats (AKA porridge oats and rolled oats around the world) which resulted in a cookie with a little less texture, but both produced an excellent cookie. Just don't use instant oats where ever you are in the world.
Crisp Cookies vs. Chewy
For A Crispy Cookie
Drop cookies spread when baking. The warmer the fat is when baked, the more the cookie spreads, resulting in a thinner, crisper cookie.
Another way to achieve a crisper bottom is to use a dark-colored cookie sheet. Darker pans result in a darker cookie.
For A Chewier Cookie
If you like a chewier cookie, refrigerate the dough for at least 30 minutes before baking. Cooler fat spreads less resulting in a thicker, chewier cookie.
Oven Temperature
A lower oven temperature and longer bake time give a crisper, thinner cookie, A higher temperature and shorter baking time yield a softer, thicker cookie.
If you like your cookies a certain way, you can play with oven temperatures to achieve your desired result.
How To Make Chocolate Chip Oatmeal Cookies
Sift flour, baking powder, baking soda and salt.
Add oatmeal and coconut.
Cream butter and sugar in a separate bowl.
Mix eggs and vanilla into the butter and sugar.
Combine all the mixed ingredients.
Fold in the chocolate chips.
Divide mixture and drop dough onto a baking tray.
Bake for around 25 minutes.
Serve and enjoy!
Step By Step Instructions
Combine the flour, oatmeal, salt, baking powder, baking soda and coconut together.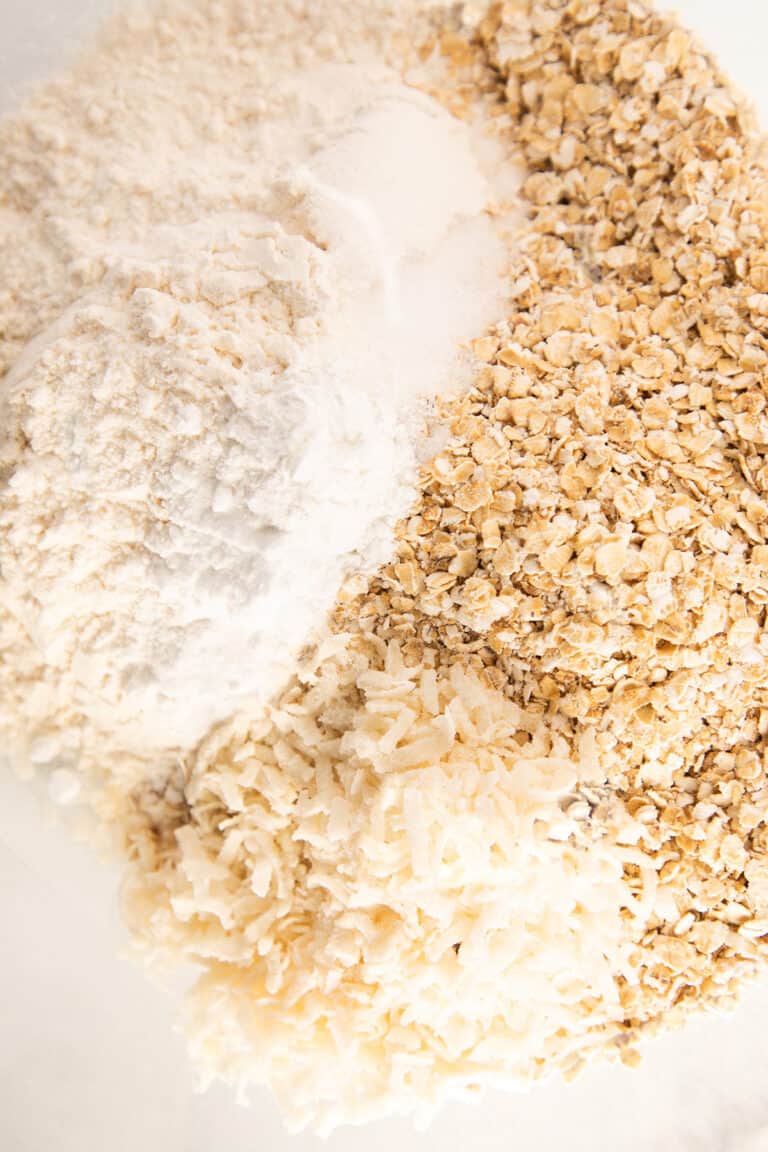 Cream the butter and sugar.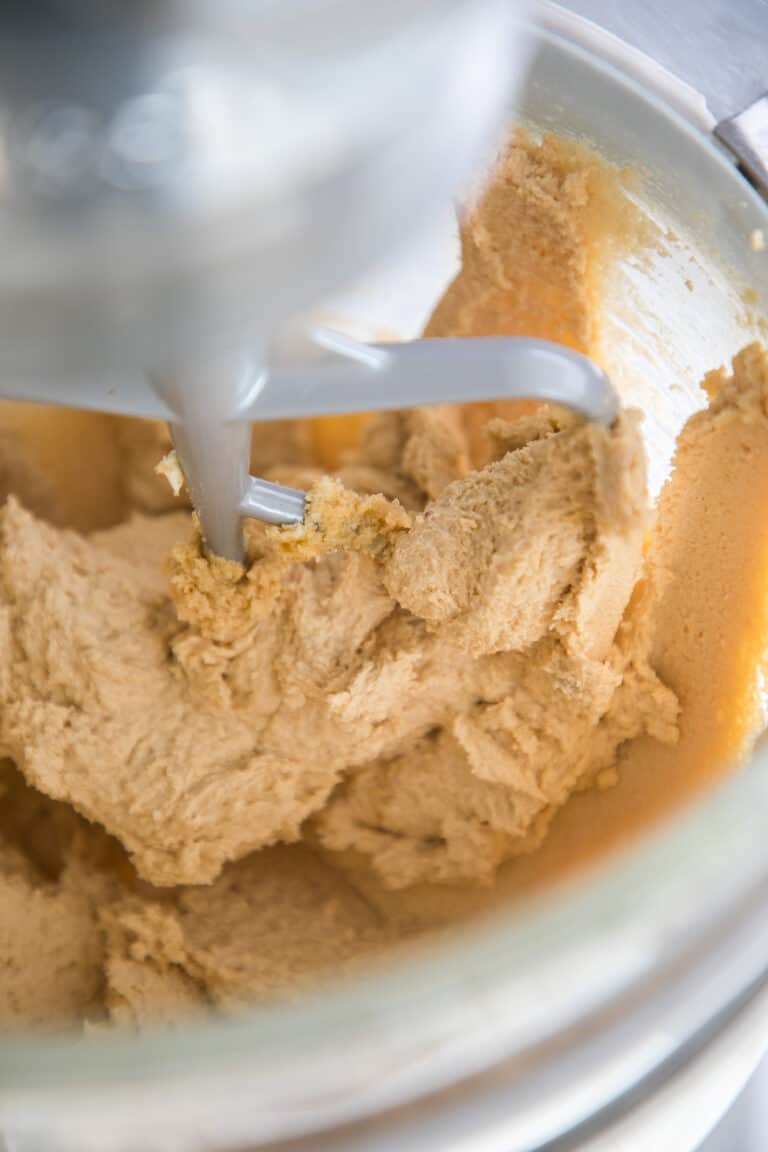 Beat the egg and vanilla together.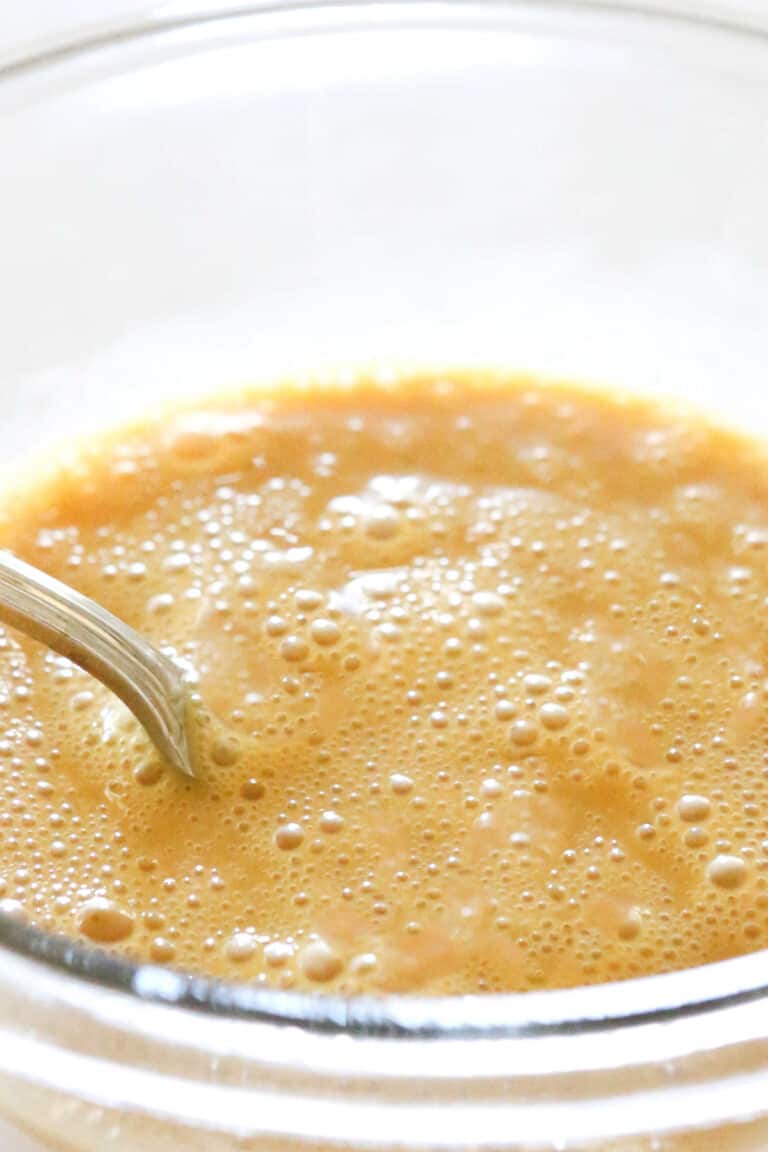 Mix the egg mixture into the butter and sugar.
Mix in the dry ingredients by hand to prevent the cookies from turning out dry or cake-like.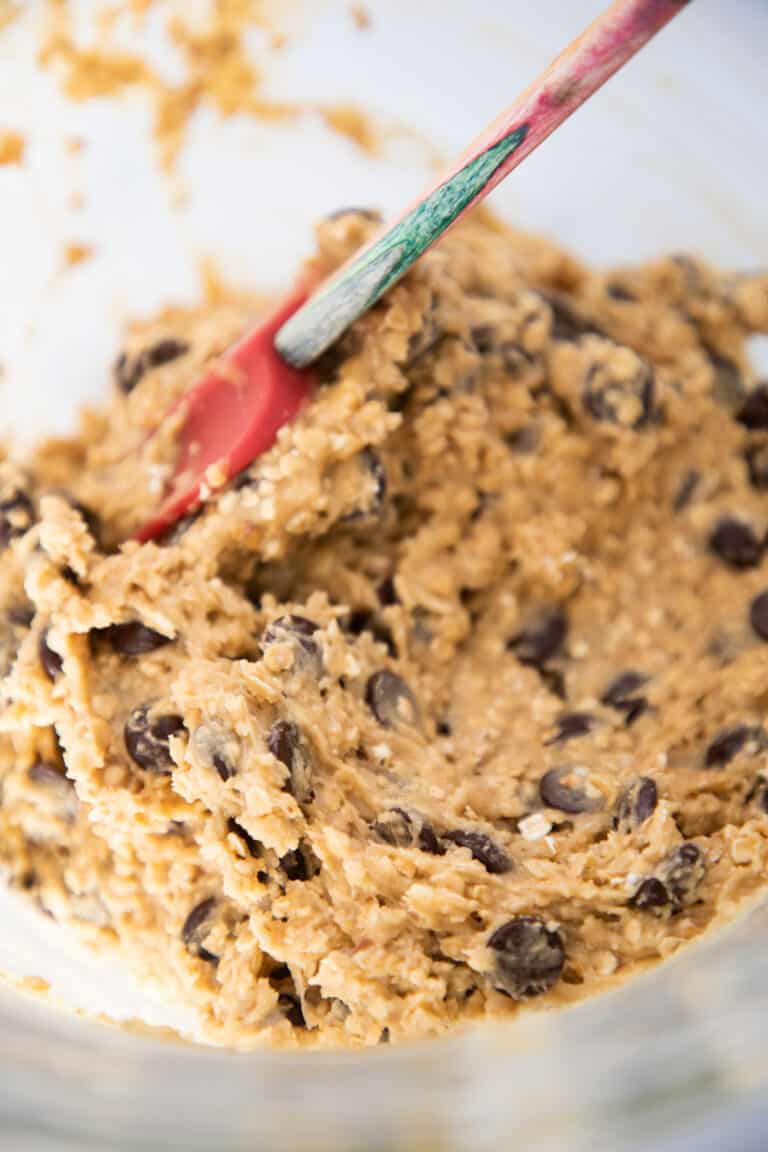 Cover the dough and refrigerate for around 30 minutes.
Using an ice cream scoop, drop the batter onto a prepared baking tray. Leave enough room around each mound to allow for spreading.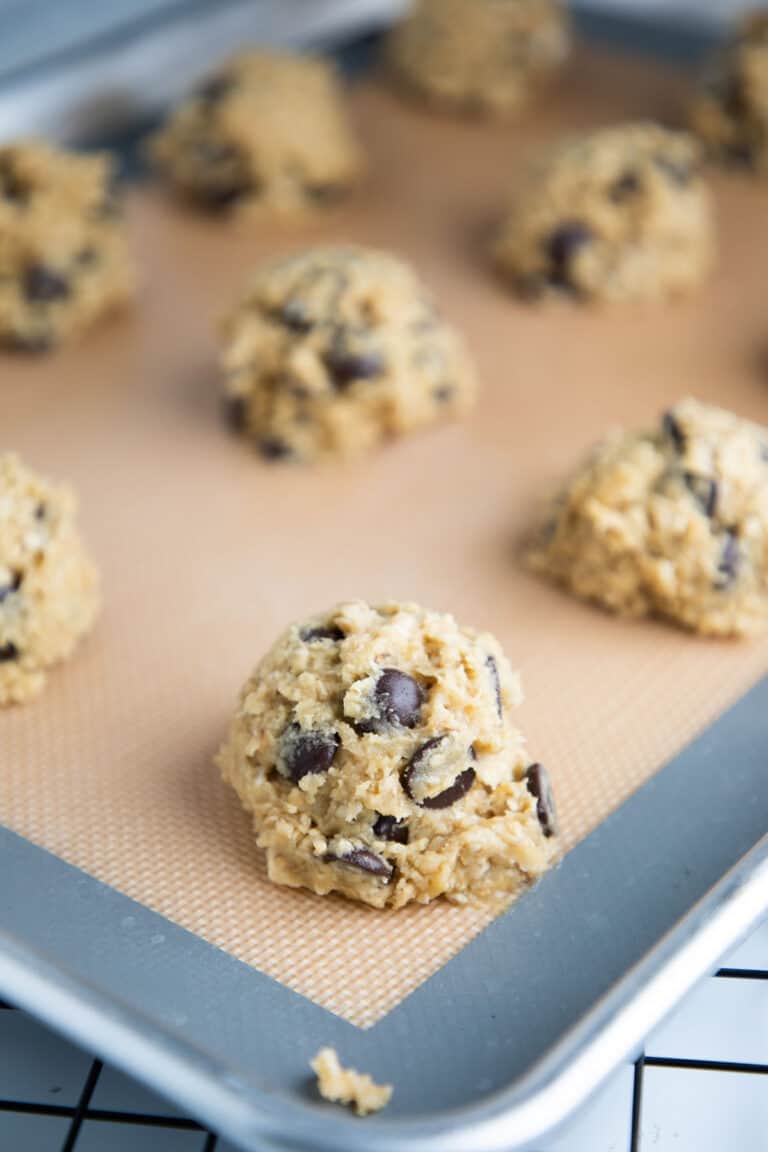 Bake for around 20 to 25 minutes.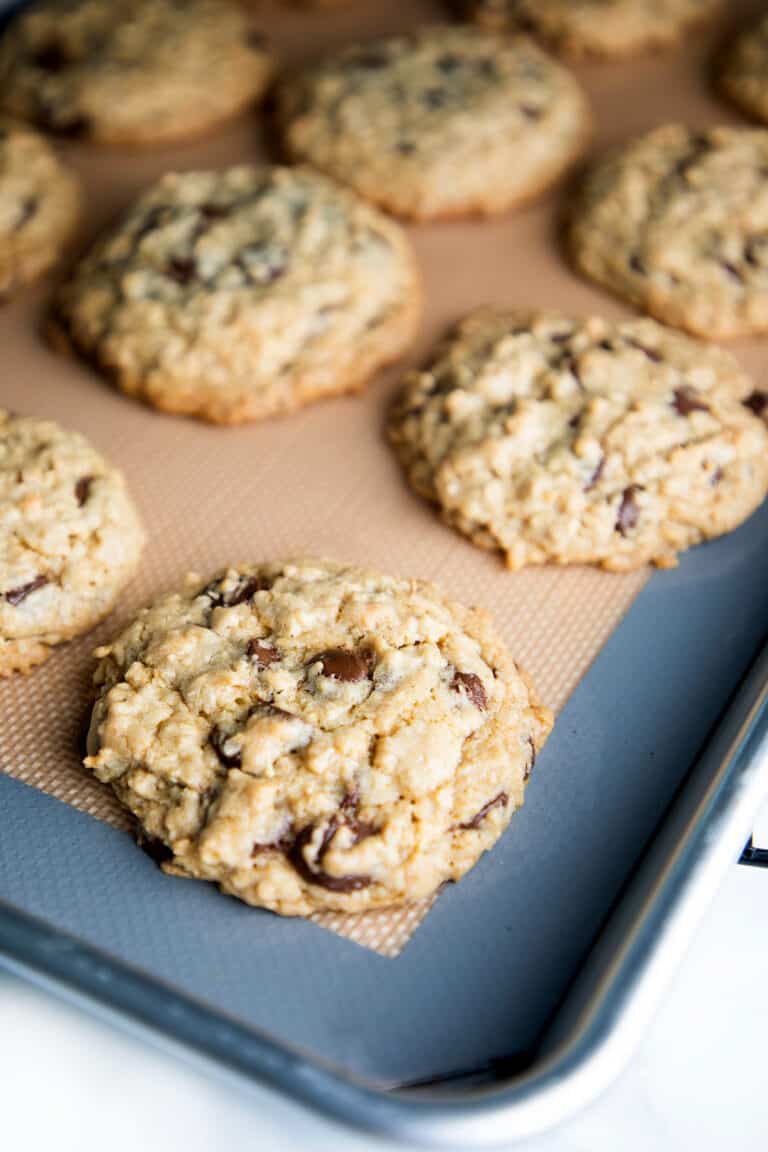 Enjoy every last bite!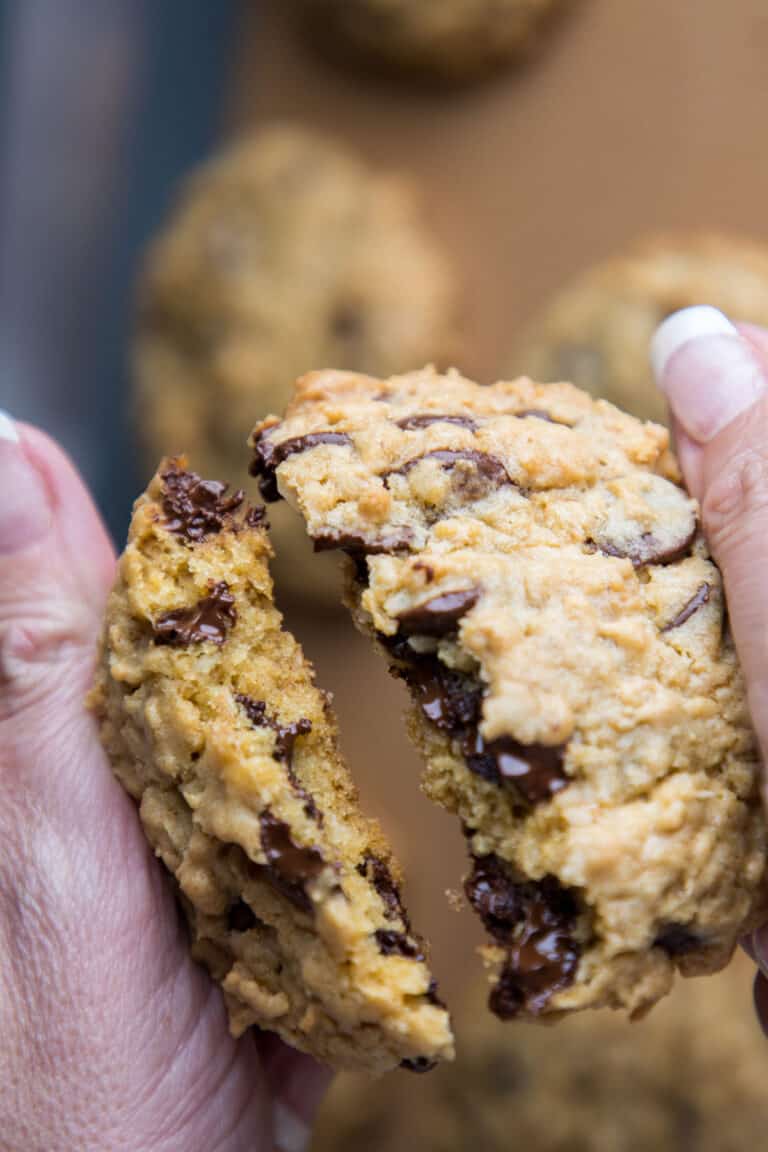 Erren's Top Tips
Use room temperature ingredients. Room temperature butter and eggs will combine better with dry ingredients that are already at room temperature. The result will be a well-mixed dough.
Use an electric mixer for Creaming butter and sugar together. An electric mixer forces air into the butter in a way that's nearly impossible to achieve by hand.
Stir dry ingredients by hand. Over mixing can make the cookies tough and easily done with electric mixers.
Use an ice cream scoop to drop the cookies. Using a spring-handled ice cream scoop makes dropping dough onto cookie sheet super easy and creates cookies that are uniform in size and even baking.
To drop cookies without a scoop, use two dining spoons from your silverware. Scoop the cookie dough with one spoon and push it onto the cookie sheet with the other.
Space out the cookies on the pan. Place the dough about 2 inches apart to prevent cookies from spreading into each other during baking.
Like a thicker, chewier cookie? Chill the dough before you bake. Resting the dough in the fridge relaxes the gluten and evens out the moisture. Chilling the dough will keep the cookies from spreading out in the oven.
Make Extra: Double the recipe and freeze half the dough, so delicious home-baked cookies are always close at hand.
Make ahead and Freezing Instructions ❄
In The Fridge: Once you've made the dough it can be stored in the fridge for up to three days before baking.
In The Freezer: Keep the wrapped dough in the freezer for up to 3 months. Defrost thoroughly before baking.
Store: Store the baked cookies in an airtight container for up to three days. Freeze baked cookies in a freezer safe container for up to a month. Defrost thoroughly before eating.
Stay Updated
Receive new recipes & dinner ideas straight to your inbox!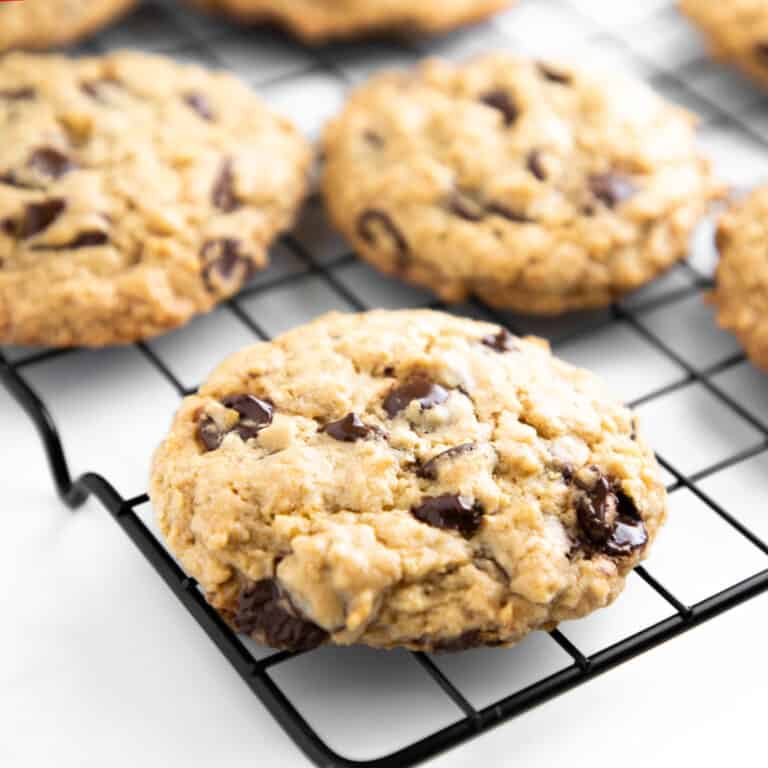 Let's Make Chocolate Chip Oatmeal Cookies
If you like the rich taste of chocolate and the goodness of oatmeal, these easy drop cookies are for you!
Prep15 minutes
Cook25 minutes
Total40 minutes
Ingredients
1 ½ cups of flour
1 teaspoon baking powder
½ teaspoon baking soda
½ teaspoon salt
1¼ cup rolled oats
¼ cup shredded coconut optional
12 tablespoons butter softened
1 ½ cups brown sugar packed
¼ cup dark brown sugar packed
2 large eggs
1½ teaspoons vanilla extract
1 cup semi-sweet chocolate chips
Instructions
Preheat the oven to 350F. Prepare cookie sheets with baking paper

Sift the flour, salt, baking soda, and baking powder together into a large mixing bowl.

Mix in the oats and coconut. Set aside.

In a large mixing bowl, beat the butter, and sugars until fluffy.

Mix in the egg and then add the vanilla.

Mix in the flour mixture by hand, followed by the chocolate chips.

Cover and chill the dough for 30 minutes (or up to 3 days) in the refrigerator. If chilling for longer than an hour, remove from the fridge and sit at room temperature 30 minutes before baking as the dough will be quite hard.

Using an ice cream scoop, add the dough the prepared pan 2 inches apart.

Bake for 12-15 minutes or until the edges are golden brown.
Tips + Notes
For A Chewier Cookie If you like a chewier cookie, refrigerate the dough for at least 30 minutes before baking. Cooler fat spreads less resulting in a thicker, chewier cookie. Tips: Don't over bake your cookies. When oatmeal cookies come out of the oven, they should be slightly underdone. Leave them to set on the hot cookie sheet for a few minutes before transferring them to a cooling rack. Use softened butter: Soften your butter to room temperature. You'll know when it's soft enough when you can make a dent in it with your finger. Don't Over Mix: Once you add the flour, mix gently. Over mixing the dough will result in a tough cookie. When in doubt – finish the job by hand. Mix just until the flour is incorporated. Make Extra: Double the recipe and freeze half the dough, so delicious home-baked cookies are always close
Nutrition Information:
Calories: 415 (21%)| Carbohydrates: 58g (19%)| Protein: 4g (8%)| Fat: 18g (28%)| Saturated Fat: 11g (69%)| Cholesterol: 45mg (15%)| Sodium: 265mg (12%)| Potassium: 223mg (6%)| Fiber: 2g (8%)| Sugar: 37g (41%)| Vitamin A: 380IU (8%)| Calcium: 63mg (6%)| Iron: 2.4mg (13%)
Erren's Kitchen is written and produced for informational intentions only. We are not certified nutritionists, and the nutritional information found on this site has not been assessed or authorized by a nutritionist or the FDA. The nutritional information found in our recipes is offered as an estimate and should not be considered a guarantee or fact. The estimated data is provided as a courtesy and calculated through a third-party online nutritional calculator, spoonacular API. Although we do our best to provide accurate nutritional information, these figures should be considered rough estimates. Many factors, such as brands or products purchased and the nutritional fluctuations that naturally occur in fresh produce, can alter the effectiveness of the nutritional information in any recipe. Furthermore, various online calculators provide different results depending on their particular algorithms and nutrition fact sources. To obtain the most precise nutritional information in a provided recipe, you should calculate the nutritional information with the exact ingredients you are using when preparing the recipe using your preferred nutrition calculator.
Update Notes: This post was originally published in March of 2017, but was republished with all new photos, step by step instructions and tips in April of 2018.