This recipe for Peaches and Cream Cupcakes uses fresh peaches to make deliciously light, fruity cupcakes that are topped with fresh whipped cream.
These pretty little cakes are flavored with fresh peaches as well as peach schnapps and they're perfect for summer entertaining!
I don't know anybody who doesn't just love fresh peaches and cream, so when you combine them into a cake you just know it's got to be good, and these are amazing!
Why this recipe works:
Using fresh peaches in the batter gives the cake a natural peach flavor.
Cooking the pureed peaches reduces the mixture, removing excess liquid from the fruit preventing a soggy, dense cake that often comes with adding fruit to cake.
The fresh whipped cream is the perfect match with the fresh peach flavor in the cake.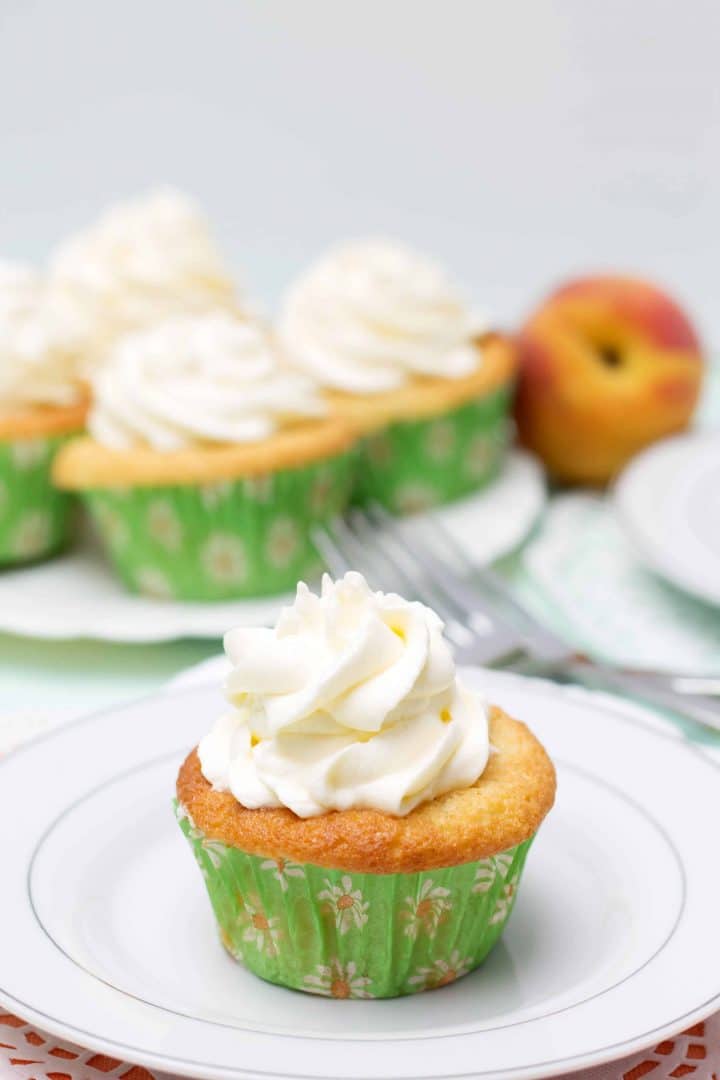 Baker's Tips:
When cooking down the peaches, once it reduces by half, start measuring. You want it to reduce down to half a cup. This ensures you get the most flavor out of the reduction as possible.
When mixing the fruit with the wet ingredients, it may appear curdled. Don't worry; the mixture will smooth once the dry ingredients are added.
If you like a large swirl of frosting It may be a good idea to double the recipe. This recipe makes 12 large cupcakes (fill the papers 3/4 full).
When making the whipped cream in a food processor, watch for the waves that form in the thickening cream.
FAQs
Can you freeze cupcakes? Yes. Once cooled, place (the cupcakes without the frosting) in an airtight, freezer-safe container and freeze for up to 3 months.
How do you store cupcakes with whipped cream frosting? Store in the refrigerator in an airtight container. You can remove them 30 minutes before you plan to serve them.
How do you store the cupcakes without the icing? Store in an airtight container or well wrapped at room temperature for 2-3 days.
★ Did you make this recipe? Please give it a star rating below!
Stay Updated
Receive new recipes & dinner ideas straight to your inbox!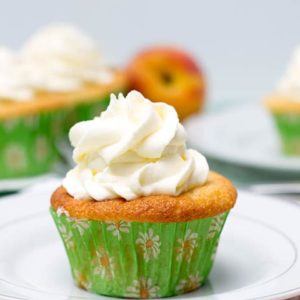 Let's Make Peaches and Cream Cupcakes
Moist, fruity cakes which are perfect for an afternoon with friends or a family gathering.
Prep20 minutes
Cook20 minutes
Total45 minutes
Cooling Time: 5 minutes
Serves: 12 cupcakes
Ingredients
For the cupcakes:
6 peaches peeled and quartered
¾ cup butter softened
1½ cups granulated sugar
½ cup milk at room temperature
2 large eggs at room temperature
1 teaspoons vanilla extract
1 tablespoon peach schnapps
2¼ cups all-purpose flour
2 teaspoons baking powder
½ teaspoon salt
For the cream:
1¼ cups whipping cream
6 tablespoons powdered sugar
1 teaspoon vanilla extract
1 tablespoon skimmed milk powder
Instructions
Preheat oven to 350°F. Line A 12-count muffin pan with cupcake liners.

Add the peaches to a food processor and puree until fully broken down.

Add the puree to a saucepan and bring to boil over medium-high heat and cook (stirring occasionally), until reduced to a ½ cup of syrupy liquid. Set aside to cool while preparing the ingredients for the cake.

Cream the butter and sugar together until light and fluffy.

Add the milk and peach reduction and blend until smooth. Mix in the eggs, peach schnapps, and vanilla.

Add the flour, baking powder and salt. Mix until combined.

Using a large ice cream scoop, fill the cupcake liners 3/4 of the way full. This recipe makes 12 large cupcakes.

Bake for 20-25 minutes or until the tops of the cupcakes spring back when gently touched and a cake tester comes out clean.

Allow to cool in the pan for 5 minutes, then transfer to a rack to cool completely.
To make the frosting:
Add all of the ingredients into a food processor or mixer.


Whip until thick (You'll know it's ready to use when you run a spoon through it and it doesn't collapse into the crevice).
Decorating the cupcakes:
Using a piping bag, swirl the icing onto the cupcakes
Nutrition Information:
Calories: 454kcal (23%)| Carbohydrates: 60g (20%)| Protein: 5g (10%)| Fat: 22g (34%)| Saturated Fat: 13g (81%)| Cholesterol: 92mg (31%)| Sodium: 227mg (10%)| Potassium: 291mg (8%)| Fiber: 1g (4%)| Sugar: 40g (44%)| Vitamin A: 1035IU (21%)| Vitamin C: 5.1mg (6%)| Calcium: 80mg (8%)| Iron: 1.5mg (8%)