This recipe for Peaches and Cream Cupcakes makes moist, fruity cakes that are topped with fresh whipped cream. These pretty little cakes are are flavored with fresh peaches as well as peach schnapps and they're perfect for summer entertaining!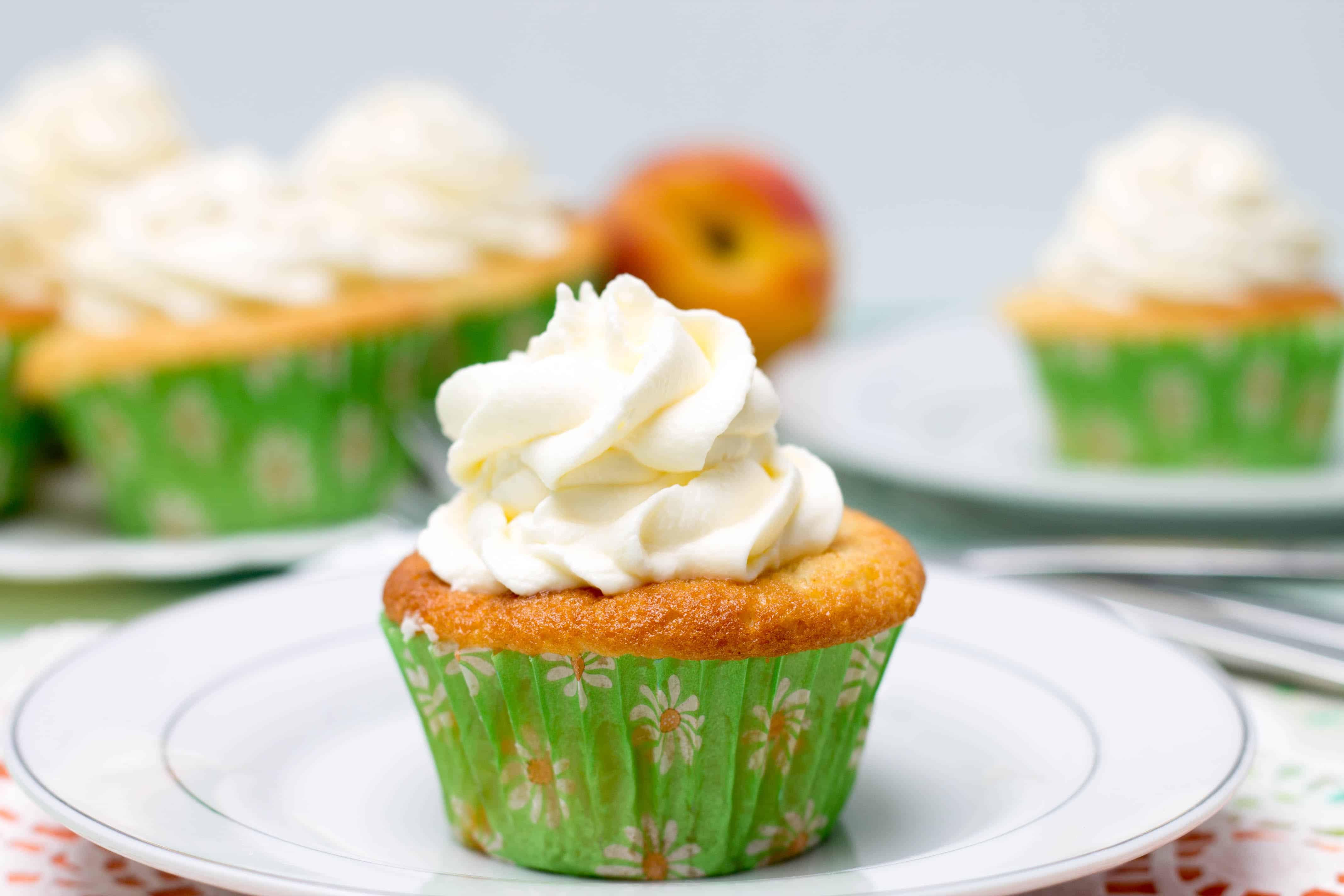 I don't know anybody who doesn't just love fresh peaches and cream, so when you combine them into a cake you just know it's got to be good, and they are amazing! They are a dreamy, creamy, moist, and  heavenly cakes!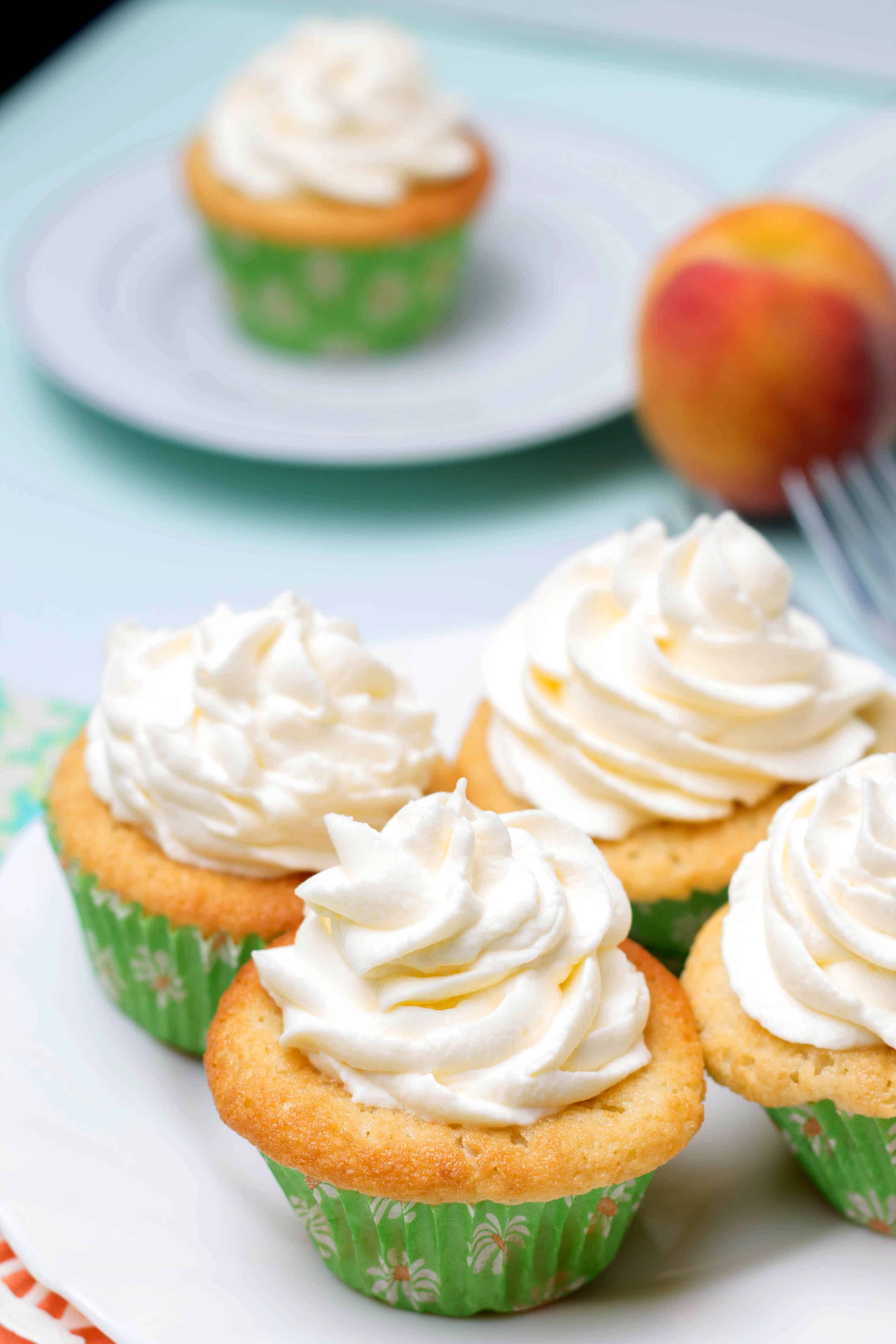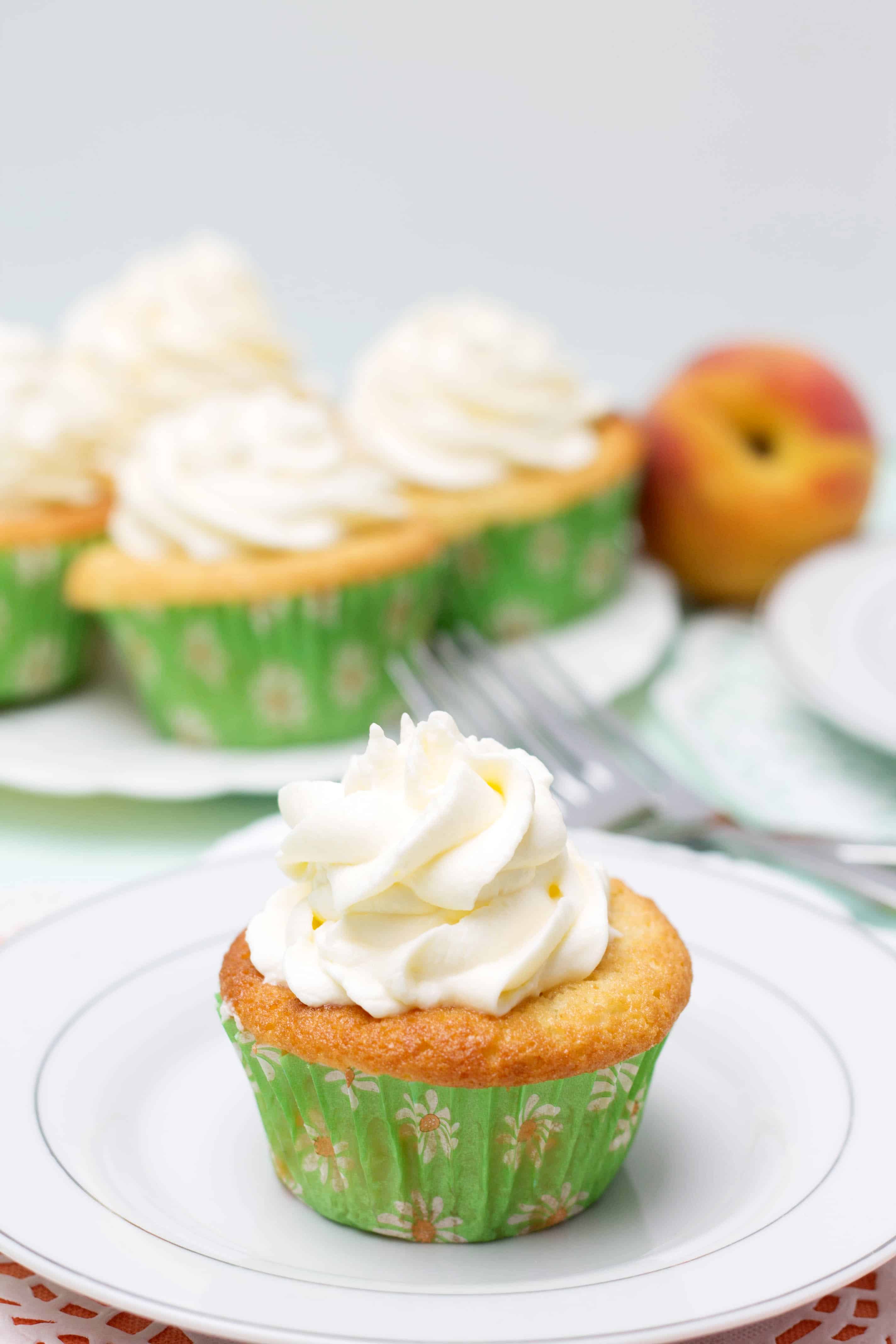 I made these to bring to a friend's barbecue. In case you haven't noticed, I'm always looking for a reason to make cake so I made these a day early to develop the recipe.
Unfortunately for my friend, there weren't any left after my family got to them!  This would be fine if we were a big family, but there's only three of us! Okay, so my son had a friend over, but there were 12 cupcakes.
It doesn't take a genius to figure out that we made pigs of ourselves.  The worst part is, looking at these photos, I'm wishing I had one right now to dig into! These little cakes are perfect for entertaining, but if you need another excuse, I say they are also perfect to just celebrate a summer's day!
Now, let me say something about the whipped cream – I have spent A LOT of time trying to find ways to make whipped cream hold it's shape.  You'll notice the recipe calls for a tablespoon of skimmed milk powder (I got mine at the grocery store with the powdered milk).  I've tried everything from gelatin to melted marshmallows to stabilize the cream, but the combination of the skimmed milk powder and using a food processor to whip the cream is the winner hands down!
I've had whipped cream (made with ordinary fresh cream) hold it's shape for days (In the fridge of course).  It didn't even get the least bit runny.
One tip though – when using the food processor to whip the cream – only whip until it thickens.  Be careful not to over whip so stop and check often!   It really take no time at all.
Note:  I've had some people report problems with the cupcakes not cooked all the way through.  Using very ripe peaches will cause your puree to be quite wet.  If your are using soft peaches, I would use chopped peaches coated in flour instead of pureed.
Never Miss A Single Recipe!
Join the free Erren's Kitchen mailing list and get all the latest tasty goodness straight to your inbox!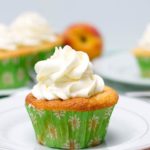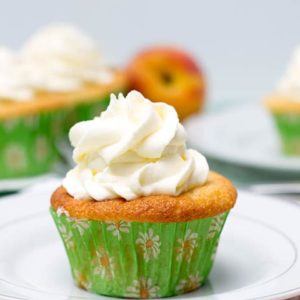 Peaches and Cream Cupcakes
Ingredients
For the cake:

⅔

cup

butter

softened, plus extra for the pan

½

cup

super fine or granulated sugar

¼

cup

brown sugar

packed

2

large eggs

beaten

1

teaspoon

vanilla

1

tablespoon

peach schnapps or 1 teaspoon peach extract

½

teaspoon

salt

1

¼ cup/155g all-purpose/plain flour

2

teaspoon

baking powder

For the peach puree:

2

peaches

peeled and pitted (if using very ripe peaches, - don't puree - chop the peaches instead and coat with the flour)

1

tablespoon

of flour

For the cream:

1¼

cups

Whipping Cream

6-8

tablespoons

powdered sugar

1

teaspoons

vanilla extract

1

tablespoon

skimmed milk powder

optional
Instructions
Preheat the oven to 375F/170C

Prepare a muffin pan with twelve muffin cases.

To puree the peaches, put them in a food processor with 1 tablespoon of flour. This will help with the moisture in the peaches and stop the cupcakes from being too moist.

Cream the butter, salt, sugar and brown sugar until light and fluffy, then add the vanilla and peach schnapps and mix to combine.

Slowly add the eggs one at a time followed by ½ the flour.

Fold in the remaining flour, baking powder and peaches.

Using an ice cream scoop add the batter into muffin cases and bake for about 20 minutes (30 minutes for the large loaf pan) or until a cake tester comes out clean.

Cool in the pan for 10 minutes, then remove and cool on a wire rack.

For the cream:

Add powdered sugar (to taste), skimmed milk powder (if using - This is to help give the whipped cream structure so it doesn't flatten out too quickly), and vanilla to the cream.

Using a food processor, whip the cream until it thickens enough to hold its shape (this doesn't take long at all so check often).

Pipe the cream onto the cooled cupcakes.
Nutrition Facts
Peaches and Cream Cupcakes
Amount Per Serving
Calories 0
* Percent Daily Values are based on a 2000 calorie diet.
Never Miss A Single Recipe!
Join the free Erren's Kitchen mailing list and get all the latest tasty goodness straight to your inbox!