Ready in just 5 minutes, this recipe for strawberry vinaigrette salad dressing is simple to whip up using a blender or food processor.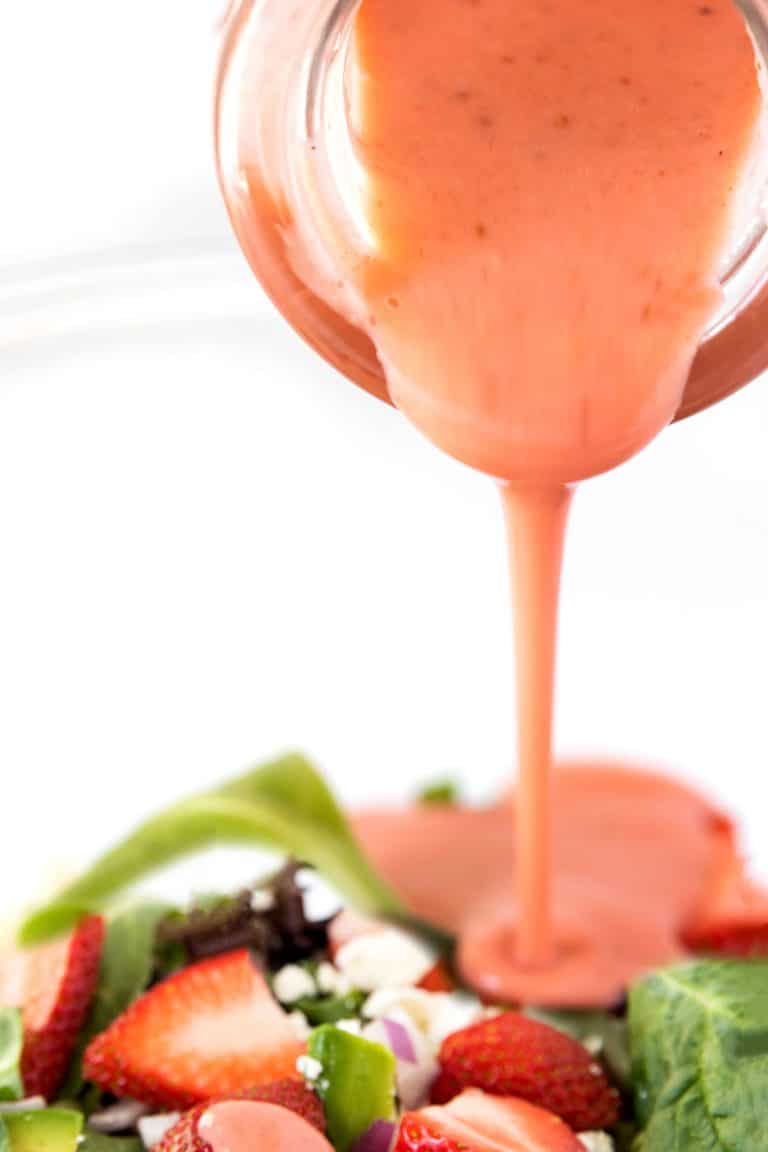 If like me, your strawberries have gone from perfect to pretty shabby overnight, this recipe is for you! It's the perfect way to use strawberries that are past their prime, but perfectly edible!
Why This Recipe Works
Fresh strawberries give the dressing strawberry essence without the need for artificial ingredients.
Honey adds sweetness and an extra depth of flavor.
The balsamic vinegar gives this vinaigrette a sweet and tangy flavor profile that can't be beat!
I love anything that is quick and easy, and if it's freshly made, even better. You can't beat a homemade salad dressing. Once you've made this delicious vinaigrette you will never buy store-bought again!
This is my take on strawberry vinaigrette and I'm so excited to share it with you. Pour over your salad for that amazing sweet and sour combination that never disappoints.
Ingredients Notes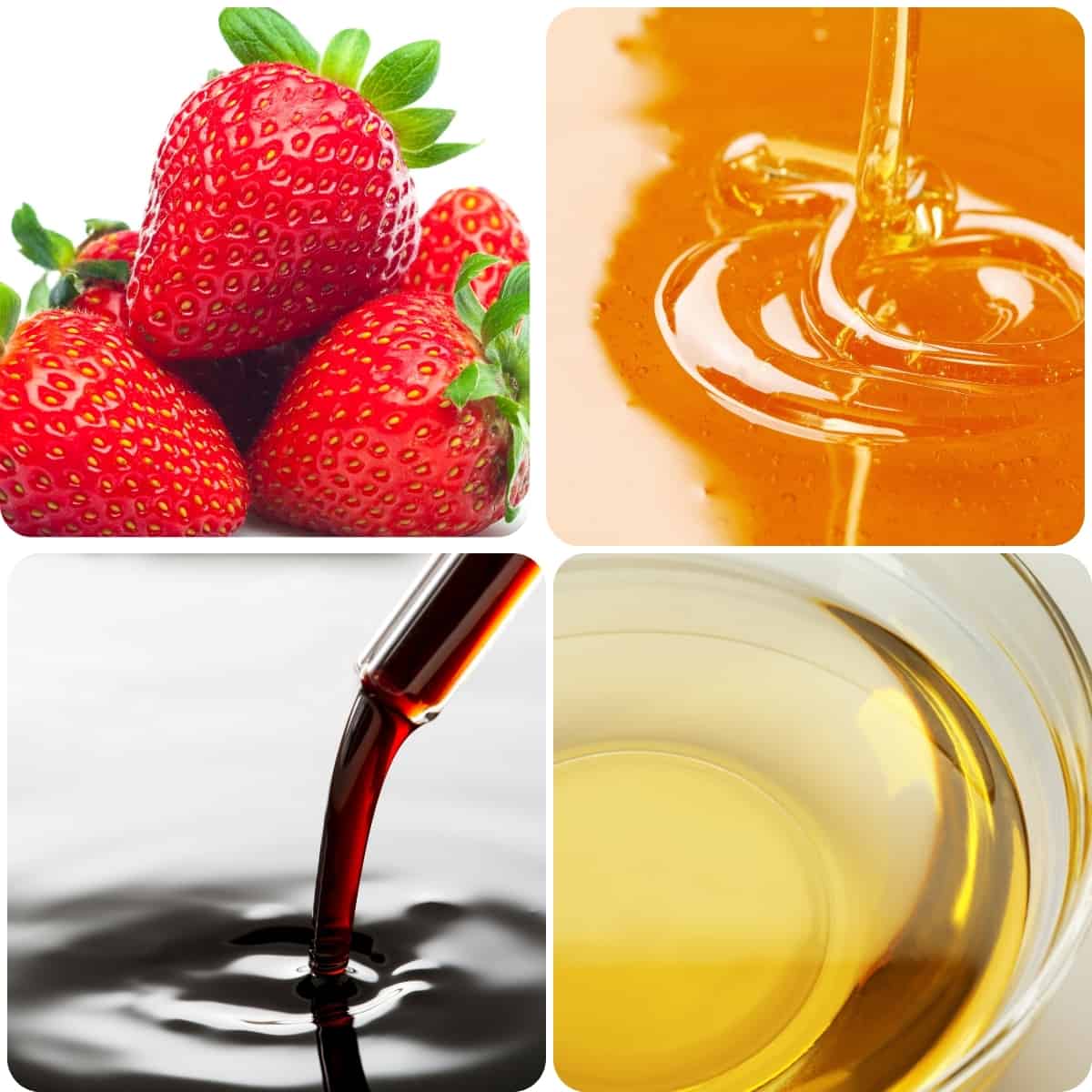 Strawberries: I use fresh strawberries in this recipe, but frozen strawberries are fine. Just make sure you defrost them thoroughly and drain them well.
Honey: I use organic raw honey, but you can use any kind of honey you like best. If you need a substitution, use maple syrup or white sugar.
Balsamic Vinegar: Use good quality vinegar for the best possible flavor. If you need a substitution, apple cider or white vinegar work well too.
Olive Oil: Olive oil is my choice for this vinaigrette, but use any oil you prefer such as canola oil or walnut oil.
Serving Ideas
This recipe is great for topping a salad, but it can be used for so much more! I've used it to marinade pork before a stir fry, drizzled it over fresh fruit with Greek yogurt, and reduced it into a glaze for ice cream!
How to Make Strawberry Vinaigrette
Prepare the ingredients.
Place all ingredients in a blender and blend until smooth.
Refrigerate until ready to serve!
Pour over the salad of your choice. Enjoy!
Step By Step Instructions
Remove the stems from the strawberries and add them to the blender or food processor.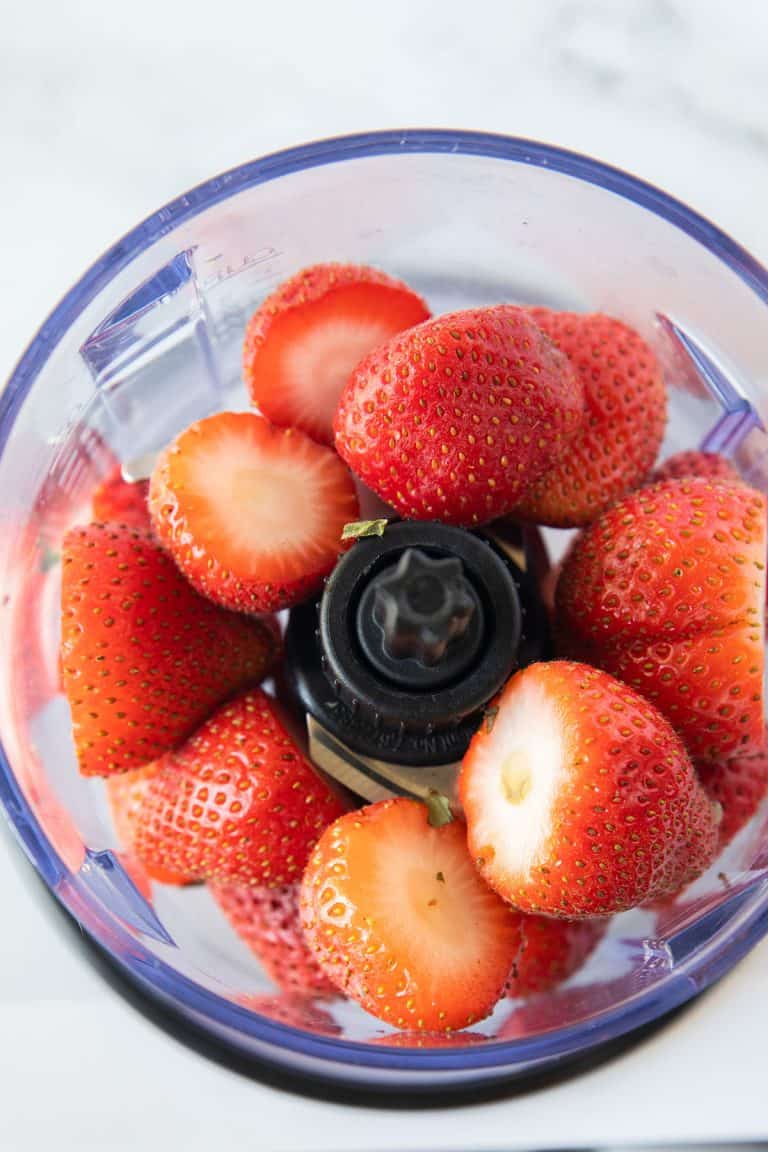 Pour in the honey.
Add the vinegar.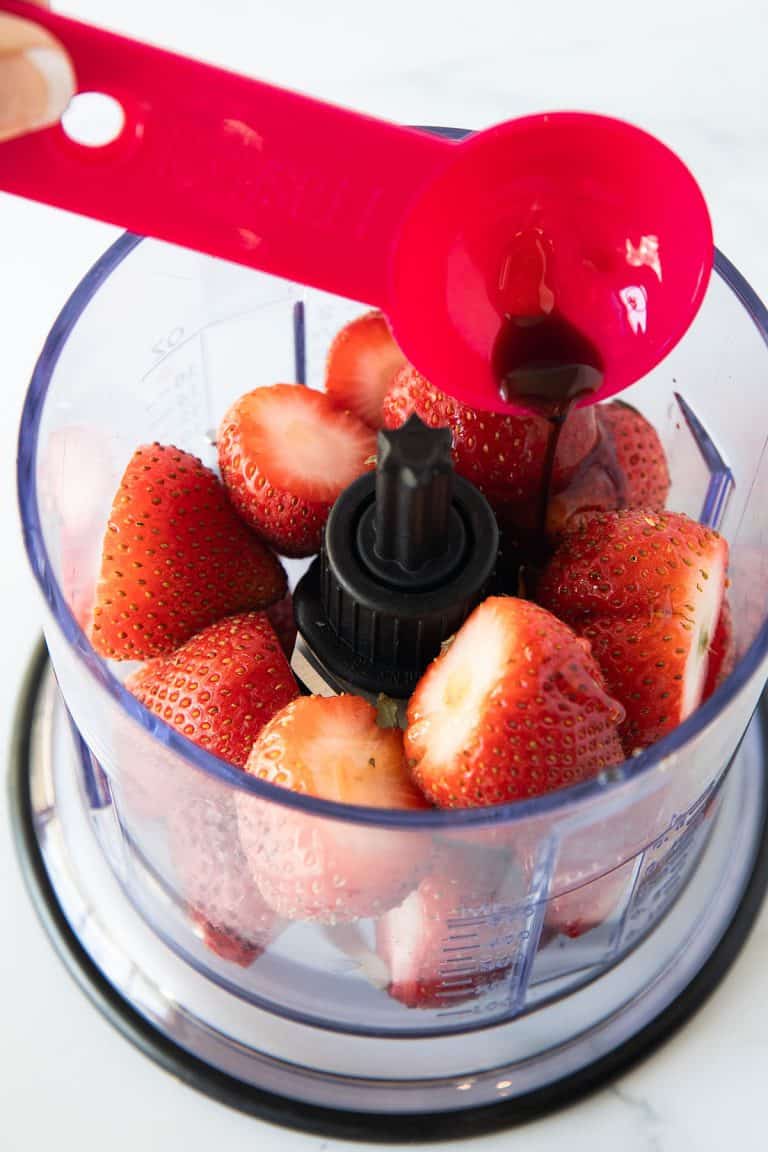 Season with salt and freshly ground pepper.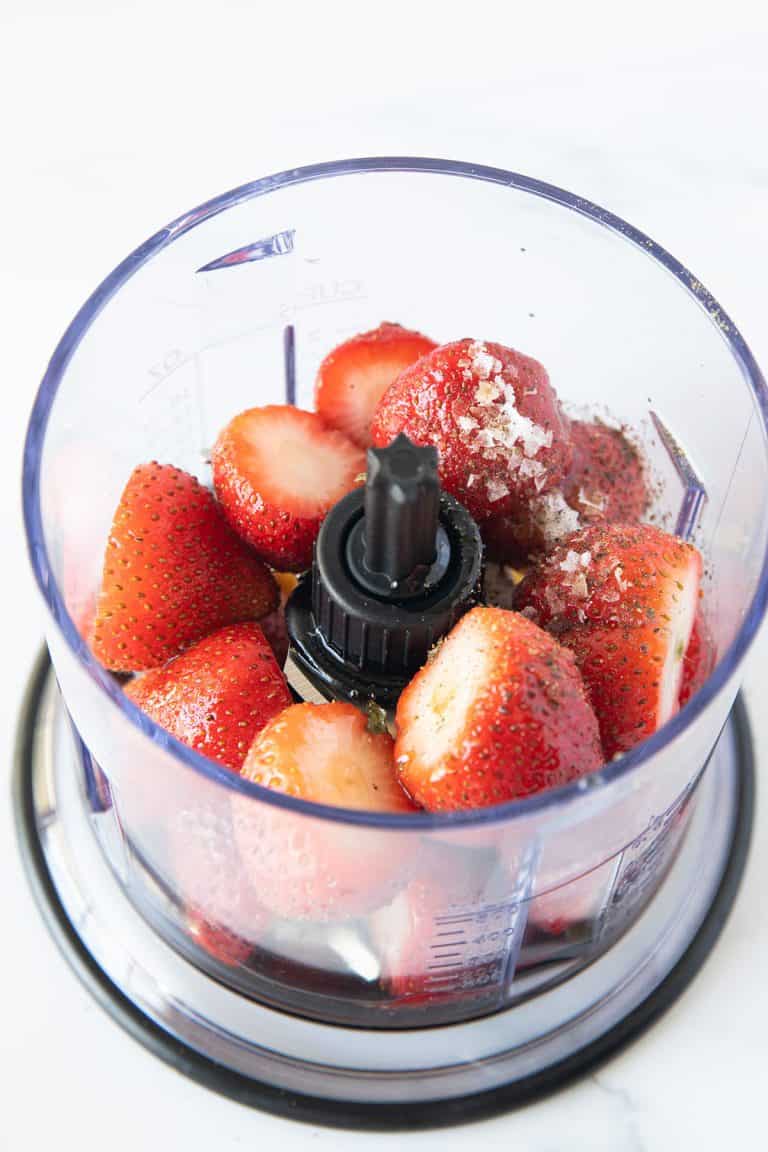 Blend until completely smooth.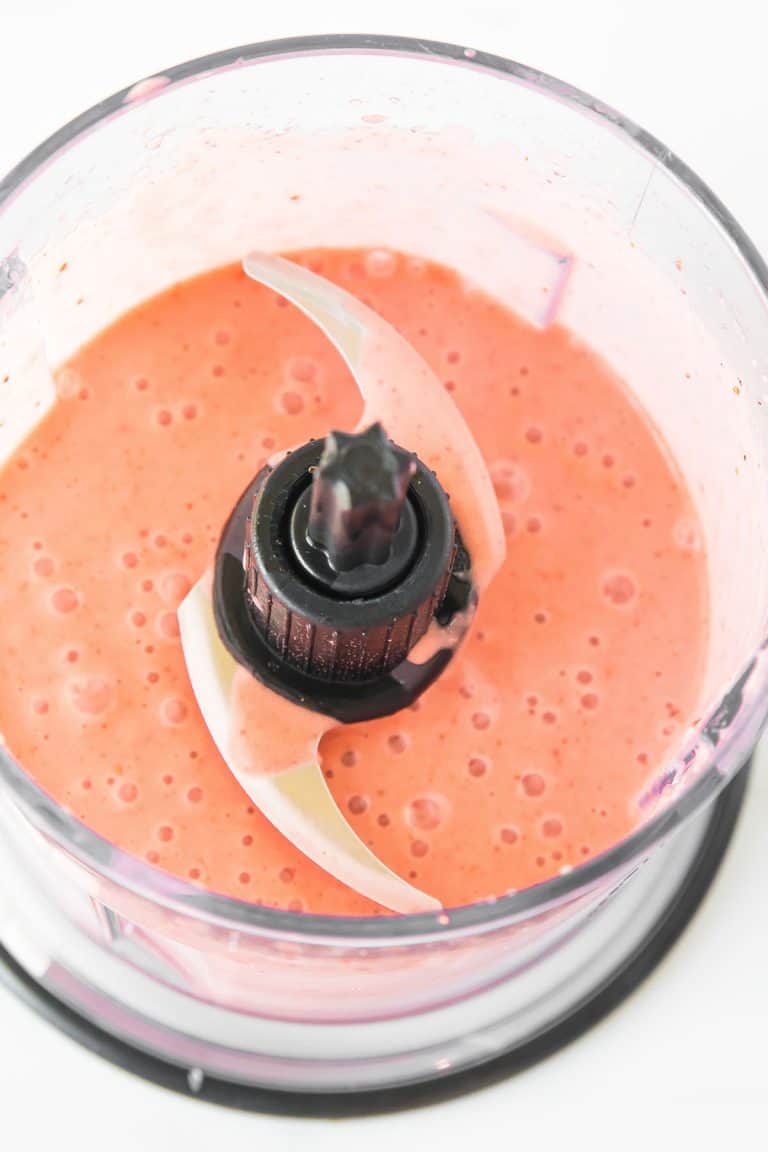 Decant into a jar or bottle, ready to serve!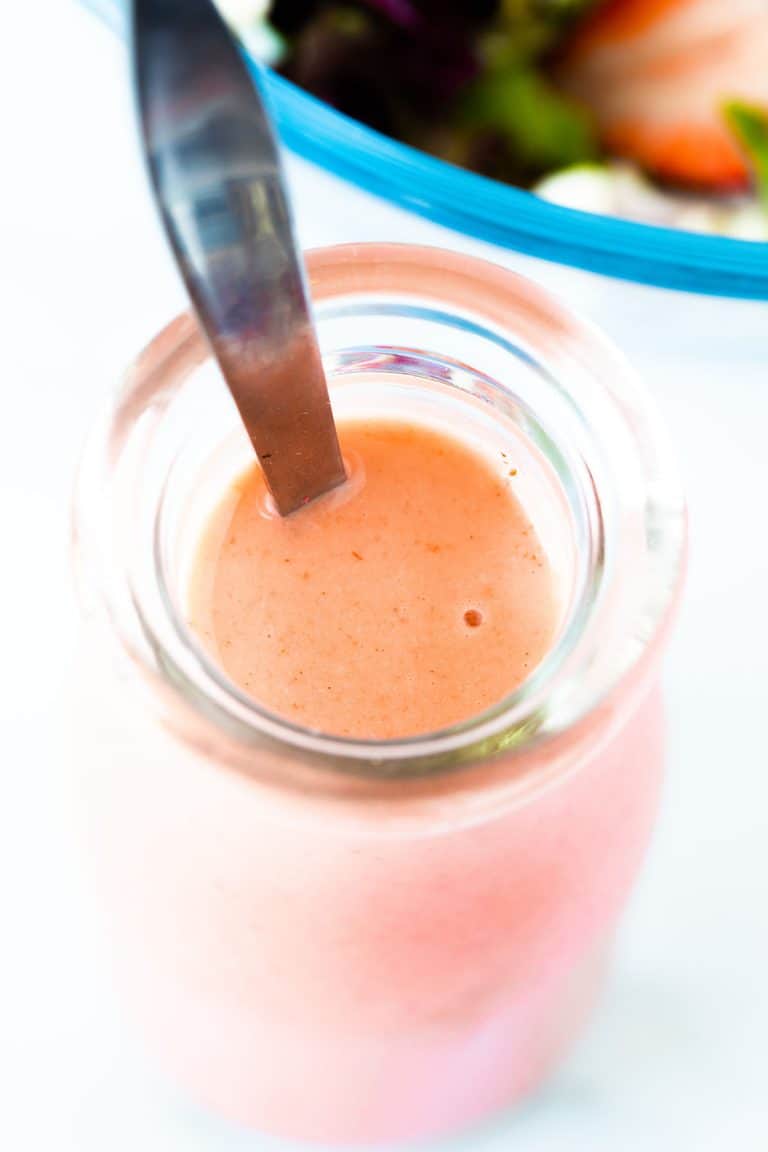 Tips & Variations
Taste before serving and adjust as needed. For me, it needed extra salt and pepper, but you may find you like it sweeter or sourer. Taste and adjust to your pallet.
If you prefer your salad dressing a little bit sweeter, add some extra honey or a little sugar.
If you don't like honey you can substitute it with granulated sugar, maple syrup, or agar syrup. The choice is yours.
Don't have fresh strawberries on hand? Don't worry, you can use frozen strawberries, just thaw thoroughly and follow the steps.
To substitute balsamic vinegar you can use fresh lemon juice, apple cider vinegar, or any white vinegar.
If you like a little kick to your vinaigrette you can add chili flakes or paprika for a little spice. Experiment with flavors, there are no hard and fast rules.
Experiment with fresh herbs, you could add finely chopped basil or oregano.
Make Ahead Instructions
This recipe can be made ahead and then kept in an airtight container in the refrigerator for up to 3 days.
FAQs
What is the Difference Between Vinaigrette and Dressing?
A Vinaigrette is a mixture of something acidic (like vinegar or lemon juice) with oil, seasoning, and herbs. A salad dressing is an emulsified mixture of ingredients that creates more of a sauce that can be used for dipping or on salads.
Is red wine vinegar the same as vinaigrette?
No, red wine vinegar is a type of vinegar that when mixed with oil seasoning and herbs, makes a vinaigrette.
Stay Updated
Receive new recipes & dinner ideas straight to your inbox!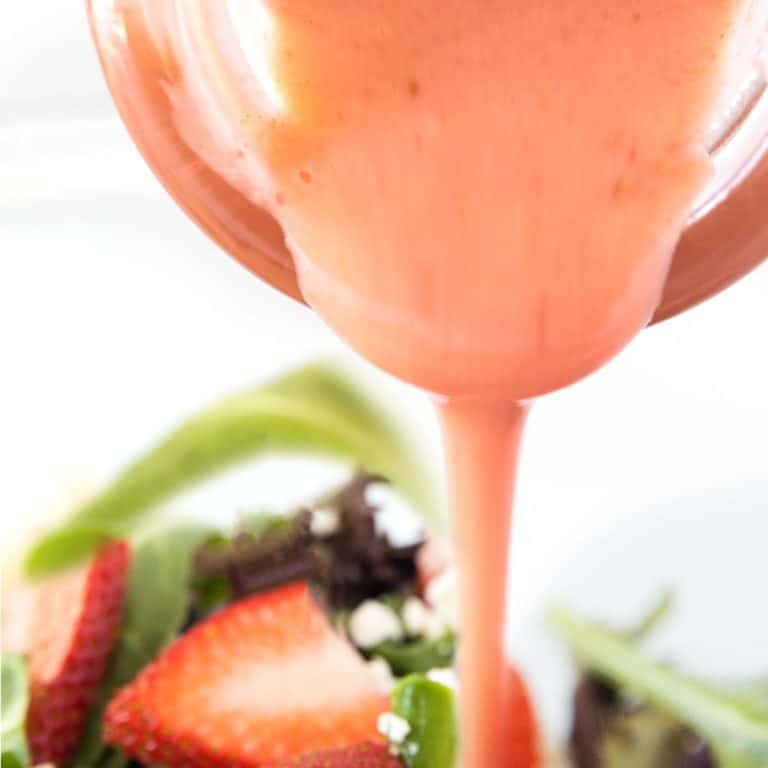 Let's Make Strawberry Vinaigrette
Simply combine fresh strawberries, honey, oil and, balsamic vinegar to create this delicious dressing that encapsulates summer perfectly!
Prep5 minutes
Cook0 minutes
Total5 minutes
Ingredients
8 oz fresh strawberries
1 tbsp honey
1 tbsp balsamic vinegar
½ cup olive oil
salt and pepper to taste
Instructions
Wash and trim the strawberries, pat dry.

Add the strawberries, balsamic vinegar, honey and oil into a blender and blend until combined and smooth

Season to taste.
Tips + Notes
This recipe makes about a ½ cup of dressing making 4 servings of 2 tablespoons. Taste before serving and adjust as needed. For me, it needed extra salt and pepper, but you may find you like it sweeter or sourer. Taste and adjust to your pallet.
Nutrition Information:
Serving: 2tablespoons| Calories: 276 (14%)| Carbohydrates: 9g (3%)| Protein: 1g (2%)| Fat: 27g (42%)| Saturated Fat: 4g (25%)| Sodium: 2mg| Potassium: 94mg (3%)| Fiber: 1g (4%)| Sugar: 8g (9%)| Vitamin A: 7IU| Vitamin C: 33mg (40%)| Calcium: 11mg (1%)| Iron: 1mg (6%)
Erren's Kitchen is written and produced for informational intentions only. We are not certified nutritionists, and the nutritional information found on this site has not been assessed or authorized by a nutritionist or the FDA. The nutritional information found in our recipes is offered as an estimate and should not be considered a guarantee or fact. The estimated data is provided as a courtesy and calculated through a third-party online nutritional calculator, spoonacular API. Although we do our best to provide accurate nutritional information, these figures should be considered rough estimates. Many factors, such as brands or products purchased and the nutritional fluctuations that naturally occur in fresh produce, can alter the effectiveness of the nutritional information in any recipe. Furthermore, various online calculators provide different results depending on their particular algorithms and nutrition fact sources. To obtain the most precise nutritional information in a provided recipe, you should calculate the nutritional information with the exact ingredients you are using when preparing the recipe using your preferred nutrition calculator.