This refreshing Strawberry Salad recipe just screams Summer. Make it for a light lunch or side, a mouthwatering dish for any occasion.
With a small amount of preparation, this is not only ready in under 20 minutes, but it's also the tastiest salad ever!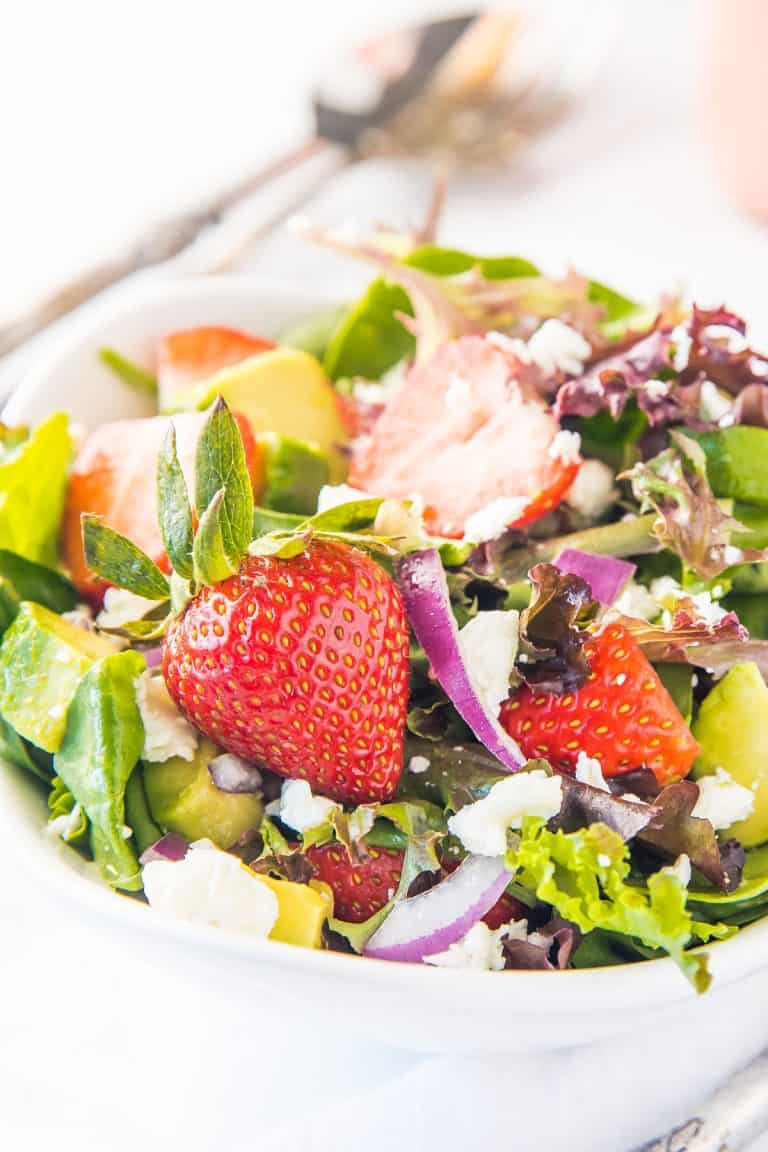 I'm always looking for something different to serve up to my family, and with the Summer months approaching, I'm always happy to have a new way to serve up strawberries when they're in season.
Why This Recipe Works
Using fresh strawberries adds a sweet and bright element to this summer salad.
Feta Cheese and red onion offset the sweetness of the strawberries.
Avacado beefs up this salad making it perfect for a filling summer lunch.
Buying Strawberries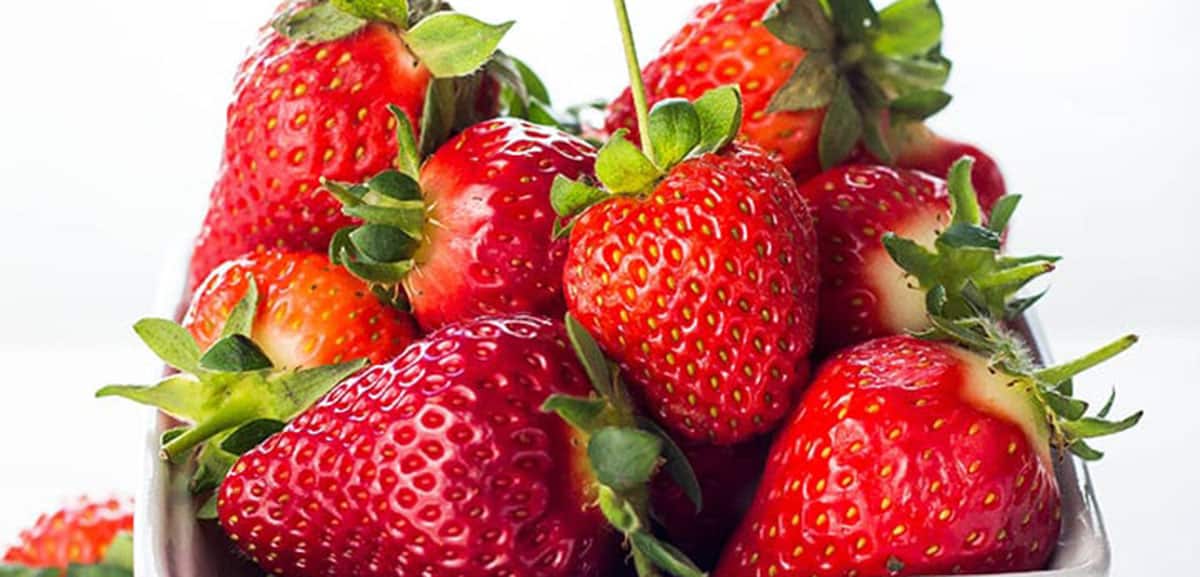 Bright red berries with fresh green leaves are the best for using in a salad.
Strawberries don't ripen after being picked, so look for strawberries that a bright red from top to bottom with fresh-looking vibrant green leaves.
The strawberries should unblemished and free of soft spots and signs of mold. Be sure to check the strawberries at the bottom of the carton.
Fruit is often overlooked when it comes to salads, but I love a sweet and savory combination, and what could be better than sweet juicy strawberries and creamy, crumbly feta cheese? Not much, I promise! I'm so pleased to share this fabulous recipe with you. I know you will love it as much as I do!
Dress this delicious salad with my Strawberry Vinaigrette or this fantastic Vegan Blue Cheese Dressing from my friend at Namely Marly. The choices are endless…
Ingredients Notes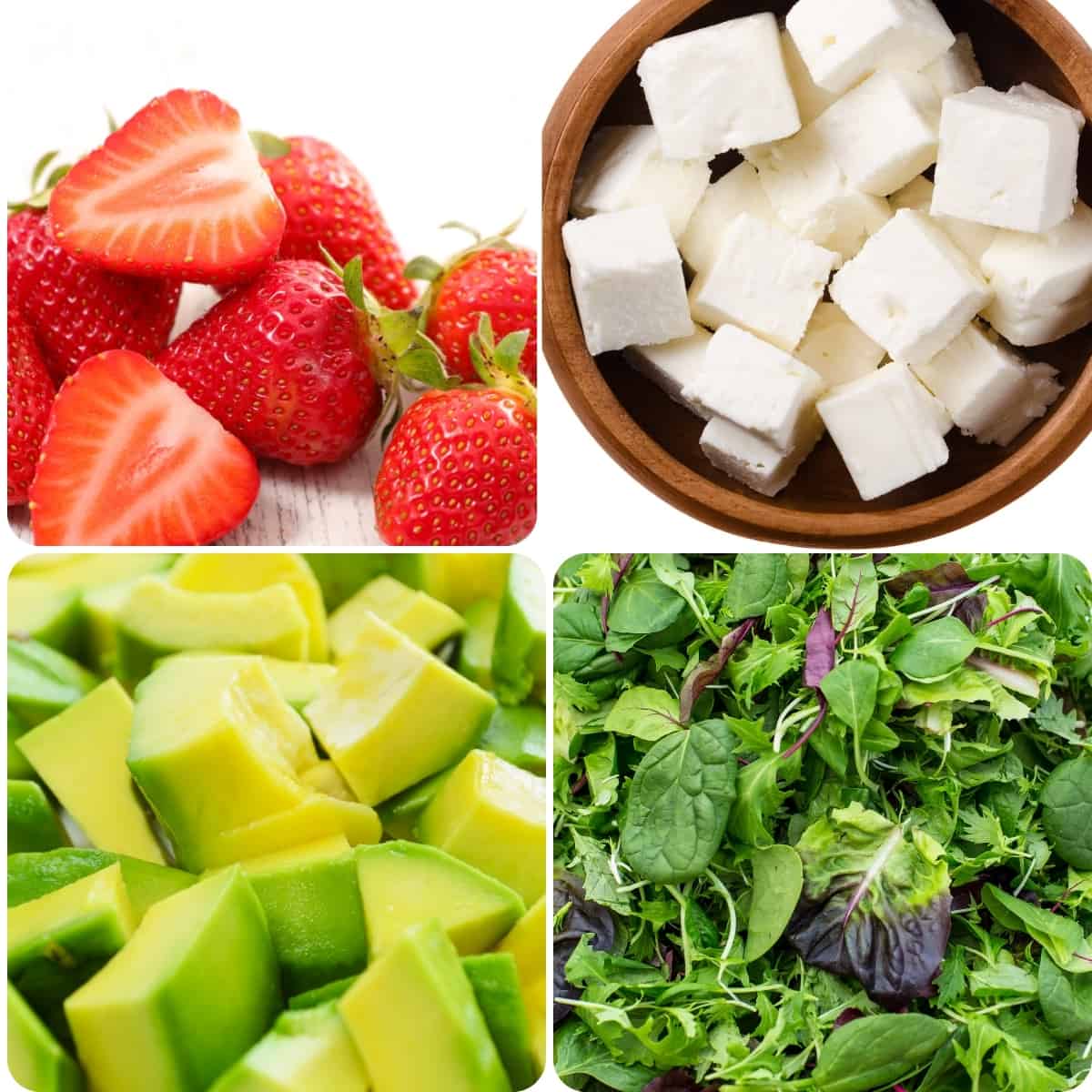 Salad Greens: I used a spring mix with arugula and baby spinach for this salad but feel free to use your favorite salad greens.
Strawberries: Fresh strawberries are best for this salad, you can use frozen but make sure they are defrosted well and pat them dry before adding them to the salad.
Feta Cheese: I used feta cheese for its mild creamy flavor but goat's cheese works just as well.
Red Onion: I like them for their subtle, sweet flavor. Feel free to use green onions or shallots are a replacement.
How to Make Strawberry Salad
Wash the salad greens.
Chop the avocado and red onion, add to the bowl.
Crumble over some feta cheese.
Add the trimmed strawberries.
Drizzle with your chosen salad dressing.
Serve and enjoy!
Step By Step Instructions
Wash and prepare your chosen salad greens.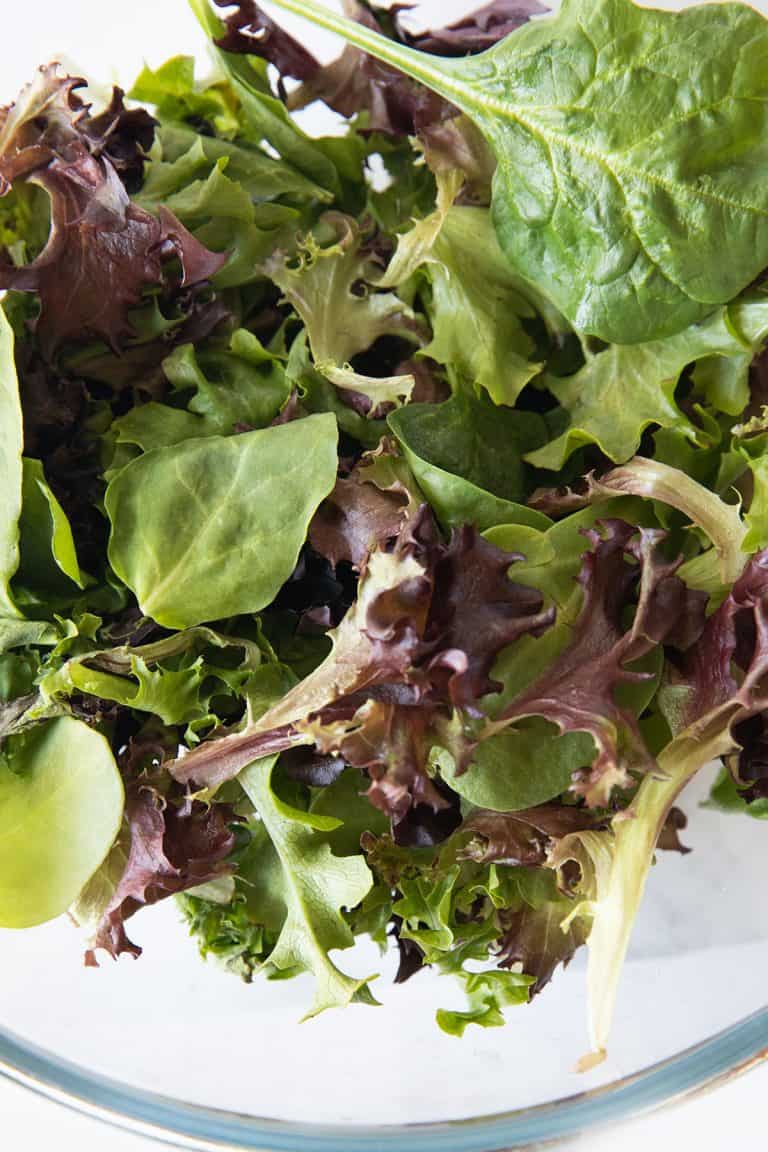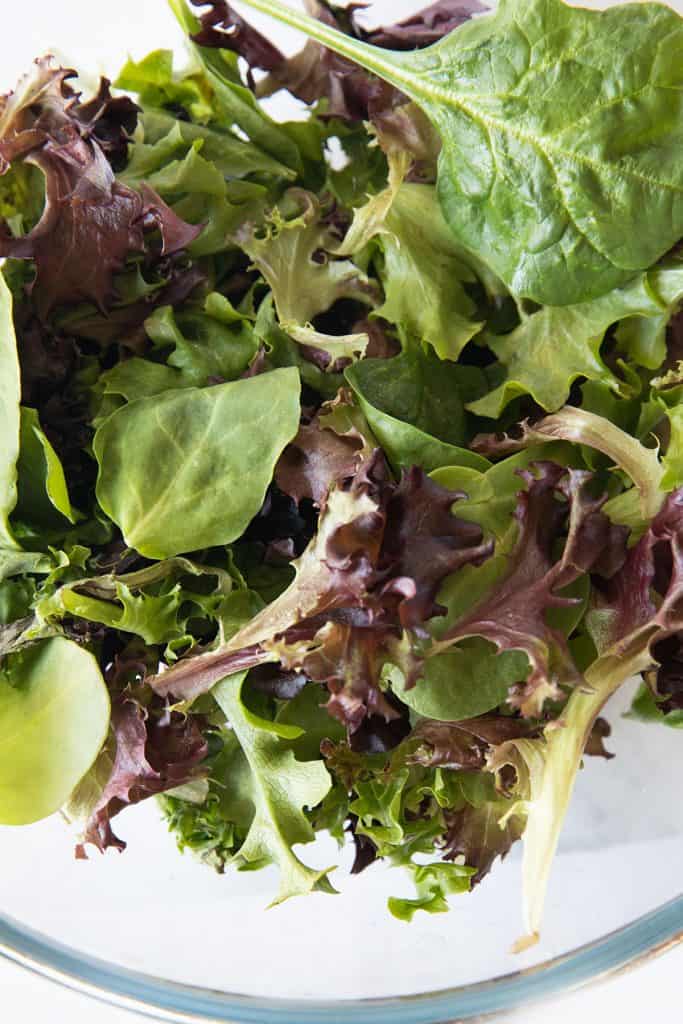 Add diced avocado to the bowl.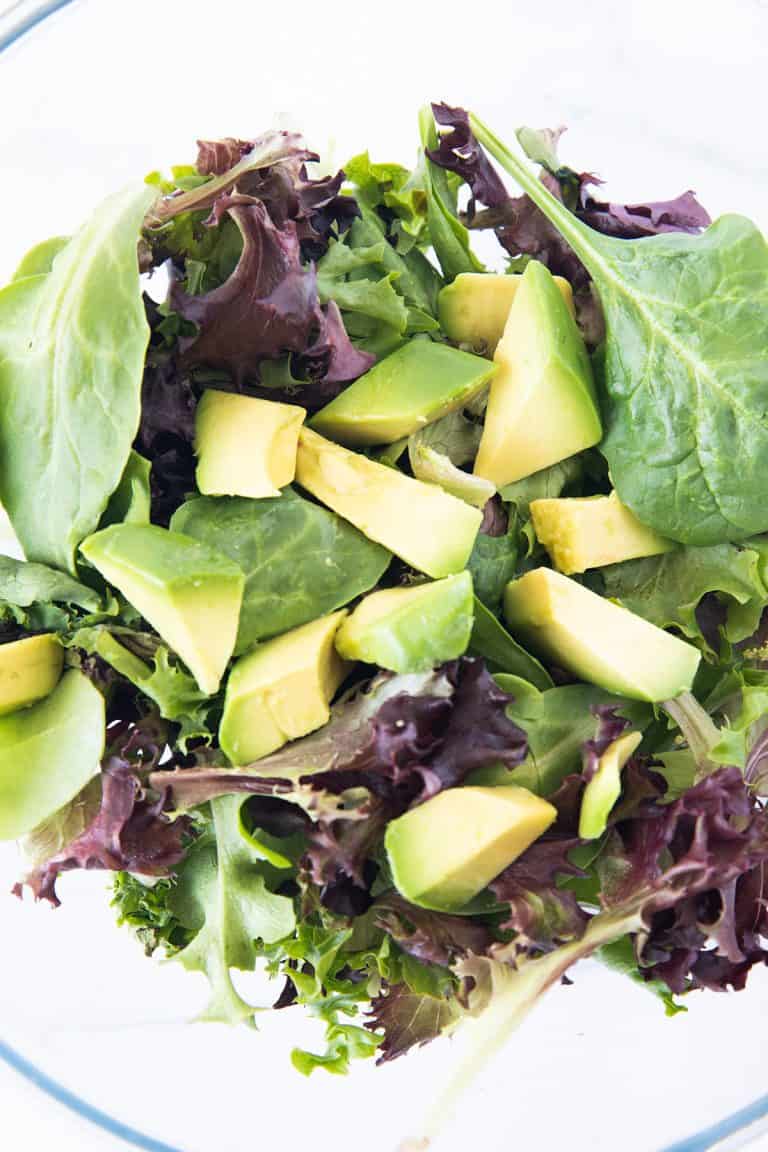 Add chopped red onion.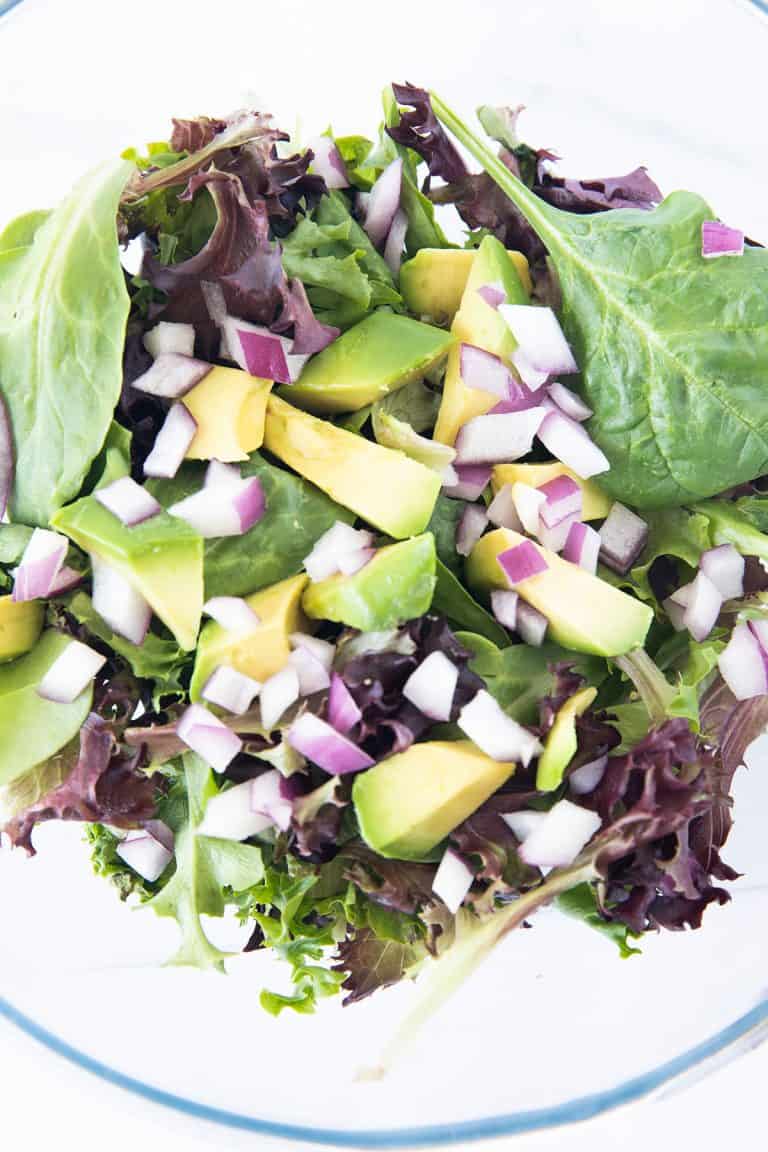 Crumble in the feta.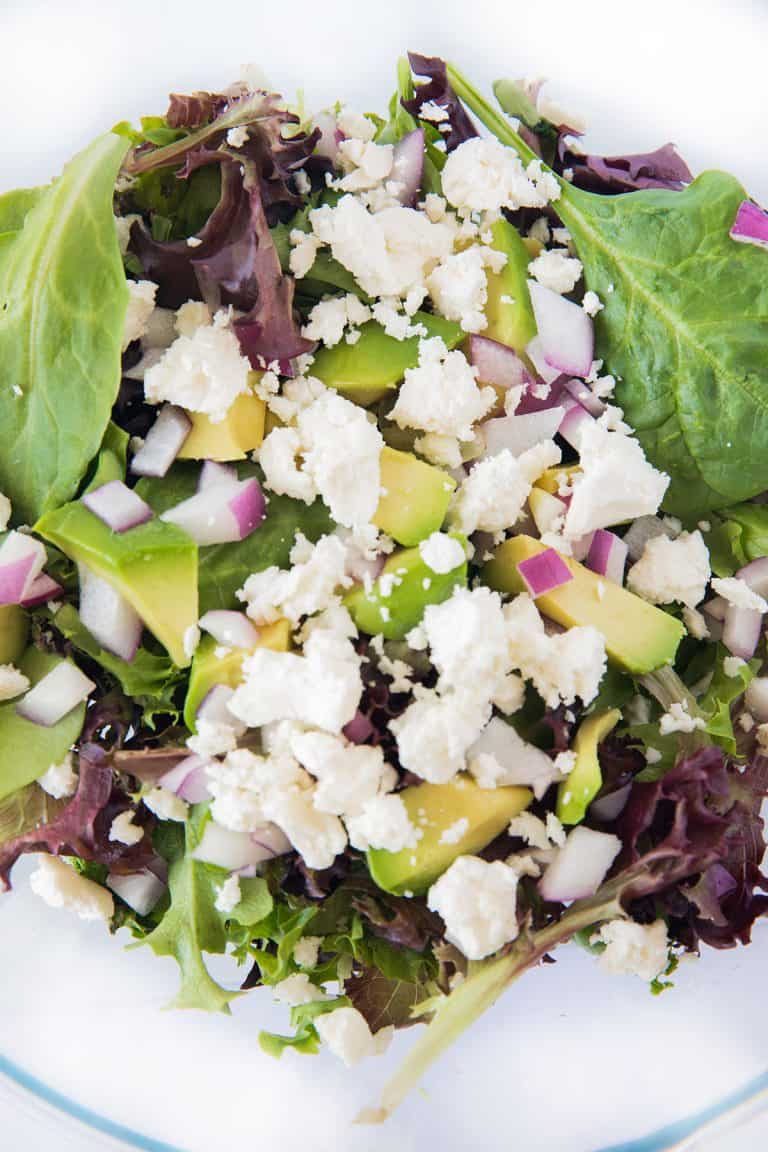 Top your salad off with trimmed strawberries.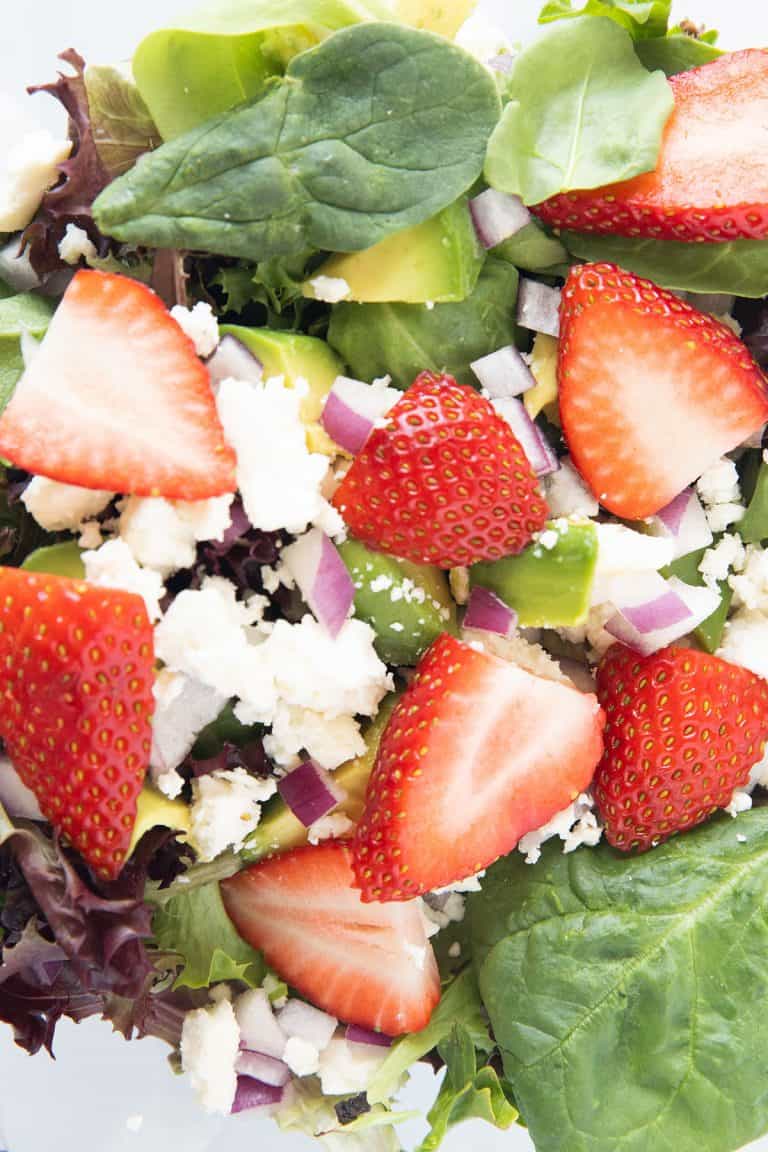 Season and serve with your favorite salad dressing.
Tips & Variations
Ensure the strawberries are trimmed properly when adding them to salad, slice the green leaves off the top, and chop them to your desired size.
For extra crunch why not add some chopped walnuts, pine nuts, or croutons for extra texture.
If you want to replace the avocado you can substitute it with diced kiwi, make this salad your own.
I like to use arugula (also known as rocket) and baby spinach in my salads but you can use any salad greens you like.
If you are not a fan of feta you can replace it with crumbled blue cheese or a mature cheddar.
Food Safety in Warmer Weather
To prevent bacteria in food from rapidly growing, salad and other picnic foods need to be kept at certain temperatures. The key is to not allow your food to sit unrefrigerated for more than 2 hours, or if the outdoor temperature is higher than 90° F, limit the time to one hour.
Salad is always best fresh but you can store the strawberry salad in an airtight container for up to three days in the fridge.
Stay Updated
Receive new recipes & dinner ideas straight to your inbox!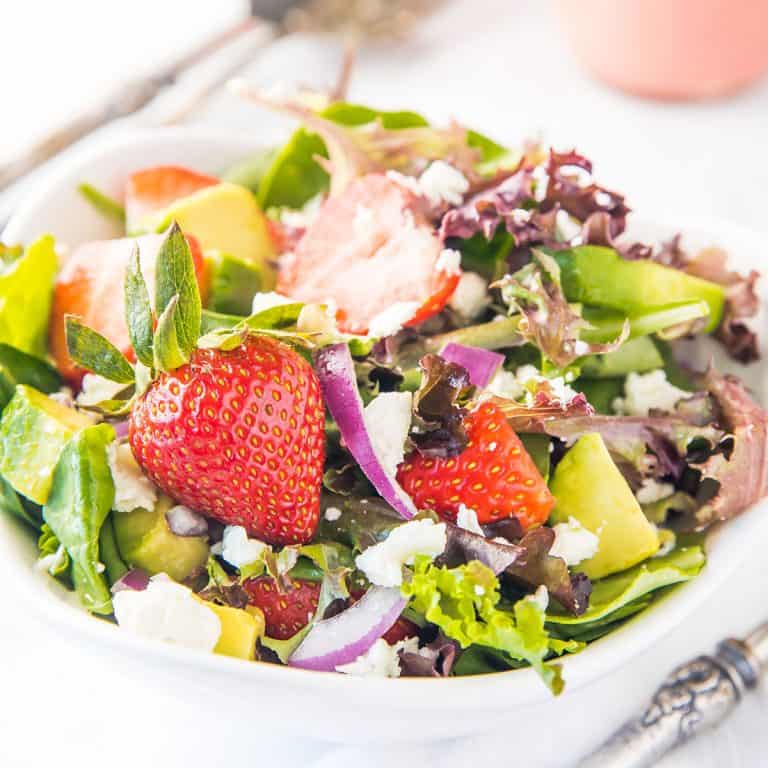 Let's Make Strawberry Salad
This delicious summery salad has fresh greens, plump strawberries, red onion, avocado and feta cheese for filling warm weather dish.
Prep10 minutes
Total10 minutes
Ingredients
12 oz salad greens I used arugala and baby spinach
1 avocado diced
1 red onion finely chopped
4 oz feta cheese cubed or crumbled
1` lb strawberries with the tops sliced off
Salad Dressing I used my strawberry vinegarette
Instructions
Wash and prepare the salad greens. Add to a large bowl

Dice the avocado and add to the salad greens.

Finely chop the red onion and add to the salad.

Crumble the feta cheese over the salad.

Trim the strawberries and add them to the bowl.

Toss the salad and dress with your chosen salad dressing or vinaigrette.
Nutrition Information:
Calories: 216kcal (11%)| Carbohydrates: 19g (6%)| Protein: 7g (14%)| Fat: 14g (22%)| Saturated Fat: 5g (31%)| Cholesterol: 25mg (8%)| Sodium: 344mg (15%)| Potassium: 621mg (18%)| Fiber: 6g (25%)| Sugar: 8g (9%)| Vitamin A: 1173IU (23%)| Vitamin C: 93mg (113%)| Calcium: 181mg (18%)| Iron: 2mg (11%)