Tomato Avocado Salad is the perfect summer salad. Simple tasty ingredients, and it's easy to prepare.
If you're planning a picnic, this is a great pairing with Moroccan Spiced Vegetable Cous Cous or Bacon and Green Onion Pasta Salad.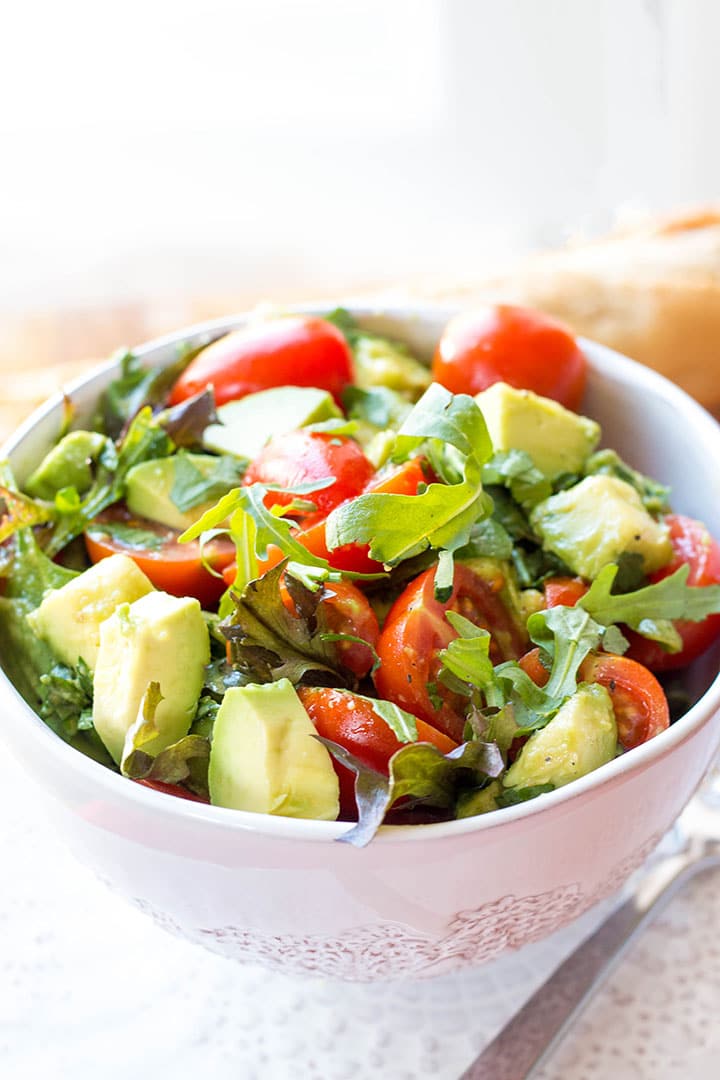 Tomato Avocado Salad – The perfect fresh side to add to any meal.
It's loaded with ripe juicy tomatoes, creamy avocado and fresh greens like Spinach and arugula. This salad comes together in a flash even with the homemade dressing! This is the perfect dish to serve alongside your summer BBQ food, it adds a touch of class to any occasion.
The lemon dressing for this salad is really easy to make and it's incredibly tasty!
Just remember that the tomatoes and avocados are the stars of this show so the better the quality, the better this salad will taste!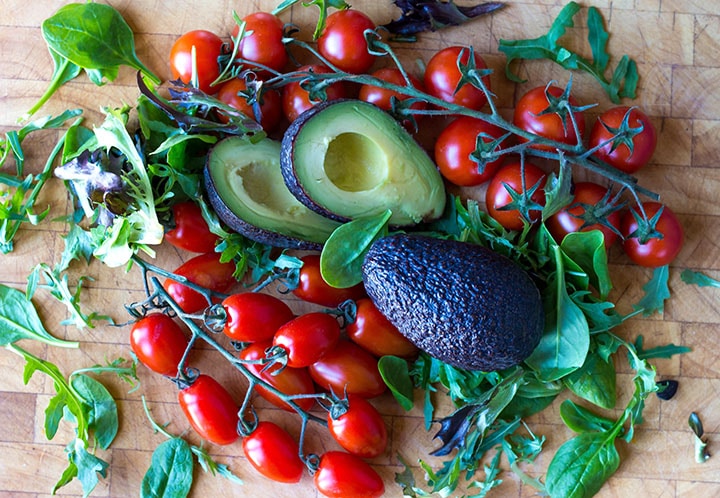 Why this recipe works:
Using a very ripe avocado helps give the dressing a creamy consistency.
The use of fresh herbs adds a lot of flavor.
The use of extra virgin olive oil in the dressing gives a light peppery flavor that pairs well with the fresh lemon juice.
The simplicity of just a few fresh, simple, good quality ingredients creates a beautiful salad that speaks for itself.
The Benefits of Eating Avocado
Avocado is full of potassium (more than in bananas), monosaturated fatty acids that are good for your heart, and to top it off they can lower your cholesterol! They are full of fiber and contain a good amount of your daily recommended vitamins.
This makes the tomato-avocado salad one of the most nutritious salads you will ever serve up.
How to Make Tomato Avocado Salad
Place sliced tomatoes in a large salad bowl.
Add the cubed avocado.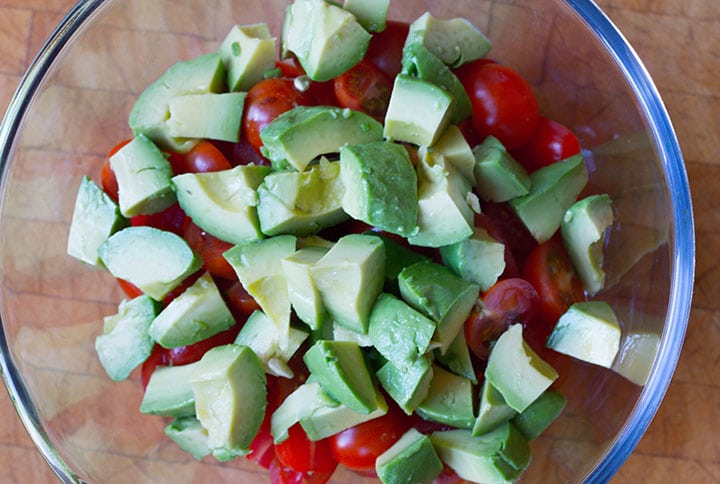 Add the chopped parsley and cilantro.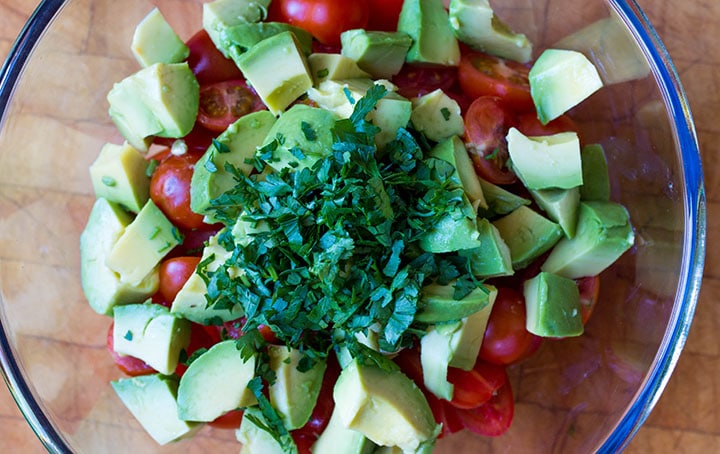 Add the salad greens.
Add the fresh lemon juice.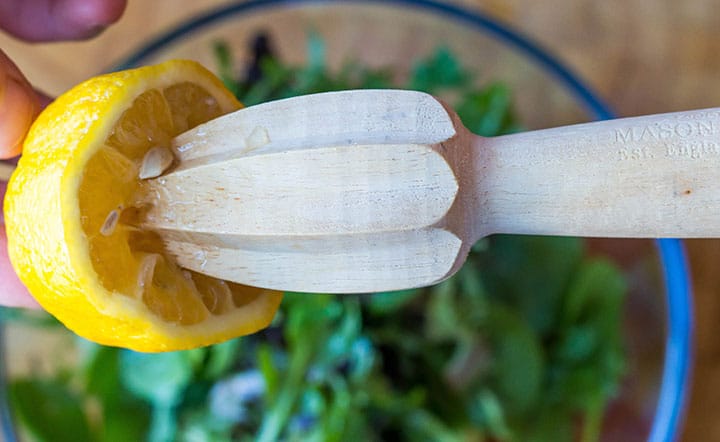 Add the olive oil.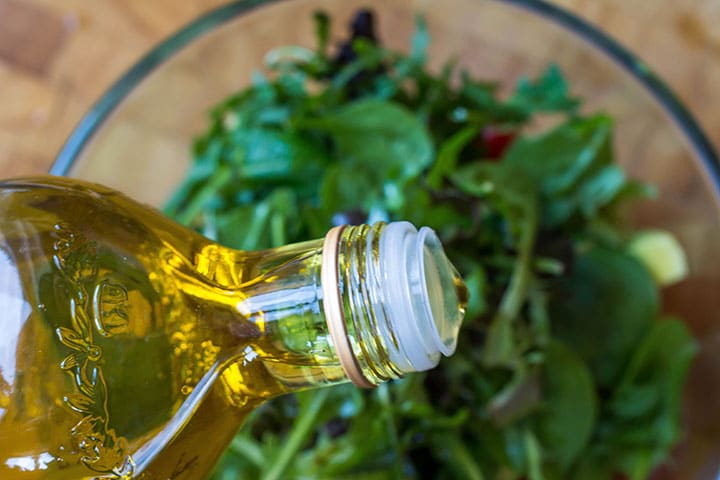 Season with salt and pepper.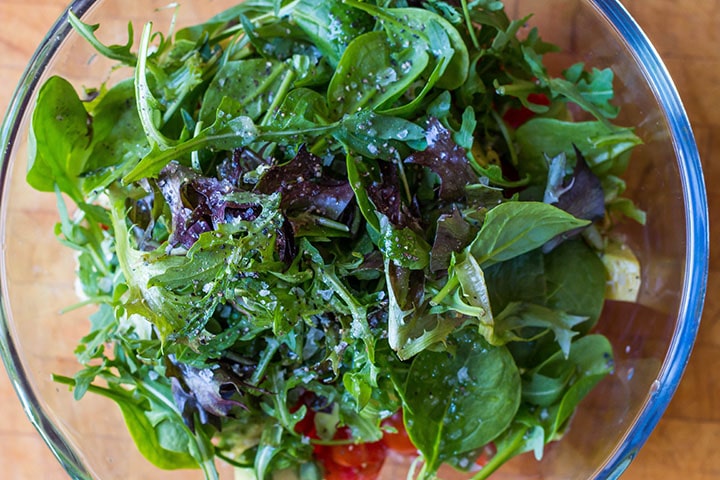 Toss well to allow the very ripe avocado to break down enough to add creaminess to the dressing.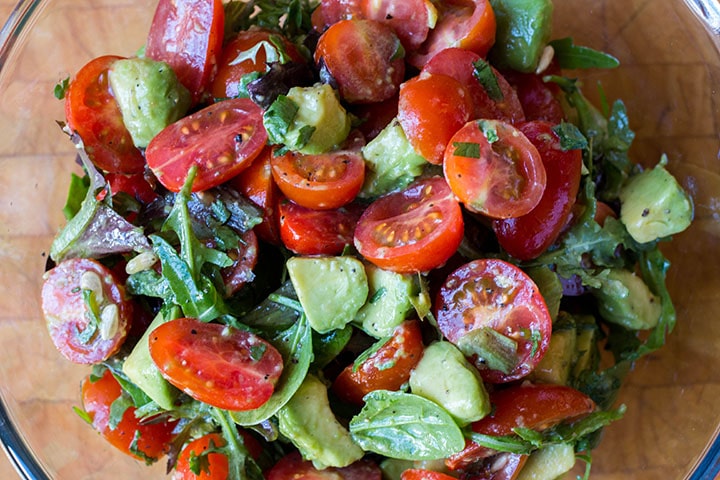 Serve and enjoy.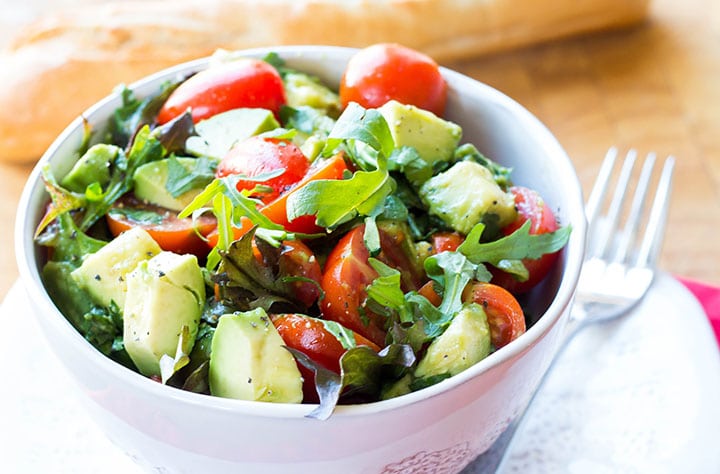 Tips for the Best Possible Salad:
Avocados brown when exposed to the air, so if you're chopping as you go, make them the last ingredient you add before serving to help keep them green or coat with lemon juice once chopped.
Adding baby cucumbers gives this salad a lovely crunch.
Chop Large – Large chopped ingredient pieces work best in this chunkier salad for various textures.
If you are short on time, You can substitute store-bought dressing as well.
For added crunch, try adding good quality croutons.
For a more substantial salad, add pasta or grains like couscous or quinoa.
FAQ's
Can tomato avocado salad be prepared in advance: To make this salad ahead of time, either make the dressing in a separate bowl or dress with the salad just before serving. Just be sure to coat the avocados in lemon juice to avoid discoloration.
How long will tomato avocado salad keep in the refrigerator: If your salad is kept in an airtight container it can be kept for around two to three days in the refrigerator.
Is avocado that has turned brown safe to eat: Yes, this is a similar chemical reaction as when an apple goes brown. It may taste slightly bitter but is perfectly safe to eat. If dressed properly, the avocado in your salad should keep its color.
★ Did you make this recipe? Please give it a star rating below!
Stay Updated
Receive new recipes & dinner ideas straight to your inbox!
Let's Make
Tomato Avocado Salad
Tomato Avocado Salad is perfect for a delicious lunch and it is a great fresh side to add to any dinner. This salad comes together in a flash even with the homemade dressing!
Prep10 minutes
Total10 minutes
Ingredients
½ lb cherry tomatoes halved
½ lb baby plum tomatoes halved
2 avocados one ripe and one very ripe avocado, diced
5 oz bag washed baby arugula
5 oz bag washed baby spinach
2 Tbsp extra virgin olive oil
2 Tbsp fresh lemon juice approx 1 medium lemon
A good handful fresh cilantro chopped
A good handful fresh parsley chopped
1 teaspoon of sea salt
Fresh grated black pepper
Instructions
Place sliced tomatoes, diced avocado, arugula, chopped parsley, and chopped cilantro into a large salad bowl.

Drizzle with olive oil and lemon juice. Toss gently to combine. Just before serving, toss with the sea salt and black pepper.
Nutrition Information:
Calories: 261kcal (13%)| Carbohydrates: 16g (5%)| Protein: 5g (10%)| Fat: 22g (34%)| Saturated Fat: 3g (19%)| Sodium: 635mg (28%)| Potassium: 1073mg (31%)| Fiber: 9g (38%)| Sugar: 4g (4%)| Vitamin A: 5060IU (101%)| Vitamin C: 48.9mg (59%)| Calcium: 116mg (12%)| Iron: 2.6mg (14%)
Update Notes: This post was originally published in May 2018, but was republished with updated information in June of 2019.