This easy one-pot recipe for Moroccan Spiced Vegetable Couscous is delicious on its own or makes a flavorful side dish for Oven Fried Chicken or a nice juicy steak!
Why This Recipe Works
The aromatic combination of fragrant spices makes it a dish that packs a punch.
Browning the vegetables instead of just softening them adds an extra depth of flavor.
Cooking the Couscous in the stock and vegetable mixture allows the tastes to infuse.
Deliciously Simple Couscous
Don't you just love a quick and easy dish? I know I do! If you're looking for a delicious side dish in a hurry, this vibrant recipe is unbelievably tasty, and on the table in just 30 minutes!
Peppadew Peppers
For a wonderful kick of flavor in this dish, I used Peppadew® Piquante Peppers
If you aren't familiar with Peppadew®, they are amazing little, crispy Piquante Peppers that have a fantastic sweet heat. I love cooking with them and once you try them, you will too!
What is Couscous?
Couscous is often thought of as a grain, but although it may look like a grain, it's actually pasta. This includes Israel couscous which is just a larger variety of couscous.
Couscous is a healthy alternative to white or brown rice as a cup of it has both fewer calories and carbohydrates.
How To Cook Couscous
Traditional couscous (white or whole wheat) cooks in a flash! Here's how to do it:
Measure a 1:1 ratio of couscous to water.
Salt the water and bring it to a boil.
Add the couscous, cover the pot, and remove it from the heat.
Let it stand for 5 minutes,
Fluff it with a fork.
For this recipe, the couscous cooks in the stock and the spicy vegetable mixture for the best possible flavor.
For Perfect Couscous
This may seem like a no-brainer but read the package instructions. Different brands may vary on the proportions of liquid to couscous.
If the instructions don't match the recipe you're making – go by the package and adjust the recipe accordingly.
How To Make Moroccan Spiced Vegetable Couscous
Heat olive oil and add red onions, bell peppers and carrots.
Cook until tender and browned.
Add the garlic and cook another minute.
Mix in the salt & pepper, paprika, ground coriander, turmeric, celery salt, cumin ground cinnamon, and cayenne pepper (if using). Stir-fry until fragrant (about a minute).
Add the frozen peas and cook briefly.
Add the piquante peppers (I use Peppadew), chickpeas, and stock.
Stir in the couscous and chopped parsley to the hot stock. Leave to absorb the liquid (off the heat for about 5 minutes), and fluff before serving.
Erren's Top Tips
Short on time? To speed up the cooking of the onions, peppers, and carrots, add a little water (about a quarter cup) as it cooks to have them sweat instead of sauteing. This really speeds things up. Just be sure to cook out the water before moving onto the next step.
For a healthier option, use whole-grain couscous. It will give you a boost in dietary fiber.
For a bit of sweetness, try adding raisins or sultanas. They're both common in Moroccan cooking.
Mix it up with any of your favorite vegetables or beans.
For an added crunch and texture, add sliced almonds at the end.
Add cooked chicken to make this a complete meal for non-vegetarians.
Stay Updated
Receive new recipes & dinner ideas straight to your inbox!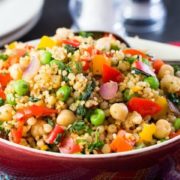 Let's Make Moroccan Spiced Vegetable Couscous
Throw together a deliciously spiced and super healthy dish in no time flat. This recipe is great as a side dish or vegetarian meal.
Prep15 minutes
Cook15 minutes
Total30 minutes
Ingredients
2 tablespoons olive oil
1 medium red onion chopped
1 yellow bell pepper chopped
1 carrot chopped into cubes
2 cloves garlic minced
salt & pepper to taste
½ teaspoon paprika
½ teaspoon ground coriander
¼ teaspoon turmeric
½ teaspoon celery salt
½ teaspoon ground cumin
⅛ teaspoon ground cinnamon
cayenne pepper optional, to taste
1 cup frozen peas
14 oz chickpeas (garbanzo beans) one can, drained
6 Peppadew Piquante peppers chopped, mild or hot
1½ cups chicken stock or vegetable stock
A good handful fresh parsley chopped
1 cup instant couscous
Instructions
In a medium-size skillet heat the oil over medium heat.

Add red onion, yellow pepper, and carrot sauté 10-15 minutes or until brown and all the vegetables are your desired tenderness

Add the garlic, sauté another minute.

Mix in the salt & pepper, paprika, ground coriander, turmeric, celery salt, cumin ground cinnamon, and cayenne pepper (if using). Stir-fry until fragrant (about a minute).

Add the frozen peas and cook briefly. Stir in the piquante peppers and chickpeas. Followed by the stock, scraping any brown bits from the bottom of the pan.

Add the chopped parsley and stir in the couscous. Remove from heat and let stand 5 minutes or until liquid is absorbed. Fluff and serve.
Tips + Notes
This recipe calls for instant couscous. Instant couscous is cooked by covering it with water and leaving it to sit for 5 minutes.
Read the package instructions for your couscous. If the directions and measurements, do not match my instructions, just adjust the liquid measurement according to the amount of couscous in the recipe, add the spices and follow then follow the package instructions. Once cooked, add the vegetables and mix to combine.
Nutrition Information:
Calories: 472 (24%)| Carbohydrates: 77g (26%)| Protein: 17g (34%)| Fat: 10g (15%)| Saturated Fat: 1g (6%)| Sodium: 780mg (34%)| Potassium: 621mg (18%)| Fiber: 13g (54%)| Sugar: 10g (11%)| Vitamin A: 3515IU (70%)| Vitamin C: 91.9mg (111%)| Calcium: 89mg (9%)| Iron: 5.1mg (28%)
Erren's Kitchen is written and produced for informational intentions only. We are not certified nutritionists, and the nutritional information found on this site has not been assessed or authorized by a nutritionist or the FDA. The nutritional information found in our recipes is offered as an estimate and should not be considered a guarantee or fact. The estimated data is provided as a courtesy and calculated through a third-party online nutritional calculator, spoonacular API. Although we do our best to provide accurate nutritional information, these figures should be considered rough estimates. Many factors, such as brands or products purchased and the nutritional fluctuations that naturally occur in fresh produce, can alter the effectiveness of the nutritional information in any recipe. Furthermore, various online calculators provide different results depending on their particular algorithms and nutrition fact sources. To obtain the most precise nutritional information in a provided recipe, you should calculate the nutritional information with the exact ingredients you are using when preparing the recipe using your preferred nutrition calculator.
*This is a sponsored content written by me on behalf of Peppadew®. The opinions and text are all mine.*
Update Notes: This post was originally published on Aug 6, 2018, but was republished with step by step instructions, new photos, tips, FAQs and a video in August of 2018.