Last week, my cat went missing. He was gone for fourteen hours. Just when we were losing hope and preparing to go to bed without him home, the most extraordinary thing happened…
If you're a regular reader of my Monday morning posts, then you know our cat, Alfie is a big part of our family. He's more precious to us than ever because this year we lost his brother and then a few months later, we had to put him on an international flight (in the cargo hold) for a harrowing journey that ended up taking nearly 24 hours.
We moved from England back to my home town in NJ this past April. Alfie is fifteen years old and putting him on that flight was heart-wrenching, but the alternative was re-homing and at his age, it just wasn't an option. Fast forward a few months and he disappears out of our back yard.
Being an older cat, Alfie doesn't wander far these days (or so I thought). He's always gone out. I'll be honest, in England, I never worried. He'd go in and out all day long and rarely left long enough to make me worry, but that day I was worried after just a few hours and by nightfall, I was a mess.
Alfie is not your average cat. When we left England, more people came to see him off than me! I'm only half kidding here. Three people came specifically to say goodbye the day he left and when they took him, we sobbed as if he was being taken forever.
He is social beyond belief. He greets guests like a dog would and is constantly in the mix of whatever is happening. He's always joined in the bedtime routine with my son (laying in bed with us under the covers with his head on the pillow) between us – right where he likes to be.
The day he disappeared, My husband and I must have walked miles looking for him. My feet were torn up with blisters (I wasn't thinking about the right shoe choice at the time) and by the end of the day, my parents, sister, and brother-in-law all joined the search.
When it got dark around 9 PM (over twelve hours after he went missing), we had followed every lead on Facebook and in the dark, we knew there was nothing more we could do. My family left with heavy hearts and we all thought we might not see him again.
By 10:30, we got into bed as a family to try to get our distraught eleven-year-old son to sleep. That's when I got a call from a neighbor a few streets away. She saw my post on Facebook and said she thought she just saw him walk by her house. I jumped out of bed, threw some shoes on and ran out in my nightgown. The lady stayed on the phone with me. I don't know street names yet so she led me to her road as I read street signs along the way.
As I came down her street, I saw him! I yelled out to him and he panicked and ran. I won't lie – I cried like a baby right there in the street. The woman came to comfort me. We went in the direction he ran, but couldn't see much in the darkness. Another neighbor came out and asked if he could help. He turned the lights on in his yard and helped search.
By this time, the lady who called me got a flashlight. We all looked in the dark. Then I heard a voice call out to me from the front yard. He yelled, 'He's here! Over here!' I ran to the front and found three more people with flashlights pointing them all at the same spot. I was overwhelmed by the kindness. Alfie was in the bushes. I tried to stay calm and call for him. I called quietly to him and slowly walked toward him. He panicked again and started to try to escape. I may have threatened the cat at this point (much to the entertainment of the neighbors).
The neighbors rallied and helped surround him as I inched toward him until he gave in and let me pick him up. By this point, my husband had found us. I handed Alfie to him and proceeded to hug all five people that helped me. There were three men, the lady who called me, and a little old lady also in her nightgown.
This would not have happened where we lived in England. I was deeply touched by the kindness of strangers helping me find my little cat at nearly 11 PM at night.
On our way home, I called my son who cried with joy to hear Alfie was coming home. My mother was elated when I called her. We giggled with joy as I told her how it happened. We all slept soundly that night.
Before going to bed, my husband ordered a cat tracker, you can get it here on Amazon (As an Amazon Associate, a small commission is made from qualifying purchases). It goes on his collar and lets you know when he's close with a combination of lights and beeps.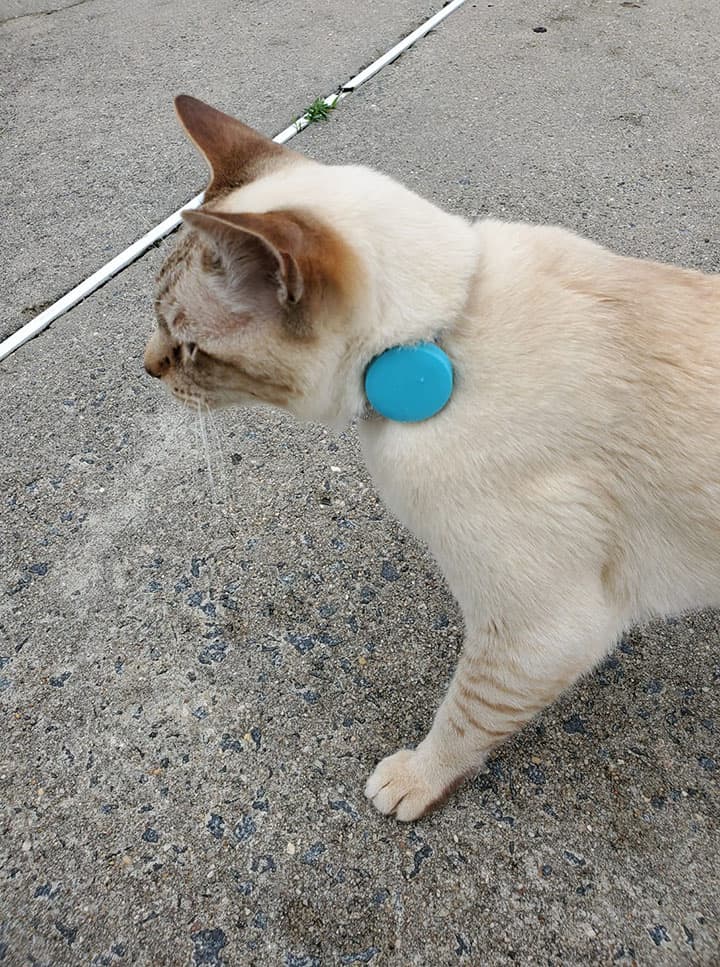 Alfie wasn't allowed out until it arrived. He was too tired to care. I've used the tracker a few times and it really is amazing. It may not tell me where he is, but it does tell me if he's nearby which would have been a big help that day!