This recipe for Cauliflower Pasta Sauce is a simple, healthy dish that's packed full of flavor. Serve it up with plenty of grated Parmesan cheese for a fabulous, quick and easy dinner.
I first posted this recipe about a year ago, but the photos were in need of a major makeover so after I made it for dinner the other night.
I thought I'd snap some new ones that might give this recipe the respect it deserves. It's really hard to make a colorless dish look appetizing, but let me tell you – this is one of my favorite meals.
I am known for this dish. I have plenty of friends that absolutely love it and some of them don't even like cauliflower! My Italian Grandmother made this for me all the time when I was growing up. I absolutely adored it. For me, Cauliflower Cheese Casserole and Cauliflower pasta sauce are the best ultimate comfort food.
This dish can be made as a thick pasta sauce or as more soupy (my friends call it cauliflower soup). I always use small pasta.
My grandmother always used shells as they end up filled with the sauce. I can't always get them so I use whatever small pasta I can find.
You can use fresh cauliflower if you'd like (I've tried both), but because it's one of those pantry dishes (a dish you can make any time by always keeping the ingredients on hand in the freezer & pantry), I have always frozen.
Before the days of growing my own basil, I used to use dried basil as well so if it's all you have, it works just fine. Don't cheat with the garlic though. Plenty of fresh garlic is the key to this recipe. Also, make sure you add plenty of grated Parmesan or Pecorino Romano cheese. It really makes the dish.
This dish can easily be vegetarian by using vegetable stock.
It's super easy to make. Here's all it takes:
Brown the garlic in a large stockpot.
Add the stock, basil, and cauliflower. Season with salt and pepper.
Simmer until the cauliflower is soft enough to mash. Using a potato masher, mash the cauliflower into the stock to form the sauce.
Top the pasta and serve with plenty of grated cheese.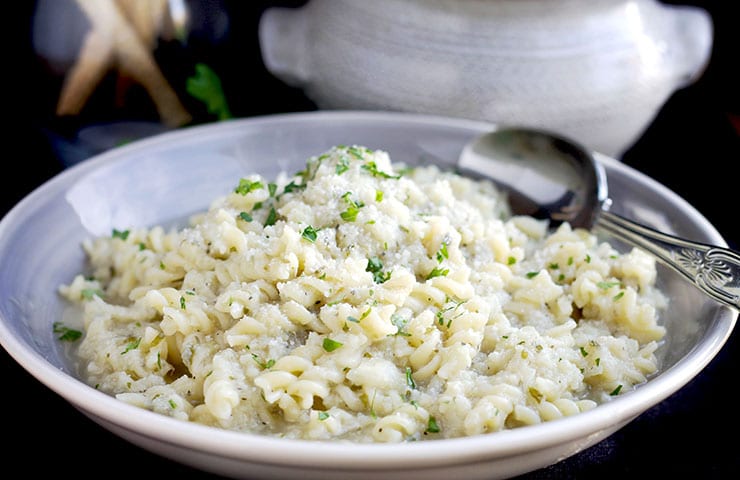 Other Pasta Dishes You'll Love
★ Did you make this recipe? Please give it a star rating below!
Stay Updated
Receive new recipes & dinner ideas straight to your inbox!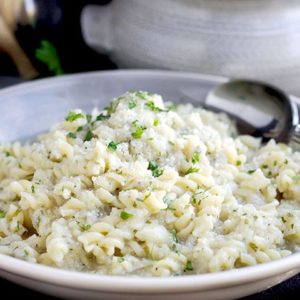 Let's Make Cauliflower Pasta Sauce
A hearty, rustic pasta dish, ready for the table in 30 minutes - serve with a good helping of fresh grated Parmesan cheese.
Prep5 minutes
Cook25 minutes
Total30 minutes
Ingredients
16 ounces frozen cauliflower
4 cups chicken or vegetable stock
4 cloves garlic chopped
1 tablespoon fresh basil chopped
2 tablespoons olive oil
salt & pepper to taste
1 pound small pasta
Plenty of Parmesan or pecorino romano cheese
Instructions
Brown the garlic in a large saucepan with the olive oil or fry. As soon as it starts to brown, add about a cup of the chicken stock so the garlic doesn't burn.

Add cauliflower, basil, salt & pepper and then add just enough stock to cover the cauliflower. Bring to a boil. Once it comes to a rapid boil, lower the heat to medium heat and let simmer for 20 minutes or until the cauliflower is soft enough to mash with a potato masher.

If it seems too thick add a bit more stock little by little until it's the desired consistency.

Serve over pasta topped with grated Parmesan or pecorino romano.
Nutrition Information:
Calories: 382kcal (19%)| Carbohydrates: 62g (21%)| Protein: 14g (28%)| Fat: 7g (11%)| Saturated Fat: 1g (6%)| Cholesterol: 4mg (1%)| Sodium: 233mg (10%)| Potassium: 344mg (10%)| Fiber: 2g (8%)| Sugar: 4g (4%)| Vitamin A: 20IU| Vitamin C: 0.9mg (1%)| Calcium: 24mg (2%)| Iron: 1.4mg (8%)