This recipe for Easy One-Pot Scallops & Chorizo Paella is great for when you crave the taste of the med, but don't have all day to cook. This divine cheat's paella is ready in 30 minutes.
This one-pot dinner is one of those recipes that everyone can agree on. The flavors are simple enough for the kids but the flavors are sophisticated enough to satisfy adults too.
It's just simply delicious goodness!
And as mentioned in the recipe title, it all cooks in one pan so clean up is a breeze!
I adore Paella but don't often have the time or all of the ingredients needed to make the real deal. If you're a fan, and you like quick versions, you can check out my recipe for SHRIMP AND CHORIZO RICE (which is similar, but is more tomato-based) and if you have a bit more time, you can try my CHORIZO & CHICKEN PAELLA which cooks longer for more flavor and has the addition of red peppers as well as tomatoes.
I love them all and all three of these recipes are made often in my house.
More Great Seafood
★ Did you make this recipe? Please give it a star rating below!
Stay Updated
Receive new recipes & dinner ideas straight to your inbox!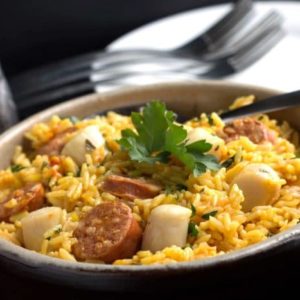 Let's Make Easy One Pot Scallops & Chorizo Paella
This recipe is a delicious one-pot dish for sharing, flavored with Spanish sausage and cooked with saffron rice - a wonderful alternative paella
Prep10 minutes
Cook20 minutes
Total30 minutes
Ingredients
4 cups chicken stock
1 pinch saffron threads
2 tablespoons olive oil
14 ounces chorizo sausage cut into slices
1 large onion chopped
3 cloves garlic chopped
14 ounces raw scallops cleaned
1 cup dry white wine
2 cups long grain rice (converted or parboiled*) see recipe notes below
1 teaspoon paprika
1 teaspoon smoked paprika
A good handful of fresh parsley chopped
Instructions
Bring stock to a simmer in a saucepan; add the saffron and leave to infuse.

Heat the oil in a shallow pan on medium-high heat and fry the chorizo until it starts to brown and release it's orange-colored oils. Add the onion and continue to fry until the onion has softened.

Add the scallops and sauté 3 minutes Add the garlic and fry another minute. Remove the scallops from the pan and set aside.

Add the white wine and allow to reduse by half before adding the rice. Coat the rice what's in the pan and then add the stock, paprika, smoked paprika and parsley. Bring to a boil before reducing the heat. Cover and leave to simmer 15-20 or until the rice is tender.

Remove from the heat, add the scallops mix to warm with the cooked rice and serve.
Tips + Notes
* This recipe calls for parboiled or converted rice. In the US, look for Uncle Bens Converted Rice, or Golden Canilla Parboiled Rice. In the UK, buy Uncle Bens Long Grain Rice (not quick cook).
Substituting The Rice
You can use other types of long-grain rice (although I don't recommend instant, quick-cook, or brown rice). Just be sure to consult the package instructions for the rice to liquid ratios and cooking times and adjust accordingly.
Nutrition Information:
Calories: 714kcal (36%)| Carbohydrates: 61g (20%)| Protein: 32g (64%)| Fat: 32g (49%)| Saturated Fat: 10g (63%)| Cholesterol: 78mg (26%)| Sodium: 1311mg (57%)| Potassium: 714mg (20%)| Fiber: 1g (4%)| Sugar: 3g (3%)| Vitamin A: 330IU (7%)| Vitamin C: 2.1mg (3%)| Calcium: 42mg (4%)| Iron: 2.4mg (13%)