This is a quick and easy recipe for crab cakes that uses canned crab meat instead of fresh, making it something that won't require running out for fresh seafood.  Alternatively, you can use fresh cooked crab meat.
I make these easy crab cakes a lot. Crab cakes aren't on UK menus very often and I really missed having them.  I don't have anywhere to get fresh crab meat around here so I couldn't make them myself either.
Then one day I saw a TV chef say that canned crab meat was a good alternative and I went straight to work on creating this dish!
They are so simple to make. You start with 2 cans of lump crab meat.
Mix in the rest of the ingredients.
Form it into a mound and cut into six even sections.
Then shape them as you would thick hamburgers.
Place them on a plate and chill for 30 minutes to set them.  I find if you fry them right away, they will flatten.  Once firm, coat and fry them.
I serve them with a sweet chili sauce, but you can serve them any way you see fit.  The recipe says it serves six, but it only means that it makes six crab cakes.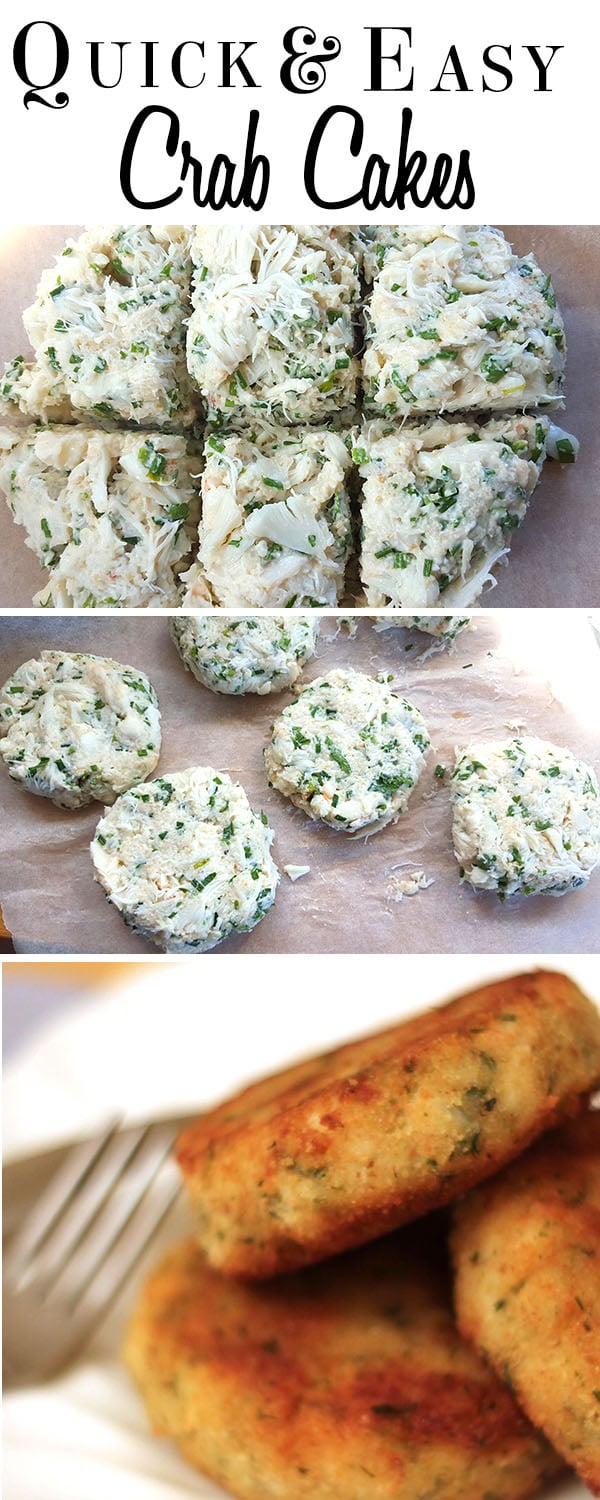 Never Miss A Single Recipe!
Join the free Erren's Kitchen mailing list and get all the latest tasty goodness straight to your inbox!
Crab Cakes
This recipe makes 6 crab cakes.
Ingredients
3

green onions

cut into finely sliced rounds

2

tablespoons

chives

chopped

2

tablespoons

fresh parsley leaves

finely chopped

3

tablespoons

Juice of one fresh lemon

3

6oz cans

white crab meat In water or brine

drained

1/2

cup

mayonnaise

1/2

cup

panko bread crumbs

salt and pepper

1/4

cup

all-purpose flour

2

eggs

for egg wash

1

tablespoon

water

1 1/2

cups

bread crumbs

1

teaspoon

paprika

1

teaspoon

dried oregano

1

teaspoon

garlic powder

1/2

teaspoon

pepper

1/2

teaspoon

salt

1/4

cup

vegetable oil
Instructions
In a large mixing bowl, combine the crab meat, green onions, chives, parsley, lemon juice and mayonnaise. Add the crab meat & panko brad crumbs, fold into the mayonnaise mixture.

Divide combined mixture into 6 equal portions and form into thick round cakes.

Place on a plate, cover with plastic wrap and chill at least 30 minutes. This sets and firms the cakes so they don't flatten when fried

In a shallow bowl, combine the flour and season with salt & pepper.

In another bowl, whisk the egg with the water. In a third bowl, combine the bread crumbs with paprika, dried oregano, garlic powder, salt & pepper .

Dredge the crab cakes first in seasoned flour, tapping off excess, then in egg wash, letting excess drip off.

Dredge cakes into seasoned bread crumbs, coating cakes evenly.

In a large saute pan, heat oil and pan fry until lightly golden, about 4 minutes on each side.

place the cakes on paper towels to absorb the oil and season with salt to taste.
Never Miss A Single Recipe!
Join the free Erren's Kitchen mailing list and get all the latest tasty goodness straight to your inbox!