This recipe for Rice Pilaf is simple side dish that is a great alternative to plain white rice. Its mild chicken and garlic flavors make it a versatile and easy side for any supper.
This is my go to side dish.
It's quick, easy, full of flavor and adaptable too (you can add vegetables or meat to make it a one pot meal)!  It goes with anything from roast chicken to curry!
I love this rice Pilaf with Shrimp Scampi because it's mild but, it also adds depth to the dish without clashing with it.
It's so easy to make and goes with so much! It's perfect for those busy days when I pick up a cooked chicken for dinner and then just whip this up with some steamed broccoli. It's so simple ans so much better than getting a full take out.
This is also a great dish for children.  I used to give it to my son with some steamed broccoli when he moved onto solid foods.  He loved it (and still does).
So next time you go to put the boxed stuff in your grocery cart, think twice.  You can make this at home with all your own ingredients.
I've also made this into a full meal by adding cooked chicken and frozen peas – it's a great way to use up leftovers.
This can easily be turned into a vegetarian dish my using vegetable stock, but I also have a vegetarian recipe.  If you'd like to have a look, please see my vegetarian rice pilaf recipe which adds a few more vegetables.
Love rice dishes?  Check out some of my other recipes here on Erren's Kitchen…
Never Miss A Single Recipe!
Join the free Erren's Kitchen mailing list and get all the latest tasty goodness straight to your inbox!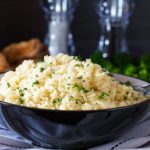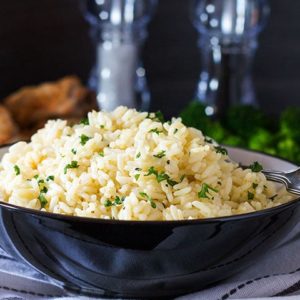 Rice Pilaf
Ingredients
2

tablespoons

unsalted butter

1

onion

chopped

1 1/2

teaspoons

salt

Freshly ground black pepper

1

bay leaf & a handful of fresh parsley

tied together with cooking twine

2

cups

long grain rice

2

cups

chicken stock
Instructions
Melt the butter with the onion in a medium saucepan over medium heat. Season with the salt & pepper and cook until the onions are soft, about 5 minutes.

Add the rice and stir until coated with the butter.

Increase the heat to medium-high.

Stir in chicken stock, bay leaf and parsley. Raise the heat to medium-high heat and bring to a boil. As soon as it reaches a boil, lower the heat to a low heat, cover and and cook until all the stock has been absorbed by the rice and the rice is tender, about 15 to 18 minutes.

Remove from the heat and let set for 5 minutes. Discard the herbs. Fluff the rice and serve.
Nutrition Facts
Rice Pilaf
Amount Per Serving
Calories 0
* Percent Daily Values are based on a 2000 calorie diet.