This recipe for Bacon Wrapped Sausage Stuffing is a great way to serve stuffing that doesn't fit in the bird. Stuffing just stole the show!
Create a side dish repertoire with my recipes for The Best Brussels Sprouts of your life, and Buttery Balsamic Garlic Roasted Carrots.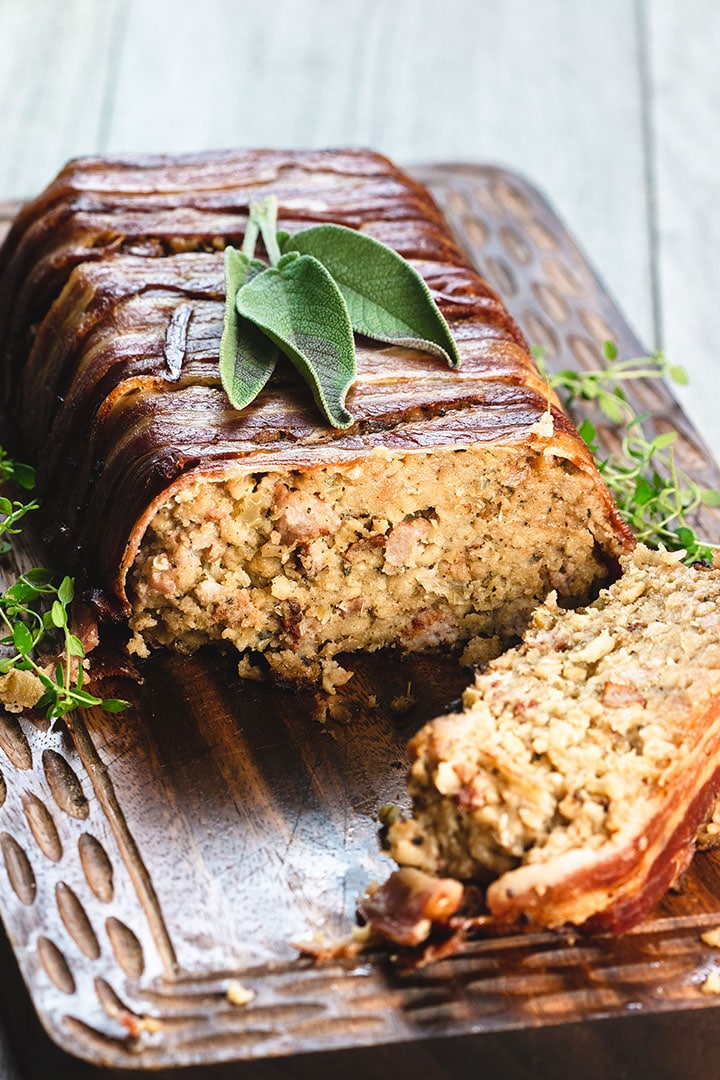 This surprisingly easy recipe will complete just about any dinner and can be a centerpiece for any holiday feast! Using Sausagemeat, celery, onions, butter, and herbs you get one incredible side dish! Add this dish to your holiday recipe collection.
Why This Recipe Works:
The bacon adds flavor to the already delicious stuffing as it cooks.
Cooking it in a loaf pan creates a stunning dish that can be sliced at the table.
The fresh herbs and sausage meat create a flavorful stuffing you'll make again and again.
My mom makes the best stuffing in the world. Although, I'm sure I'm not the only one who thinks that. I make this dish with her sausage stuffing recipe. It's a recipe that was handed down by her grandmother and it's a family tradition.
That said, you can use any stuffing you want for this dish (as long as it goes well with bacon – but then again – what wouldn't taste good wrapped in bacon?).
When I think of turkey, I think of this sausage stuffing. I wouldn't dare stuff a bird with anything else! Anyone who's ever had this dish has asked for the recipe and added it to their holiday spread. So without further ado, feast your eyes on an amazing way to serve your stuffing.
On Bell's Seasoning
I'm not affiliated with the makers of Bell's Seasoning in any way. My recipe calls for Bell's seasoning because that's what my mother used to make her stuffing and her Mother before her.
It's a seasoning mixture that contains Rosemary, Oregano, Sage, Ginger, Marjoram, Thyme, and Pepper. It can be found on Amazon (#paidlink), and in many American supermarkets.
When living in the UK, I couldn't get my hands on it and made my stuffing without it (which is when I started adding fresh herbs). If you can't find it, don't worry – it's not a deal-breaker.
Bread Cubes VS Bread Crumbs
Around the world, stuffing is made in different ways. Growing up in New Jersey, we used stuffing bread cubes, but when I shot this recipe, I was living in the UK where they sell bread crumbs for stuffing.
This recipe can be made using either. Stuffing cubes need a lot less stock. It's about 6 cups of dried cubes to every cup of stock so if you use the 2 cups of stock that this recipe calls for, you'll probably end up with enough stuffing to fill the bird on Thanksgiving as well as this recipe.
Be sure to adjust the recipe to suit your needs.
How to make Bacon Wrapped Sausage Stuffing
Start by lining a good quality, nonstick loaf pan with strips of bacon.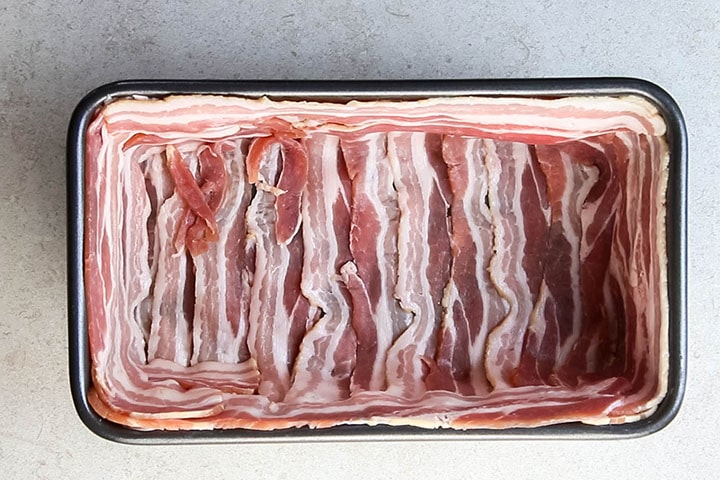 If you use a pan that's not non-stick (or you're not sure of the quality), spray it with some cooking spray to be extra careful because if it sticks, it could be hard to get out of the pan.
My pan is super nonstick and it came right out. I used a whole pack of bacon, but you may need more or less depending on the brand.
Also, if you have very thin bacon, you might want to double it. My bacon wasn't paper thin (see the photo) so I didn't need to add another layer.
Once the pan is lined, you can store it in the fridge until you're ready to use it.
For the stuffing, start by fully cooking the sausage meat.
Once cooked, remove it from the pan and set aside. Drain the pan of any fat and add the butter to the pan.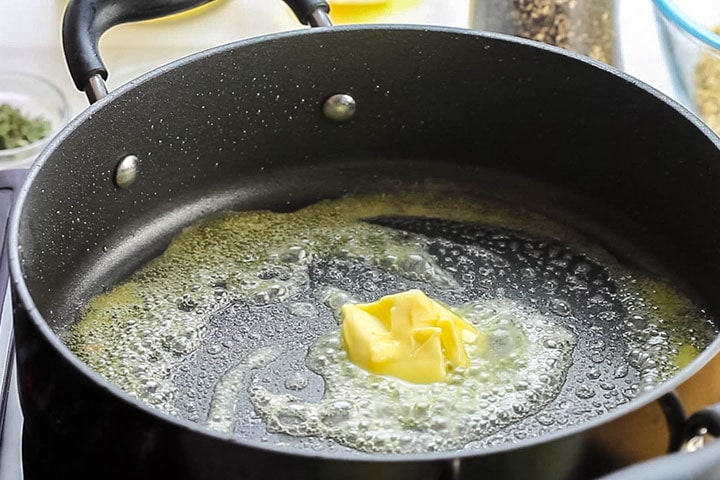 Add the onions and celery.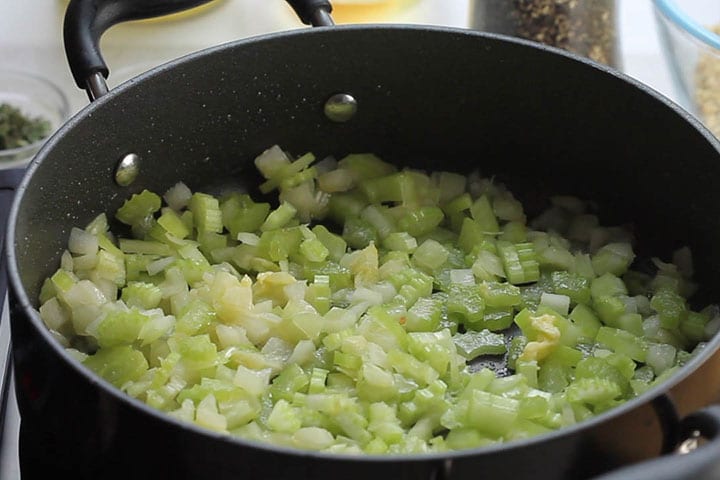 Let the onions and celery cook down until the celery is soft. You may have to add more butter as it cooks to stop it from browning. I've also added a little water from time to time too. This part might take a while. So be patient – it's worth it!
Add chopped, sage, pepper, thyme, bay seasoning (if you have it), and the large breadcrumbs to the stock. Mix well until absorbed.
I don't add salt to this recipe because the bacon and sausage can be salty and I wouldn't want to over salt.
Add the cooked sausage meat.
Allow to cool before adding the egg.
Mix well to combine and add the stuffing mixture to the bacon-lined pan.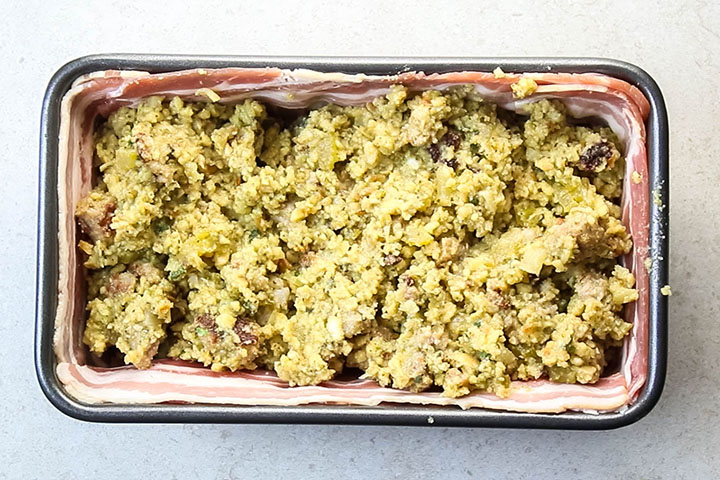 If the stuffing doesn't reach the top of the pan, fold the bacon over the bacon.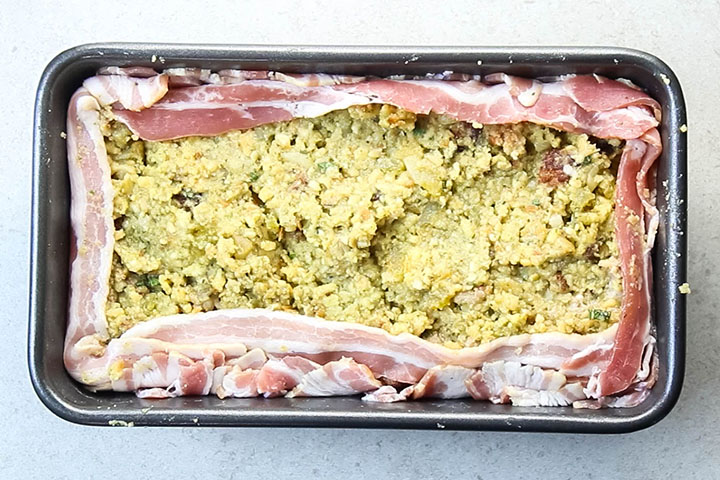 Turn it onto a serving dish and try not to pick on it before serving! Good luck with that!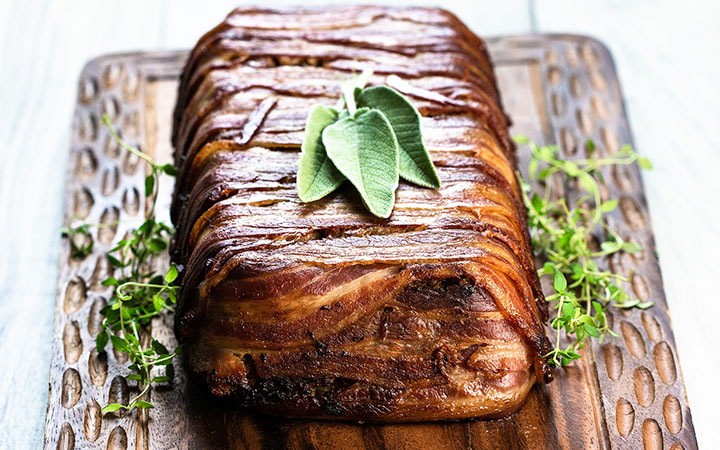 You'll love this twist on stuffing with the sausage meat. It gives it a nice heartiness and the bacon makes it so special, you'll want to make it all year round.
This recipe comes out so special, it will make a beautiful centerpiece on your table that will share the spotlight with the turkey at holiday dinners.
Cook's Tips
Be sure to use a good quality, nonstick pan for this recipe. If you're worried your pan isn't up to the task, try lining the pan with nonstick foil.
To remove the loaf intact, you may have to run a knife along the edge like you would a cake. Then flip the pan onto a cutting board or serving dish.
To slice the stuffing, be sure to use a sharp knife.
To make ahead
Prepare the dish as stated in the recipe without baking, store it in the fridge, and bake on the day you plan to serve.
Other Indulgent Sides
Stay Updated
Receive new recipes & dinner ideas straight to your inbox!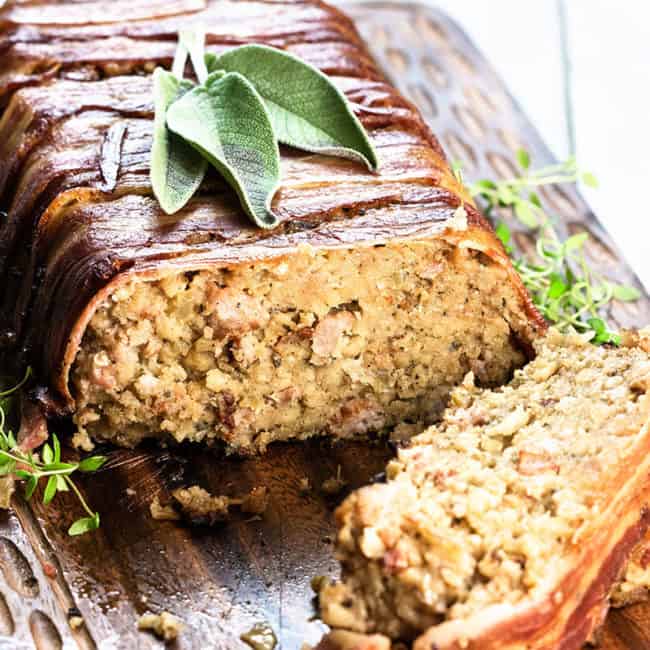 Let's Make Bacon Wrapped Sausage Stuffing
This recipe is not just for holiday dinners, it's so good you'll be eating this all year round.
Prep25 minutes
Cook45 minutes
Total1 hour 10 minutes
Ingredients
2 tablespoons olive oil
3 tablespoons butter
2 celery stalks diced
1 large onion chopped
1 lb sausage meat of your choice I use a plain sausage as opposed to Italian
a small handful of fresh sage finely chopped
1 teaspoon bells seasoning optional
½ teaspoon chopped fresh thyme
pepper
1 cup large stale breadcrumbs
1½-2 cups chicken stock
1 large egg
12-24 strips of bacon
Instructions
preheat the oven to 400/200c

line a nonstick loaf pan with the strips of bacon until it is fully covered with no gaps (if the bacon is very thin you may need to do two layers). Set aside.

If your sausage is in casings, start by removing it. Cook the sausage in the olive oil on medium high heat in a large frying pan until brown and completely cooked. Remove from the pan and set aside.

Drain the grease from the pan, add the butter and cook the onion & celery until soft (being careful not to let it get too brown). If it starts getting too dry, you can add additional butter or a little water as needed.

Add the sage, bells seasoning, thyme & pepper. Add the breadcrumbs, followed by the chicken stock starting with 1 1/3 and if it looks too dry, add a bit more.

Set aside for 10 minutes and allow to cool. Once Cooled, Add the egg. Mix well until combined (you may have to knead it).

Add the mixture to the prepared pan. Bake for 40-45 minutes. Turn onto a serving pan and serve (if the bacon did not crisp enough you can put it back into the pan and bake it a little longer).
Nutrition Information:
Calories: 357 (18%)| Carbohydrates: 9g (3%)| Protein: 12g (24%)| Fat: 29g (45%)| Saturated Fat: 10g (63%)| Cholesterol: 75mg (25%)| Sodium: 817mg (36%)| Potassium: 228mg (7%)| Sugar: 1g (1%)| Vitamin A: 210IU (4%)| Vitamin C: 1.6mg (2%)| Calcium: 34mg (3%)| Iron: 1.2mg (7%)
Erren's Kitchen is written and produced for informational intentions only. We are not certified nutritionists, and the nutritional information found on this site has not been assessed or authorized by a nutritionist or the FDA. The nutritional information found in our recipes is offered as an estimate and should not be considered a guarantee or fact. The estimated data is provided as a courtesy and calculated through a third-party online nutritional calculator, spoonacular API. Although we do our best to provide accurate nutritional information, these figures should be considered rough estimates. Many factors, such as brands or products purchased and the nutritional fluctuations that naturally occur in fresh produce, can alter the effectiveness of the nutritional information in any recipe. Furthermore, various online calculators provide different results depending on their particular algorithms and nutrition fact sources. To obtain the most precise nutritional information in a provided recipe, you should calculate the nutritional information with the exact ingredients you are using when preparing the recipe using your preferred nutrition calculator.
This recipe was originally posted in 2014 but published again in 2018 to include step by step directions, nutritional information, new photos, and a video.