This recipe for Easy Crab Stuffed Mushrooms makes a restaurant favorite that you can make at home in just 30 minutes.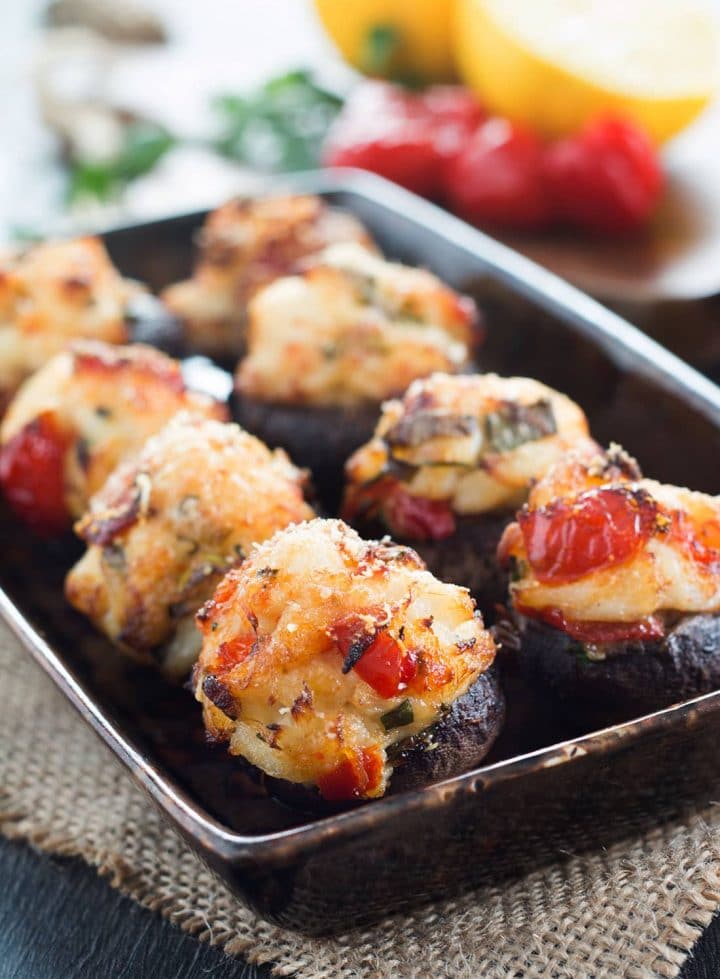 Crab Stuffed Mushrooms Make The Perfect Party Appetizer
Before you know it, we'll be getting ready for the new year and thinking about party food, so I thought this was a good time to jump ahead to party planning.
That said, if you're still planning your Christmas menu, these beauties would make a great holiday appetizer too. If you're looking for a vegetarian alternative too, why not try Risotto Stuffed Mushrooms?
What's Needed To Make The Crab Stuffing For Stuffed Mushrooms
To make these simple crab stuffed mushrooms you need crab meat, lemons, piquante peppers, mayonnaise, chives, and green onions.
I've made this recipe using both fresh and canned crab (yes, canned – it's better than you'd imagine) so if you're in a place that you can easily get fresh seafood, you can still easily make this dish.
How to Prepare the Mushrooms to Be Stuffed
To prepare a mushroom to be stuffed, clean and trim off the ends of stems from mushrooms. Then pop what's left of the stem out of the cap.
How To Make Crab Stuffing for Mushrooms
Add the crab meat to a bowl and make sure there are no shell fragments left in with the meat.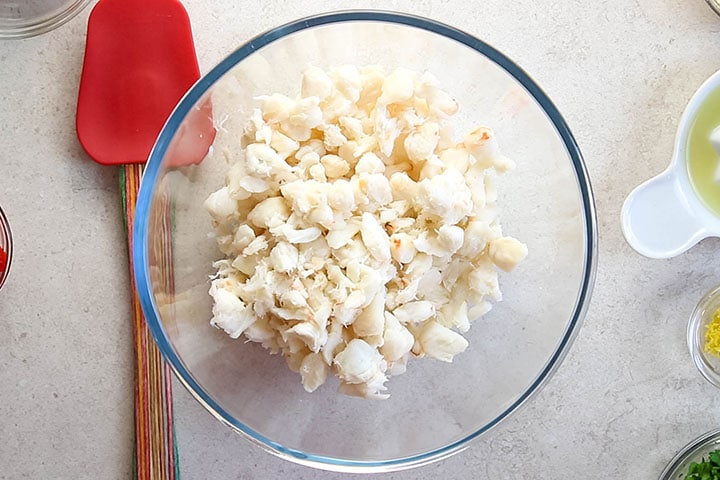 Add the chopped piquante peppers, chives, and green onions.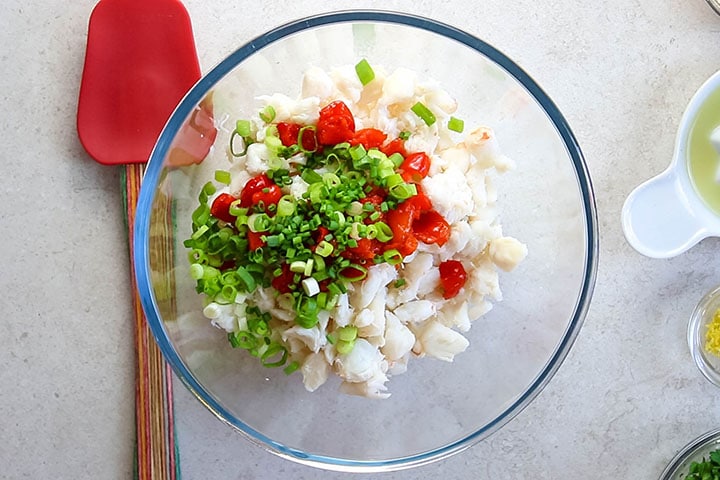 Add the mayonnaise, lemon zest, and parsley.
Add the freshly squeezed lemon juice.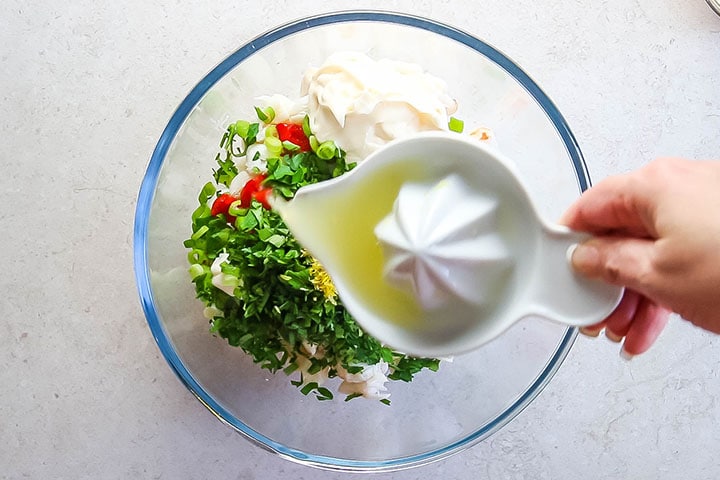 Season with salt and pepper.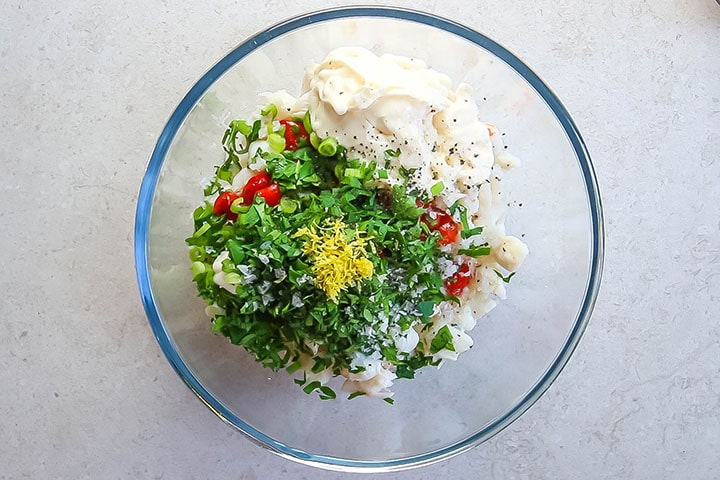 Mix well to combine.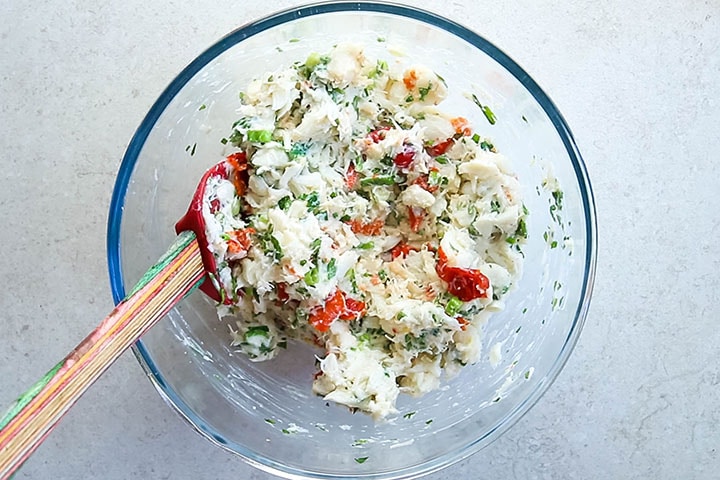 How to Make Easy Crab Stuffed Mushrooms
Add the prepared mushroom caps to a pan lined with nonstick foil.
Fill with the crabmeat filling.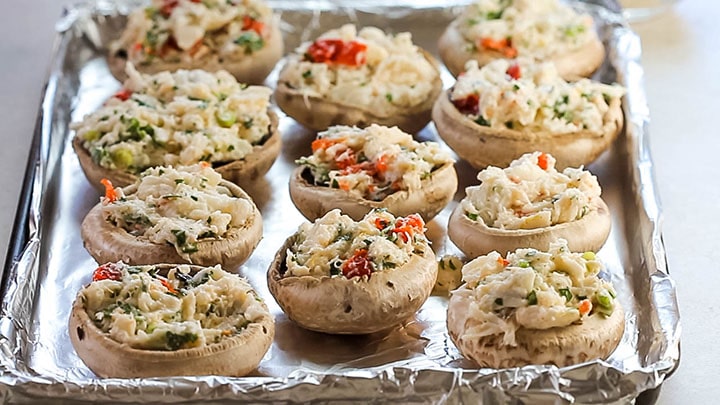 Top with grated Parmesan Cheese.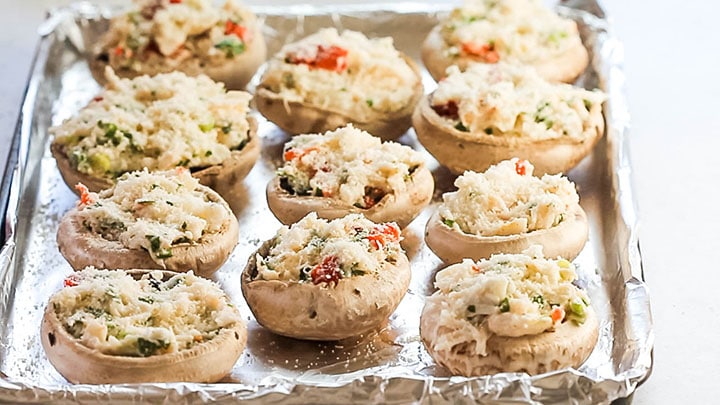 Bake until golden brown and serve warm.
More Great Seafood
Cook's Tips:
Easily fill the mushrooms by using a small spring release scoop (like a cookie scoop).
Make-ahead up to 3 hours before serving by stuffing and then cover, and refrigerate until ready to bake.
FAQs
Can you freeze Crab Stuffed Mushrooms?
You can freeze crab stuffed mushrooms as long as your crabmeat has never been previously frozen.
To Freeze Stuffed Mushrooms
Line the baking pan with parchment paper to make it easier to remove the mushrooms once they're frozen. Prepare the recipe as instructed without cooking.
Place the stuffed mushrooms on the lined baking pan, about an inch apart.
Put the pan in the freezer for 2 to 3 hours (until the mushrooms are frozen).
Place the frozen stuffed mushrooms into a freezer bag and expel as much air as possible from the bag. Store in the freezer for up to 3 months.
When ready to serve the frozen stuffed mushrooms, cook them from frozen until the internal temperature is at least 165 degrees Fahrenheit.
Stay Updated
Receive new recipes & dinner ideas straight to your inbox!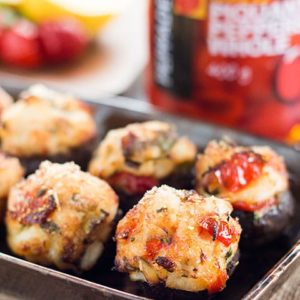 Let's Make Easy Crab Stuffed Mushrooms
This recipe is full of wonderful flavors and textures, stuffed full of crab meat, piquante peppers, and herbs and spices. They make a great holiday or dinner party starter!
Prep10 minutes
Cook20 minutes
Total30 minutes
Ingredients
24 ounces mushrooms (around 35-40 mushrooms) cleaned with stems removed
For the filling:
1½ lbs crab meat
10 piquante peppers chopped
½ cup mayonnaise any variety
2 green onions cut into finely sliced rounds
1 tablespoon fresh chives chopped
2 tablespoons fresh parsley finely chopped
1 teaspoon lemon zest
2 tablespoons fresh lemon juice
salt and pepper to taste
To top:
½ cup grated Parmesan cheese
Instructions
Preheat oven to 350F

Mix all of the filling ingredients in a bowl and then fill the mushrooms with mounds of filling.

Sprinkle evenly with the Parmesan cheese.

Bake 20-30 until golden brown.
Nutrition Information:
Calories: 30kcal (2%)| Carbohydrates: 1g| Protein: 1g (2%)| Fat: 2g (3%)| Cholesterol: 2mg (1%)| Sodium: 52mg (2%)| Potassium: 58mg (2%)| Vitamin A: 90IU (2%)| Vitamin C: 4.1mg (5%)| Calcium: 15mg (2%)| Iron: 0.2mg (1%)
Update Notes: This recipe was originally posted in 2016, but was published again in 2018 to include step by step directions, nutritional information, and new photos.