This recipe for Quick and Easy Shrimp Salad is a summertime favorite with light and fresh flavors. This delicious, simple recipe has a creamy dressing with crunchy bits of celery and plump shrimp.
This is my favorite Shrimp Salad recipe! It's a classic shrimp salad with nothing terribly fancy – Just simple, delicious, summertime comfort food.
I use fresh cooked, cooled shrimp for this recipe rather than frozen cooked shrimp that's been thawed. Frozen cooked shrimp tend to be limp, waterlogged and lack crunch. It's an added step, but well worth it as shrimp cooks so fast and can easily be cooled in an ice water bath (see instructions at the end of this post for cooking ideas).
This shrimp salad recipe is a wonderful, zingy dish, perfect for a lunch out in the yard or to make a picnic extra special.
Why this recipe works:
The addition of Greek yogurt adds a lightness you don't get with mayonnaise alone.
The lemon juice adds a punch of acidity to the creaminess of the mayonnaise and Greek yogurt.
The creamy dressing also combines fresh dill that has a mild flavor that goes well with the warmth of the mustard and sweetness of the shrimp.
It's a recipe that comes together quickly with little effort.
This dish is perfect to serve at parties, showers, or any day you want to serve up an incredible lunch or light dinner.
Here's how to make it:
Start with cooked shrimp. You can buy it ready made or see the end of this post for easy ways to make it yourself.
Remove any shell or tail from the shrimp and add it to a large bowl. Then chop the celery into small pieces.
Add the chopped celery to the bowl with the shrimp. Then finely chop the dill.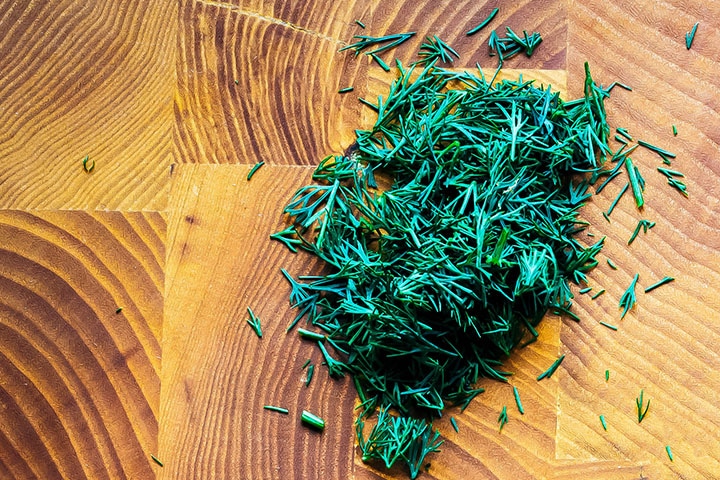 In a separate bowl, whisk together the mayonnaise, mustard powder, lemon juice, and dill.
Mix in with the shrimp and celery and season with salt & pepper to taste.
Serve and enjoy!
Note: I served mine in a tortilla bowl. See this great post on Two Peas And Their Pod on how to make them.
Anyone that doesn't like shrimp salad please give this try, because chances are you haven't made your own. This is worlds apart from the watery dressing and soggy shrimp you'll find ready-made in the grocery store. I also have amazing recipes for Shrimp and Asparagus Saffron Risotto and Easy Shrimp Scampi Pasta. Give your shrimp some pizazz!
And for anyone who likes shrimp salad, this recipe will make you love it!
Serving Suggestions:
Shrimp Salad is a nice change from tuna and chicken salad. It can be served up in the same ways: on crackers, in a croissant, rolled in lettuce or tortilla bowls.
Serve it on a seafood platter at a dinner party and let everyone build their own little shrimp salad bites for a lovely, social appetizer, but with the warmer weather on its way, it's perfect for a quick lunch or light supper.
Food Safety For Warmer Weather:
To prevent rapidly growing bacteria from forming, Food shouldn't be unrefrigerated for more than 2 hours or limit the time to one hour if the outdoor temperature is higher than 90° F.
Tips on cooking shrimp for shrimp salad:
Steaming shrimp: In a covered steamer over a pot of boiling water, large shrimp will need to steam for 5-6 minutes to be cooked through and pink.
Boiling Shrimp: Bring about 8 cups of water to boil over medium-high heat. Once the water boils, add the peeled and cleaned shrimp. Simmer until pink, about 2-3 minutes depending on the size of the shrimp.
After steaming or boiling shrimp -Drain and transfer the cooked shrimp to a bowl of cold water to stop the cooking process and let cool before using.
More Great Seafood
★ Did you make this recipe? Please give it a star rating below!
Stay Updated
Receive new recipes & dinner ideas straight to your inbox!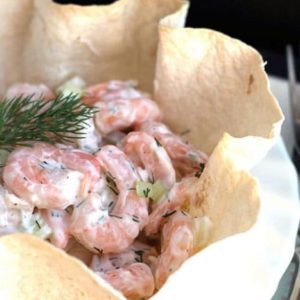 Let's Make Quick and Easy Shrimp Salad
Is it too hot to cook? This scrumptious salad makes a refreshing light lunch or sandwich filling.
Prep10 minutes
Total10 minutes
Ingredients
2 pounds large cooked shrimp cleaned
1 cups mayonnaise
½ cup plain Greek yogurt
1 teaspoon mustard powder
2 teaspoons lemon juice
3 tablespoons fresh dill chopped
2 celery stalks chopped small
Salt and Pepper to taste
Instructions
In a large bowl, whisk together the mayonnaise, Greek yogurt, mustard powder, lemon juice, and dill.

Mix in shrimp, celery, and seasoning with salt & pepper to taste.

Cover and refrigerate for a few hours, or you can serve the shrimp immediately if need be.
Nutrition Information:
Calories: 534kcal (27%)| Protein: 31g (62%)| Fat: 44g (68%)| Saturated Fat: 6g (38%)| Cholesterol: 404mg (135%)| Sodium: 1541mg (67%)| Potassium: 166mg (5%)| Sugar: 1g (1%)| Vitamin A: 110IU (2%)| Vitamin C: 7.4mg (9%)| Calcium: 229mg (23%)| Iron: 3.3mg (18%)
Update Notes: This post was originally published in July of 2014, but was republished with step by step instructions, changes to the recipe that were recommended by readers (Thank you, readers!), instructions for cooking your own shrimp, and tips in June of 2018.