If you like Mounds Bars (or Bounty Bars) you'll love this recipe for Homemade Coconut Mounds Cups. These delectable, dark chocolate cups are filled with a sweet & creamy coconut filling and topped with toasted coconut. Once you try them, you'll never go back to the store-bought again!
Mounds bars have always been a favorite of mine. I adore dark chocolate and coconut. They don't make Mounds in England. Here, they have bounty bars which are pretty much the same thing, you can buy them in milk or dark chocolate, but the dark chocolate is really hard to find. This recipe makes it easy for me to get my fix whenever I have a craving. If you love a sweet treat, you could also have a go at making my Chocolate Hazelnut Truffle Cups, simple, easy, and just so impressive!
This recipe starts with making the creamy coconut filling. It's super easy. It's made from shredded coconut, condensed milk, and a bit of golden syrup. Golden Syrup (which is an amber-colored syrup with a rich, deep sweetness) it's common in English baking and I've fallen in love with it since moving here. I know it can be hard to find in the US, but you can buy it here on Amazon. (As an Amazon Associate, a small commission is made from qualifying purchases). If you require a substitution, in this recipe corn syrup can be used in its place.
To make these, I used 2-inch silicone liners. If you're in the US, you can one like mine from Amazon, here. If you're in the UK, click here.(As an Amazon Associate, a small commission is made from qualifying purchases).
The next step is painting the cup liners with melted chocolate. I find the easiest way to do this is to take a 1/2 teaspoon of the melted chocolate, drop it into the liner. and using a clean, small paintbrush (that's never been used with paint), spread the chocolate over the liners. This is a much faster process than you would imagine. It took me about an hour to make 60 cups and that was including hardening the chocolate before filling them.
Once the cups are covered with the chocolate, put them in the fridge to set for 15 minutes. Once set, they are filled with the coconut filling and finished with another layer of chocolate and a sprinkle of coconut (I've done both toasted and plain.
Once they are assembled, you can place them back in the fridge to set. This should take about an hour,
Stay Updated
Receive new recipes & dinner ideas straight to your inbox!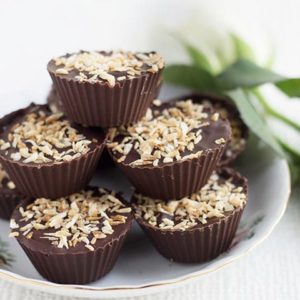 Let's Make
Homemade Coconut Mounds Cups
You'll go coconut crazy once you've made these delectable bitesize treats! Store-bought will never be good enough again.
Prep25 minutes
Cook5 minutes
Total30 minutes
Ingredients
2½ cups shredded coconut/desiccated coconut
1 14-ounces can sweetened condensed milk
2 tablespoons golden syrup or corn syrup
7 ounces dark chocolate chopped
½ cup toasted coconut optional
Instructions
Place the shredded coconut, condensed milk, and golden syrup into a medium-sized bowl and mix until combined. Set aside.

Melt the chocolate in a microwaveable bowl for 30 seconds at a time (stirring in between) until the chocolate is smooth and fluid.

Using a ½ teaspoon measuring spoon, drop it into mini silicone cups (or mini paper cupcake liners) spread evenly using a paintbrush.

Allow cups to harden in the refrigerator for about 10 minutes.

Fill the chocolate covered cups with the filling then brush the rest of the chocolate over the tops of the cups, sprinkle with the toasted coconut and place in the refrigerator to set again (about an hour minutes).
Nutrition Information:
Calories: 108kcal (5%)| Carbohydrates: 9g (3%)| Fat: 7g (11%)| Saturated Fat: 5g (31%)| Sodium: 26mg (1%)| Potassium: 96mg (3%)| Fiber: 1g (4%)| Sugar: 7g (8%)| Vitamin A: 5IU| Vitamin C: 0.1mg| Calcium: 7mg (1%)| Iron: 1.2mg (7%)