This recipe for Salted Caramel & Dark Chocolate Blondies is rich and indulgent! It's a recipe you won't soon forget and you'll be making again and again!
Let me just start by saying that this recipe is one of my crowning glories! It is unbelievably delicious! I will warn you – these are rich, but the salted caramel takes away from the sweetness of the Blondie and the dark chocolate balances it out perfectly. I really think if you tried making these topped with milk chocolate, they would be over the top sweet and you'd be hard-pressed to be able to get through more than a couple of bites.
Since creating this recipe for salted caramel, I have been obsessed with the stuff and have made quite a few recipes featuring caramel. If like me, you love caramel – check out some of my other recipes below…
These really are amazing and the perfect example of why I'll never be very thin! 🙂 If you like them more traditional, you can make my Classic Chocolate Chip Blondies too.
To make these salted caramel delights, start with the chocolate chip cookie dough for the base.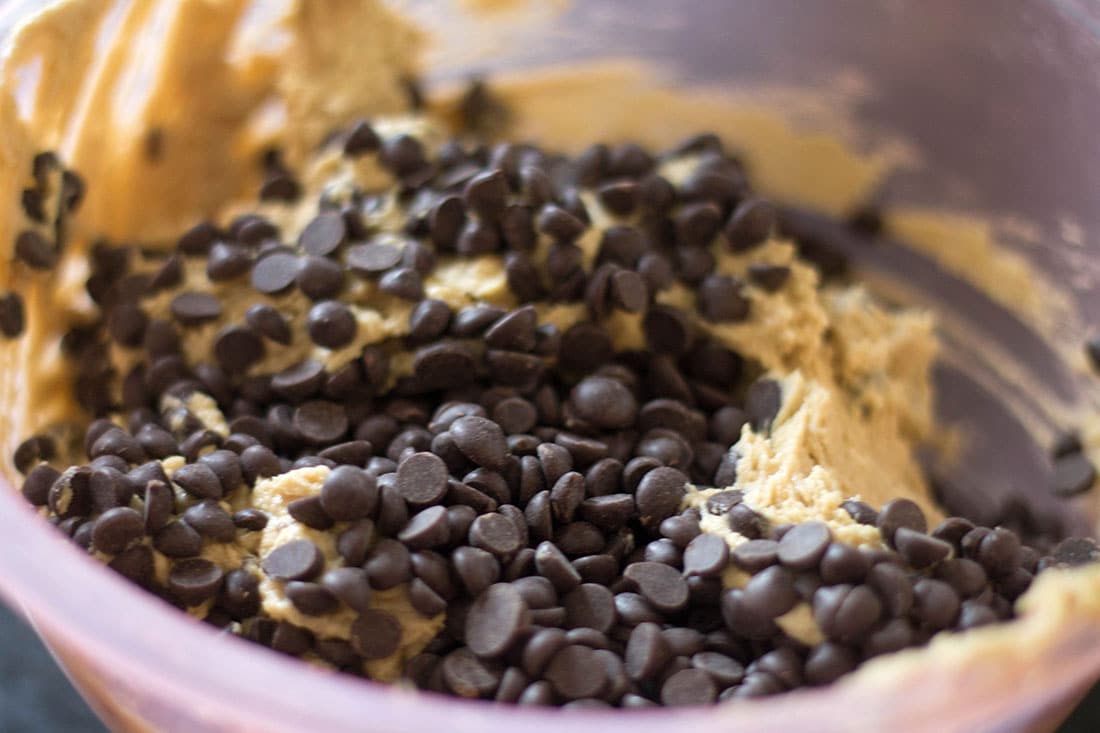 I use a silicone pan for this recipe because I find it's the easiest way to remove it from the pan. With a silicone pan, you just pop it out in one piece and there's no breaking or sticking to the pan. If you're in the US, you can one like mine from Amazon here. If you're in the UK, click here.(As an Amazon Associate, a small commission is made from qualifying purchases).
You can also try lining the pan with nonstick foil or using baking paper, but I haven't tried these methods and can't guarantee you won't run into problems. Just keep in mind, if you use a silicone pan that isn't fitted with any sort of frame (which will be floppy when you hold it), make sure to put it on top of a cookie sheet before filling it to keep it stable and to avoid disaster when moving in and out of the oven.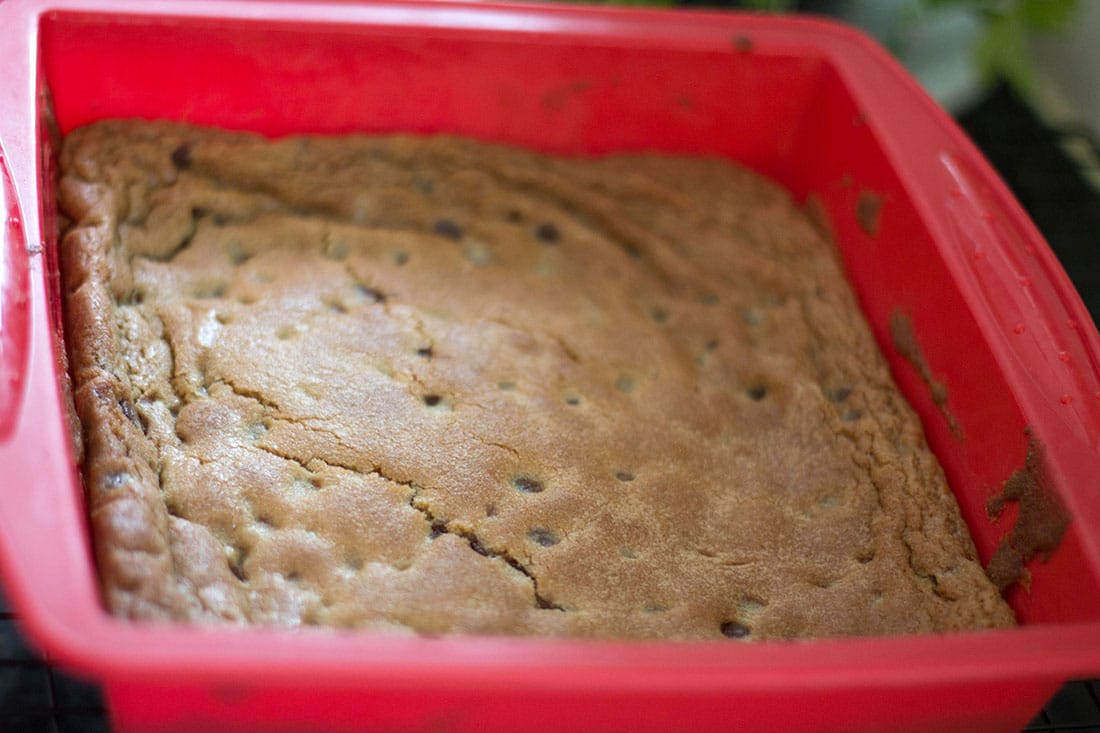 I've been making caramel for a long time, but I know it's not an easy thing to master so if you want to melt down store-bought caramel – I won't judge. Just be careful because any caramel will get really hot. It's not something you can taste before cooling.
The caramel gets poured onto the base while it's still hot (just make sure the base is cooled before adding the caramel so it doesn't absorb into it). Let the caramel cool and set before adding the chocolate layer. I know this might seem like a lot to do, but I promise you – it's so worth it! I cool mine in the fridge.
Please note that the caramel recipe uses golden syrup which is an amber-colored syrup with a rich, deep sweetness that you can buy here on Amazon.(As an Amazon Associate, a small commission is made from qualifying purchases). I love golden syrup and use it a lot, but it could be substituted with corn syrup.
Leave to cool and set completely before adding the chocolate layer.

Once the caramel sets, you can top it with the melted dark chocolate. Spread it evenly over the caramel. You can put it in the fridge to set. I leave mine in the fridge for a good few hours and then take it out about 30 minutes before serving.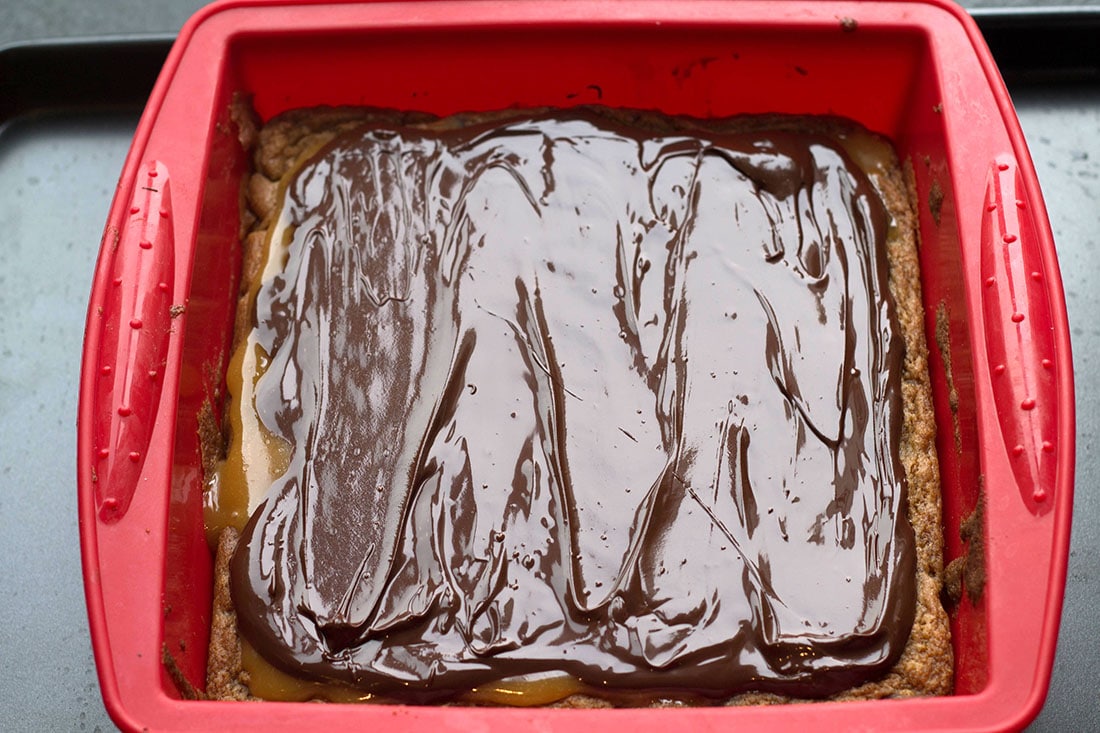 Tip: when you are ready to slice it, heat the knife before you cut it (be very careful bot to touch it when slicing). The knife will easily go through the chocolate without cracking it and it will give the caramel that beautiful ooze. Your guests will love it!
Serve and enjoy every last bite!
★ Did you make this recipe? Please give it a star rating below!
Stay Updated
Receive new recipes & dinner ideas straight to your inbox!
Let's Make Salted Caramel and Dark Chocolate Blondies
This sumptuous brownie recipe will make you want to bake it over, and, over again!
Prep20 minutes
Cook30 minutes
Total50 minutes
Ingredients
For the blondies:
1 cup all-purpose flour
½ teaspoon salt
½ teaspoon baking powder
½ teaspoon baking soda
½ cup butter softened
¾ cups light brown sugar packed
4 tablespoons granulated sugar
2 large eggs at room temperature
1 teaspoon vanilla extract
1 cup semisweet chocolate chips
For the caramel:
½ cup white sugar
2 tablespoons golden syrup see post for the link to buy or substitute with light corn syrup
½ cup butter
1 tablespoon whipping cream
1 teaspoon salt
2 teaspoons vanilla extract
For the topping:
12 oz Dark Chocolate chopped
Instructions
Preheat the oven to 350 f/ 170c degrees.

Grease a 9-inch silicone baking pan.

Sift the flour, salt, baking soda, and baking powder together into a large mixing bowl.

In a large mixing bowl. beat the butter, brown sugar and granulated sugar in until fluffy.

Mix in the eggs one at a time, then add the vanilla.

Mix in the flour mixture by hand until combined (this avoids a cake-like consistency).

Fold in the chocolate chips.

Spread the batter into the prepared pan and smooth the top. Bake for 30 minutes. After 30 minutes, give the pan a little shake. If it giggles in the middle, put the pan back in and try again every 5 minutes until there is no longer a giggle.

Set aside to cool.

For the caramel:

Combine the sugar and syrup in a medium saucepan. Cook on medium heat, stirring constantly until it becomes a light caramel color.

Add the butter, salt & cream stir until smooth. Remove from heat and mix in the vanilla.

Set aside to cool slightly, then pour over the cooled blondies.

Allow to cool completely.

Melt the chocolate melt chocolate in a microwaveable bowl for 30 seconds at a time (stirring in between) until the chocolate is smooth and fluid.

Pour the melted chocolate over the caramel and set aside until the chocolate has cooled completely.

Cut into squares and serve.
Nutrition Information:
Calories: 586kcal (29%)| Carbohydrates: 60g (20%)| Protein: 5g (10%)| Fat: 36g (55%)| Saturated Fat: 21g (131%)| Cholesterol: 71mg (24%)| Sodium: 494mg (21%)| Potassium: 370mg (11%)| Fiber: 4g (17%)| Sugar: 42g (47%)| Vitamin A: 550IU (11%)| Calcium: 62mg (6%)| Iron: 5.3mg (29%)
Are you making this recipe? I love to see your creations so please tag @ErrensKitchen on Instagram and hashtag it #ErrensKitchen