This recipe for Rocky Road Bars is not only scrumptious, but it's super easy and fun to make! Get the kids involved in this one, they will love it!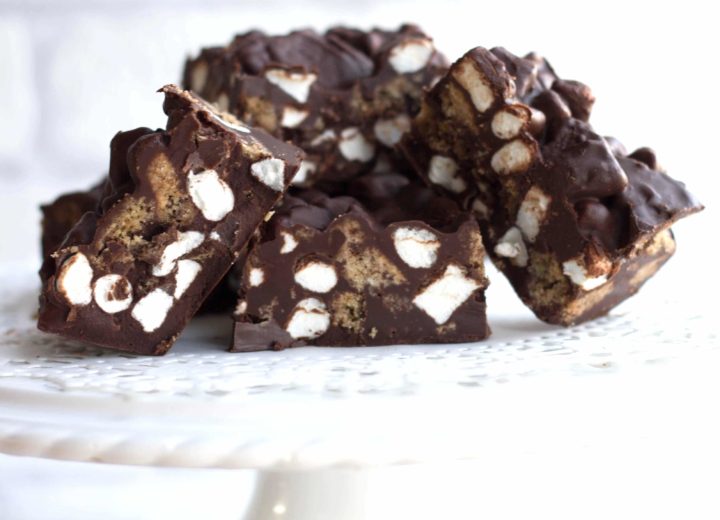 One of my all-time favorite things in the world is a Mallomar. Sadly, Mallomars are not sold in the UK so I have to go without unless someone takes pity on me and sends me a box. I seriously can eat a whole box in one sitting.
Now you might be wondering what Mallomars have to do with this post – I'll tell you what – with the dark chocolate, cookies, and marshmallows – these are just as good! Well almost, but we always want what we can't have don't we? These are super easy to make.
They are made up of broken up, packaged chocolate chip cookies (I use the crispy dry kind, not the chewy soft ones – it just won't work), mini marshmallows, dark chocolate, and a bit of butter and syrup. That's it! They take minutes to make and the kids will love helping (my son loves to smash the cookies with the kitchen mallet (although a rolling pin will also do the job nicely).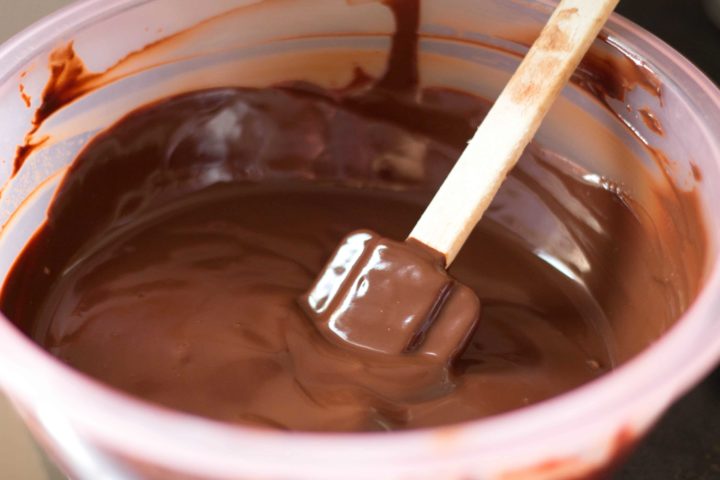 This recipe calls for 32oz of chocolate. Now I know that's a lot of chocolate, but it fills a 9-inch pan and if you want them thick, you have to use a lot of chocolate!
I use a silicone pan for this recipe because I find it's the easiest way to remove it from the pan. With a silicone pan, you just pop it out in one piece and there's no sticking or breaking. If you're in the US, you can one like mine from Amazon – here. If you're in the UK, click here.(As an Amazon Associate, a small commission is made from qualifying purchases).
Alternatively, you can try a foil pan or using baking paper to line a pan, but I haven't tried these methods and can't guarantee you won't run into trouble! Just keep in mind, if you use a silicone pan that isn't fitted with any sort of frame (which will be floppy when you hold it), make sure to put it on top of a cookie sheet before filling it to keep it stable when moving it before the chocolate sets. This is especially important when baking with these types of pans to avoid disaster when moving them in and out of the oven.
Pour into the pan and leave to set completely.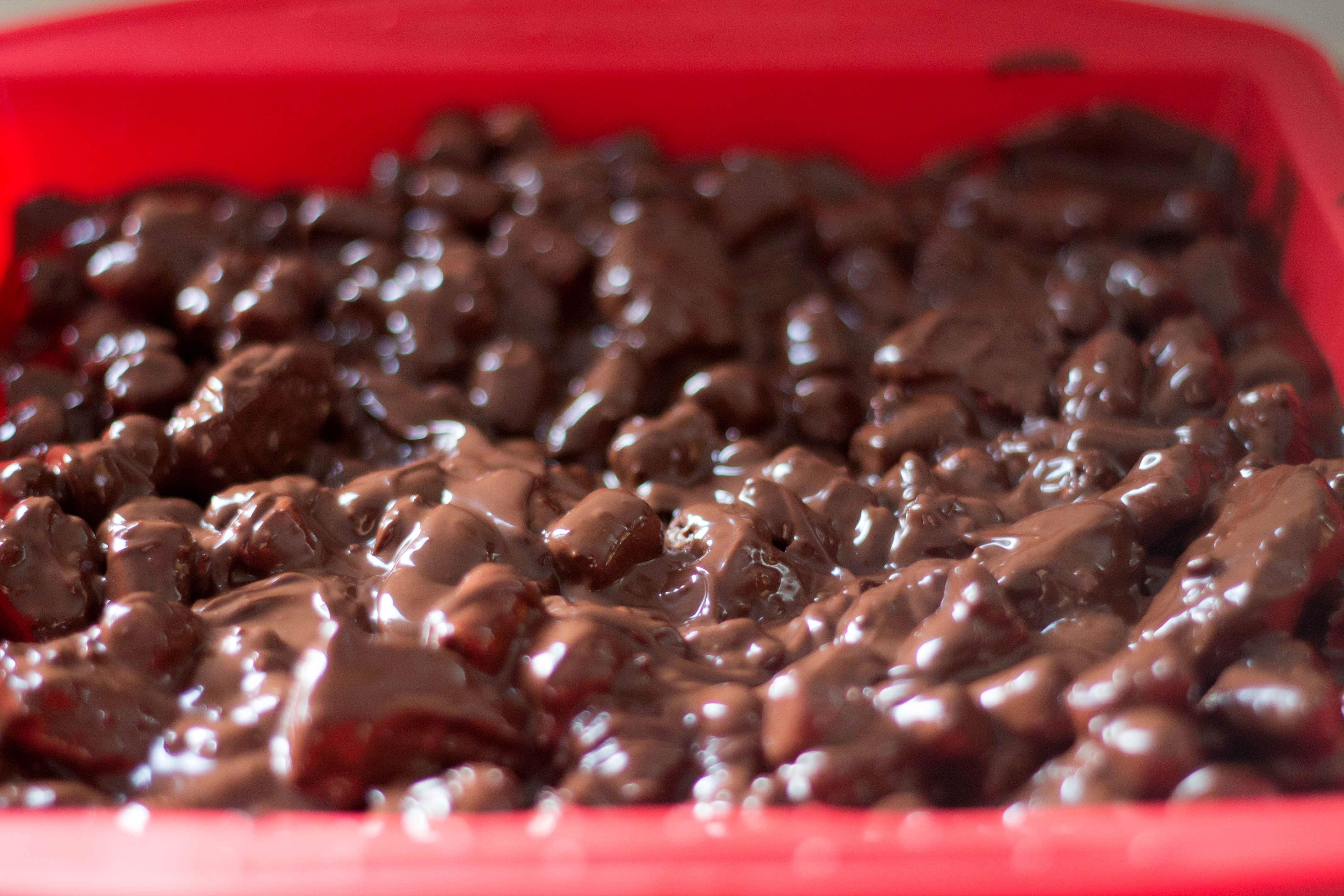 Once set, cut, serve and enjoy every last bite!
I've also made these with nuts, so if you're a nut lover, add whatever chopped nuts you have on hand!
★ Did you make this recipe? Please give it a star rating below!
Stay Updated
Receive new recipes & dinner ideas straight to your inbox!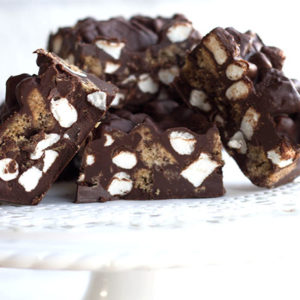 Let's Make Rocky Road Bars
This recipe is so simple and tasty kids and adults alike will love making it, and eating it!
Prep15 minutes
Cook5 minutes
Total20 minutes
Ingredients
9 tablespoons soft butter
32 ounces dark or semisweet chocolate chopped
3 tablespoons golden syrup or light corn syrup
8 ounces crunchy style chocolate chip cookies
1½ cups mini marshmallows
chopped nuts optional
Instructions
Put the chocolate in a heat-safe mixing bowl.

Melt the butter, and golden syrup or light corn syrup in a saucepan.

Once the butter melts, add it to the chopped chocolate and leave to sit a few minutes to melt the chocolate. Once the chocolate is soft enough, whisk the chocolate and butter mixture until smooth and glossy.

Scoop out about 1⁄4 of the melted mixture and spread it into the bottom of a 9-inch square silicone cake pan.

Put the cookies into a lip lock bag and then break them into chunks a rolling pin.

Fold the cookie pieces into the remaining melted chocolate mixture in the mixing bowl, and then add the marshmallows.

Add the mixture to the pan and spread it with a rubber scraper.

Top with chopped nuts (if you are using them

Refrigerate for 2 - 4 hours to set and cut into squares to serve.
Nutrition Information:
Calories: 570kcal (29%)| Carbohydrates: 61g (20%)| Protein: 5g (10%)| Fat: 33g (51%)| Saturated Fat: 18g (113%)| Cholesterol: 7mg (2%)| Sodium: 85mg (4%)| Potassium: 457mg (13%)| Fiber: 6g (25%)| Sugar: 41g (46%)| Vitamin A: 55IU (1%)| Calcium: 46mg (5%)| Iron: 5mg (28%)
Are you making this recipe? I love to see your creations so please tag @ErrensKitchen on Instagram and hashtag it #ErrensKitchen