This delicious recipe for simple garlic butter cod fillets is simple and extremely satisfying. Cooked in one pan, no fuss, amazing results.
Ready in under 30 minutes this will soon become your go to cod recipe for busy weeknight meals.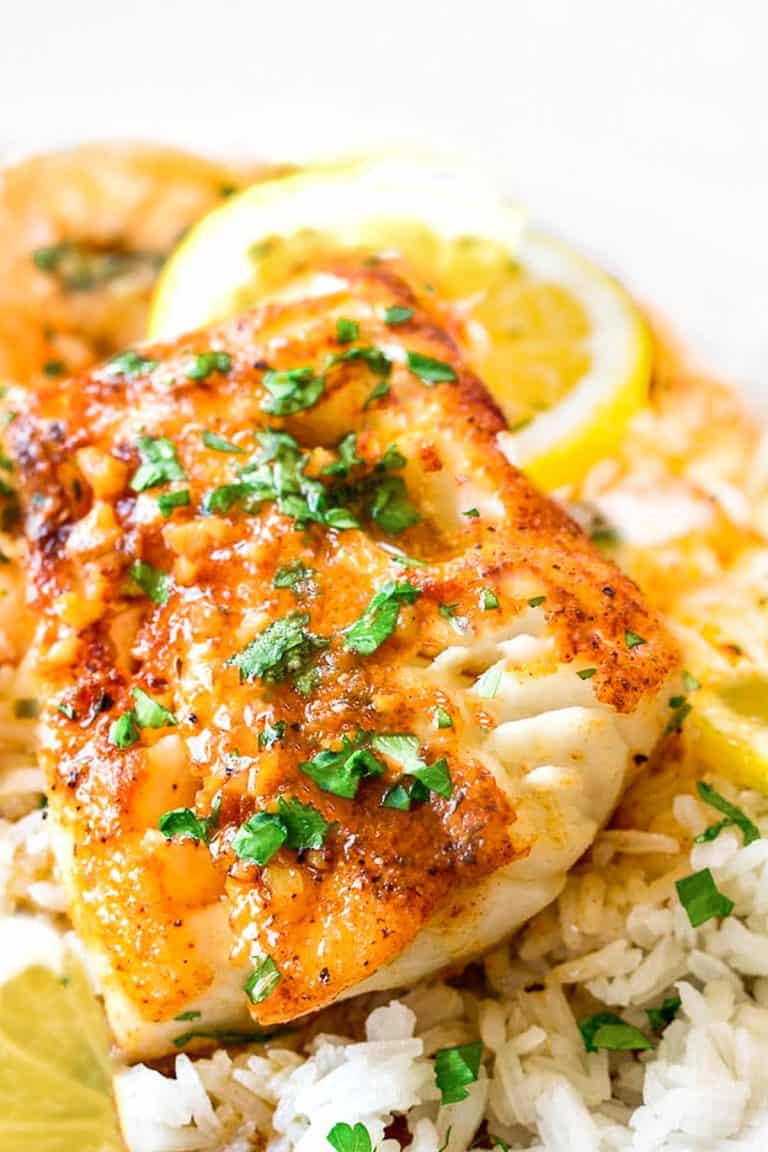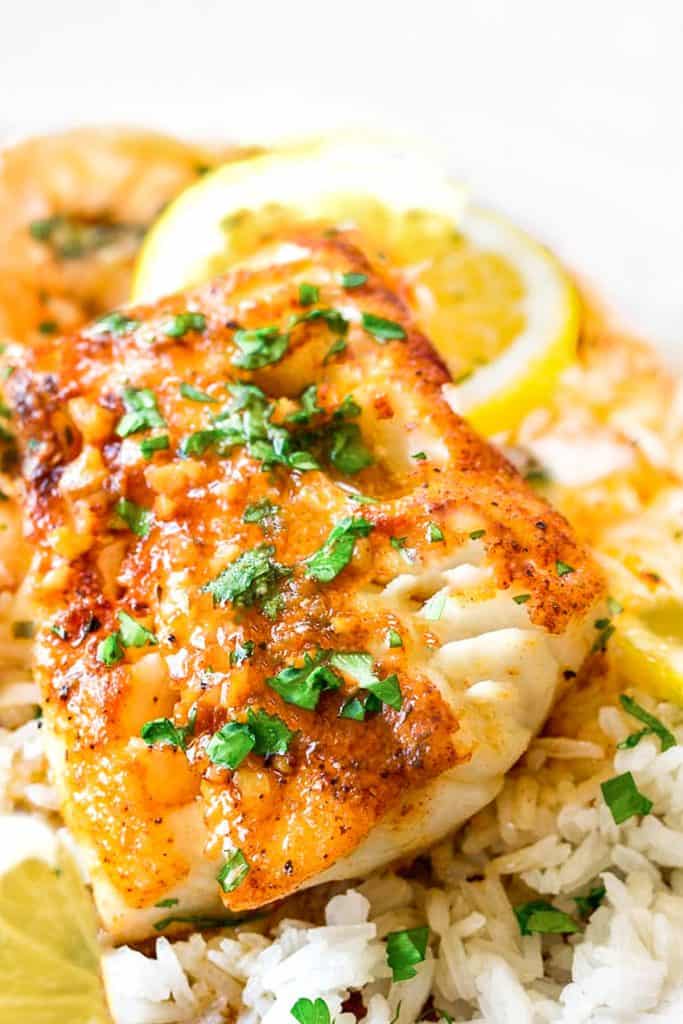 When I cook fish I like it to be fresh, bright and tasty. This recipe for garlic butter cod is a favorite of mine, I mean you can't go wrong with garlic, butter and fresh cod fillets can you?
Impress your family and guests with this incredibly easy dinner! It's made with just a handful of ingredients, which makes it perfect for those busy weeknights.
Why This Recipe Works
Basting the cod fillets in butter creates a rich tasty dish.
Lemon juice adds a wonderfully bright element.
Simple flavors such as garlic and parsley make this a kid friendly meal.
Ingredient Notes
Cod: I used fresh cod for this recipe, you can use frozen, just ensure it is fully defrosted and pat it dry before adding it to the hot pan.
Butter: As a rule I use salted butter in my recipe, but you can use unsalted, just check your dish for seasoning and add more salt if needed.
Garlic: I like to mince garlic for this kind of dish, but you can also use finely chopped garlic.
Parsley: I use fresh flat leaf parsley, but if you don't have this on hand, you can use whatever dried herbs you like best.
Lemon Juice: I use fresh squeezed lemon juice. You can make this recipe without the lemon juice, but the lemon does add a lot of brightness and flavor to the dish. In a pinch bottled juice works too.
Cod Buying Guide
Fresh Cod
When buying fresh cod, look for fillets with firm flesh that's translucent to light pink in color. It should have no strong odors or weeping fluids.
Frozen Cod
Fresh seafood is not always better as it can be stored in icy seawater for days after it's caught. For landlocked areas, frozen seafood can be the fresher option as the fish is flash frozen on the boat.
When buying frozen cod fillets, avoid packs with signs of ice crystals, freezer burn, or frost. This may mean the fish has been in the freezer a long time or it's been thawed and refrozen.
How to Thaw Frozen Fish ❄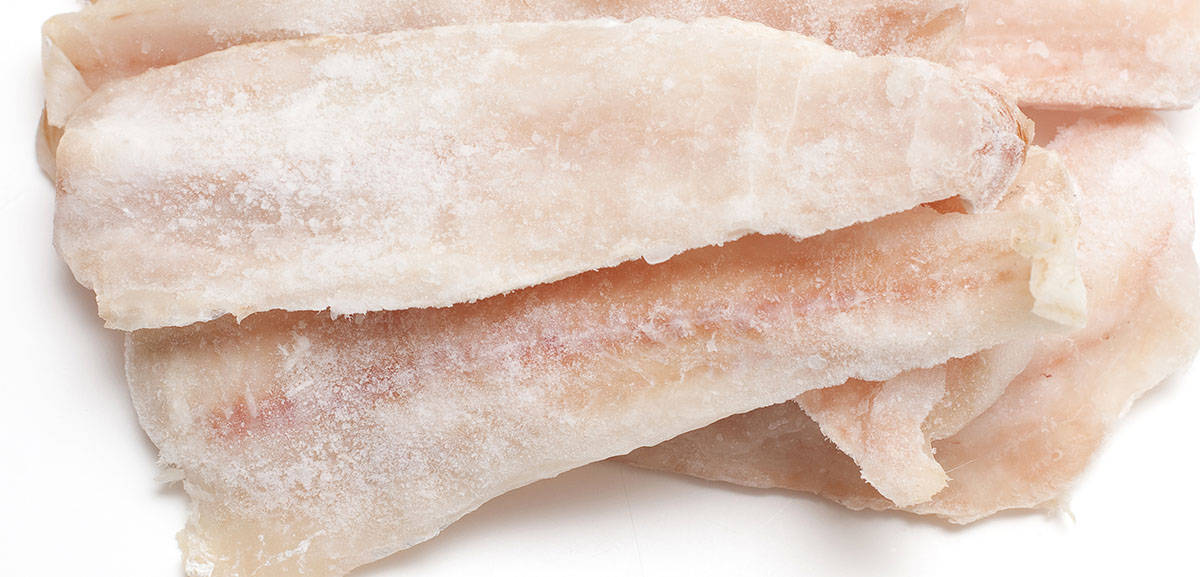 Frozen fish defrosts easily in the fridge. Just place your fillets in a food storage bag or airtight container overnight in the fridge.
Or to quickly thaw fish, place it into a zip lock bag (removing as much air as possible from the bag) and place it into a large bowl of cold water for 30 minutes (be sure to switch out the water if it gets to room temperature).
This method also works well with shrimp. If you're in the mood for shrimp instead, try my Garlic Butter Shrimp Recipe or my delicious Shrimp Scampi Recipe.
How To Make Garlic Butter Cod
Heat the oil.
Sear the cod skin side down.
Add the butter, sear the cod on the other side.
Baste the cod with the butter.
Remove the cod from the pan, add the garlic and parsley.
Add lemon juice and seasoning.
Serve the sauce over the cod. Enjoy!
Step By Step Instructions
Season the cod fillets with salt and pepper.
Heat the oil in the pan, add the cod fillets skin side down and sear for two minutes.
The skin side of a skinless fish fillet is streaky in appearance and slightly darker than the other side.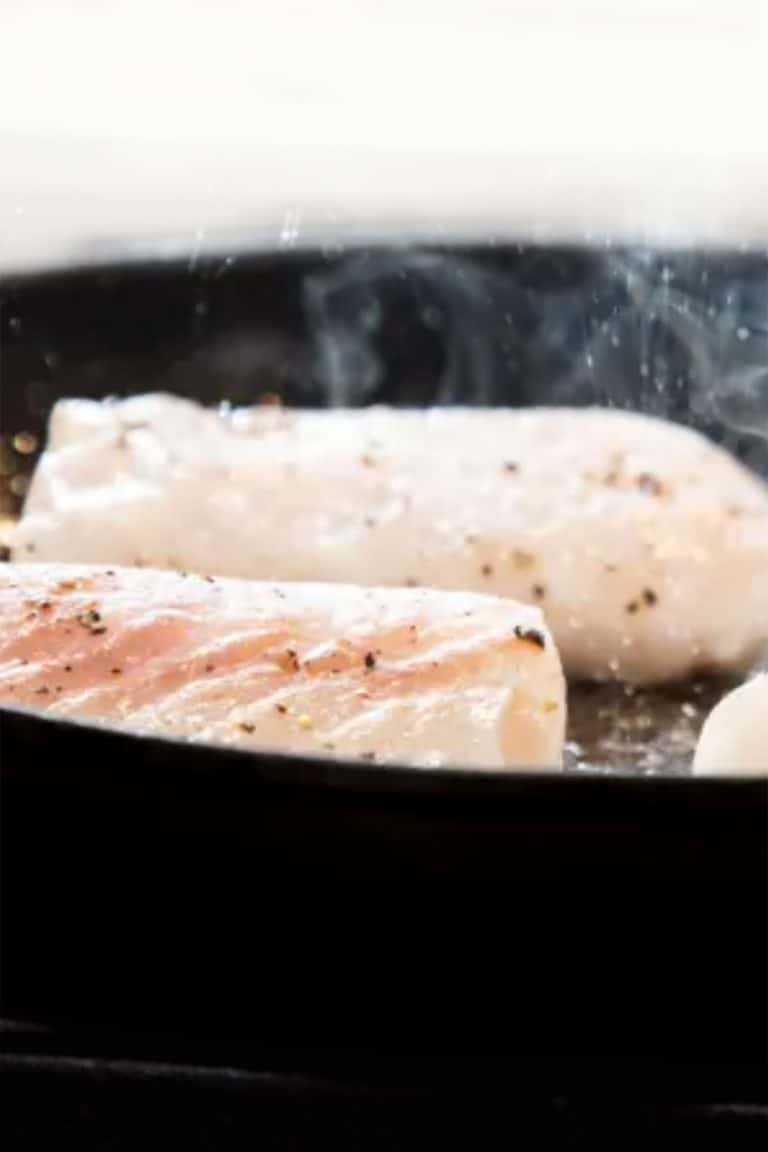 After 2 minutes, add the butter and sear for a further 2 minutes.
For quicker melting, cut the butter into half inch pieces. Doing this before you start will keep things moving smoothly when cooking.
Flip the cod fillets over and cook for a further 3 minutes whilst basting with the butter.
Remove from the pan and add the garlic and cook for 30 seconds, add the lemon juice and parsley.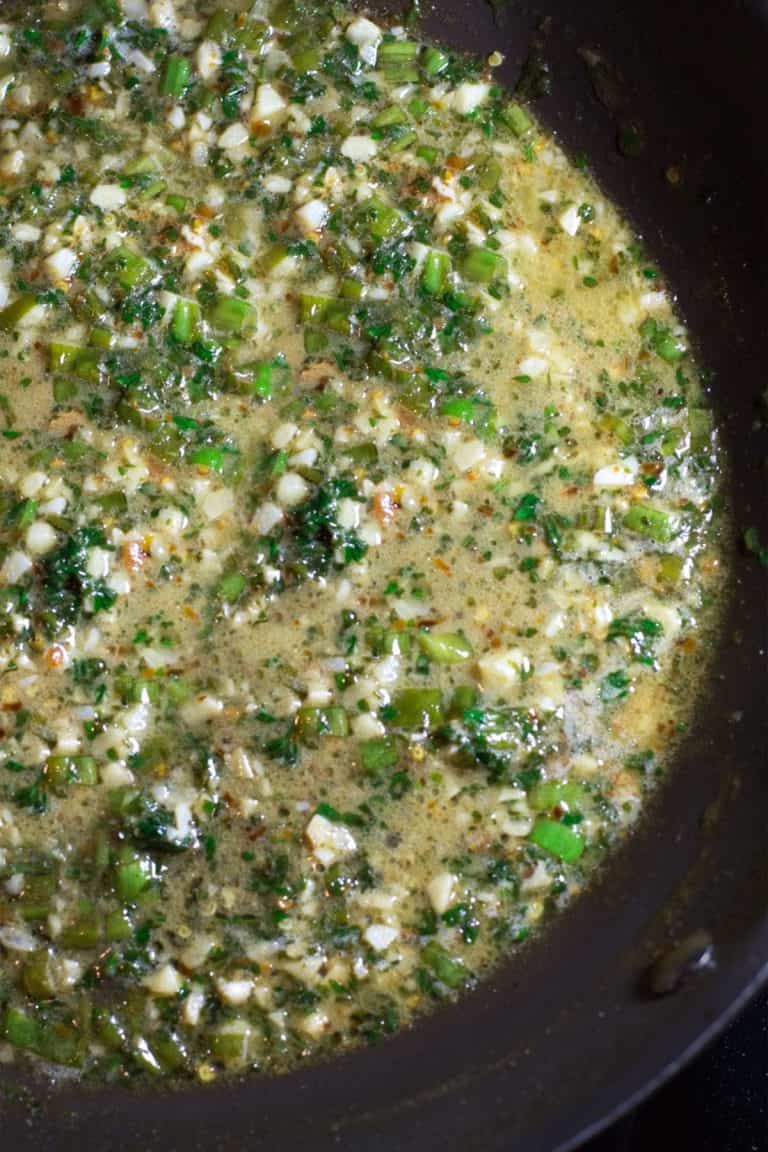 Taste for seasoning, add salt and pepper if needed.
Serve the butter sauce over the cod. Enjoy!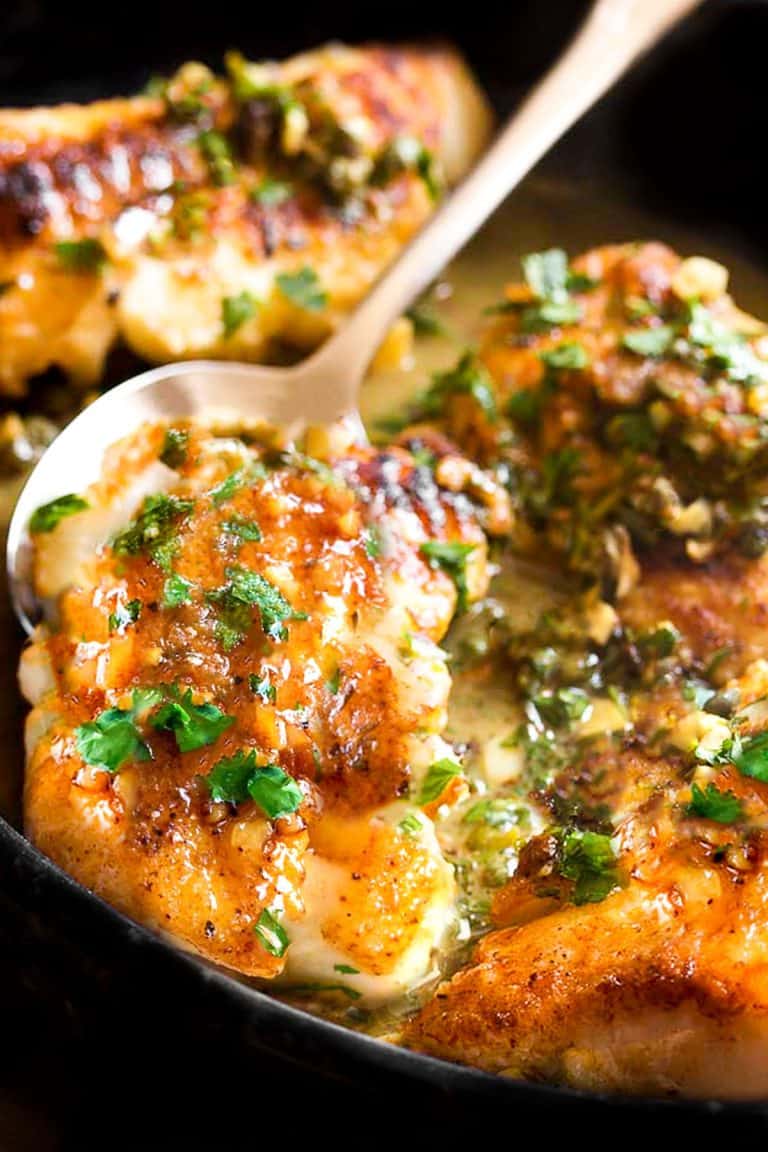 How to Tell when Cod Is Cooked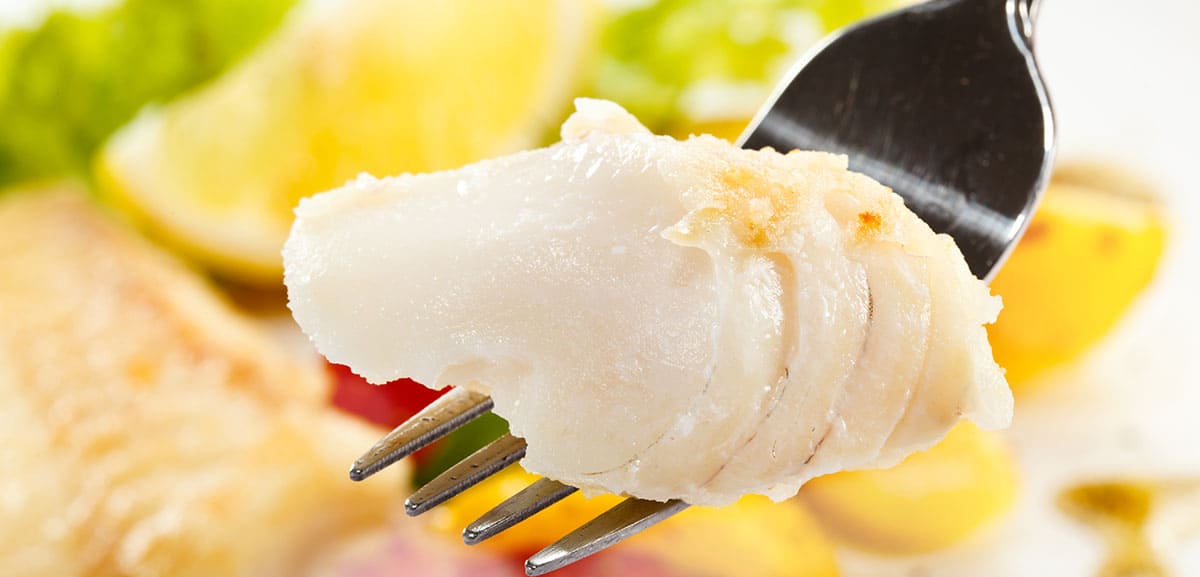 Cooked cod will look opaque, but slightly translucent when it's cooked through. You can check for doneness by placing a fork into the thickest part of the fish and gently twist the fork to one side. If it's properly cooked, the fish should easily flake and will be white in color.
To be absolutely sure, check the internal temperature with a meat thermometer. It should read 145°F/63°C.
Tips & Variations
You can substitute cod with red snapper or haddock.
Buy fillets that are uniform in size to ensure even cooking times.
Always ensure the pan is hot before searing the cod, it ensure the flavor is sealed in and prevents it from breaking apart.
Always take cod out of the pan to cool, if left in the pan the residual heat will keep cooking the fish, resulting in a tough texture.
If you don't have cod on hand this recipe will work with most white fish.
Storing & Freezing Instructions ❄
In the fridge: You can keep leftover garlic butter cod in an airtight container for up to 4 days.
In the freezer: You can freeze the garlic butter cod, allow it to get to room temperature and transfer to a freezer safe container or bag and freeze for up to a month.
To reheat: You can reheat this dish in the microwave or on the stove. You may need to add a little water or extra butter to increase moisture.
Other Easy Seafood Recipes
For something a little different, make my recipe for Easy Shrimp Tacos. It's a delicious dish with tons of flavor. Or try one of these other great recipes:
FAQs
How do I pan fry cod without breaking it up?
To prevent your cod from breaking up ensure you pat it dry before searing. It is also important to make sure your oil is hot enough before you sear your cod, this keeps it together and helps to seal in flavor.
What makes cod fish tough or rubbery?
Cod should be moist and flaky. Tough or rubbery cod usually that means you've overcooked it.
Stay Updated
Receive new recipes & dinner ideas straight to your inbox!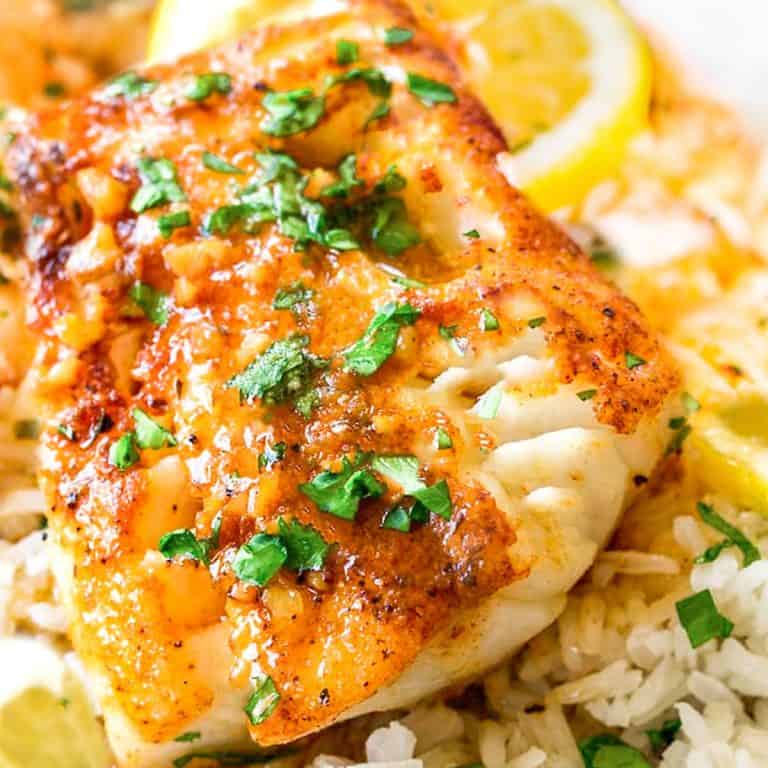 Let's Make Simple Garlic Butter Cod Fillets
Cod fillets in a delicious simple garlic butter sauce. Mouthwatering and easy to make too!
Ingredients
4 cod fillets about 6oz each & 1 inch thick
2 tablespoons olive oil
Salt and black pepper to taste
4 tablespoons butter cut into half inch pieces
4 cloves garlic minced
chopped parsley
2 tablespoons lemon juice to serve
Instructions
Pat cod fish dry with paper towel and season well with salt and pepper.

In a large skillet or frying pan, heat the olive oil over medium high heat.

Reduce heat to medium and place fillets in the pan skinned side down. Gently press on each fillet a spatula for 5 seconds to ensure good contact with the pan. Cook the fillets without moving them, until the underside is golden brown, about 4 minutes.

Flip the cod cook a further 3-4 minutes, basting with the butter (the butter will brown). When the fish is fully cooked reaching an internal temperature of 145°F/62°C, remove from the pan and set aside.

Add the garlic to the butter in the pan and cook for about 30 seconds. Add the chopped parsley and lemon juice. Taste for seasoning and add salt as needed. Serve over the cod.
Tips + Notes
Buy fillets that are uniform in size to ensure even cooking times.
Always ensure the pan is hot before searing the cod, it ensure the flavor is sealed in and prevents it from breaking apart.
Take the fish out of the pan to cool, if left in the pan the residual heat will keep cooking the fish, resulting in a tough texture.
To make sure the cod is cooked thoroughly, insert a fork into the thickest part of the fillet. Twist gently at an angle (the fish should flake apart easily if cooked properly). The fish should have an opaque appearance rather than a translucent one, once it's cooked. If you have a thermometer the temperature should be 145°F/63°C.