This recipe for Chocolate Marshmallow Linzer Cookies is like a cup of hot chocolate baked into a cookie!  What better combination is there than chocolate and marshmallow? Make your cookies heart shaped like these and they make a perfect Valentine's Day treat.
This cookies have all the components of what makes the perfect cup of hot chocolate baked into a cookie!
I've seen other recipes that actually refer to them as hot cocoa cookies. One recipe similar to this that I saw in a cookbook a while back, used fluff as a filling.  I'll be honest, I never tried fluff before – never in all my life!  My mother didn't buy it when I was growing up. I had friends that used to have peanut butter and fluff sandwiches for lunch, but I can't say it ever appealed to me so I went my entire life without ever even tasting the stuff, but when I saw that recipe, it made sense as a filling.  So, I made my first ever fluff purchase.
Here's my verdict on fluff –  I almost wish I hadn't tried it because I could probably eat the stuff by the spoonful!  The only thing is that I bought the UK made Fluff so I don't know how it compares to the American fluff of my childhood.
In the UK, there are regulations on ingredients that aren't in place in America.  There are a lot less unnatural ingredients added.  For instance, a Well known brand of Peanut butter in the UK contains: Roasted Peanuts (91%), Sugar, Hydrogenated Palm Oil, and Salt – That's all.  If you buy that same brand in the US, I know for a fact it contains a lot more ingredients that aren't so straight forward.  That said, the fluff I tried was really yummy, so I decided to use it as my filling for these amazing cookies!
It's hard to find Linzer Cookie Cutters so if you want to make the hearts like mine.  Click here to get a similar set.
A word of warning for filling your cookies – having found my new found love for fluff, I went for it with the filling.  I covered the whole cookie with it not knowing that the constancy may change…
and because I added too much, my filling ended up oozing out the sides. It was a bit messy, but my son didn't care one bit.  He enjoyed the mess and said they were the best cookies I ever made (to be fair, he may say that about all my cookies)! To avoid the same mistake, on the second batch, I added a heaping teaspoon in the middle, spread it just a little and then pressed the cookies together.  As the cookies set, the fluff spread on it's own to fill the inside.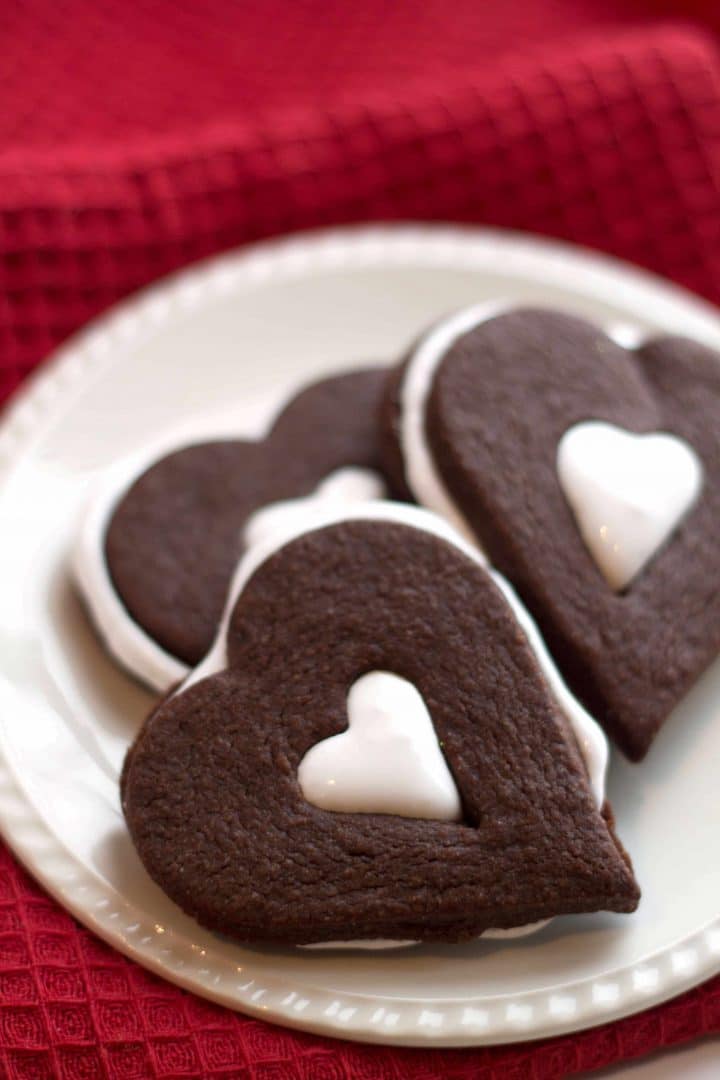 Never Miss A Single Recipe!
Join the free Erren's Kitchen mailing list & get the latest tasty goodness straight to your inbox!
★ Did you make this recipe? Please give it a star rating below!
Chocolate Marshmallow Linzer Cookies
These Chocolate Marshmallow Linzer Cookies are great fun for kids - make a day or two ahead, then fill in before serving.
Ingredients
3⁄4

cup

softened butter

​1⁄2

cup

super fine sugar

​1⁄2

cup

light brown sugar

packed

​1⁄2

cup

unsweetened cocoa powder

sifted

1

teaspoon

vanilla paste or extract

1

egg

1 3⁄4

cups

all-purpose flour

​1⁄2

teaspoon

salt

3⁄4

cup

Marshmallow Fluff
Instructions
Beat the butter until light and fluffy.

Add both sugars and beat to combine,

Add the sifted cocoa powder, mix to combine.

Add the vanilla and egg, mix well.

Mix in the flour and salt. Mix until the dough comes together.

Shape the dough into two large discs, wrap in plastic wrap and chill for 1 hour.

Preheat the oven to 350F/175C

On a floured surface roll the dough out to about 1/4 inch thick.

Using a 2.5 inch cookie cutter, cut out the cookies and then using a 1 inch cookie cutter, cut a hole in the center of 1/2 of the cookies.

Place the cookies on a cookie sheet (about an inch apart) and bake 10 -12 minutes until (being careful not to over cook the edges.

Let cool completely before assembling.

To assemble, spoon a heaping teaspoon in the center of the cookie without the hole, spread slightly, then using a cookie with a hole, press the cookies together gently. The fluff will spread as it sets.

Let the cookies set for 2 hours before serving.

In an air tight container, the cookies will keep for 5 days.
Nutrition Facts
Chocolate Marshmallow Linzer Cookies
Amount Per Serving
Calories 136
Calories from Fat 54
% Daily Value*
Total Fat 6g 9%
Cholesterol 22mg 7%
Sodium 103mg 4%
Potassium 47mg 1%
Total Carbohydrates 20g 7%
Protein 1g 2%
* Percent Daily Values are based on a 2000 calorie diet.