The thing about this recipe for Homemade Golden Oreo Cookies is that they are even better than store-bought. Prepare to be obsessed!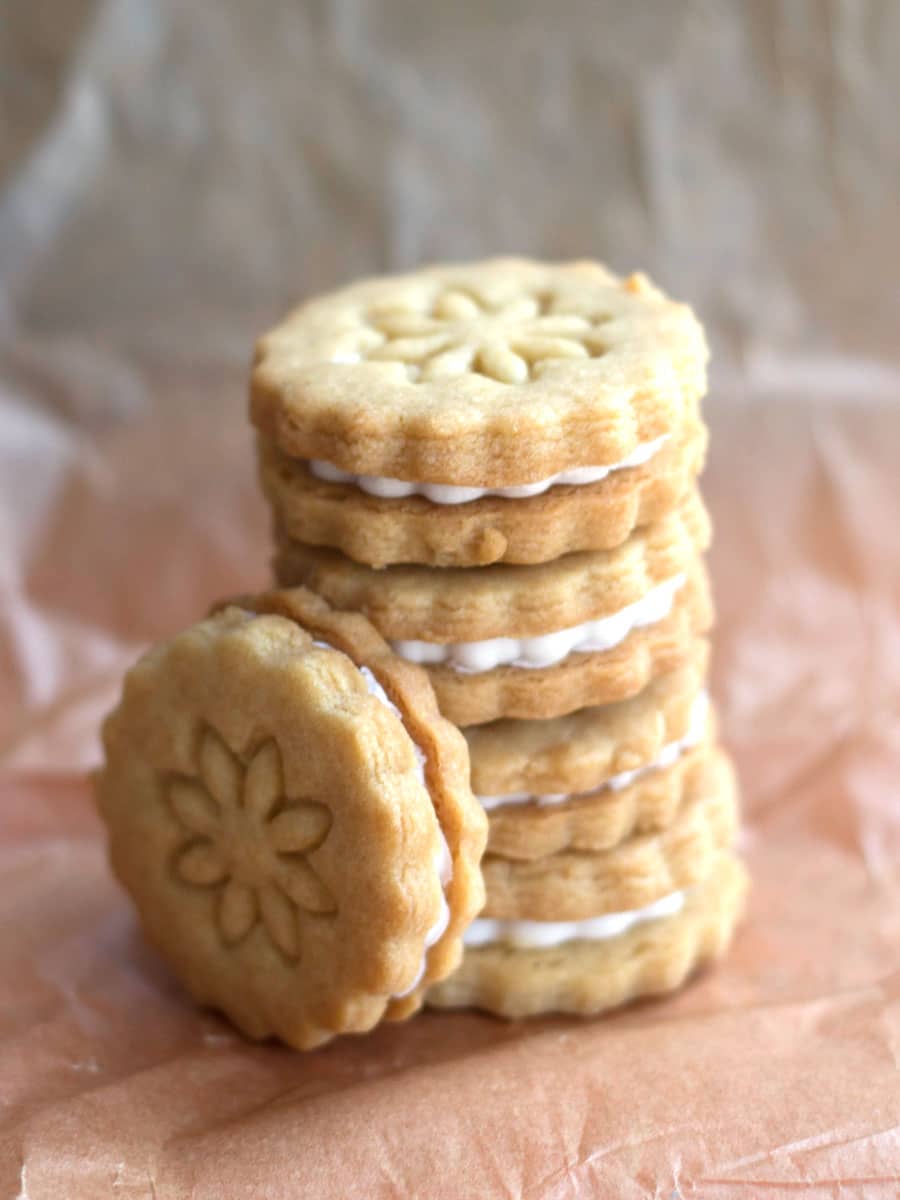 A while back, I posted my recipe for Homemade Oreo Cookies (the original variety), and ever since, my son requests them more than anything else.
Being a food blogger, I don't often make the same recipe more than a few times, but those cookies get made a lot. This time, I decided to put a different spin on them and try my hand at the Golden Oreos. They turned out buttery and crisp with the perfect amount of sweetness.
Why This Recipe Works
Using butter gives these cookies a wonderful depth of flavor.
A combination of brown and white sugars makes these cookies crisp and adds a caramel note.
Golden Syrup gives these cookies a rich deep taste
Fondant icing for the filling makes them quick and easy to make.
There's something quite rewarding about making a homemade version of a packaged treat. Sure, you could go out and buy a pack and have instant gratification, but when you've made your own and they turn out even better, the next time you go to the grocery store, you just may leave them on the shelf!
How to Make Homemade Golden Oreo Cookies
Beat butter in a large bowl.
Add sugars, golden syrup, and salt then beat until fluffy.
Mix in egg, vanilla, and flour until combined.
Roll out the dough.
Bake until golden.
Assemble the cookies with fondant in the middle.
Serve and enjoy!
Step by Step Instructions
Beat the butter in a large bowl. Add the sugars, syrup and salt, beat until fluffy.
Mix in the egg, vanilla and flour until combined into a dough.
Roll out the dough.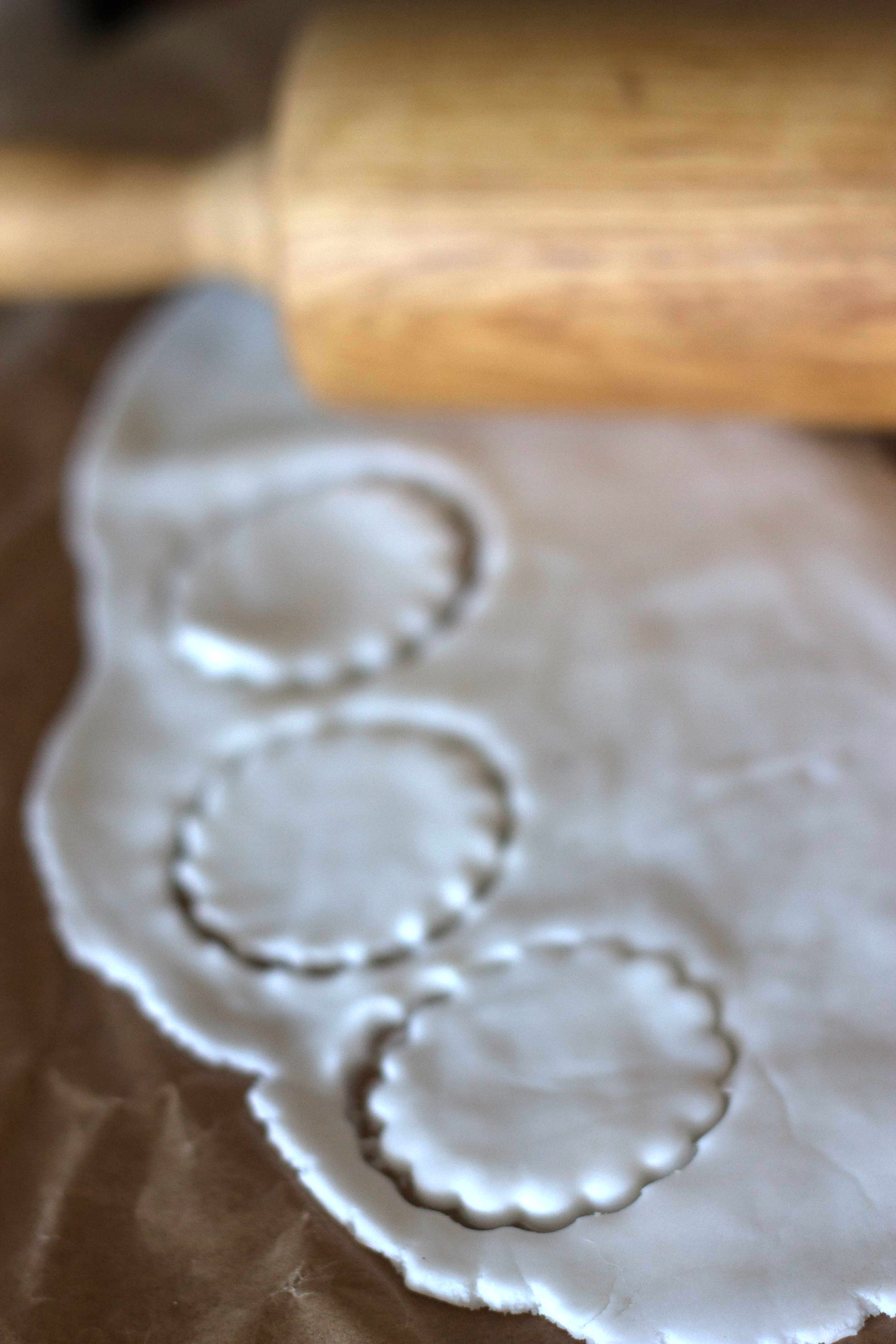 Bake for 10 to 12 minutes until golden. Allow to cool.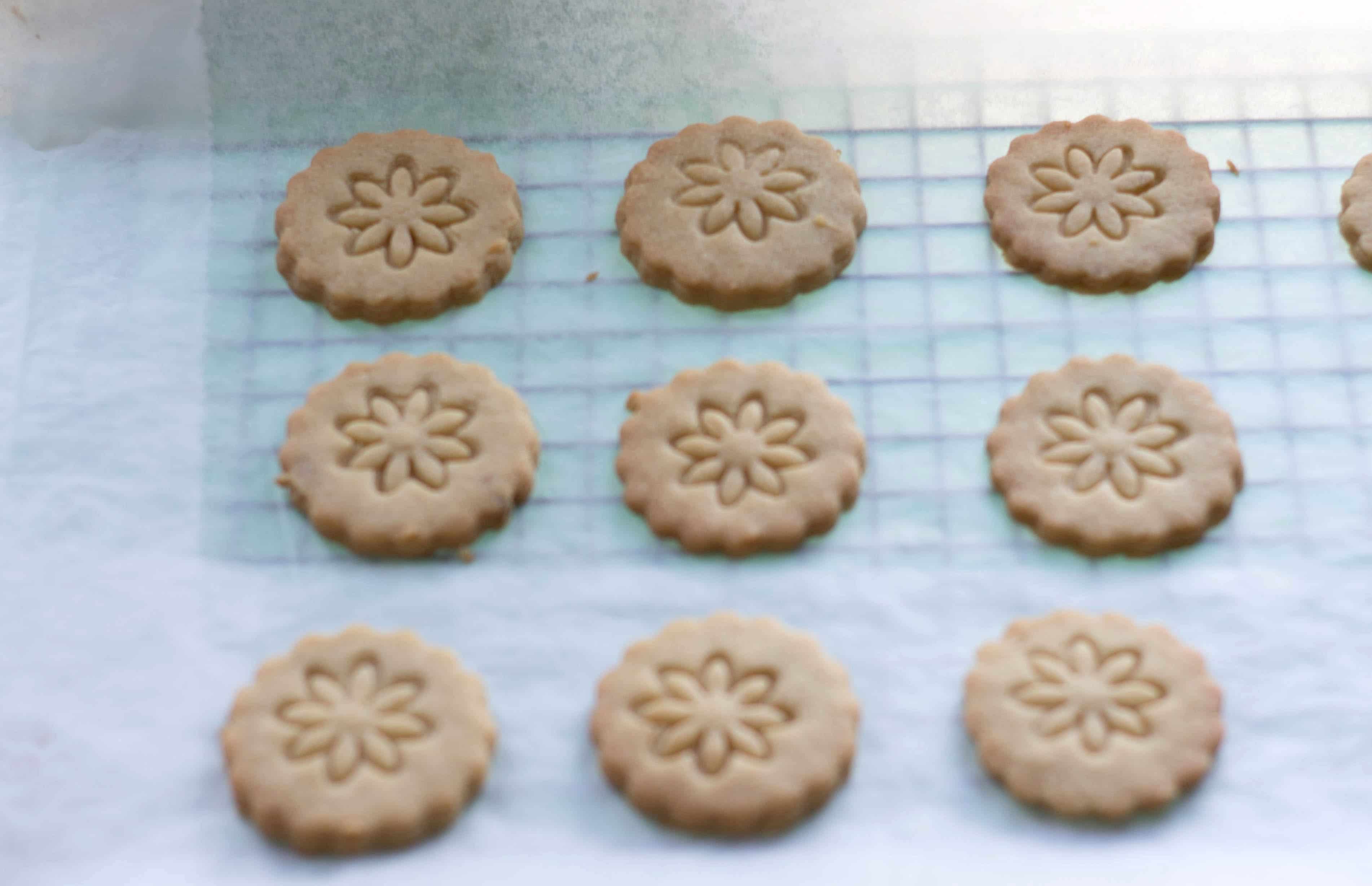 Prepare the fondant filling.
The best way to get the filling to be the right consistency is to use fondant icing. Roll out and cut with the same cookie-cutter used for the cookies (to ensure it's the right size).
Assemble the cookies.
Serve and enjoy!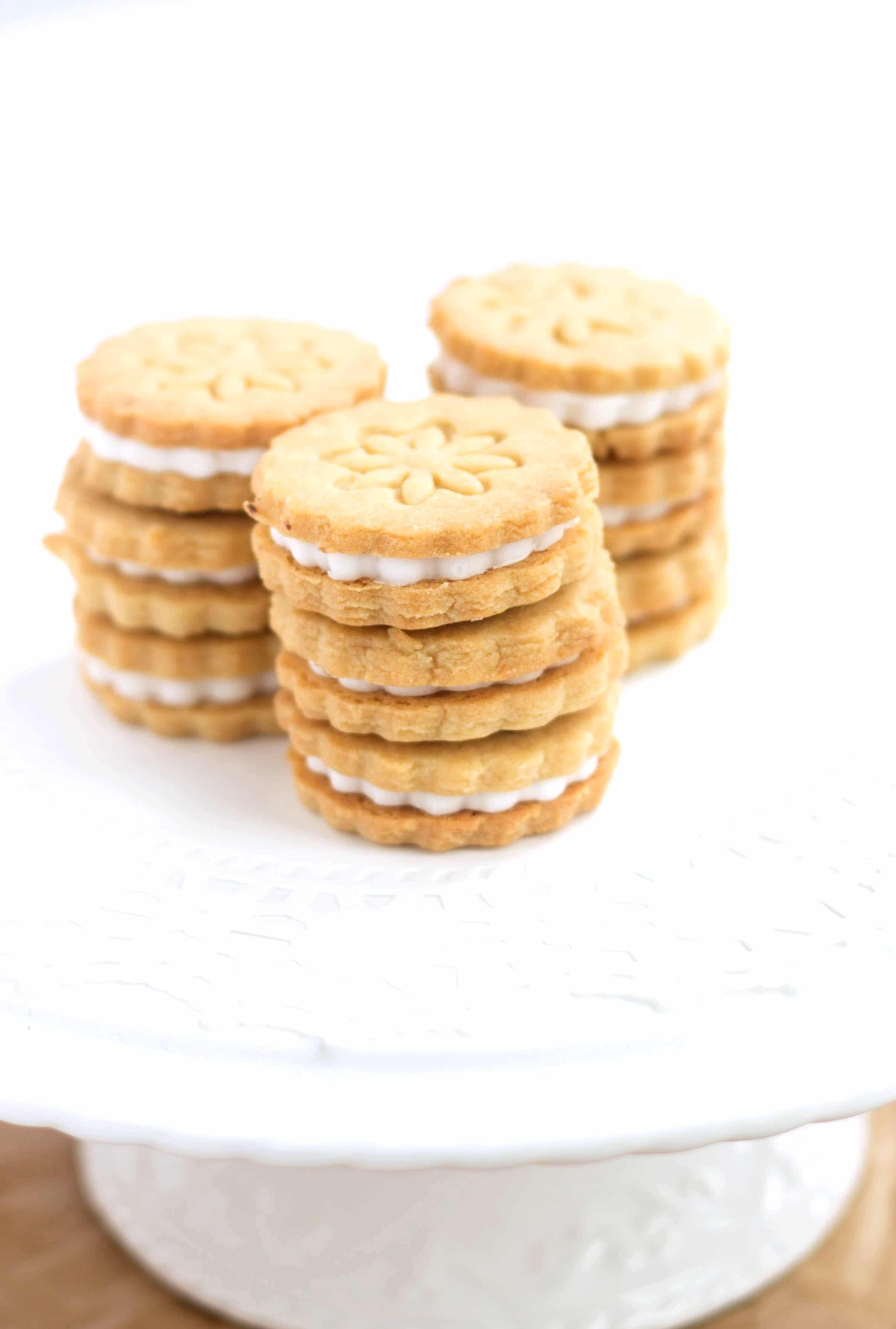 Erren's Top Tips
I just use a good quality store-bought, ready to roll fondant. You can make your own if you want, but it really isn't necessary as long as you find a brand that's not overly sweet. I feel if it's too sweet, it will ruin the cookie.
If you want to make them look like mine, here's what you'll need – I used a double Sided Crinkled Cookie Cutter Set & for the flower print, I used a fondant press these are great for cookies. Just be careful to not cut through the whole cookie with them with the press. You only need to make a good indent. (As an Amazon Associate, a small commission is made from qualifying purchases).
In this recipe I used Golden Syrup (which is an amber-colored syrup with a rich, deep sweetness) it's common in English baking and I've fallen in love with it since moving here. I know it can be hard to find in the US, but you can buy here on Amazon.
Stay Updated
Receive new recipes & dinner ideas straight to your inbox!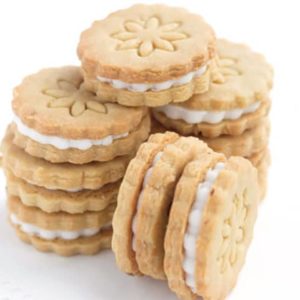 Let's Make Homemade Golden Oreo Cookies
This amazing recipe will have you making your own amazing cookies instead of buying them in the shop!
Prep30 minutes
Cook15 minutes
Total45 minutes
Ingredients
⅔ cup butter room temperature
¼ cup granulated sugar
¼ cup soft brown sugar packed
2 tablespoons golden syrup or golden corn syrup
¼ teaspoon salt
1 large egg
2 teaspoons vanilla extract
2 cups all purpose flour
6 ounces rolling fondant icing
Instructions
Beat the butter in large bowl smooth & creamy.

Add sugars, golden syrup and salt and beat until pale and fluffy.

Add egg; mix until well blended,

Mix in vanilla. Add flour and mix until combined.

Gather dough into ball; divide in half. Flatten each ball into disk. Wrap disks separately in plastic and chill until firm, at least 1 hour. TIP: This dough Can be made 2 days ahead and kept chilled in the refrigerator until needed.

Preheat to 350°F/175°C.

Line 2 cookie sheets with baking paper. Roll out dough between 2 sheets of parchment paper (one disk at a time) to 1/8-inch thickness for 2-inch cookies and 1/4-inch for larger 4-inch cookies.

Using a cookie cutter, cut out cookies and transfer to prepared cookie sheets, spacing 1 inch apart.

If the cookies become too soft to transfer to baking sheets, place in freezer on baking paper for 5 minutes before continuing.

Gather the scraps, roll out dough, and cut more cookies, repeating until all dough is used.

Bake 1 sheet at a time for 10-12 minutes for 2 inch cookies or 12-14 minutes for 4 inch cookies or until the cookies are firm on top and golden around edges.

Allow to cool on cookie sheet for 5 minutes before transferring to cool completely on cooling racks.
For the Filling:
Roll out the fondant, using icing sugar for rolling (not flour) to just over a quarter of an inch thickness and cut into circles using the same cookie cutter as for the cookies.

Brush one side of the fondant with a little milk and press this onto the bottom of one cookie.

Brush the other side of the fondant with a little water and place the bottom of a second cookie, pressing gently to secure the sandwich.

Repeat with the remaining cookies, re-rolling the fondant if needed.

Makes around 20 Cookies
Tips + Notes
I just use a good quality store-bought, ready to roll fondant. You can make your own if you want, but it really isn't necessary as long as you find a brand that's not overly sweet. I feel if it's too sweet, it will ruin the cookie.
If you want to make them look like mine, you can find them on Amazon – I used a double Sided Crinkled Cookie Cutter Set & for the flower print, I used a fondant press these are great for cookies. Just be careful to not cut through the whole cookie with them with the press. You only need to make a good indent. (#paidlink).
In this recipe I used Golden Syrup (which is an amber-colored syrup with a rich, deep sweetness) it's common in English baking and I've fallen in love with it since moving here. I know it can be hard to find in the US, but you can buy it here on Amazon.(#paidlink)
Nutrition Information:
Calories: 119kcal (6%)| Carbohydrates: 13g (4%)| Protein: 1g (2%)| Fat: 6g (9%)| Saturated Fat: 3g (19%)| Cholesterol: 24mg (8%)| Sodium: 87mg (4%)| Potassium: 18mg (1%)| Sugar: 4g (4%)| Vitamin A: 200IU (4%)| Calcium: 5mg (1%)| Iron: 0.6mg (3%)