This Xmas Snowflake Cookie recipe makes delicious sugar cookies that can be filled with the filling of your choice.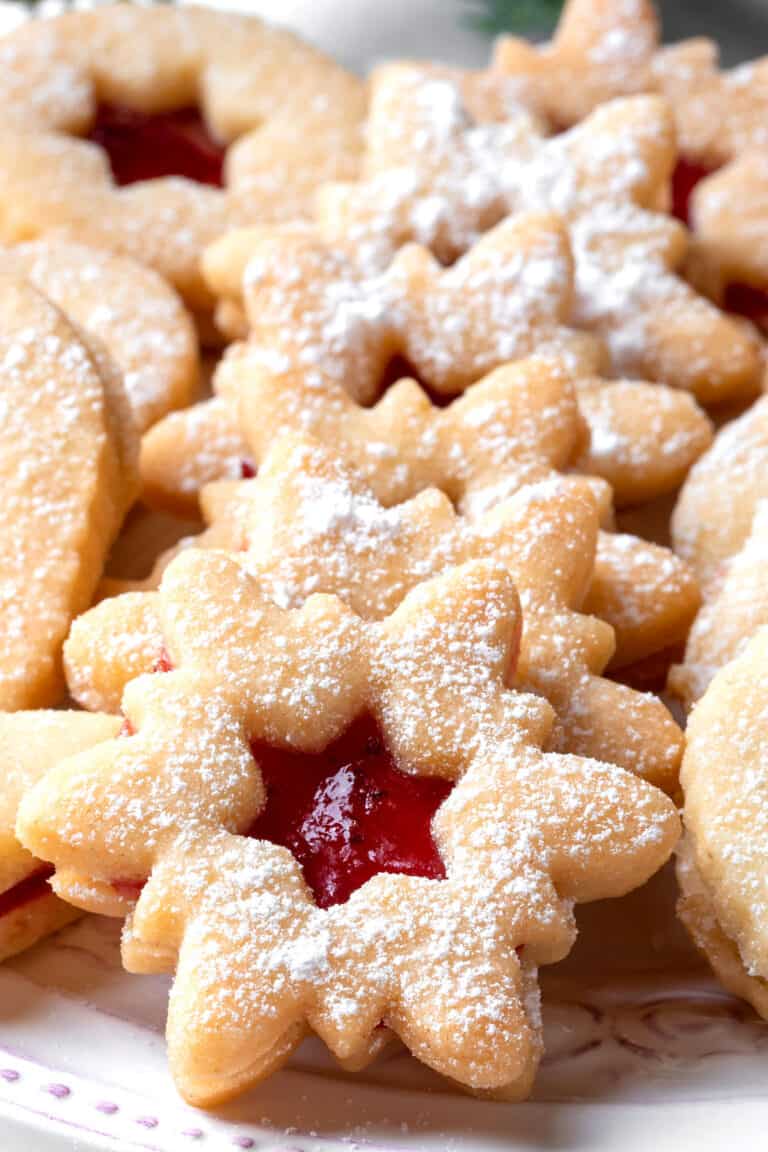 The holiday season is in full swing and in my house, that means we're baking xmas cookies. This year for our first cookie baking session, my son asked for snowflake cookies and I'm so glad he did because they came out so good, we'll be making them every year!
We love cutout xmas cookies. Last year, we made my Linzer Cookies. My husband and I loved them, but my son wasn't keen on the almond flavor, so we decided to make a sugar cookie instead and they came out just fantastic!
Why This Recipe Works
Using confectioners sugar gives the cookies a crisp, sturdy texture without any graininess.
Egg yolks instead of whole eggs, adds richness to the dough.
Using vanilla adds an extra depth of flavor to the buttery cookies.
A little salt cuts the sweetness giving these Xmas cookie the perfect balance of flavors.
Filling Options
I filled my cookies with my homemade raspberry jam, but you can use apricot jam, marmalade, strawberry jam, caramel, chocolate ganache (set firm in the fridge), or use Christmas colored fondant that's rolled and cut using the same snowflake cookie cutter you use to cut out our cookies (like I did with my oreo xmas cookies). Your choices are endless!
How To Make Xmas Snowflake Cookies
Start by adding a cup of butter that's at room temperature to your mixer. Then sift in 2/3 cup confectioners sugar. Begin mixing at low speed to avoid the sugar flying out of the bowl, and then increase the speed, and beat until light and fluffy. I leave the mixer going for at least 3 minutes.
Then add 2 large eggs to the bowl followed by 2 teaspoons of vanilla extract. At this point you can also vary your flavors by adding citrus zest or different extracts like almond or coconut.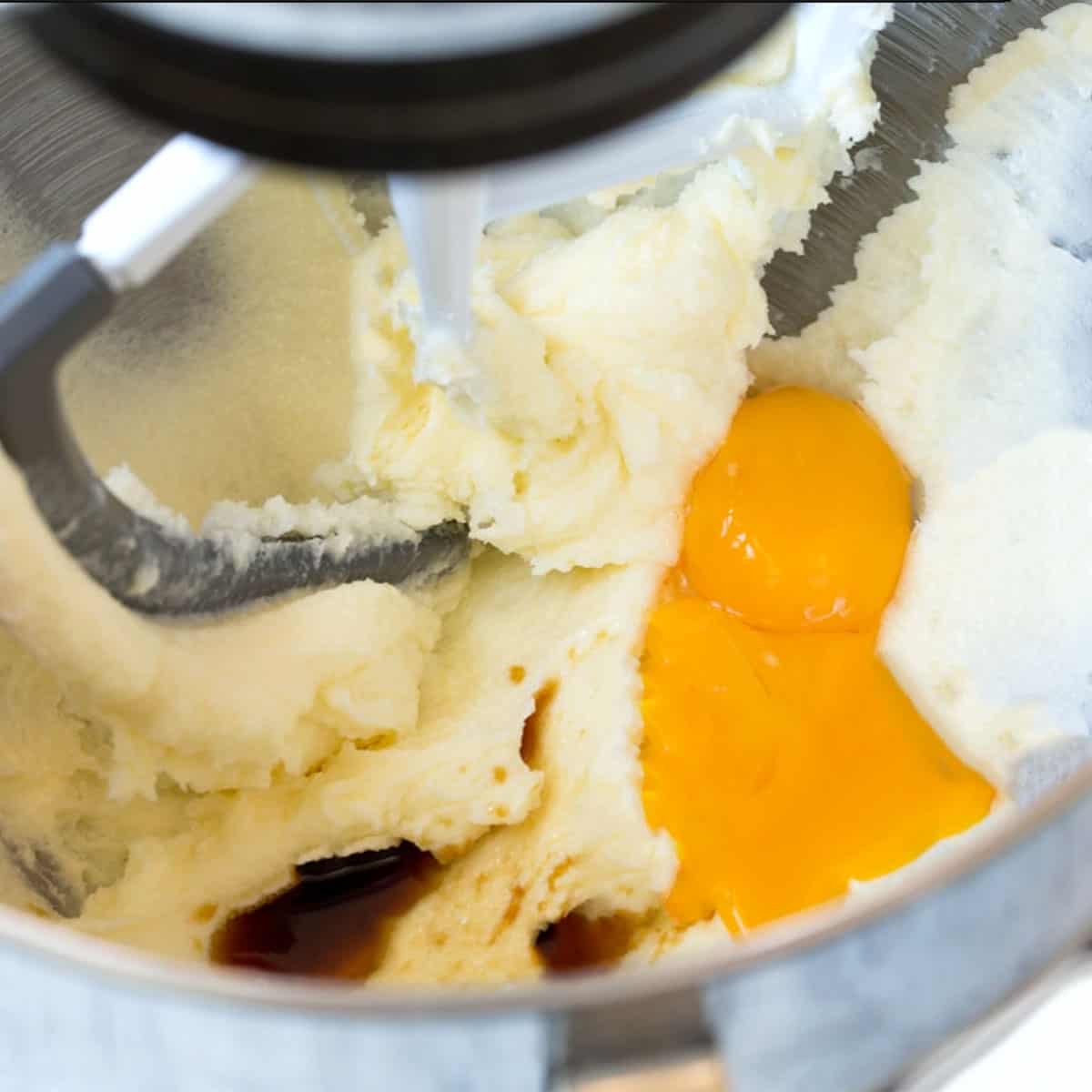 Then give it a little blend just to combine everything together.
Add 1½ cups of all-purpose flour, ¼ cup cornstarch, and ½ teaspoon salt and blend it again on low speed until the dough comes together (the dough will be very soft.)
Once the dough comes together, separate it into two portions (one for the top cookie and one for the bottom) and place each one in plastic wrap and form a disk. Then wrap it the dough with the plastic wrap and chill for at least 2 hours before rolling.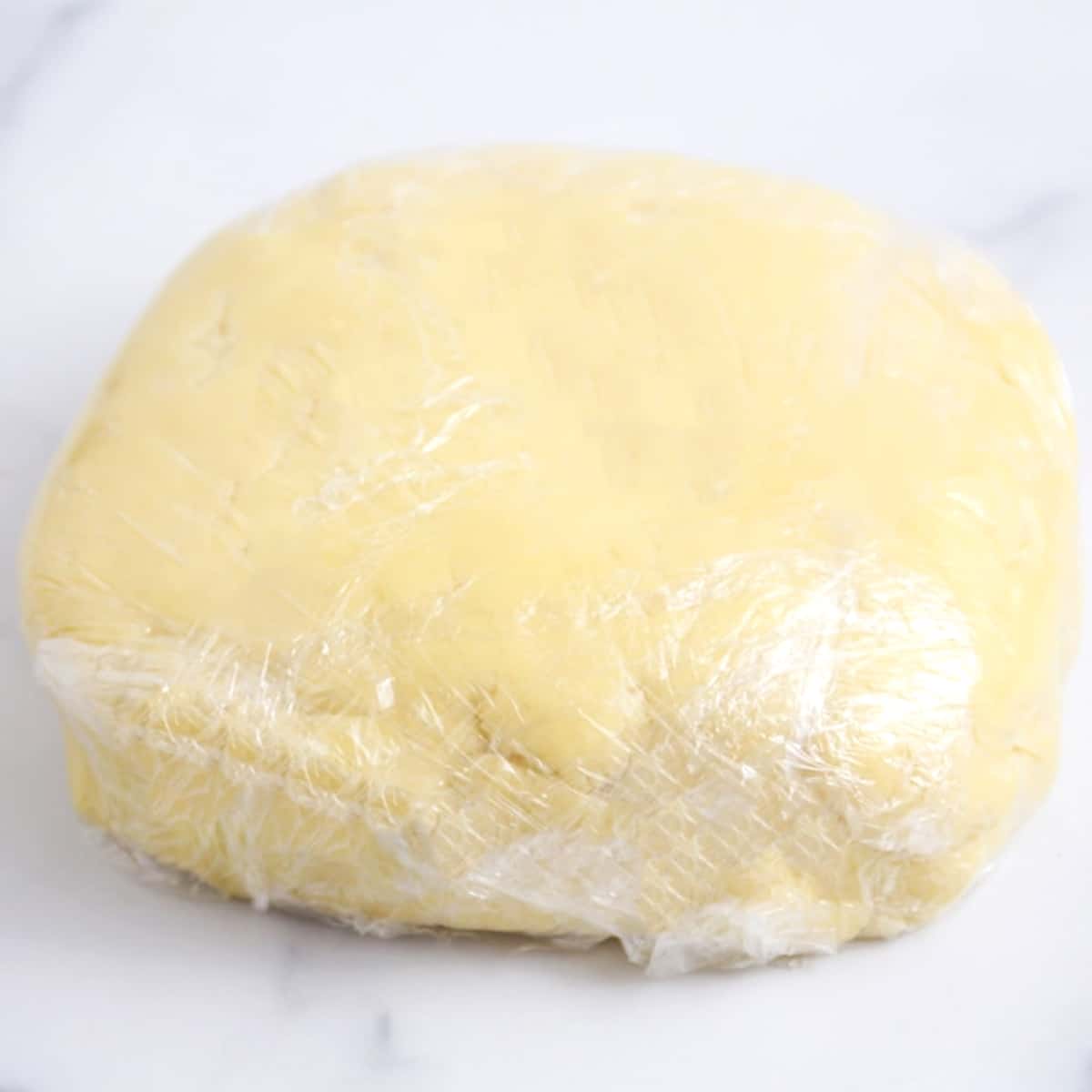 Line a cookie sheet with parchment paper and set it aside.
Remove the dough from the refrigerator and knead it a little bit to soften it up. This also helps to prevent cracks when rolling the dough.
Dust a clean work surface with flour and using a rolling pin, roll the dough out to 1/4- inch thick.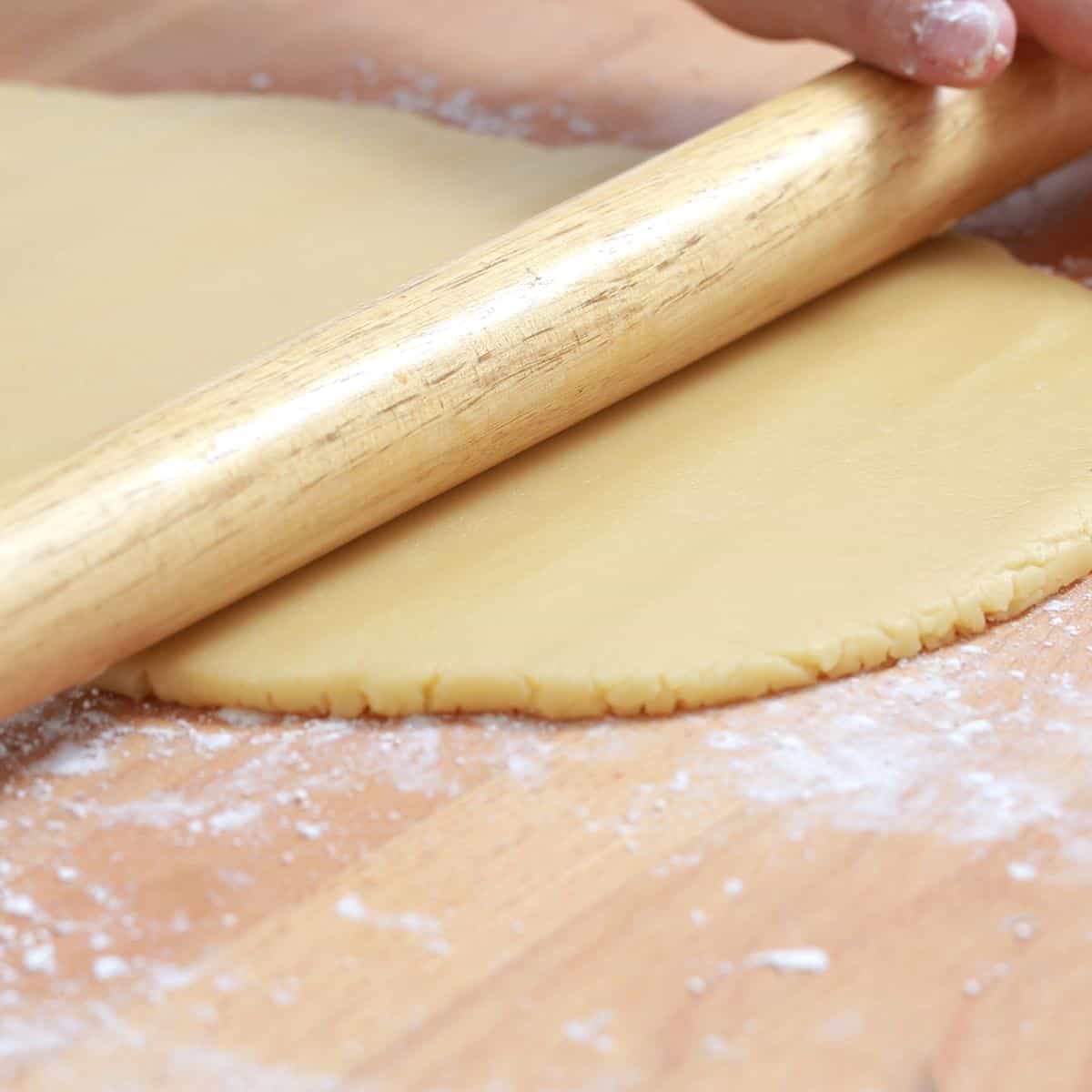 Cut the dough into your desired snowflakes using a 2- inch cookie cutter. Then cut out your mini snowflake in the center of half the cut snowflakes (if you don't have a mini snowflake shape, I find a star or even a circle using the bottom end of a piping tip works just as well).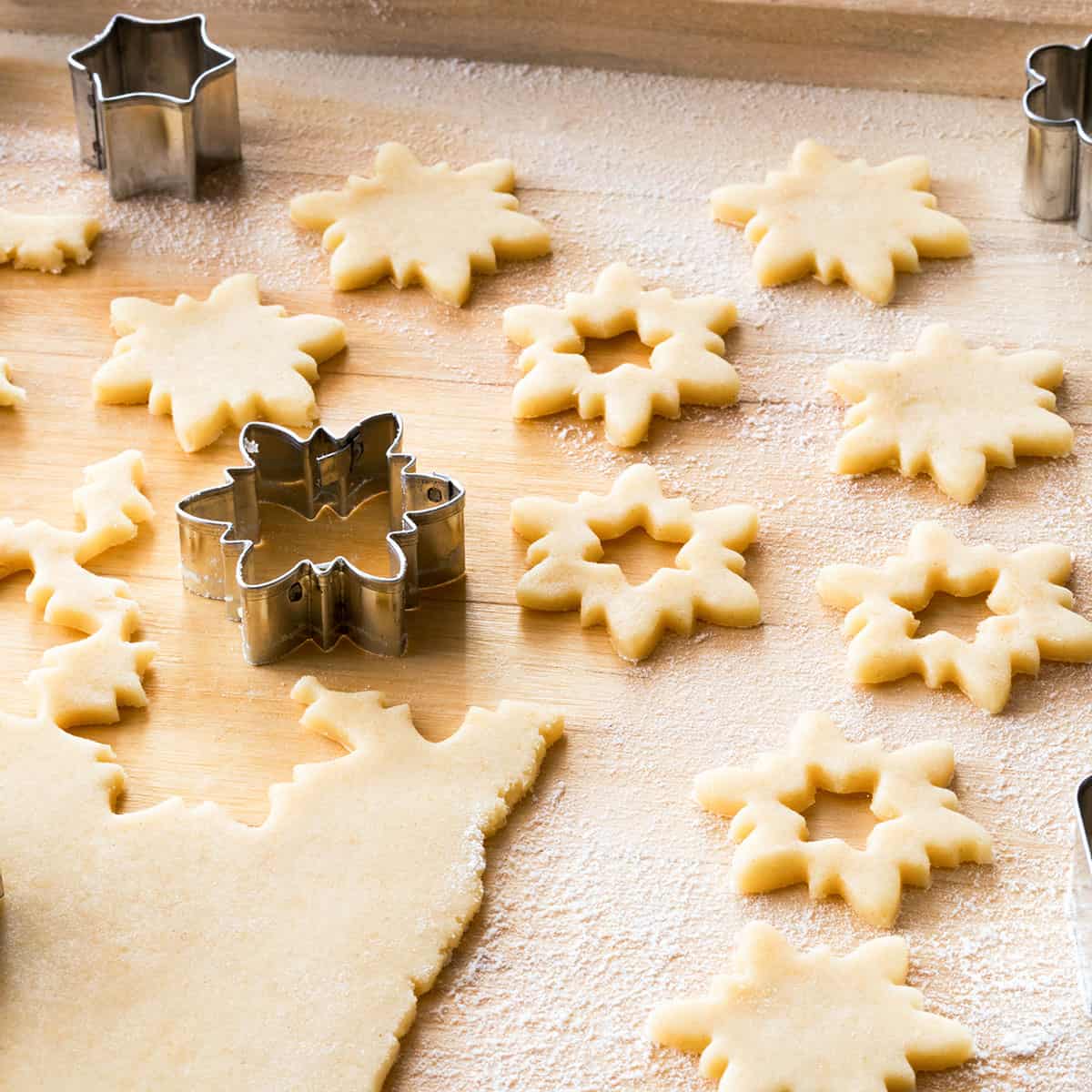 The nice thing about this dough is that it does re-roll easily, so any scraps you have can be gathered up and rolled again. I often make several shapes at the same time (as you'll see in the photos) to save for another time.
Place the dough on the prepared baking sheet and chill for 10 minutes.
Preheat the oven to 350°F and bake for 18-20 minutes, or until the edges are lightly golden. Keep an eye on the cookies with the center cut out as they may have to come out a minute or two early.
Transfer the cookies to a wire rack to cool completely.
Once cooled, dust the top cookies with confectioners sugar, then spread about 1 teaspoon of filling on the bottoms of the solid cookies.
I used raspberry jam, but as I mentioned, you can use chocolate ganache, or caramel to fill your cookies.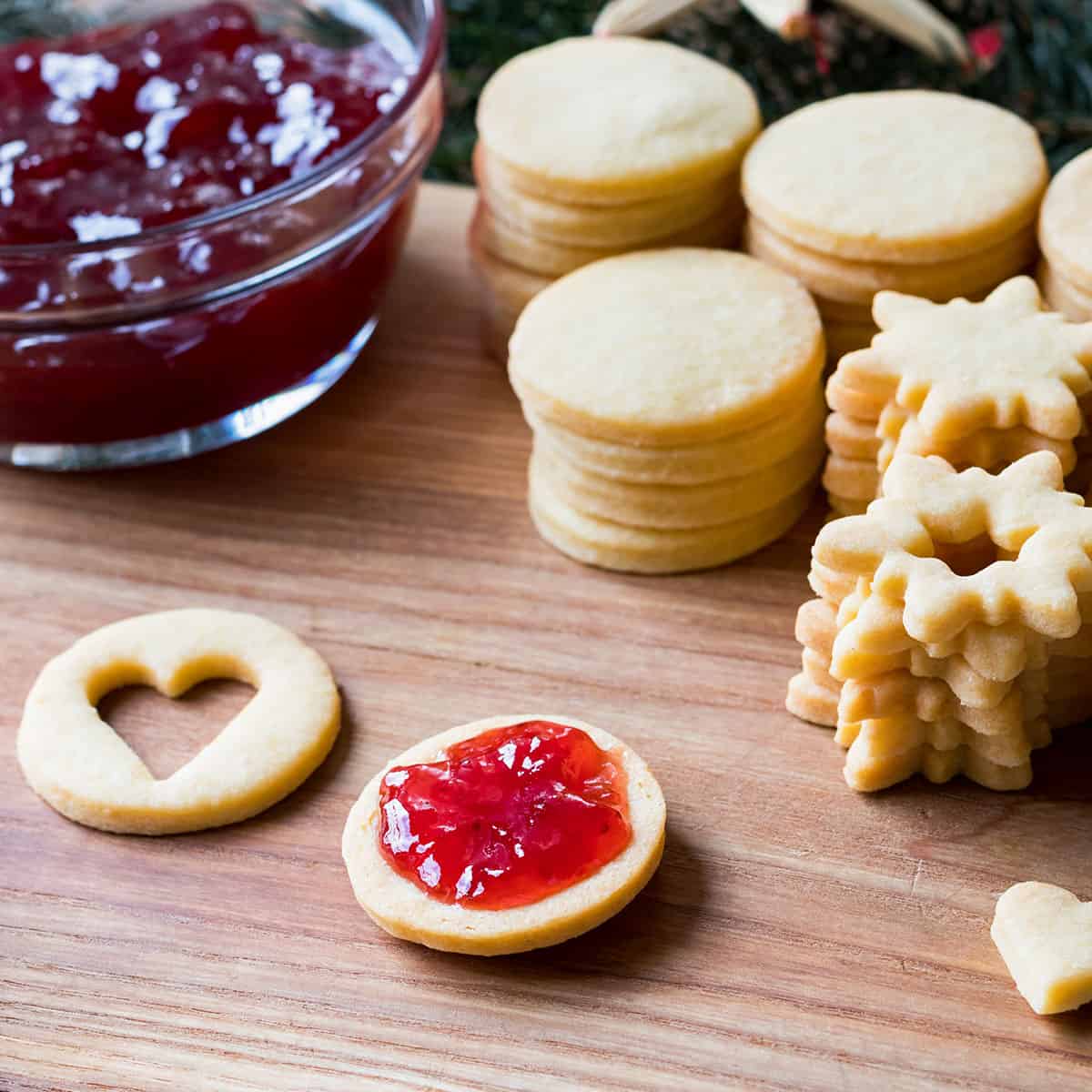 Then gently press the center cut snowflake cookies on top of the jam.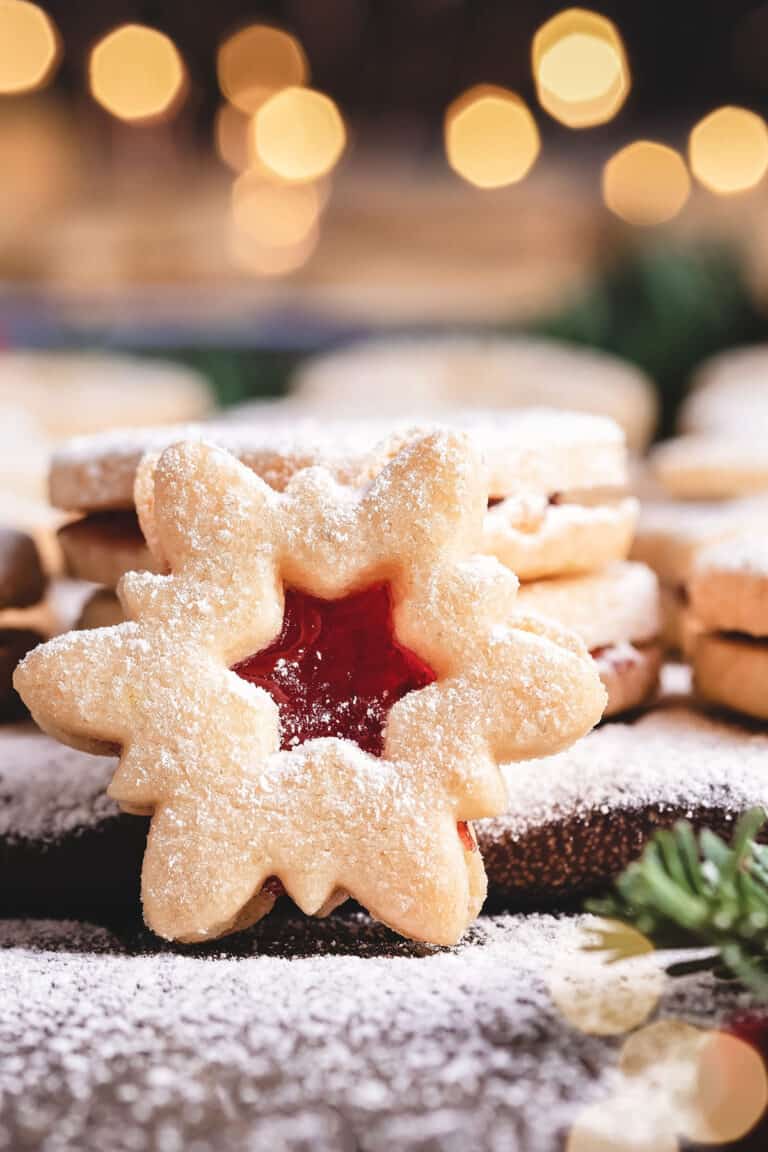 This recipe makes about 30 cookies – 15 completed filled cookies.
Erren's Top Tips
Kneading the dough before rolling helps prevent cracking the dough as you roll it out.
When rolling out the dough, start with smaller rolling movements and then lengthen them as the dough gets thinner.
If your kitchen is warm, roll the cookies on the parchment paper you line the pan with to avoid sticking then pull the scraps leaving the shape intact.
If you don't have a mini snowflake shape cookie cutter, I find a star shape or even a small circle using the bottom end of a piping tip works just as well.
To check for doneness, you're looking for a light golden brown around the outside of the cookie.
If you don't want to cover the filling with sugar, be sure to dust the cookies with the sugar before filling the cookies.
If you don't plan to serve the cookies right away, wait to fill them. The the cookies will lose their crispness once you fill them so assemble before serving.
Storing and Freezing Instructions ❄
These cookies are best when eaten within a day or two or being baked and filled (they will start to soften once filled).
Store cookies filled with jam, marmalade caramel, Nutella or fondant at, room temperature for up to a 3 days. Cookies filled with chocolate ganache can be stored at room temperature for 2 days or in the refrigerator for up to a week.
The uncooked dough can be frozen in a freezer bag or well wrapped in plastic wrap for up to three months.
Baked cookies should be frozen unfilled in a freezer-safe container or freezer bag for up to three months.
Stay Updated
Receive new recipes & dinner ideas straight to your inbox!
Let's Make Xmas Snowflake Cookies
Vanilla icebox cookies rolled out and cut into festive shapes and filled with the filling of your choice. They're perfect for a day of Christmas baking with the kids.
Prep30 minutes
Cook8 minutes
Total2 hours 38 minutes
Chilling: 2 hours
Serves: 15
Ingredients
1 cup butter at room temperature
⅔ cup confectioners sugar sifted
2 large egg yolks
1 teaspoon vanilla
1½ cups all-purpose flour (plain flour)
¼ cup cornstarch (cornflour)
½ teaspoon salt
¾ cup raspberry jam or whatever flavor you like
½ cup powdered sugar
Instructions
Beat the butter and confectioners sugar using a hand or stand mixer starting on low speed and increasing the speed to medium once most of the sugar is blended into the butter. Then beat until light and fluffy (about 3 minutes).

Beat in the egg yolk and vanilla.

Add the flour, cornstarch and salt and mix in on low speed until the dough comes together (the dough will be very soft.)

Wrap the dough in plastic and chill for at least 2 hours before rolling.

Preheat the oven to 325°F/160°C and line 2 baking trays with parchment paper.

On a lightly floured work surface, knead the dough slightly to soften and then roll the dough out to about ¼-inch (6 mm) thick.

Using a two inch cookie cutter, cut out the cookies and place them onto the trays. Then on half the cookies, cut the center out using a mini cookie cutter.

Bake the cookies for 8-10 minutes, until they just start to brown at the edges. Allow the cookies to cool on the trays before dusting the half with the center cut with powdered sugar.

Spread about 1 teaspoon of your filling on the bottoms of the solid cookies and then gently press the cut out cookies on top of the filling.
Nutrition Information:
Calories: 254 (13%)| Carbohydrates: 33g (11%)| Protein: 2g (4%)| Fat: 13g (20%)| Saturated Fat: 8g (50%)| Polyunsaturated Fat: 1g| Monounsaturated Fat: 3g| Trans Fat: 1g| Cholesterol: 59mg (20%)| Sodium: 193mg (8%)| Potassium: 33mg (1%)| Fiber: 1g (4%)| Sugar: 17g (19%)| Vitamin A: 413IU (8%)| Vitamin C: 1mg (1%)| Calcium: 12mg (1%)| Iron: 1mg (6%)
Erren's Kitchen is written and produced for informational intentions only. We are not certified nutritionists, and the nutritional information found on this site has not been assessed or authorized by a nutritionist or the FDA. The nutritional information found in our recipes is offered as an estimate and should not be considered a guarantee or fact. The estimated data is provided as a courtesy and calculated through a third-party online nutritional calculator, spoonacular API. Although we do our best to provide accurate nutritional information, these figures should be considered rough estimates. Many factors, such as brands or products purchased and the nutritional fluctuations that naturally occur in fresh produce, can alter the effectiveness of the nutritional information in any recipe. Furthermore, various online calculators provide different results depending on their particular algorithms and nutrition fact sources. To obtain the most precise nutritional information in a provided recipe, you should calculate the nutritional information with the exact ingredients you are using when preparing the recipe using your preferred nutrition calculator.