If you're looking for a quick and delicious side dish for your holiday dinner, look no further than this Easy Mushroom Side Dish.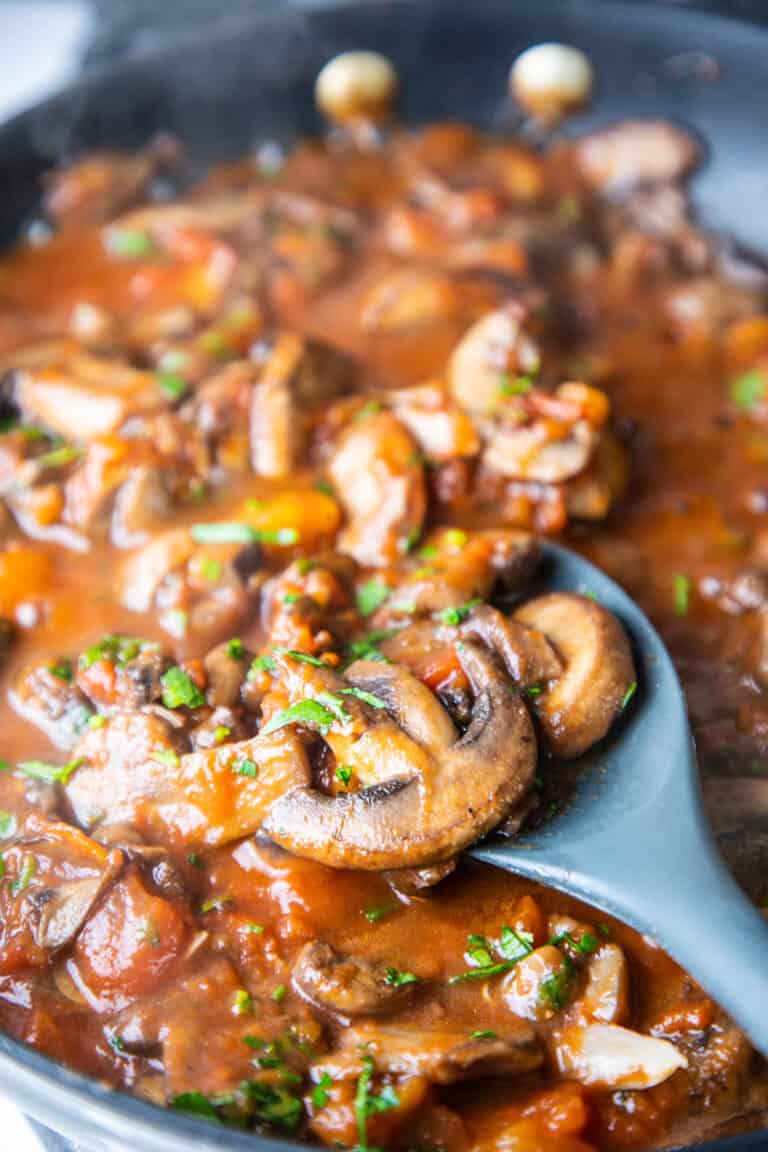 Growing up, my Sicilian grandmother made a mushroom side dish with every holiday dinner. I absolutely loved that dish. I didn't get the recipe before she passed and I've been trying to replicate it ever since. This dish isn't exact, but it comes pretty damn close!
This is a great holiday side dish or served alongside my breaded chicken cutlets and Italian Style Rice for an easy weeknight meal.
Why This Recipe Works
This recipe gives you a quick and easy side dish with simple to source ingredients.
Fresh chopped parsley adds a subtle fresh herb taste to the dish.
The wine adds a brightness to the rich tomato sauce.
Best Wine For Cooking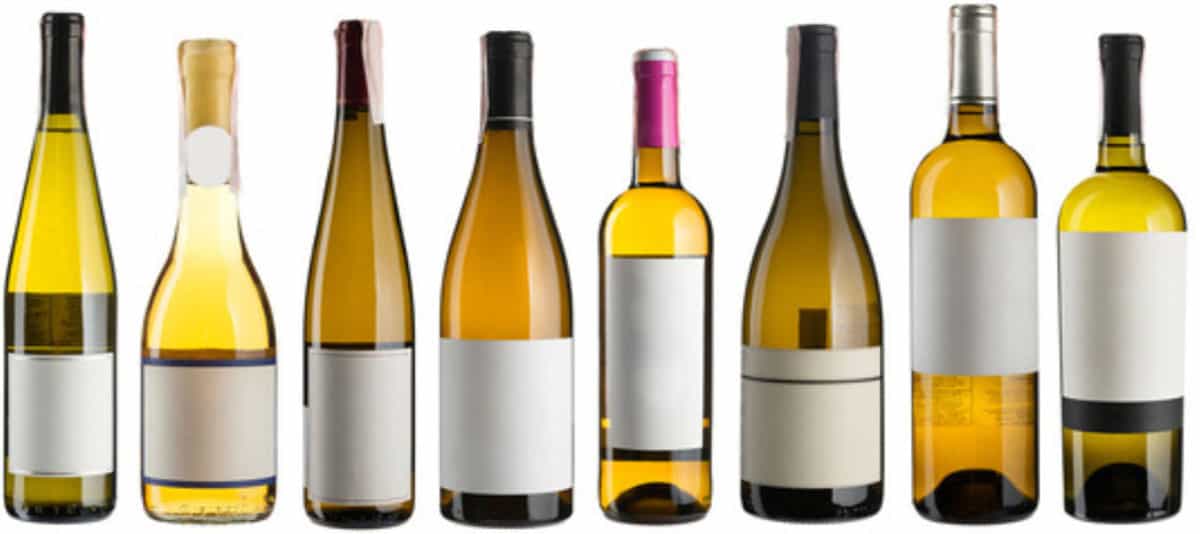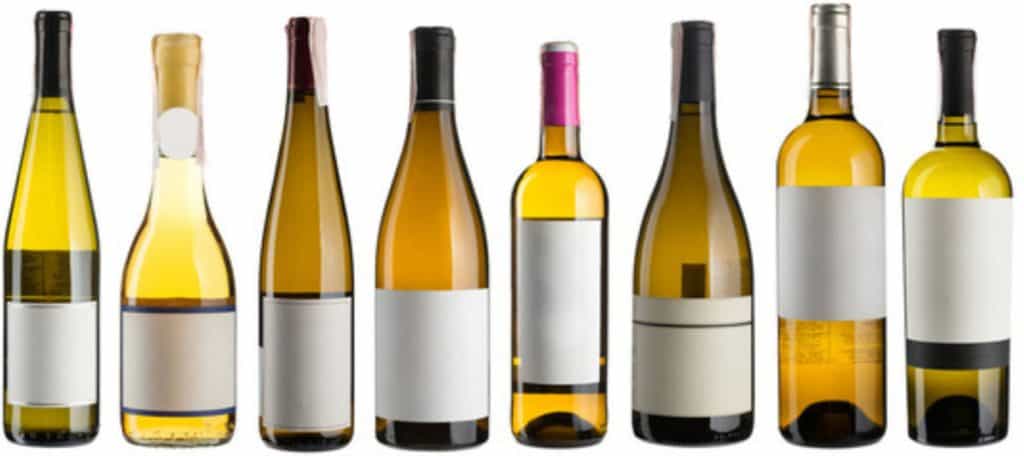 As a rule of thumb, the best wine for using in cooking is one that you like to drink! When choosing white wine a sauvignon blanc, pinot grigio or any medium wine works best.
Ingredient Notes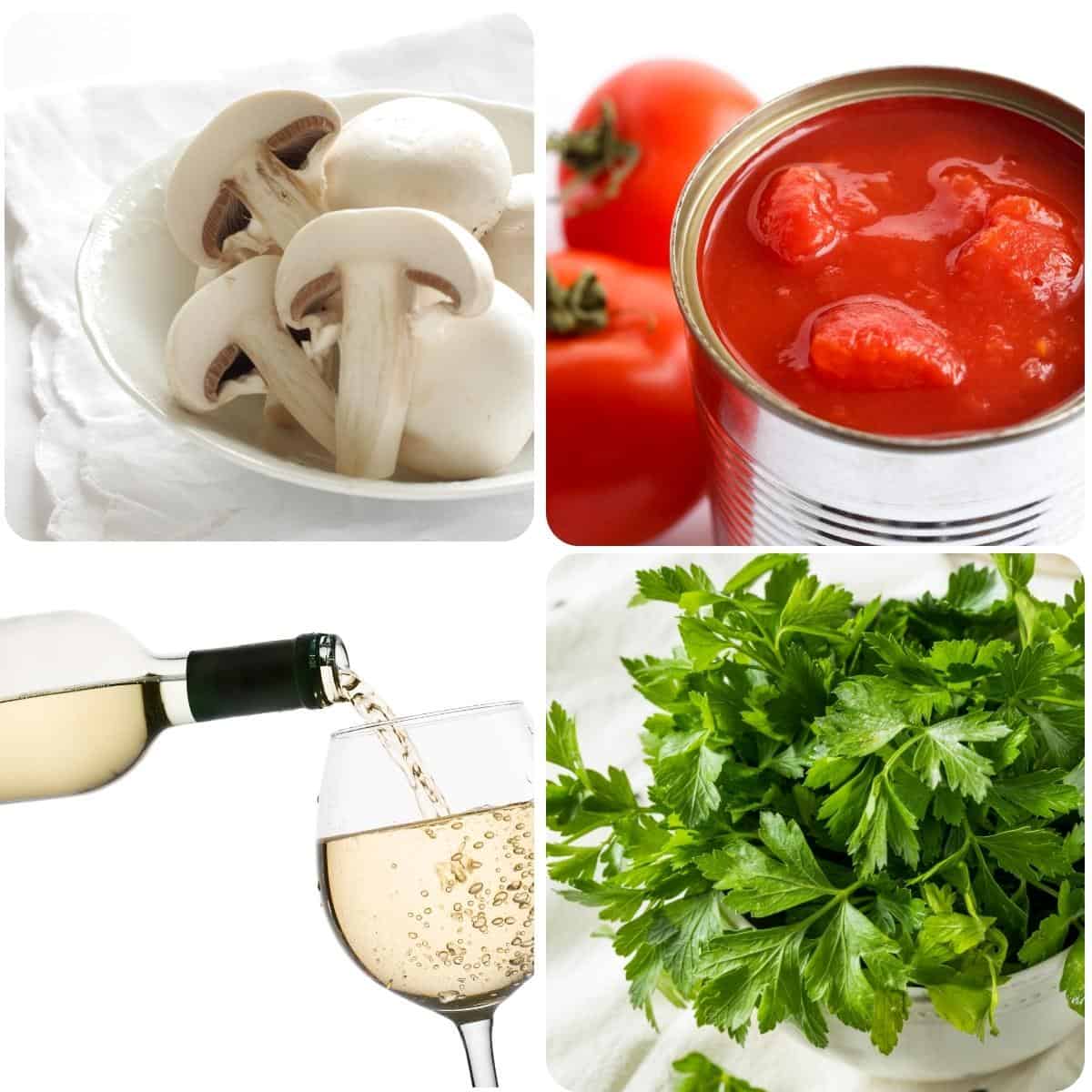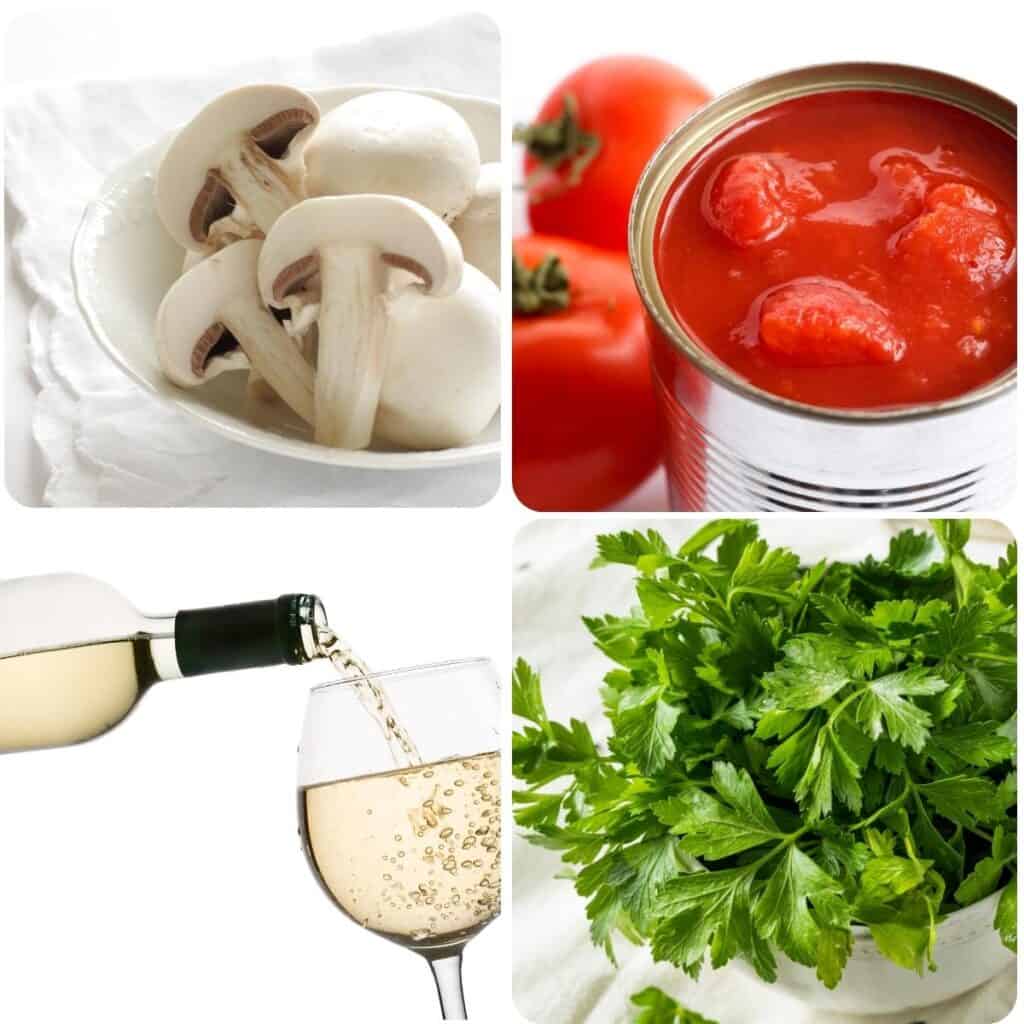 Mushrooms: I use cremini mushrooms for this dish but you can use portobello mushrooms or any mushroom you prefer.
White Wine: I use pinot grigio or any white wine I have on hand. See the best wine for sauce guide below. If you can't use alcohol in your cooking for any reason you can replace it with apple juice.
Tomatoes: I use canned (tinned) tomatoes for this recipe. It's always best to use the highest quality tomatoes available. Look for the DOP sign on your produce.
Oil: Olive oil is my oil of choice as it's so versatile, but you can use any vegetable oil you have to hand.
How to Clean Mushrooms
To clean the mushrooms, use damp paper towels to remove any dirt. This is done because cleaning mushrooms with water will cause them to become waterlogged. Mushrooms will absorb water like a sponge and they won't brown well when cooked.
How To Make Easy Mushroom Side Dish
Slice your mushrooms into even sized pieces. Saute mushrooms for 8 to 10 minutes.
Add sliced garlic and cook for a minute more.
For easy thin sliced garlic, I use this garlic slicer:
If you don't have one, you need one because it is amazing! Just fill it with peeled garlic, twist and perfectly thin sliced garlic come out! Click this link to get one on Amazon (As an Amazon Associate, a small commission is made from qualifying purchases).
Pour the wine into the pan with the mushrooms and let it reduce.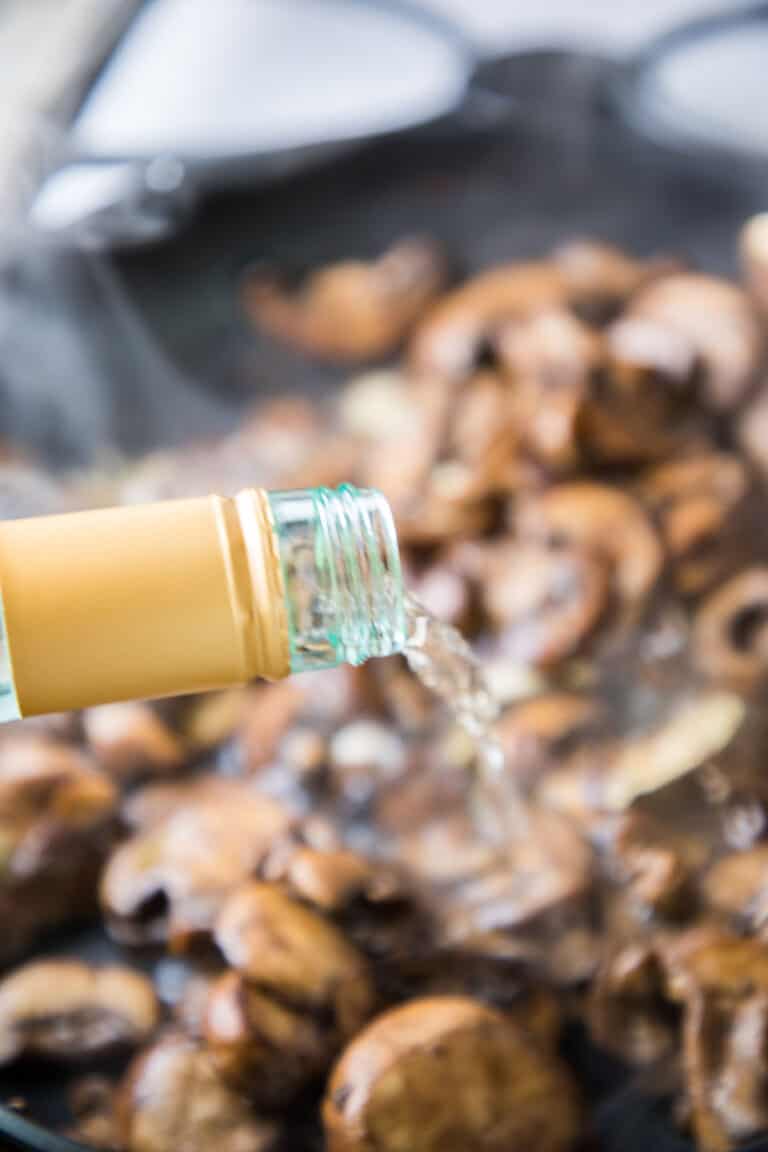 Add the tomato and herbs. Season well.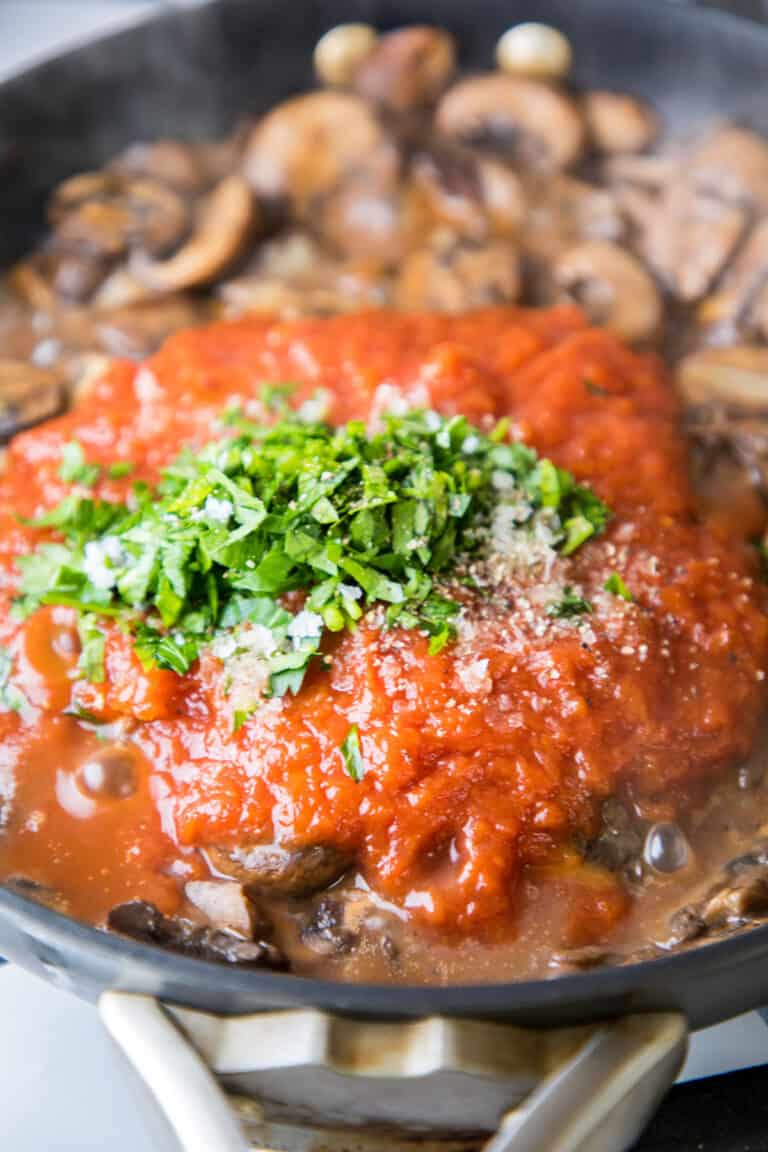 Simmer for around 5 minutes for the sauce to thicken.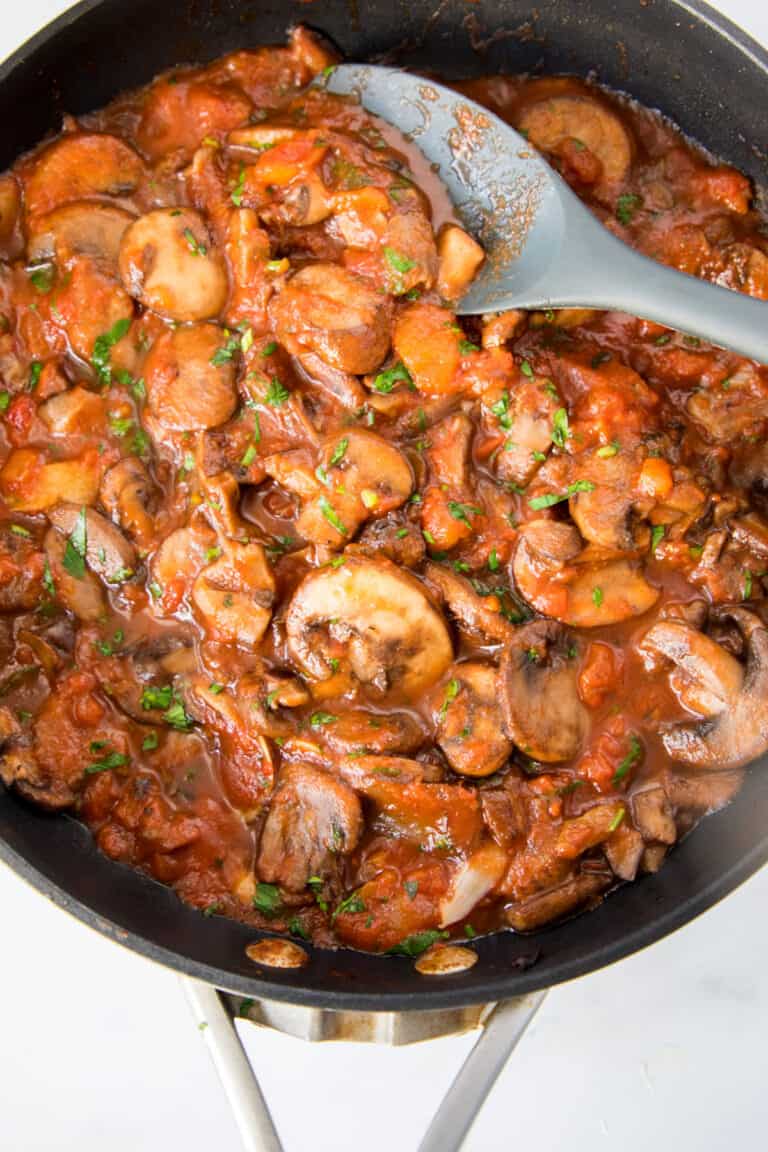 Serve and enjoy!
Make ahead and Freezing Instructions ❄
In The Fridge: Store the cooked mushrooms in sauce in an airtight container in the fridge for up to three days. Reheat on the stove until piping hot.
In The Freezer: Freeze the mushrooms in tomato sauce in a freezer-safe container for up to 3 months. Defrost overnight in the fridge and reheat on the stove until cooked through.
Tips & Variations
If your sauce tastes a little bitter, add a half teaspoon of sugar and this will cut the acidity.
Experiment with herbs, add some oregano or basil, depending on your personal taste.
When cleaning mushrooms, use a damp paper towel to remove dirt. If you use water for cleaning mushrooms, they may become waterlogged.
If you want to use water to clean the mushrooms, quickly rinse mushrooms and wipe dry with paper towels, but do not soak.
When cooking mushrooms, don't overcrowd the pan. Cook mushrooms in a pan with a good amount of surface area. You want to be able to spread the mushrooms in a single layer to allow contact with the hot pan and let moisture evaporate quickly so they brown nicely.
If a lot of liquid is released by the mushrooms, just raise the heat to high and cook down until the liquid reduces down.
Stay Updated
Receive new recipes & dinner ideas straight to your inbox!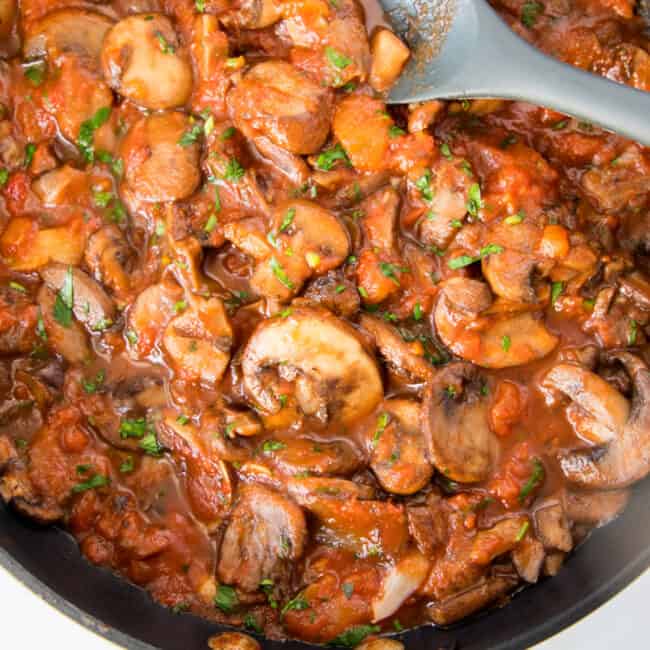 Let's Make Easy Mushroom Side Dish
A simple stovetop side dish of mushrooms in a rich tomato sauce. It's the perfect side dish for anything from weeknights to holiday dinners.
Prep10 minutes
Cook20 minutes
Total30 minutes
Ingredients
2 tablespoons olive oil
3 cloves garlic thinly sliced or minced
1 lb Brown mushrooms sliced
½ cup white wine
14 oz chopped tomatoes canned
fresh parsley a good handful, chopped
Salt and pepper to taste
Instructions
In a large saute pan, heat the olive oil over high heat. Add mushrooms; cook until they release their liquid and it evaporates (about 8 to 10 minutes).

Make a space in the middle of the pan and add a little more olive oil as needed. Add the garlic and cook for about a minute to soften and mix into the mushroom mixture.

Add the wine, and cook to reduce slightly (about a minute).

Add the tomatoes and chopped parsley. Season with salt and pepper to taste. Reduce heat to medium; cook until the consistency of a thick sauce, about 5 minutes.

Taste for seasoning and add salt as needed. Serve hot.
Tips + Notes
If your sauce tastes a little bitter, add a half teaspoon of sugar and this will cut the acidity.
Experiment with herbs, add some oregano or basil, depending on your personal taste.
Add some chopped black olives for extra taste and texture.
Nutrition Information:
Calories: 132 (7%)| Carbohydrates: 10g (3%)| Protein: 4g (8%)| Fat: 7g (11%)| Saturated Fat: 1g (6%)| Polyunsaturated Fat: 1g| Monounsaturated Fat: 5g| Sodium: 151mg (7%)| Potassium: 725mg (21%)| Fiber: 2g (8%)| Sugar: 5g (6%)| Vitamin A: 116IU (2%)| Vitamin C: 10mg (12%)| Calcium: 58mg (6%)| Iron: 2mg (11%)
Erren's Kitchen is written and produced for informational intentions only. We are not certified nutritionists, and the nutritional information found on this site has not been assessed or authorized by a nutritionist or the FDA. The nutritional information found in our recipes is offered as an estimate and should not be considered a guarantee or fact. The estimated data is provided as a courtesy and calculated through a third-party online nutritional calculator, spoonacular API. Although we do our best to provide accurate nutritional information, these figures should be considered rough estimates. Many factors, such as brands or products purchased and the nutritional fluctuations that naturally occur in fresh produce, can alter the effectiveness of the nutritional information in any recipe. Furthermore, various online calculators provide different results depending on their particular algorithms and nutrition fact sources. To obtain the most precise nutritional information in a provided recipe, you should calculate the nutritional information with the exact ingredients you are using when preparing the recipe using your preferred nutrition calculator.