This easy recipe for Victoria Sponge Cake with Buttercream uses the all in one method. Its a delicious, buttery, tender cake with a thick layer of raspberry jam.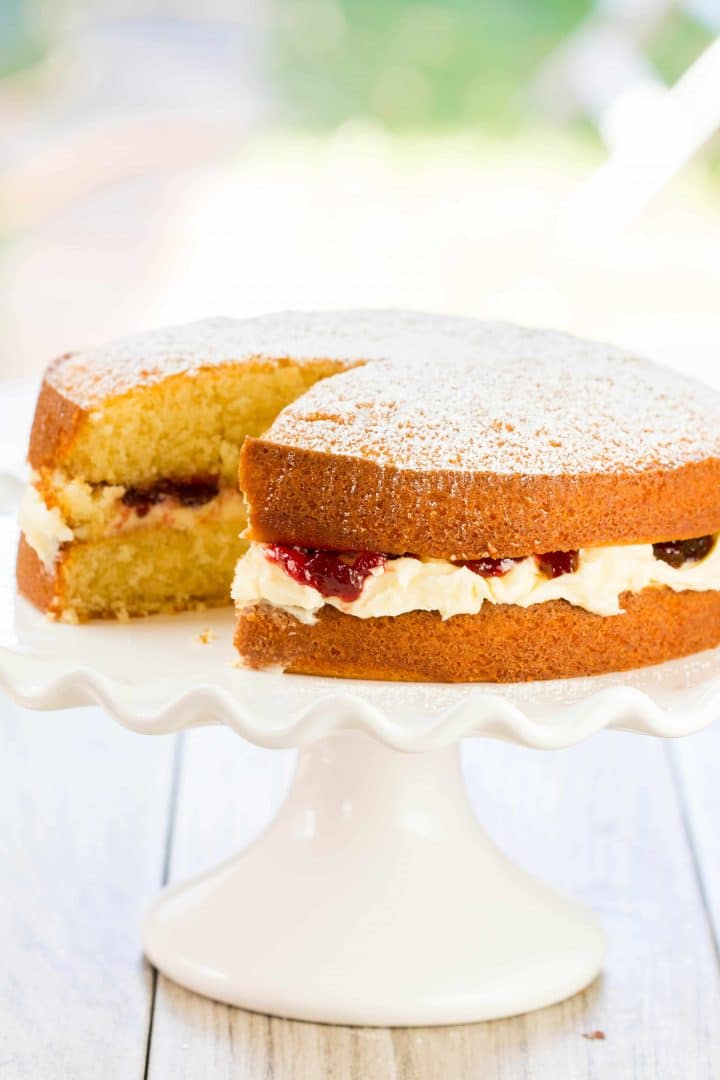 Victoria Sponge is a British classic. In England, you will find this well-risen, sugar-dusted layer cake in every coffee shop, café and bakery you walk into.
I fell in love with Victoria Sponge on my first trip to England. From the first time I saw this moist, yet fluffy vanilla sponge cake filled with cream and jam, I knew it was love.
Why this recipe works:
Superb in flavor – The airy lightness of the cake combined with the buttery flavor and creamy richness of the buttercream is pure perfection!
The buttercream uses less sugar than most; pairing it perfectly with the sweetness of the Jam.
Its a quick and easy one bowl recipe – Simply mix all the ingredients in a food processor or mixer.
Its versatile:  This delectable sponge cake can be filled with whatever you want!
Easily Stored – Cakes filled with buttercream keep better than those filled with fresh cream. This one won't need to be refrigerated, which tends to dry out the sponge.
The Victoria Sponge Debate
I've seen Victoria Sponge Cake in many variations – filled with raspberry or strawberry jam, whipped cream, buttercream, and sometimes even with fresh fruit added.
Years ago, when I first posted this recipe, I got some backlash for using buttercream instead of fresh whipped cream.  I honestly thought I was doing it wrong.  I asked an English friend and she very strongly told me it HAD to be buttercream.  Apparently, there is much debate on this classic cake.
Some swear by buttercream and some say it must be whipped cream.  If you google it, the results will be split.  So, in an effort to please everyone, I created a second recipe for Victoria Sponge Cake with Whipped Cream.  One thing is clear – they are both delicious.
The All In One Method
The All in One cake method (or all in one bowl method) is a method of  mixing cake batter.  All the ingredients go into the bowl together at one time and mixed together quickly.  Very soft butter and a food processor work best for this method.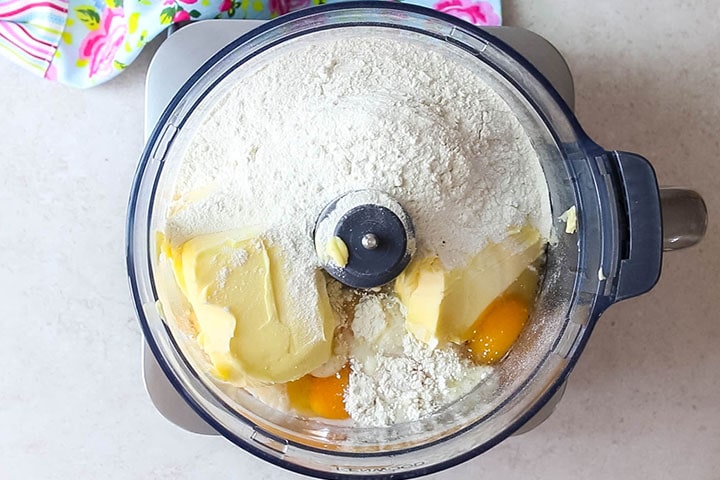 This method is great for when you want to bake, but have little time to do it in.  It's perfect for a last minute get together or surprise guests!
The Evolution of This Recipe
Updates to this recipe: When I first posted this recipe, I used a nine-inch pan.  Although it worked fine, over the years, I switched to an eight-inch pan to give it more substance.  I also increased the recipe by half which worked perfectly to create a beautifully, thick substantial cake.
The cake on its own is so tasty, that it could be served with just powdered sugar on top and nothing else. I swear I could eat this for breakfast!
Here's how to make it:
Although this is a all in one cake, I always start with adding the butter and sugar as the first in the bowl so they get a chance to cream together.
Then I add the rest of the ingredients into the bowl.
Mix until blended.  Don't worry if the batter appears curled.  It has no bearing on the cake (just look at the batter in my video).  For more on this take a look at this helpful article – ever since I read it, I've never looked back!
Add the batter evenly to the pans.
Bake until golden.
While the cakes cool, prepare the super easy buttercream.
Add the butter, sugar and vanilla to a mixing bowl.
Blend until smooth.
Once the cake is cooled, trim off any hump on one of the layers to make it flat.  Add it to a cake plate to assemble the cake.
Cover with the buttercream.
Smooth on the jam.
Cover with the second layer and dust with powdered sugar.
Serve and enjoy every last bite!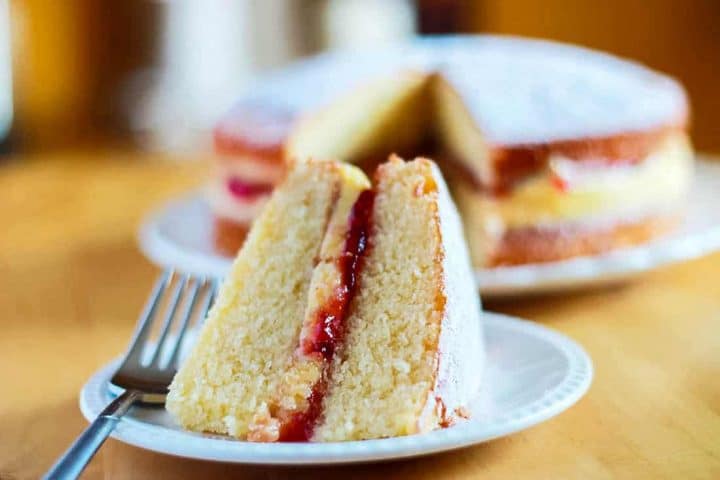 Baker's Tips:
This All in One bowl method is much quicker and easier than traditional 'creamed' methods of making sponge cake. It's hassle free, but it does require your butter to be really soft.
If you're more comfortable with the creaming method, just cream the butter and sugar together and then just dump in everything else and mix until blended.
You can use a food processor or an electric mixer to prepare the batter.
Prepare your ingredients! All the ingredients for the cake and buttercream should ideally be at room temperature. Take your butter out of the fridge an let it soften at room temperature overnight
Did your buttercream separate? Increase your mixer speed for 1-3 minutes and see what happens. Should this not solve the problem, the temperature might be an issue! If your mixing bowl feels cold to the touch, put it over a hot water bath or wrap a hot towel around the base. If it feels too warm to the touch, put it over an ice bath. As a last resort, add some emulsifying agent like melted white chocolate to the frosting while whipping.
Got leftover buttercream? Transfer it to an airtight container and store it in the refrigerator or freezer. It can be kept in the refrigerator for about a week and frozen for several months. Use leftover buttercream just like a fresh batch of buttercream. Note that it should be brought to room temperature and re-whipped before using it again.
Fan/Convection ovens: If you have a fan oven and live in a place where self-rising flour is available, swap the all-purpose flour and baking powder with self-rising flour.  I find you get a much better rise.
Recipe Variations:
Use store-bought icing for the filling to save on time, but you'll be missing out on some homemade goodness!
Add a hint of lemon zest to the buttercream for extra zing.
Swap raspberry jam for any other jam or even fruit curd.
Watch the video showing how to make this recipe at the top of the post on PC and on mobile, under the recipe card.
★ Did you make this recipe? Please give it a star rating below!★
Victoria Sponge Cake with Buttercream
A traditional Victoria sandwich cake is an English baking classic made up of a moist yet fluffy vanilla sponge cake filled with rich buttercream and fruity jam!
Ingredients
For the cake:
1½

cup

granulated sugar

2¼

cup

Butter

very soft

6

eggs

2¼

cup

flour

2

teaspoon

baking powder

2

teaspoons

vanilla extract

6

tablespoons

milk
For the filling:
½

cup

butter

softened

½

cup

icing sugar

plus a little to sprinkle on top

½

teaspoon

vanilla extract

¼

cup

good quality strawberry or raspberry jam
Instructions
Preheat the oven to 180°C or 350°F
For the cake:
Place all of the ingredients for the cake in a mixer or food processor and blend until everything is mixed.

Split the batter between 2 greased 8 inch round pans, and bake for 25-30 minutes.

Cool in the pan for 10 minutes before turning out onto a cooling rack to cool completely.
For the filling:
To make the filling, beat the butter until smooth and creamy, then gradually beat in icing sugar. Beat in vanilla extract.
To assemble the cake:
Spread the buttercream over the bottom of one of the sponges, then spread the strawberry or raspberry jam over the bottom the other one. Sandwich them together.

Dust the cake with a bit of powdered sugar right before serving.
Nutrition Facts
Victoria Sponge Cake with Buttercream
Amount Per Serving
Calories 419
Calories from Fat 261
% Daily Value*
Total Fat 29g 45%
Cholesterol 139mg 46%
Sodium 271mg 11%
Potassium 129mg 4%
Total Carbohydrates 36g 12%
Protein 3g 6%
* Percent Daily Values are based on a 2000 calorie diet.
Update Notes: This post was originally published in November of 2013, but was republished with new photos, step by step instructions and tips in August of 2018.