Savor these Stuffed Cherry Peppers, packed with creamy cheeses for a flavorful, easy, and impressive appetizer suitable for any occasion!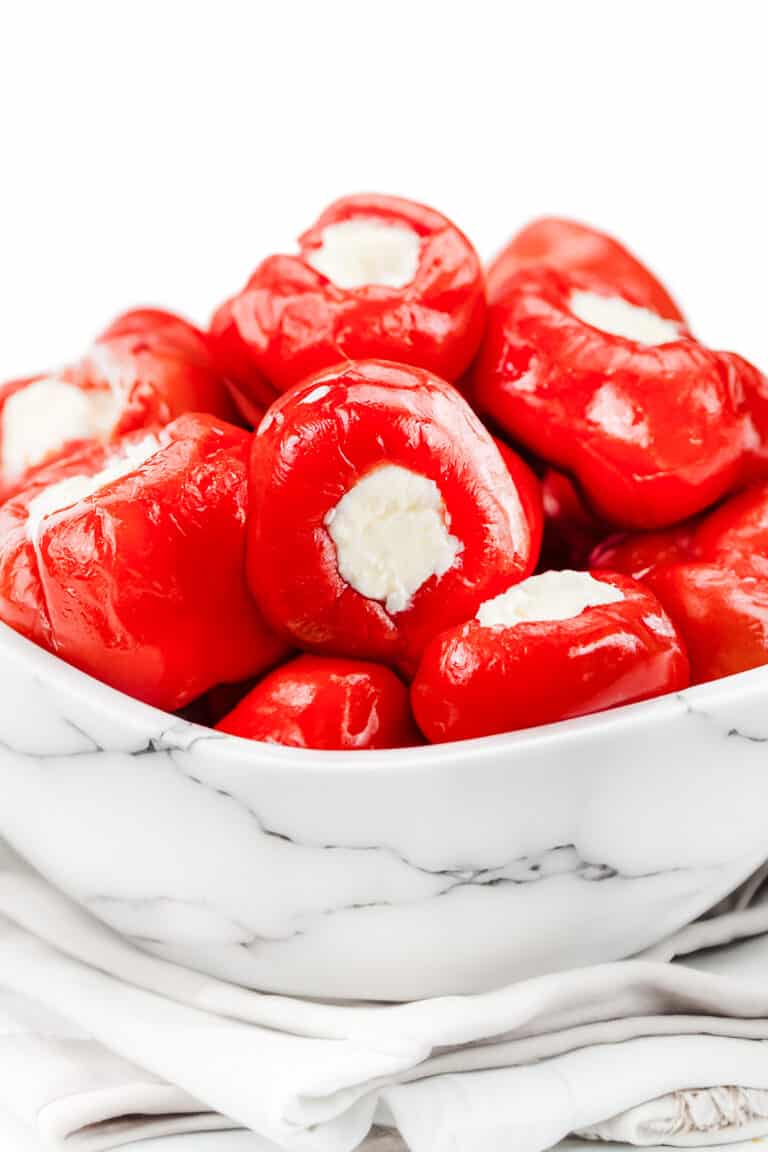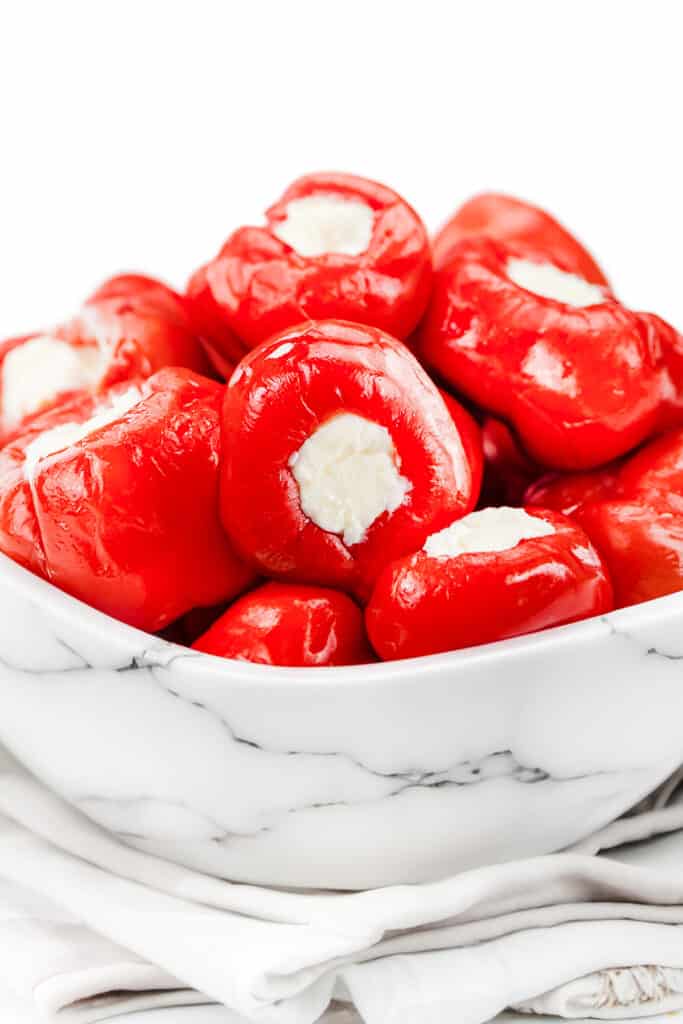 Welcome to an explosion of flavors with our delectable Stuffed Cherry Peppers! This easy-to-make appetizer is packed with a blend of rich, creamy cheeses and spices that are sure to impress your guests. Whether it's a party, a simple family gathering, or even a game night, these stuffed peppers offer the perfect bite!
Serve these mini stuffed peppers with Burrata Crostini and Baba Ghanouj for a delicious party spread that's sure to impress!
Why This Recipe Works
These Stuffed Cherry Peppers pack a flavorful punch with their perfect blend of creamy cheeses, zesty garlic, and the slight tang from the jarred pepper juice and oil.
This recipe is versatile, allowing you to adjust the filling to suit your personal taste. Feel free to experiment with different cheeses or spices to make this appetizer your own.
The vibrant cherry peppers, when filled with the cheese mixture, not only offer a wonderful taste but also a visually appealing snack that would be a hit at any gathering.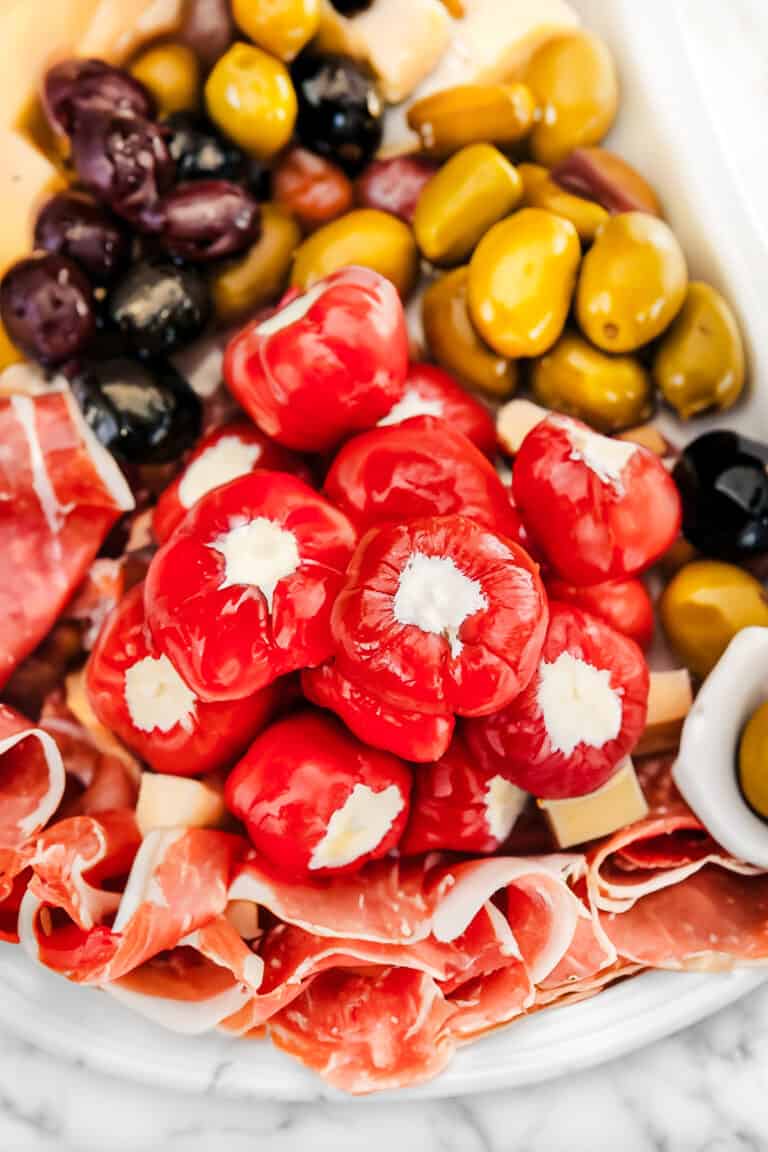 Ingredient Notes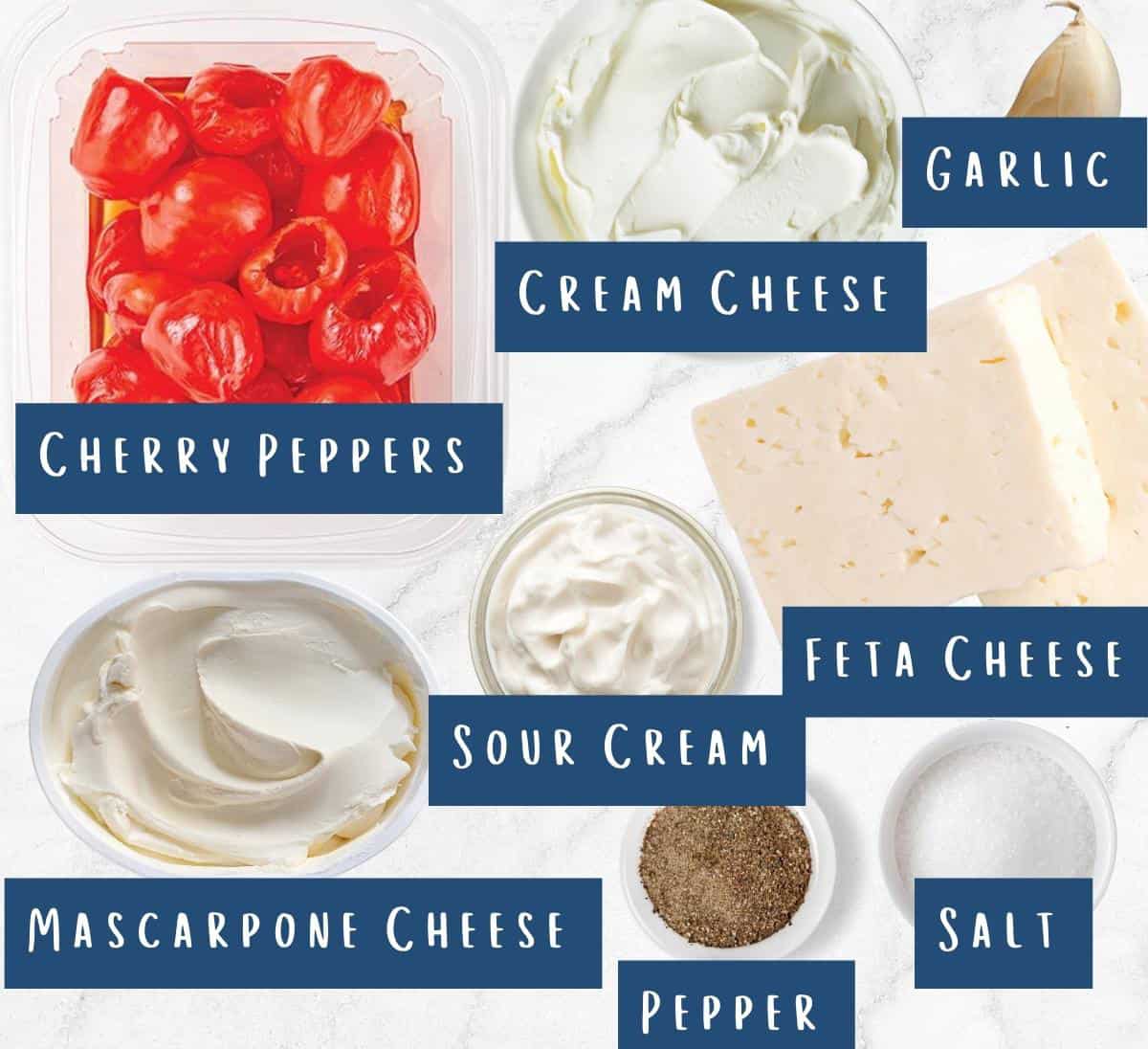 Peppers: Choose whole jarred cherry peppers or Piquanté Peppers for the best results. They can be found in the pickled goods aisle of the grocery store. For a spicier kick, you can substitute with jarred jalapenos.
Cream Cheese: Use full-fat cream cheese for a rich, creamy texture. You can substitute it with Neufchatel cheese for a lower-fat option.
Mascarpone Cheese: This Italian cheese adds a sweet and creamy element to the filling. Find it in the cheese aisle. If unavailable, you can use extra cream cheese.
Sour Cream: Adds a tangy flavor, enhancing the overall taste. Can be replaced with Greek yogurt.
Feta Cheese: Opt for a brick of feta and crumble it yourself for the freshest flavor. If unavailable, goat cheese makes a good substitute.
Oil and Liquid from Jarred Peppers: These add a depth of flavor to the cheese filling. If needed, olive oil and vinegar can be used as substitutes.
Garlic: Fresh garlic gives the best flavor, but you can also use garlic powder in a pinch.
Salt and Pepper: Adjust to taste. Sea salt and freshly ground black pepper are recommended for the best flavor.
Step By Step Instructions
Begin by draining 30 jarred cherry peppers, ensuring to save 2 tablespoons of the liquid from the jar.
Next add 4 oz of softened cream cheese, 2 oz of softened Mascarpone cheese, 1/4 cup of sour cream, 2 oz of finely crumbled feta cheese, 1 clove of minced garlic, 1 tablespoon of the reserved liquid, and the oil from the jarred peppers to a food processor.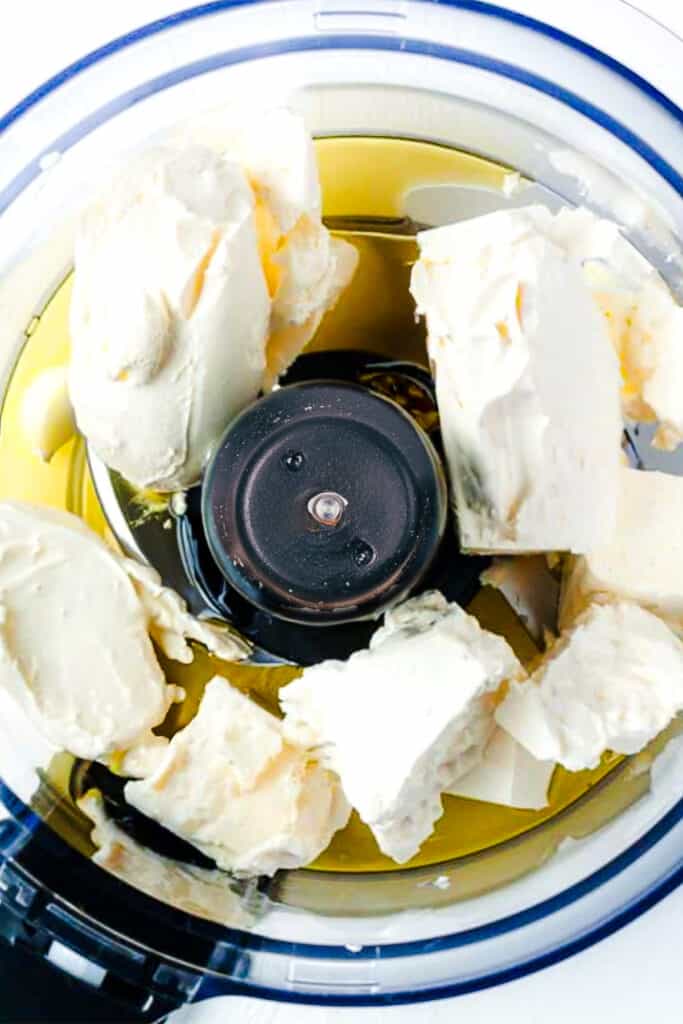 Blend the ingredients on high until smooth. You can also do this by hand by mashing the ingredients together with a fork until the ingredients are well-combined and the mixture is creamy.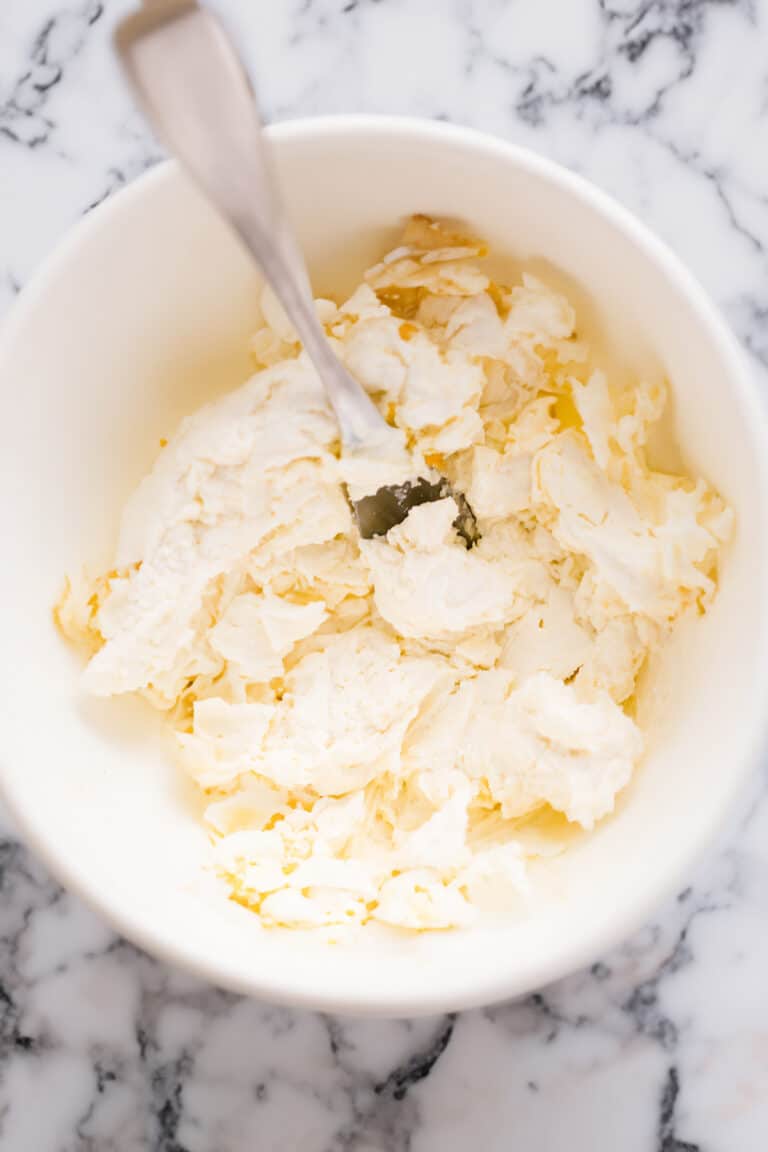 Taste the cheese mixture for seasoning and adjust as needed. If desired, add more salt, pepper, or additional liquid from the jar to enhance the flavor and consistency of the filling.
Transfer the cheese mixture to a piping bag fitted with a small round tip. Alternatively, you can use a resealable plastic bag and snip off a small corner for piping.
Gently squeeze the piping bag to fill each cherry pepper with the cheese mixture. Start from the bottom of the pepper and continue until it's filled. Repeat with the remaining peppers.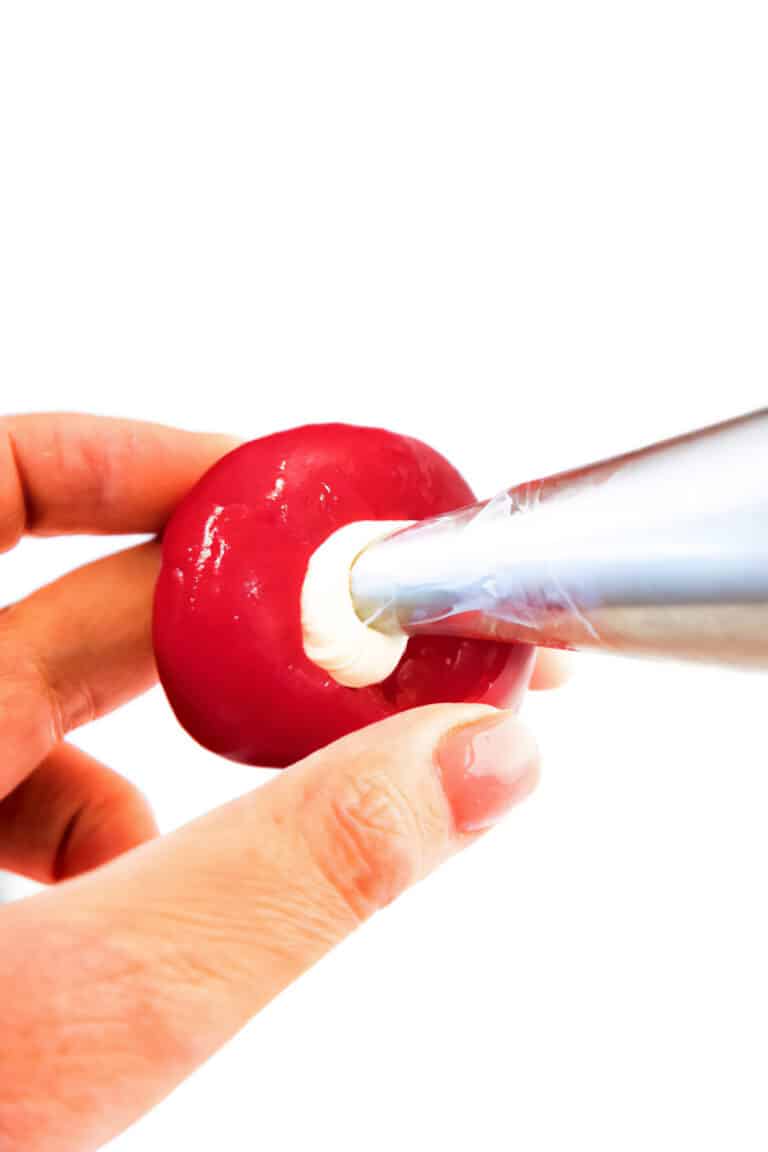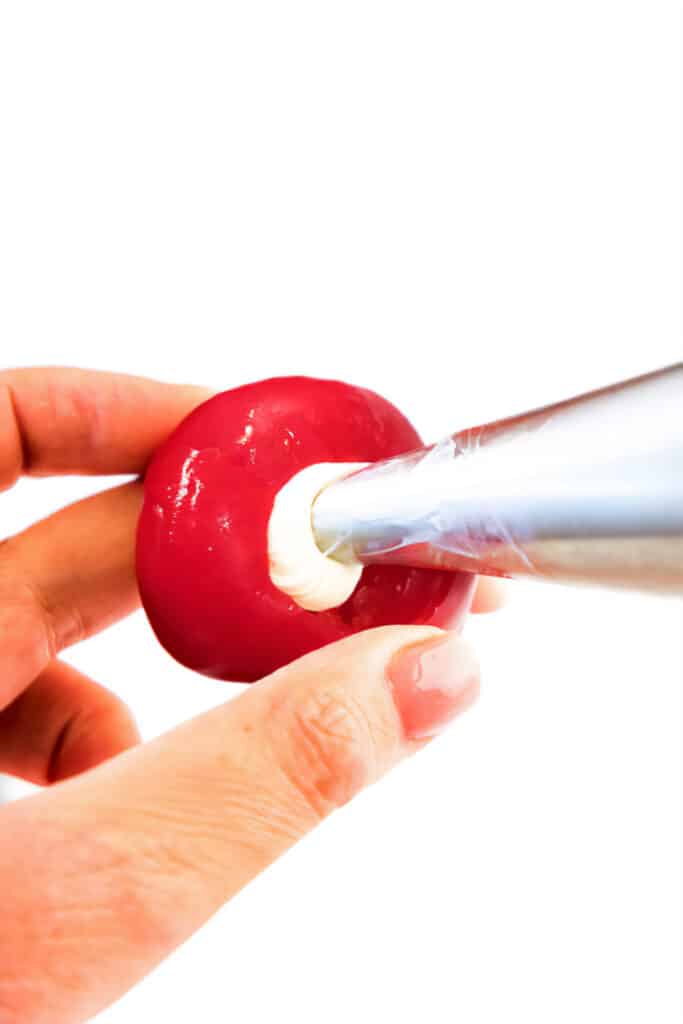 After stuffing all the peppers, arrange them on a serving platter, or store in an airtight container if you don't plan to serve them right away.
To enhance the flavors and allow the cheese to firm up, refrigerate the stuffed cherry peppers for a minimum of 30 minutes.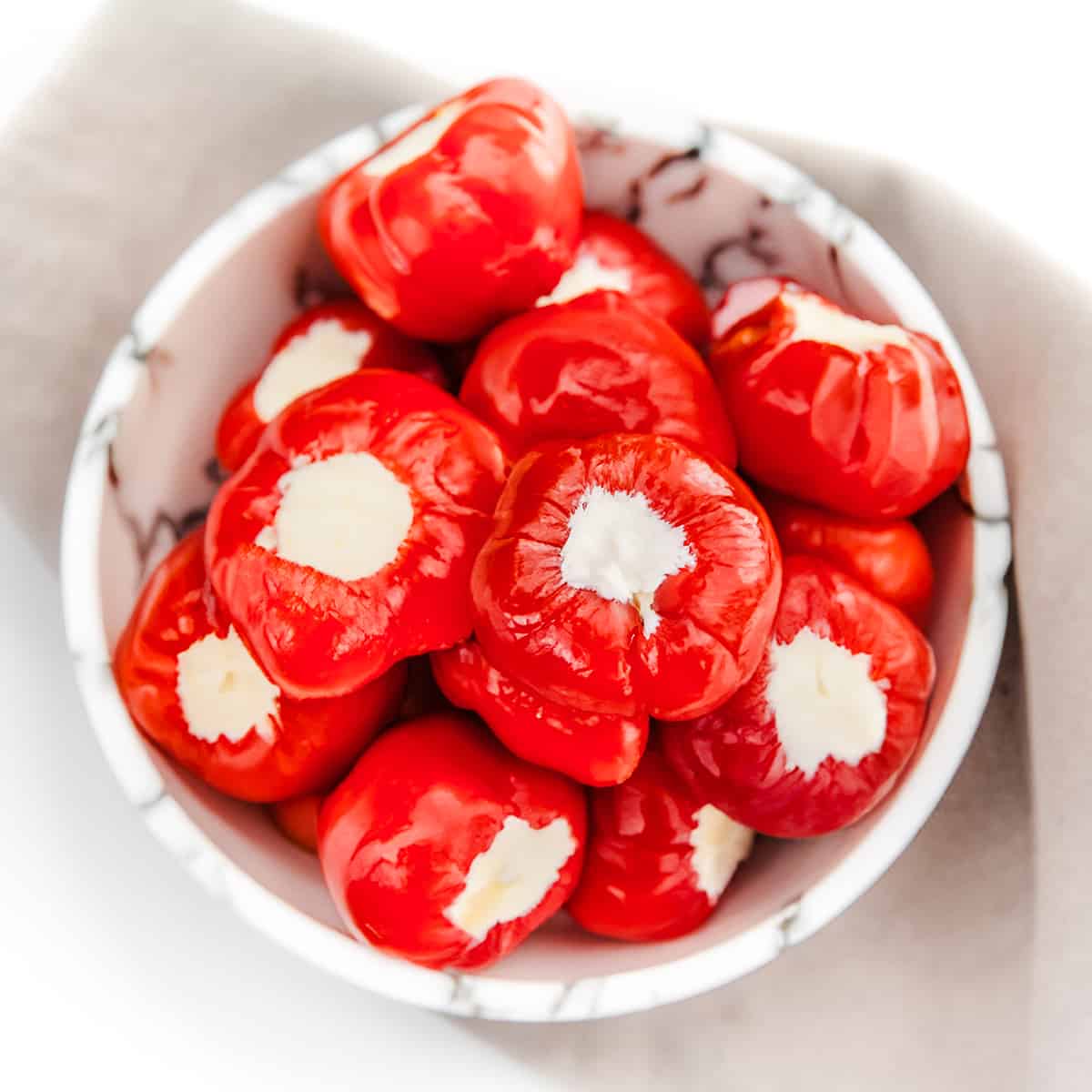 Serve the stuffed cherry peppers as an appetizer or snack. They can be enjoyed on their own or paired with antipasto or bread.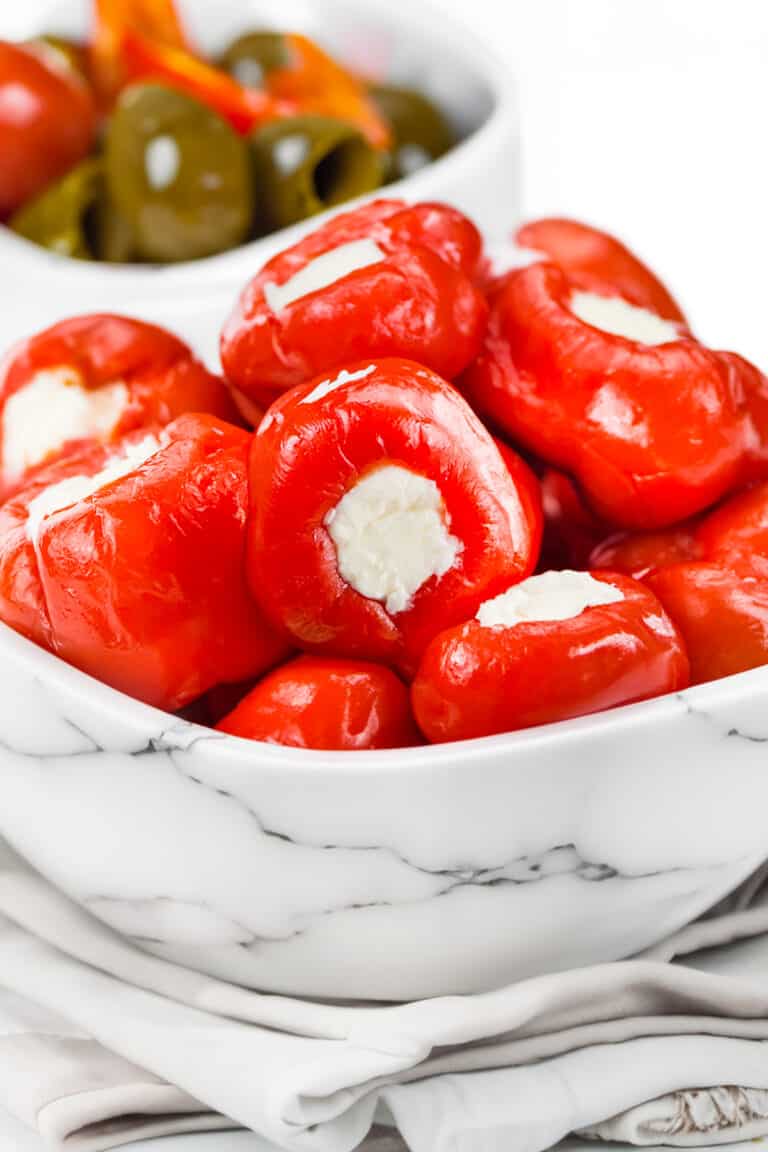 Recipe Tips
Softening Cheeses: Leave the cheeses at room temperature for about 30 minutes before mixing. This will make them easier to combine and result in a smoother filling.
Filling the Peppers: If you don't have a piping bag, you can use a resealable plastic bag instead. Just cut a small hole in one corner of the bag to pipe the cheese mixture into the peppers.
Minimizing Mess: When filling the peppers, stand them upright in a muffin tin to keep them stable and prevent the cheese mixture from spilling out.
Taste as You Go: Don't forget to taste the cheese mixture before stuffing the peppers. This way, you can adjust the seasoning to your liking.
Chilling Time: Don't rush the chilling process. Letting the peppers sit in the fridge for at least 30 minutes will help the flavors meld together and the filling firm up.
Draining the Peppers: Make sure to drain the peppers well before stuffing. Too much liquid can cause the filling to become runny.
Garlic Preparation: When mincing garlic, make sure to mince it finely to evenly distribute the flavor throughout the cheese mixture.
Storage: If storing the peppers for later use, place them in an airtight container. Proper storage can extend their freshness.
Storage & Freezing Instructions ❄
Store leftovers in an airtight container in the refrigerator for up to 3 days. For longer storage, freeze them in a single layer on a tray before transferring to a freezer-safe bag. They can be frozen for up to 3 months. Thaw in the fridge before serving.
Stay Updated
Receive new recipes & dinner ideas straight to your inbox!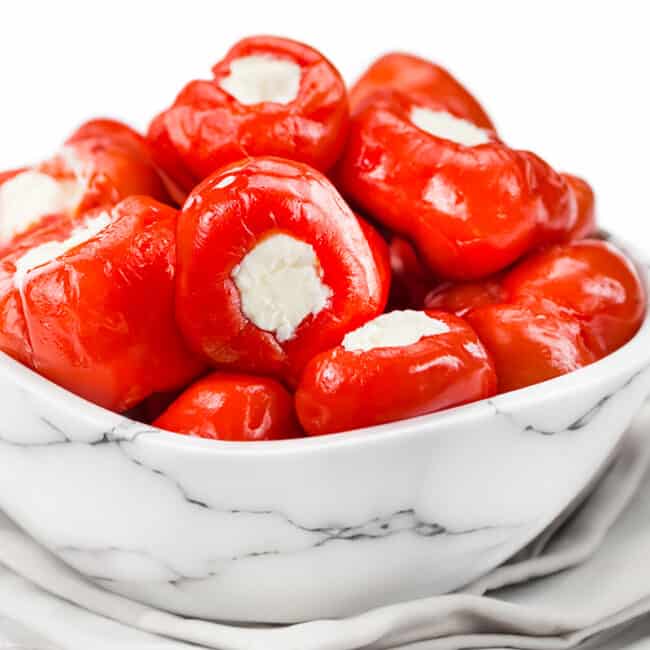 Let's Make Stuffed Cherry Peppers
This recipe for Stuffed Cherry Peppers delivers a burst of creamy, tangy, and slightly spicy flavors. With rich cheeses, zesty garlic, and flavorful cherry peppers, it's an appetizer that's sure to impress!
Prep20 minutes
Total50 minutes
Chilling: 30 minutes
Serves: 12
Ingredients
30 jarred cherry peppers
4 oz softened cream cheese
2 oz softened Mascarpone cheese
¼ cup sour cream
2 oz feta cheese finely crumbled
2 tablespoons liquid from the jarred peppers reserved
1 clove garlic minced
Instructions
Begin by draining the cherry peppers, ensuring to save 2 tablespoons of the liquid from the jar.

In a food processor or mixing bowl, combine the cream cheese, Mascarpone cheese, sour cream, feta cheese, minced garlic, 1 tablespoon of the reserved liquid, and the oil from the jarred peppers.

Blend or mash the ingredients until smooth.

Taste for seasoning and adjust the seasoning with salt or more of the liquid from the jar as needed.

Transfer the cheese mixture to a piping bag and carefully fill each cherry pepper with the cheese mixture.

Once all peppers are stuffed, chill them in the refrigerator for at least 30 minutes before serving.
Nutrition Information:
Calories: 116 (6%)| Carbohydrates: 5g (2%)| Protein: 2g (4%)| Fat: 10g (15%)| Saturated Fat: 5g (31%)| Polyunsaturated Fat: 0.5g| Monounsaturated Fat: 3g| Cholesterol: 21mg (7%)| Sodium: 735mg (32%)| Potassium: 22mg (1%)| Fiber: 2g (8%)| Sugar: 1g (1%)| Vitamin A: 243IU (5%)| Vitamin C: 0.1mg| Calcium: 44mg (4%)| Iron: 0.1mg (1%)
Erren's Kitchen is written and produced for informational intentions only. We are not certified nutritionists, and the nutritional information found on this site has not been assessed or authorized by a nutritionist or the FDA. The nutritional information found in our recipes is offered as an estimate and should not be considered a guarantee or fact. The estimated data is provided as a courtesy and calculated through a third-party online nutritional calculator, spoonacular API. Although we do our best to provide accurate nutritional information, these figures should be considered rough estimates. Many factors, such as brands or products purchased and the nutritional fluctuations that naturally occur in fresh produce, can alter the effectiveness of the nutritional information in any recipe. Furthermore, various online calculators provide different results depending on their particular algorithms and nutrition fact sources. To obtain the most precise nutritional information in a provided recipe, you should calculate the nutritional information with the exact ingredients you are using when preparing the recipe using your preferred nutrition calculator.