This popular British dessert, Banoffee Pie, features caramel, bananas, whipped cream, and a buttery crust. It's pure bliss in every bite!
Over the 15 years that I lived in the UK, Banoffee Pie was the treat I was served most when I visited friends and family. A friend who loved baking taught me how to make it, and I fell in love with it from the very first bite! This is my version of that delectable pie.
Whether you're a culinary whiz looking to make your own silky caramel filling or prefer the convenience of a store-bought version, this recipe has got you covered. Featuring a buttery graham cracker crust, a decadent caramel layer, ripe bananas, and stabilized whipped cream that won't fall flat, this classic English dessert will make you the star of any dinner party! Dive into this foolproof recipe and discover the joy of making a spectacular Banoffee Pie from the comfort of your home.
Why This Recipe Works
This recipe offers the dual convenience of using either homemade caramel or a store-bought version, catering to all levels of kitchen prowess.
Creamy Caramel Bliss: The star of this recipe is undoubtedly the rich caramel toffee filling. It adds a decadent and creamy element to the pie, perfectly complementing the sweetness of the bananas and the lightness of the whipped cream.
Depth of Flavor: Vanilla and salt are added to the homemade version of the caramel to help balance sweetness and add depth of flavor.
Buttery Crunchy Crust: The graham cracker or biscuit crust provides a delightful crunch and a subtle sweetness that beautifully contrasts with the creamy layers. It's the perfect foundation for this delectable pie.
Fresh Banana Goodness: Sliced fresh bananas add a natural sweetness and a fruity twist to the pie, infusing it with bursts of flavor and a delightful texture.
Whipped Cream That Won't Fall Flat: This recipe features stabilized whipped cream, ensuring it stays fluffy and picture-perfect, unlike other versions.
Ingredient Notes
Graham Crackers Or Biscuits: In the US, opt for graham crackers for the crust, which can be found in the baking aisle of your local grocery store. If unavailable, vanilla wafers can be substituted. In the UK, digestive biscuits are best.
Butter: Use unsalted butter for both the crust and caramel toffee filling. It's best to have it softened before melting to ensure easy mixing.
Dark Brown Sugar: Dark brown sugar adds depth and richness to the caramel filling without too much sweetness. Light brown sugar can be substituted if needed.
Vanilla: Use vanilla bean paste or pure vanilla extract for the best flavor.
Sweetened Condensed Milk: Look for a 14 oz can of sweetened condensed milk in the baking aisle. It should be readily available in most grocery stores.
Dulce de leche: If you opt for store-bought caramel, dulce de leche is a great choice, usually in the international foods aisle.
Bananas: Choose ripe small bananas.
Lemon juice: This helps to prevent the browning of the bananas. Use freshly squeezed or bottled if fresh is unavailable.
Whipping Cream: In the US, use heavy whipping cream. In the UK, use double or whipping cream; elsewhere, look high fat whipping cream.
Powdered Milk: Look for non-fat milk powder or skimmed milk powder. Powdered milk can typically be found in the baking or dairy section of most grocery stores.
What Bananas Are Best
For the best flavor and texture, it's recommended to use ripe but firm small bananas in this Banoffee Pie recipe.
Look for bananas that are yellow with a few brown speckles, indicating that they are perfectly ripe. Avoid using overripe or mushy bananas, as they may become too soft and affect the texture of the pie.
Step By Step Instructions
To make the crust, mix 6 oz crushed graham crackers for the crust with 2 tablespoons of granulated sugar and 9 tablespoons of melted butter.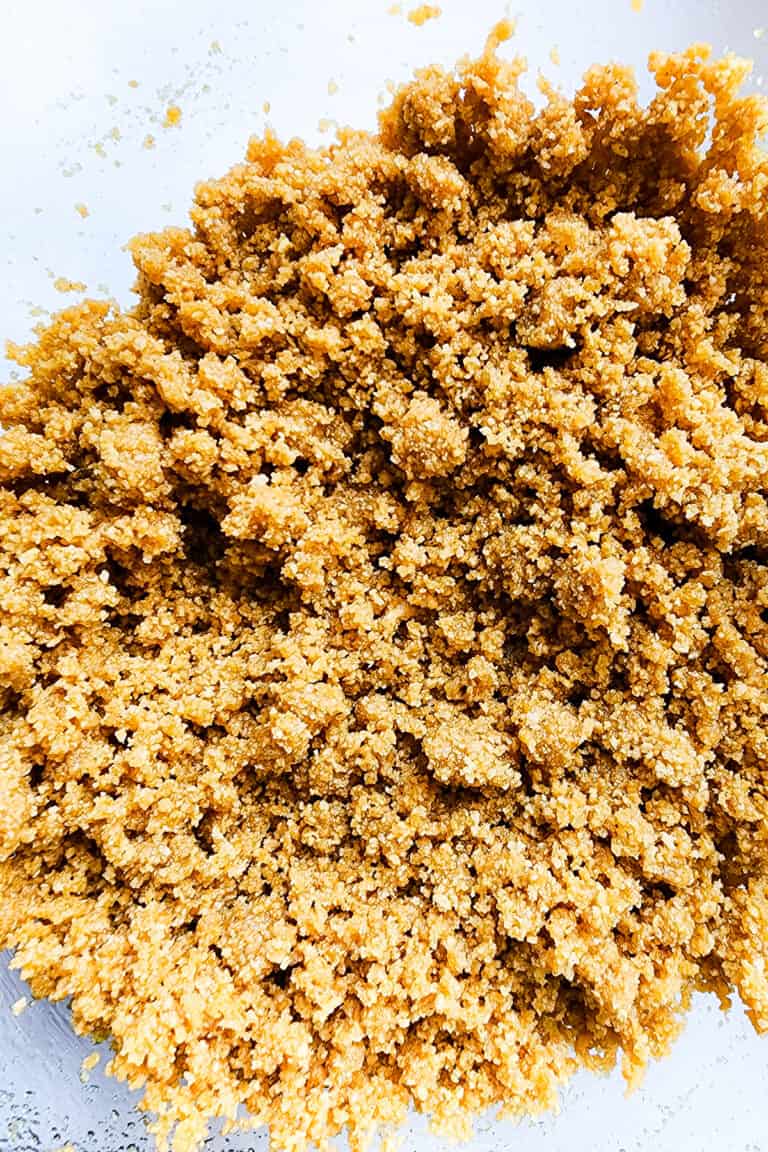 Press this mixture into a pie dish and chill for 10 minutes.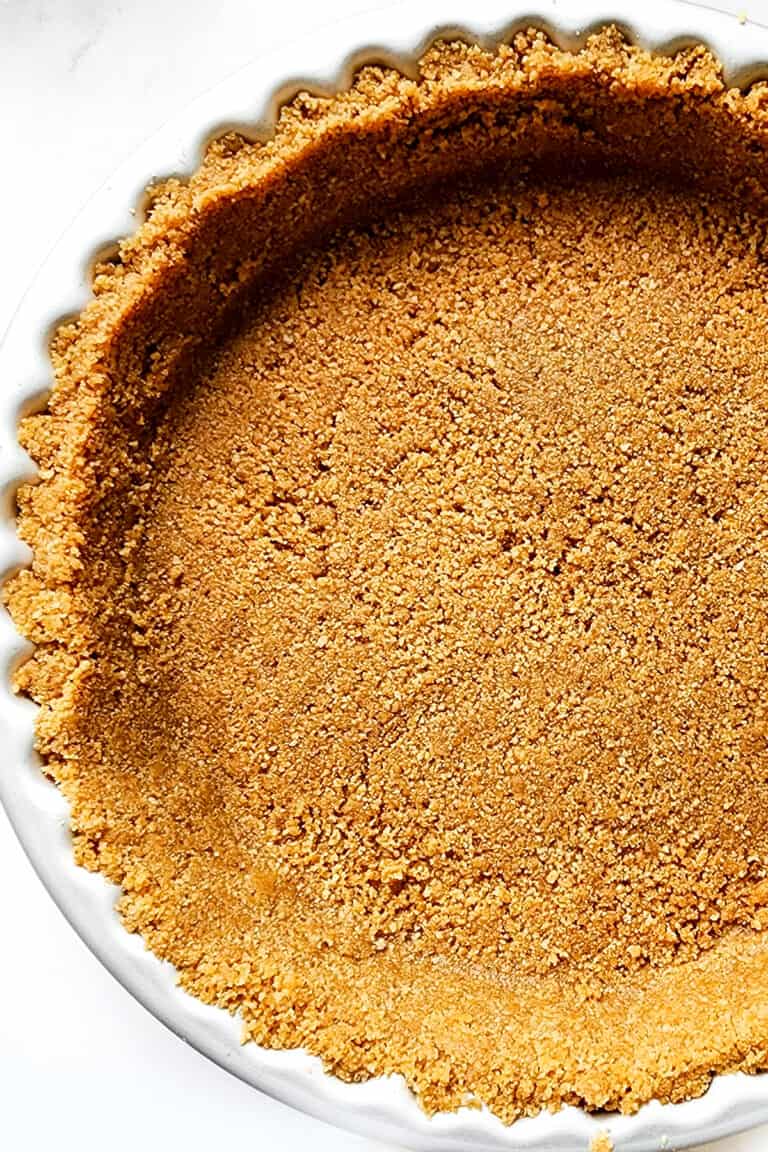 For the homemade filling, melt ½ cup butter and ⅔ cup dark brown sugar in a non-stick saucepan over low heat.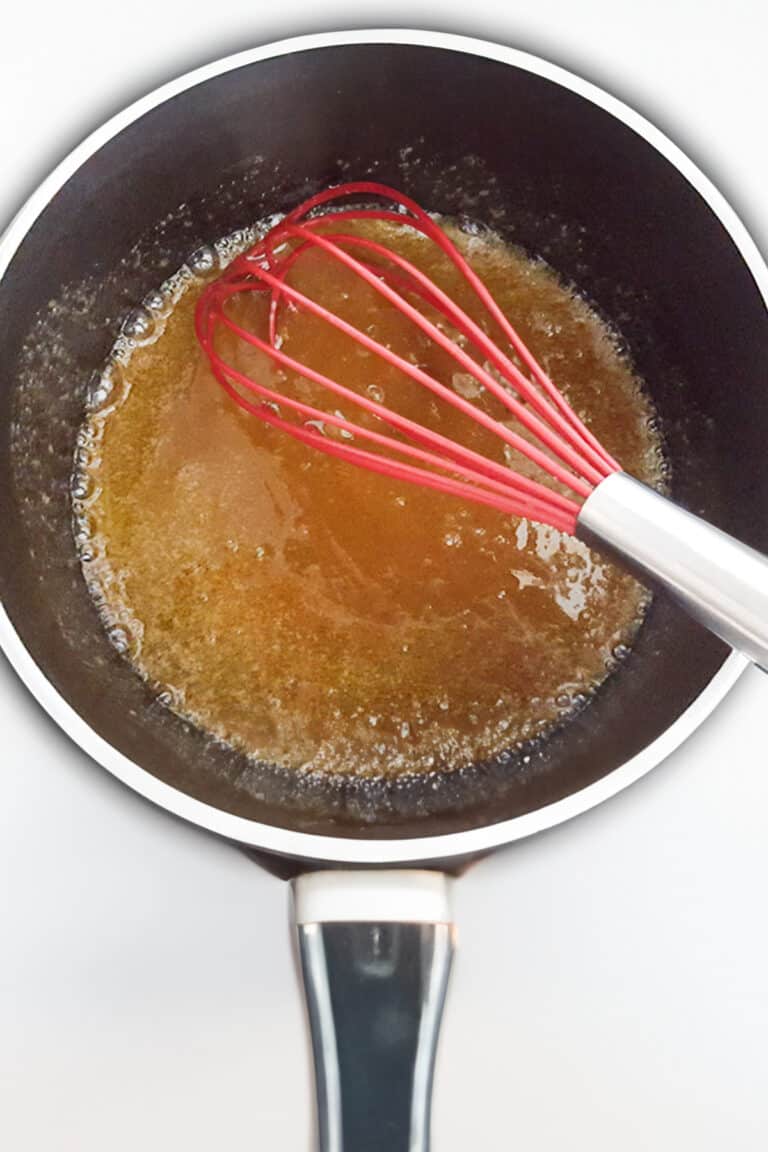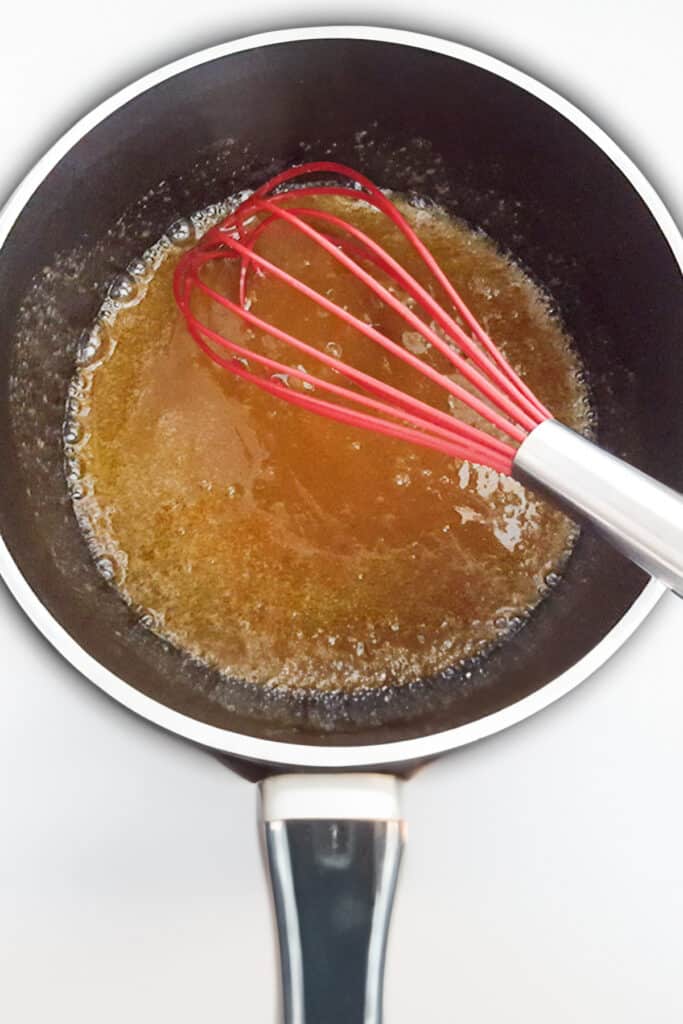 Add 14 oz of sweetened condensed milk and gently boil, stirring for 2 to 3 minutes.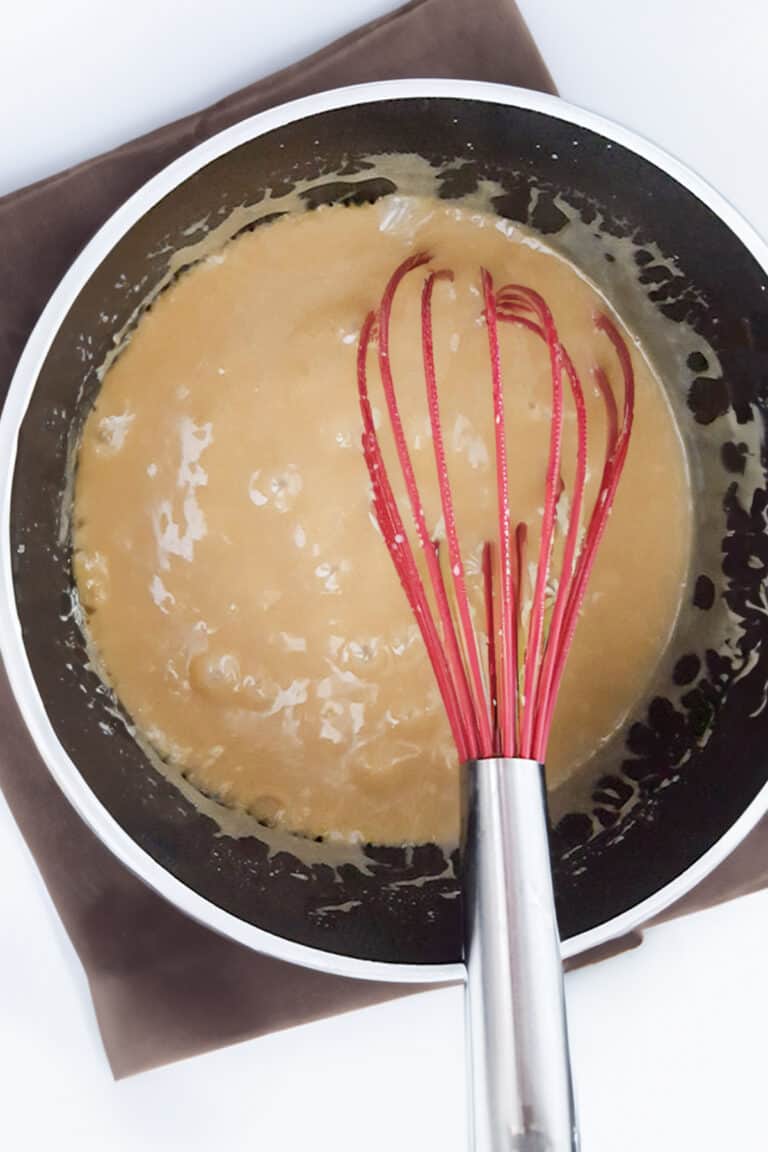 Stir in a teaspoon of vanilla extract and ½ teaspoon of salt. Transfer this to the pie dish over the crust and refrigerate for at least an hour.
For the store-bought caramel, whisk 13.4 oz of dulce de leche until smooth, then spread over the base. Chill in the refrigerator for about 15-30 minutes.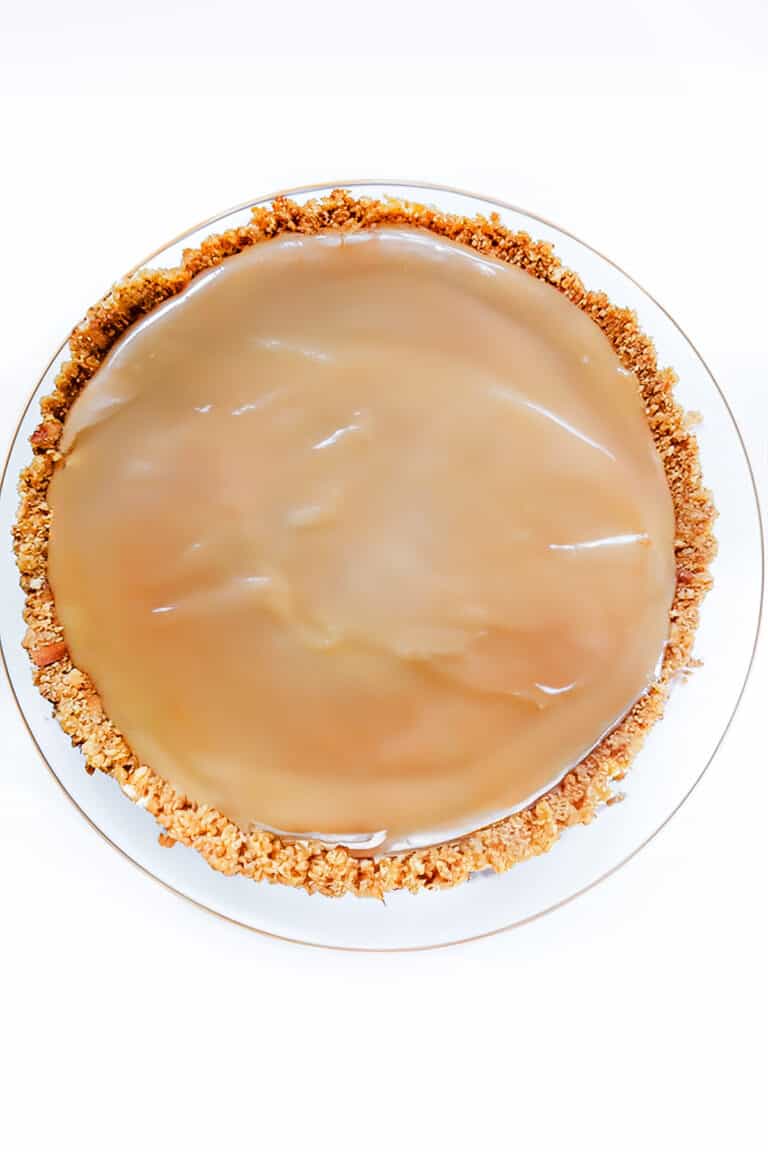 Using either a food processor or a mixer, continue to whip 2 ½ cups of cream, ¼ cup powdered sugar, a teaspoon of vanilla extract, and 1 tablespoon of skimmed milk powder until it becomes thick. This usually doesn't take much time, so be sure to check frequently.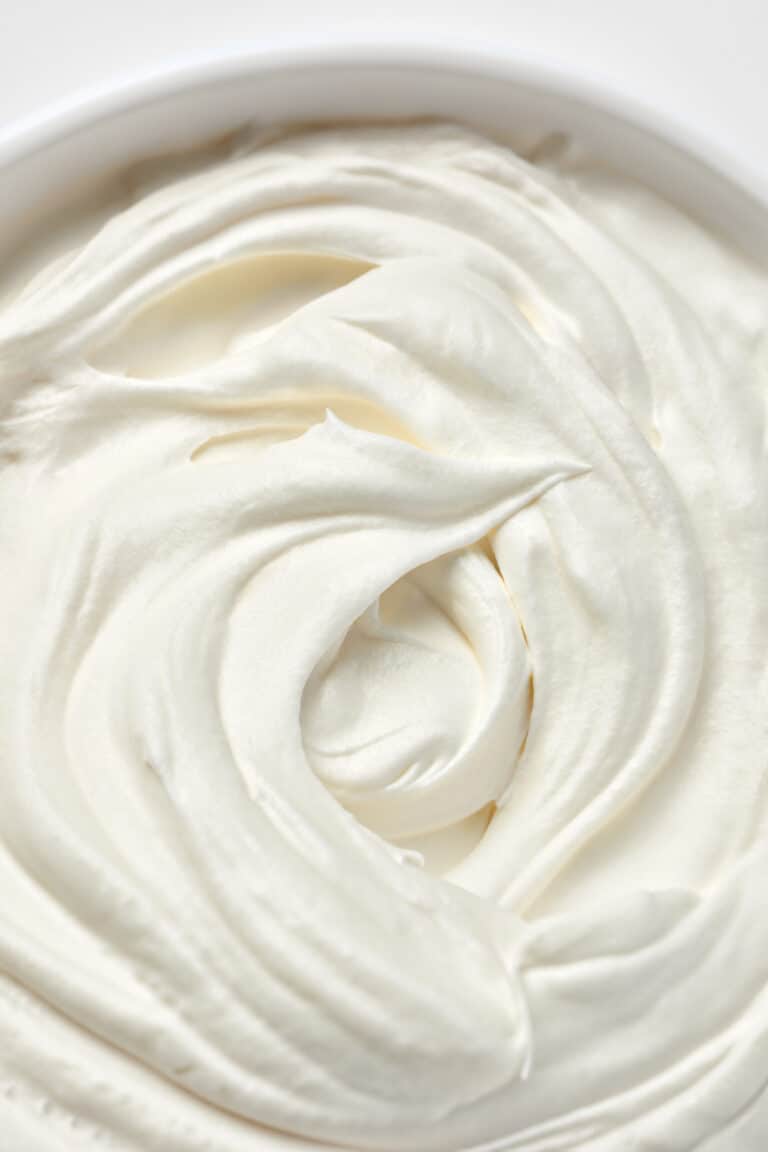 You'll know it's ready when you can drag a spoon through it, and the cream keeps its shape, not filling back into the gap.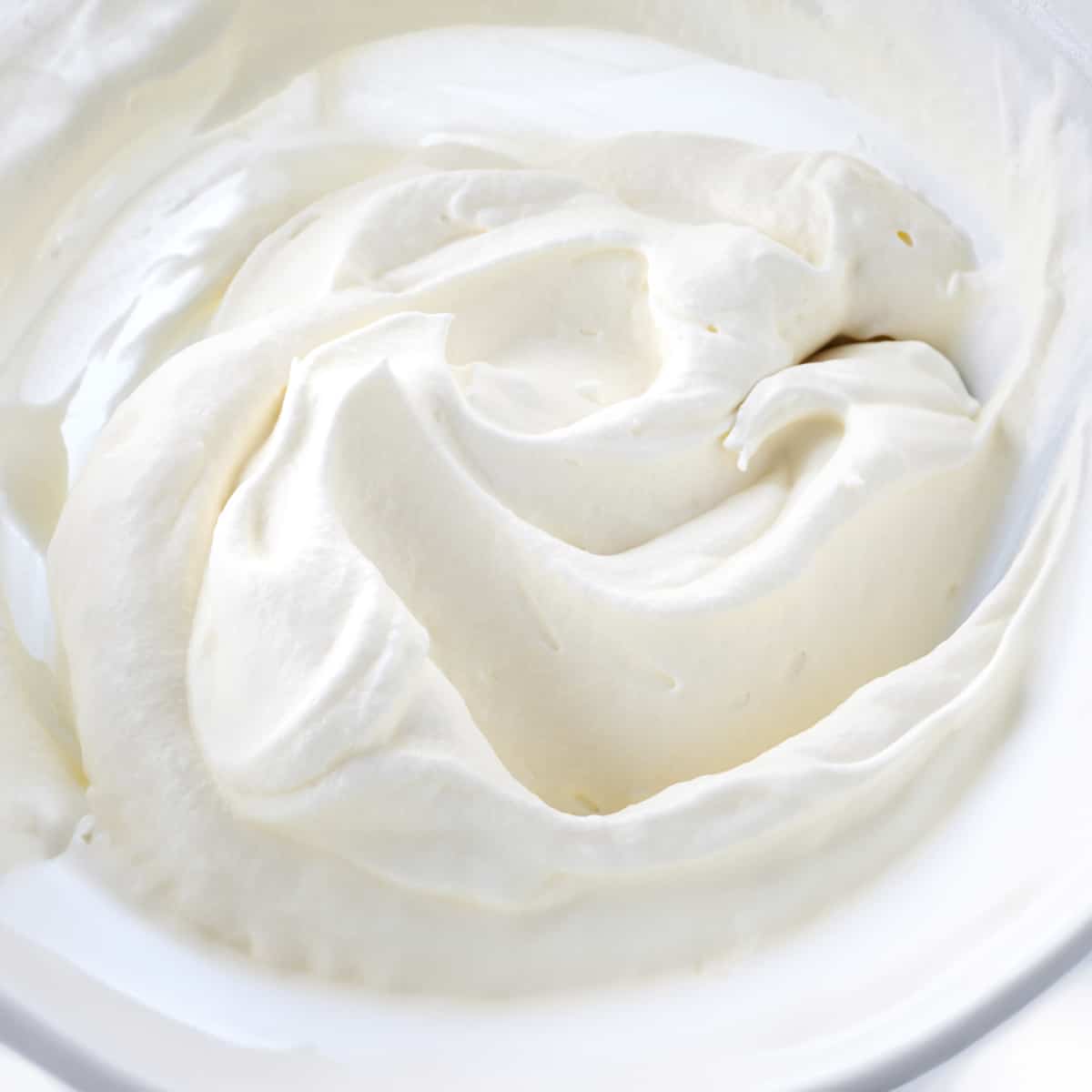 Peel and slice 4 bananas, tossing them in 2 teaspoons of lemon juice to prevent browning. Arrange the bananas over the caramel layer.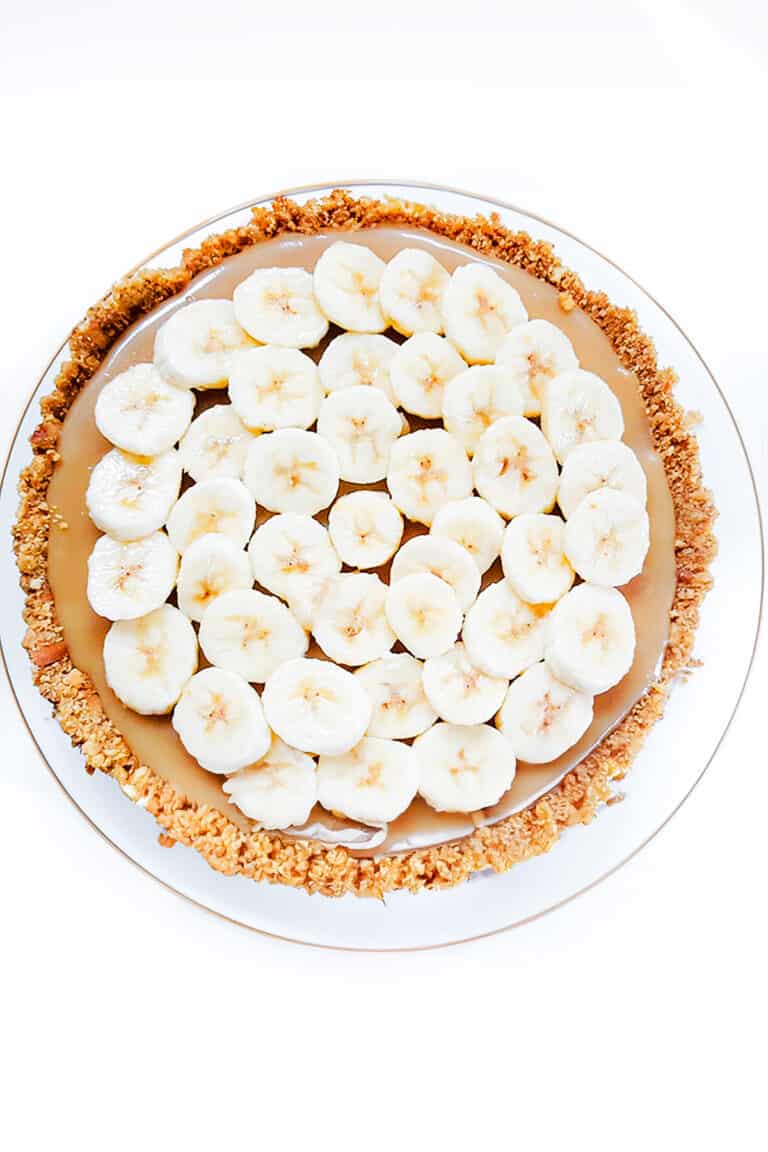 Then spread or pipe the whipped cream evenly over the bananas.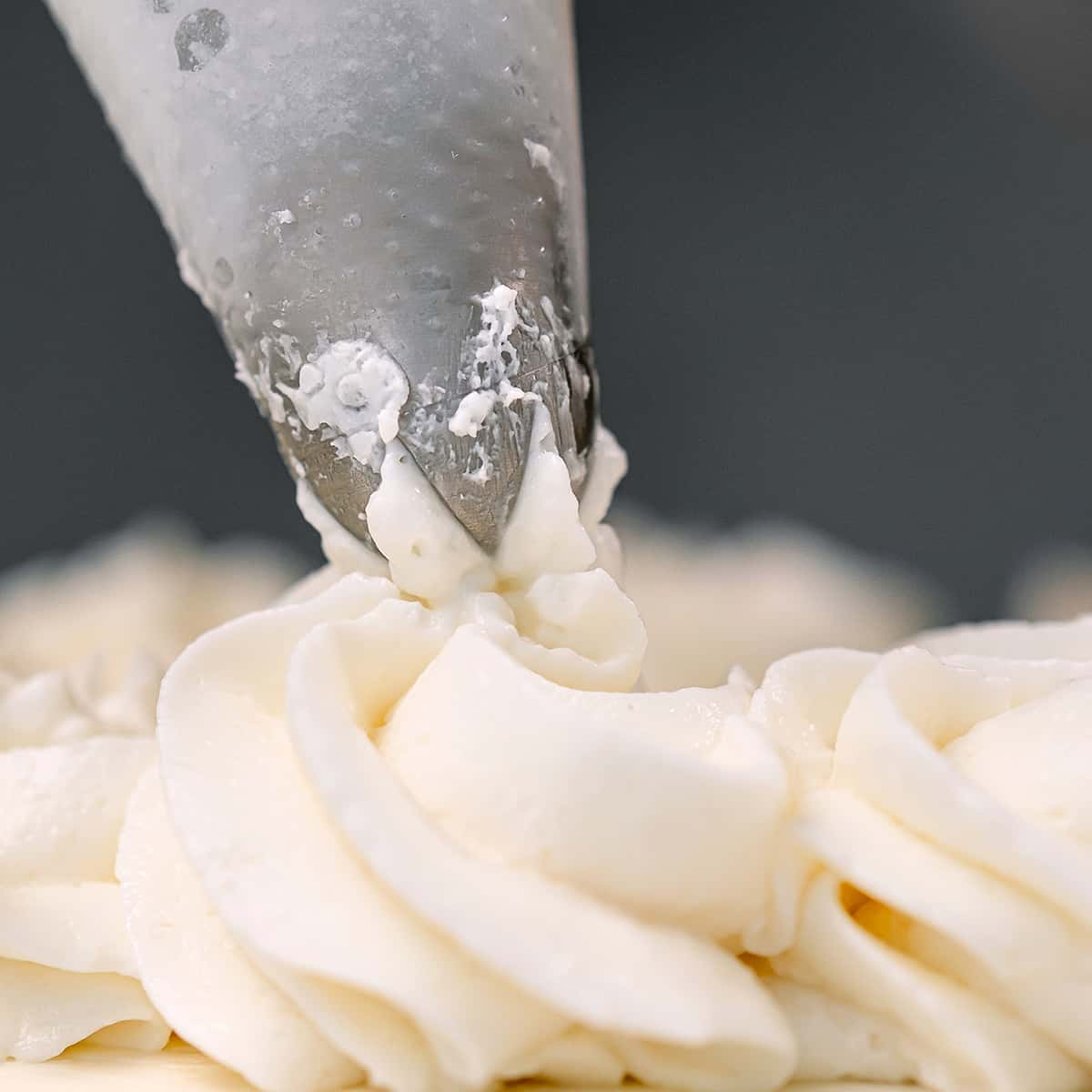 Decorate your Banoffee Pie with grated chocolate and banana chips, then chill the pie for at least an hour. Cut into 12 servings.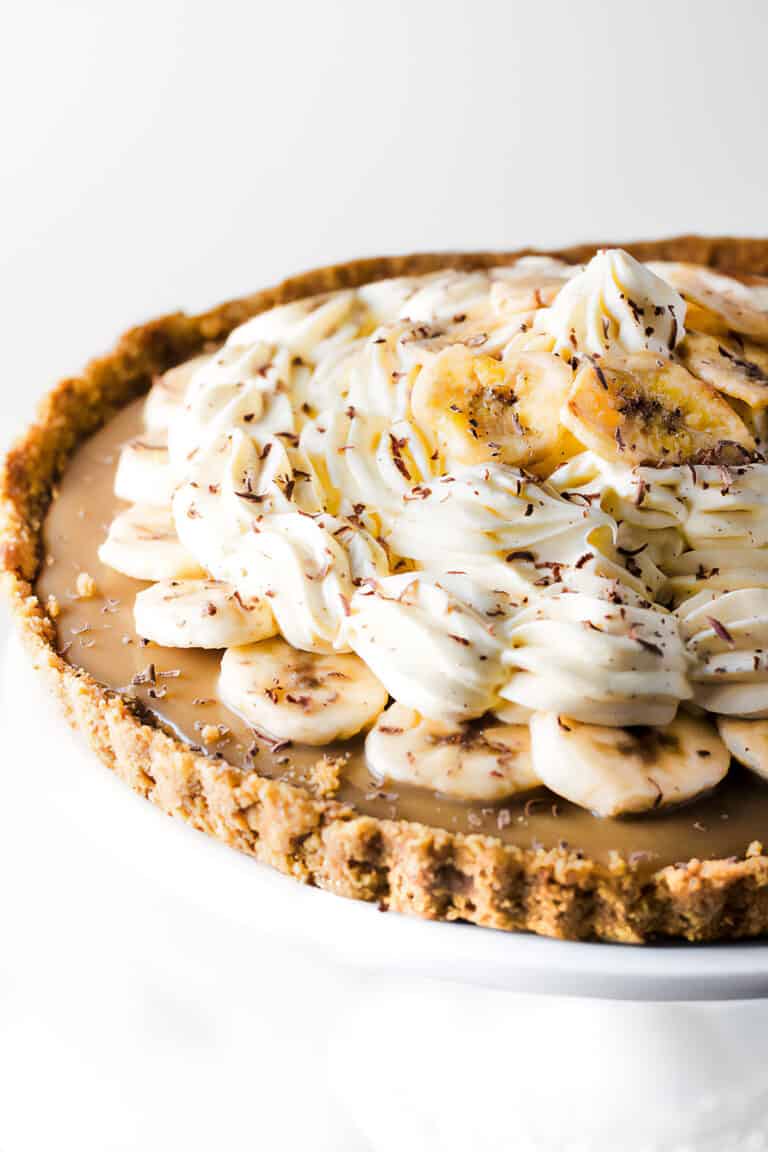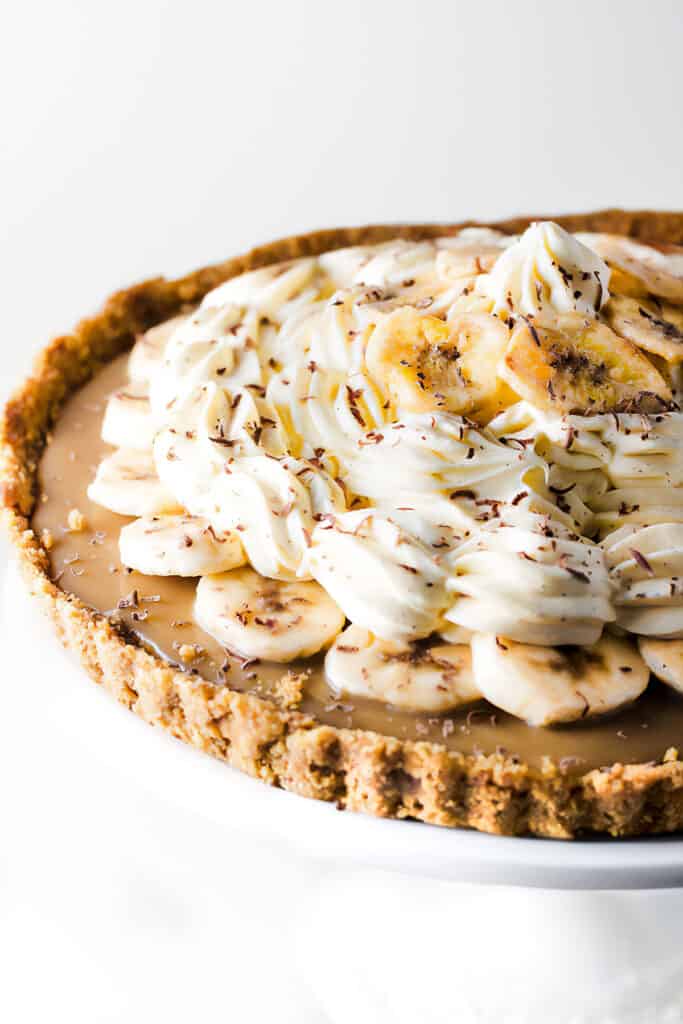 Erren's Top Tips
Choosing the Right Bananas for Banoffee Pie: Pick bananas that are ripe but still firm. Overripe bananas can make your pie too mushy, while green bananas won't provide the right sweetness.
Prevent Your Bananas From Browning: Toss your sliced bananas in a bit of lemon juice. This helps slow down the browning process and keeps your bananas looking fresh for longer.
Watch Your Caramel: Whether you're making homemade caramel or heating store-bought caramel, remember that it can burn easily. Keep the heat low and stir continuously to prevent this.
Chill Your Pie Crust: After pressing your graham cracker mixture into the pie dish, chill it in the refrigerator. This helps the crust hold together when you add the filling.
Whipping the Cream: When whipping the cream, start on low speed and gradually increase to avoid splashing. Also, stop as soon as it holds its shape to avoid over-beating, which can turn your cream into butter.
Cool Before Serving: Let your pie cool completely before serving. This allows the pie to be set and makes cutting into neat slices easier.
Be Patient: Baking is a science that requires patience. Don't rush the process, follow the steps closely, and you'll end up with a delicious result.
Storage & Freezing Instructions ❄
To store your Banoffee Pie, cover and refrigerate leftovers for up to 3 days. For longer storage, freeze individual slices for up to a month.
Stay Updated
Receive new recipes & dinner ideas straight to your inbox!
Let's Make Banoffee Pie
This Banoffee Pie recipe makes a dazzling dessert layered with a graham cracker base, creamy caramel (that can be made homemade or store-bought), sliced bananas, and whipped cream.
Prep20 minutes
Cook5 minutes
Total2 hours 25 minutes
Chilling: 2 hours
Serves: 12 slices
Ingredients
Crust:
6 oz graham crackers or digestive biscuits (approximately 12 graham crackers), crushed
2 tablespoons granulated sugar
9 tablespoons butter melted
For Homemade Caramel Filling:
½ cup butter
½ teaspoon salt
⅔ cup dark brown sugar or muscovado sugar, packed
14 oz canned sweetened condensed milk
1 teaspoon vanilla extract
For Store-Bought Caramel Filling
13.4 oz Canned dulce de leche
Banana Layer:
4 small bananas peeled and sliced
2 teaspoons lemon juice
Whipped Cream Topping:
2½ cups whipping cream
¼ cup powdered sugar
1 teaspoon vanilla extract
1 tablespoon skimmed milk powder
Instructions
For the Crust:
Put the graham cracker crumbs in a bowl, then add the melted butter and mix well. Spoon the mixture into the base of a pie dish and press it firmly against the bottom and sides. Chill for ten minutes.
For the Homemade Filling
In a small non-stick saucepan, melt the butter and sugar together over low heat, stirring gently until well combined.

Add the condensed milk to the mixture and bring it to a gentle boil while stirring continuously for 2 to 3 minutes. Be careful not to over-boil, as it can result in a grainy and fudge-like texture.

Stir in the vanilla and salt. Transfer the caramel mixture to the pie dish over the crust, spreading it evenly. Then refrigerate for at least 1 hour to set and chill.
Using Store-Bought Caramel
If using store-bought dulce de leche or canned caramel, whisk it for a smoother consistency. Spoon the caramel generously over the biscuit base. Using the back of a spoon or a palette knife, spread the dulce de leche evenly to cover the entire base.

Chill the caramel-covered base in the refrigerator for about 15 to 30 minutes to help firm it up (an optional step depending on the consistency of your caramel).
For the Whipped Cream
Using either a food processor or a mixer, continue to whip the cream until it becomes thick. This usually doesn't take much time, so be sure to check frequently. You'll know it's ready when you can drag a spoon through it, and the cream keeps its shape, not filling back into the gap.
Assemble the pie
Peel and slice the bananas. Toss them with lemon juice to prevent browning. Arrange the banana slices over the caramel layer in the pie dish.

Spread the whipped cream over the banana layer, creating an even layer of cream. Decorate the pie with grated chocolate and banana chips to your liking.

Refrigerate the assembled pie for at least 1 hour or until set. This will make the pie easier to slice.

Slice the Banoffee Pie into 12 servings and serve chilled.
Nutrition Information:
Calories: 581 (29%)| Carbohydrates: 56g (19%)| Protein: 6g (12%)| Fat: 39g (60%)| Saturated Fat: 24g (150%)| Polyunsaturated Fat: 2g| Monounsaturated Fat: 10g| Trans Fat: 1g| Cholesterol: 110mg (37%)| Sodium: 381mg (17%)| Potassium: 369mg (11%)| Fiber: 2g (8%)| Sugar: 44g (49%)| Vitamin A: 1355IU (27%)| Vitamin C: 5mg (6%)| Calcium: 163mg (16%)| Iron: 1mg (6%)
Erren's Kitchen is written and produced for informational intentions only. We are not certified nutritionists, and the nutritional information found on this site has not been assessed or authorized by a nutritionist or the FDA. The nutritional information found in our recipes is offered as an estimate and should not be considered a guarantee or fact. The estimated data is provided as a courtesy and calculated through a third-party online nutritional calculator, spoonacular API. Although we do our best to provide accurate nutritional information, these figures should be considered rough estimates. Many factors, such as brands or products purchased and the nutritional fluctuations that naturally occur in fresh produce, can alter the effectiveness of the nutritional information in any recipe. Furthermore, various online calculators provide different results depending on their particular algorithms and nutrition fact sources. To obtain the most precise nutritional information in a provided recipe, you should calculate the nutritional information with the exact ingredients you are using when preparing the recipe using your preferred nutrition calculator.
Update Notes: This recipe was originally published on June 9, 2016, but was updated with new content and photos in 2023.