This Banoffee Pie recipe makes a dazzling dessert layered with a graham cracker base, creamy caramel, sliced bananas, and whipped cream.
Easy and ready in less than 30 minutes this dessert will become a firm favorite in no time!
Banoffee Pie is a very popular British Dessert. I've had it served at more parties and gatherings I have been to more than anything else.
Before I lived in England I had never heard of this amazing no-bake dessert. I was reluctant to try it as I wasn't sure about it, but once I did I was converted! I had to recreate my own version and share it with you.
If you love a no-bake dessert this is for you, and why not try my Rocky Road recipe for another fuss-free treat to add to your repertoire?
Why This Recipe Works
Being no-bake makes it a perfect summer dessert. No need to turn on the oven!
The condensed milk and brown sugar combined create the richest, most delicious toffee.
The caramel is easy to make and requires no obsessing over sugar color.
This banoffee pie is served chilled, so it's wonderfully refreshing in the warmer months.
All About Banoffee Pie
This delicious no-bake dessert first appeared in the 1970s as a recipe created by chefs Nigel Mackenzie and Ian Dowding in their restaurant in East Sussex, England. They were experimenting with an American recipe for Blum's Coffee Toffee Pie, and after numerous attempts tried a variation using bananas. Banoffee pie was born!
Ingredient Notes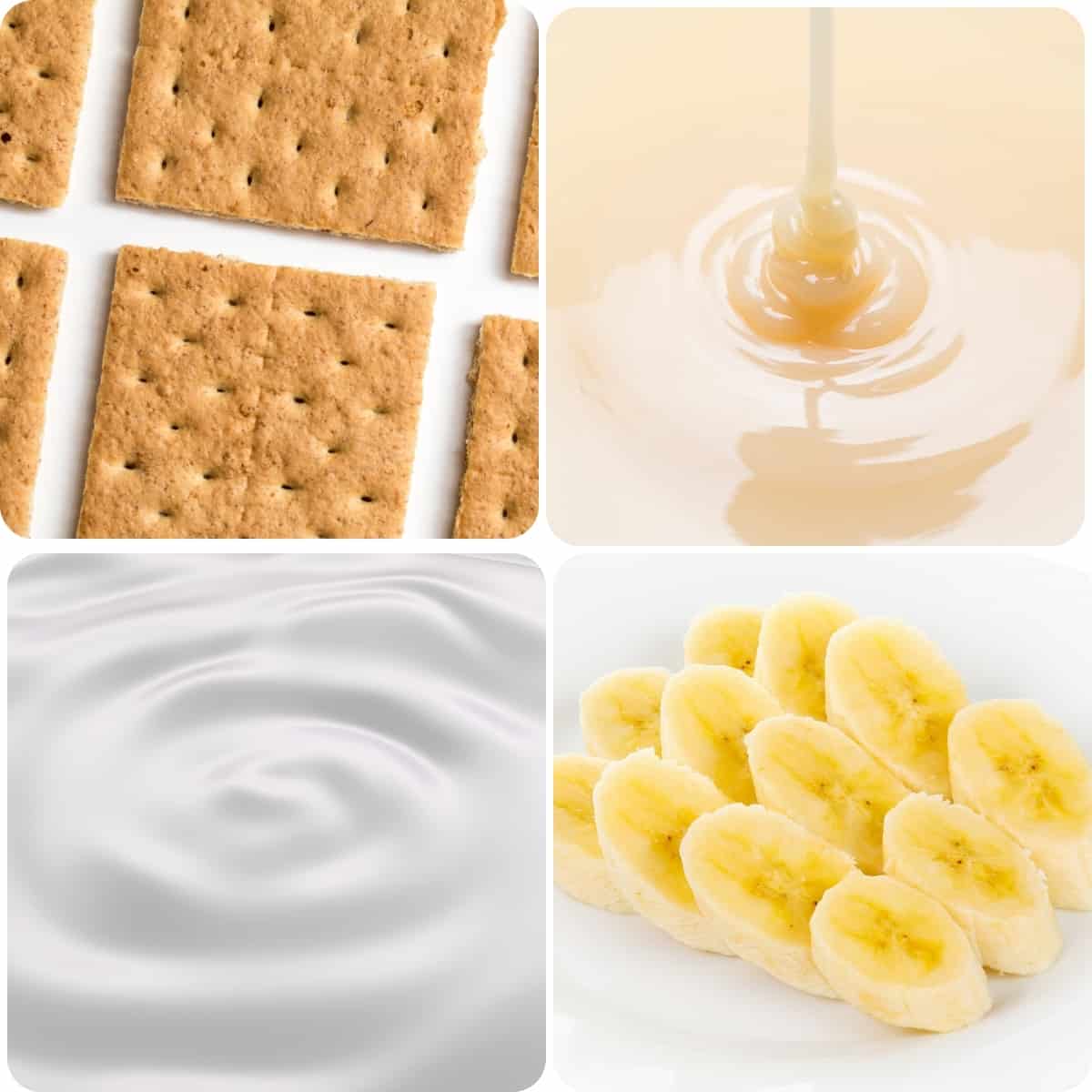 Graham crackers: I use graham crackers in my crust but if you can't get these then you can use digestive biscuits.
Condensed milk: I use sweetened condensed milk but if you don't have time to make your caramel from scratch feel free to use ready-made caramel.
Cream: This recipe calls for heavy cream, also known as whipping cream or double cream.
Bananas: It's best to use fresh bananas that haven't gone brown or soft to create the best banoffee pie.
How To Make Banoffee Pie
Make the graham cracker crust.
Prepare the caramel.
Pour the caramel onto the biscuit crust.
Arrange sliced bananas onto the caramel.
Top with whipped cream, shaved chocolate, and banana chips.
Serve and enjoy!
Step By Step Instructions
Prepare the graham cracker crust.
Heat the butter and sugar together.
Once the sugar is completely dissolved, a full can of sweetened condensed milk is added (I also added a 1/2 teaspoon of salt to cut the sweetness a bit)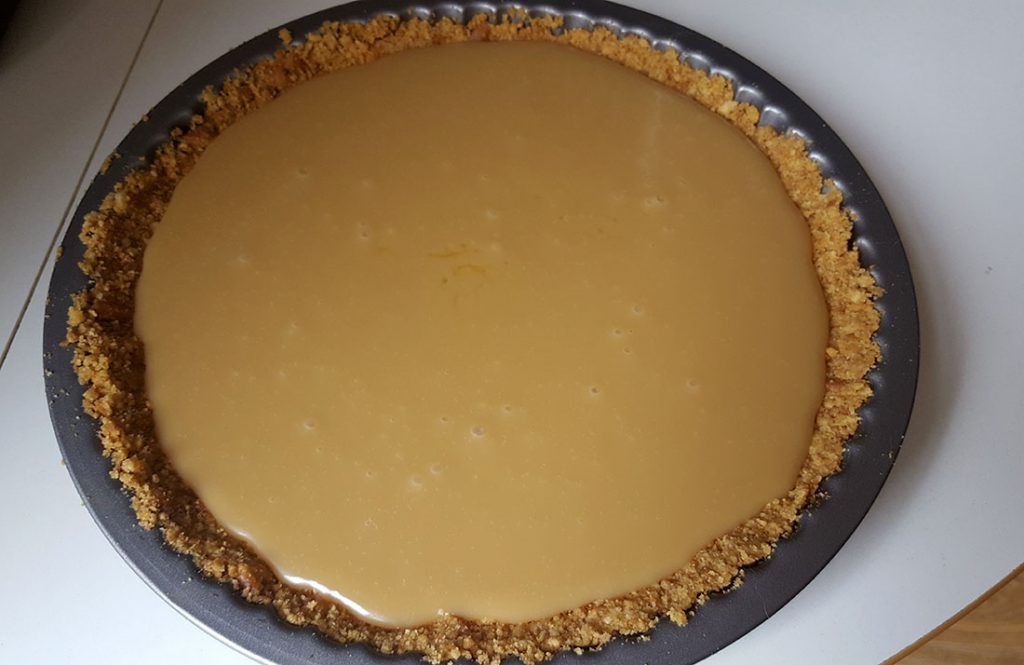 Top with sliced bananas.
Finish with whipped cream and chocolate shavings.
.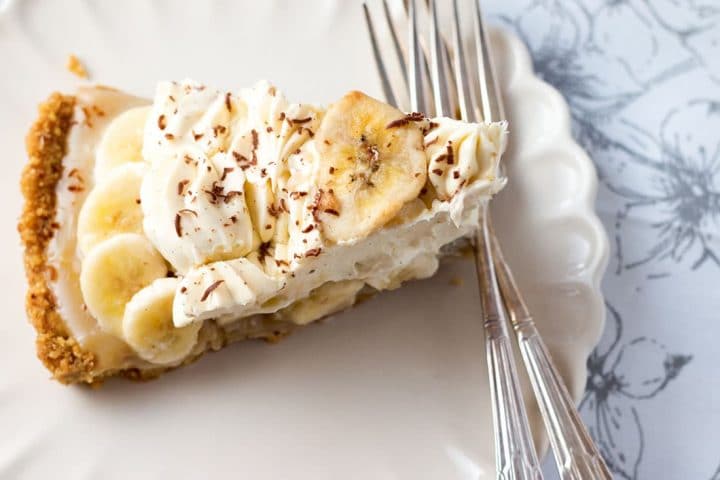 Erren's Top Tips
Add a handful of chopped nuts with the chocolate shavings for a bit of crunch.
Use a vegetable peeler to slice thin curls of dark or milk chocolate in place of the grated chocolate, so decadent.
Don't skip chilling the crust, this helps keep the crust separate from the warm caramel.
FAQs
How Long Will Banoffee Pie Keep For In The Fridge?
Banoffee Pie is best served the same day as it's prepared as with time the bananas will start to break down. If you want to make it ahead of time, it will keep for a couple of days, but will not look as nice as when freshly prepared.

Can Banoffee Pie Be Frozen?
Banoffee Pie can be frozen, but not fully assembled. If you plan to freeze the pie, make the crust and caramel layer in advance, freeze in an airtight container, or well wrapped in plastic. When ready to serve, thaw overnight and prepare the banana and cream layers when you plan to serve.
Can Banoffee Pie Be Made The Day Before?
Banoffee Pie Can be made the day before, but for best results, add the cream and banana layers on the day you want to serve.
Stay Updated
Receive new recipes & dinner ideas straight to your inbox!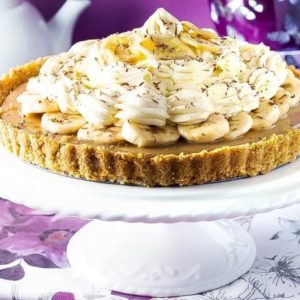 Let's Make Banoffee Pie
This dazzling no bake banoffee pie has a buttery base, creamy caramel, and banana layers, and topped with fresh whipped cream.
Prep20 minutes
Cook5 minutes
Total25 minutes
Ingredients
Crust
9 oz graham crackers crushed
½ cup butter melted
Caramel Toffee Filling
½ cup butter
½ teaspoon salt
⅔ cup dark brown sugar
14 oz can sweetened condensed milk
Banana Layer
4 small bananas peeled and sliced
1-2 teaspoons lemon juice
Whipped Cream Topping
1¼ cup heavy whipping cream
6 tablespoons confectioner's sugar
1 teaspoon vanilla extract
1 tablespoon skimmed milk powder
Grated chocolate for decoration
Banana Chips for decoration
Instructions
Make the crust:
Put the graham cracker crumbs in a bowl, then add in the melted butter and mix it all together. Spoon into the base and press against the bottom and sides. Chill it for ten minutes.
Make the caramel:
Melt the butter, salt, and dark brown sugar into a non-stick pan over low heat, stirring continuously until the sugar has dissolved.

Add the condensed milk and bring to a rapid boil for about a minute, stirring the whole until it forms a thick golden caramel.

Spread the caramel over the cooled base, let cool, and then chill for about 1 hour, until firm or you're ready to serve.
For the topping:
Toss the banana slices with 1-2 teaspoons of lemon juice to stop them from browning. Set aside.

Add powdered sugar (to taste), skimmed milk powder, and vanilla extract to the heavy whipping cream.

Using a food processor, whip the cream until it thickens (this doesn't take long at all so check often). When you run a spoon through it, and it holds its shape without falling back into the gap, it's ready to use.

Place the banana slices over the caramel layer in the base.

Cover the banana slices with the whipped cream.

Decorate with grated chocolate and banana chips and serve.
Tips + Notes
Add a handful of chopped nuts with the chocolate shavings for a bit of crunch.
Use a vegetable peeler to slice thin curls of dark or milk chocolate in place of the grated chocolate, so decadent.
Don't skip chilling the crust, this helps keep the crust separate from the warm caramel.
Nutrition Information:
Calories: 413kcal (21%)| Carbohydrates: 42g (14%)| Protein: 2g (4%)| Fat: 26g (40%)| Saturated Fat: 15g (94%)| Cholesterol: 74mg (25%)| Sodium: 388mg (17%)| Potassium: 224mg (6%)| Fiber: 1g (4%)| Sugar: 26g (29%)| Vitamin A: 875IU (18%)| Vitamin C: 3.7mg (4%)| Calcium: 57mg (6%)| Iron: 1.1mg (6%)
Erren's Kitchen is written and produced for informational intentions only. We are not certified nutritionists, and the nutritional information found on this site has not been assessed or authorized by a nutritionist or the FDA. The nutritional information found in our recipes is offered as an estimate and should not be considered a guarantee or fact. The estimated data is provided as a courtesy and calculated through a third-party online nutritional calculator, spoonacular API. Although we do our best to provide accurate nutritional information, these figures should be considered rough estimates. Many factors, such as brands or products purchased and the nutritional fluctuations that naturally occur in fresh produce, can alter the effectiveness of the nutritional information in any recipe. Furthermore, various online calculators provide different results depending on their particular algorithms and nutrition fact sources. To obtain the most precise nutritional information in a provided recipe, you should calculate the nutritional information with the exact ingredients you are using when preparing the recipe using your preferred nutrition calculator.
Update Notes: This recipe was originally published on June 9, 2016, but was updated in July 2021 to show step by step instructions, Recipe Tips & FAQs, and add nutritional information to the recipe card.