This recipe for Tuan's Vietnamese Beef Noodle Pho makes a delicious, nourishing soup packed full of authentic Asian flavors.
Vietnamese pho is a staple all over Vietnam that's traditionally served as breakfast. In this post, my Vietnamese friend, Tuan teaches me (and all of you) how to make an authentic pho just like he grew up on.
I have been going to the same nail salon for over ten years and Tuan (who I always knew as Tony) is the one I always request. He does the best job and although he can't speak very good English, we always find something to talk about and laugh about.
We got to talking one day about this site and the girl working next to him told me that he makes the best noodle soup. I asked him if he could tell me how to make authentic Vietnamese noodles.
He hesitated and responded by telling me that he can't tell me because his English isn't good enough, but he could come to my house and show me.
Well, he didn't lie. We spent an entire Sunday cooking together and let me tell you – I learned a lot.
I'm a huge noodle fan, so check out my Perfect Chinese Noodles, Thai Curry Noodles with Chicken or Fried Eggs with Chinese Noodles, there's a noodle for every occasion!
I'll warn you now – this is going to be a long post, but it has to be done because I really want to share all I learned.
To help with the language barrier, Tuan took along his lovely friend Hannah, who was really kind to give up her Sunday to sit in my kitchen and chat all day.
We started our day at the grocery store. Tuan walked around the place on a mission grabbing ingredients while my husband, son and I tried to keep up. He grabbed enough ingredients to feed an army but who was I to tell him differently?
This is just a sample of what he bought…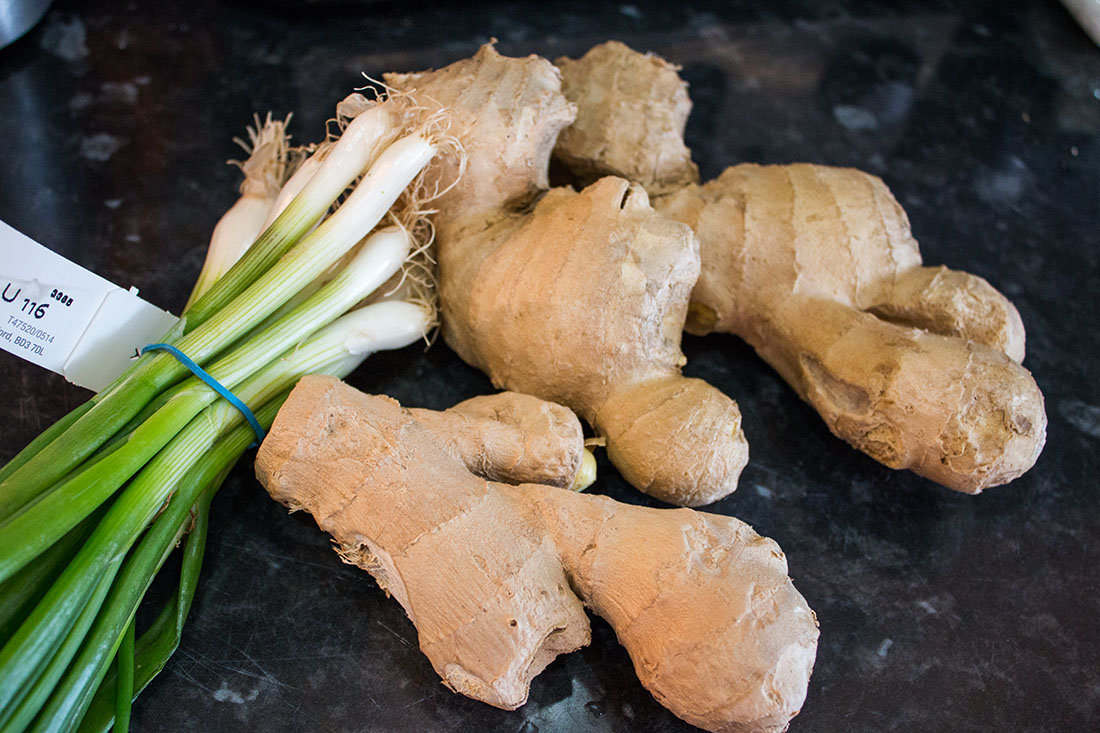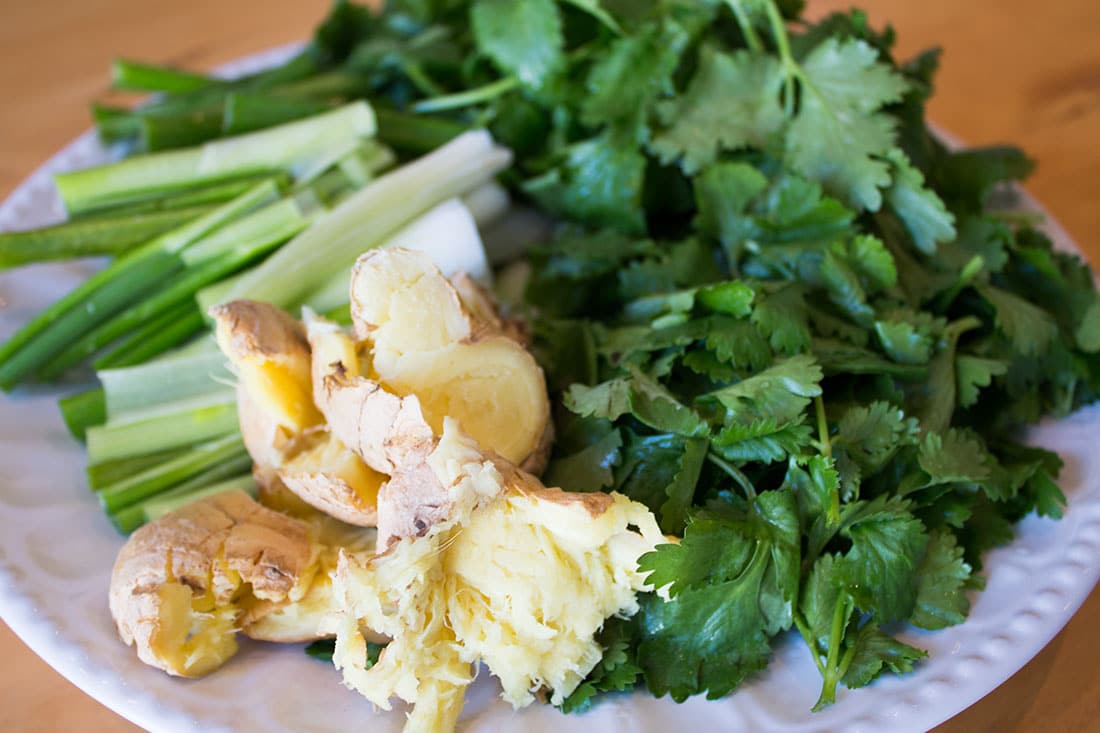 The soup's base is made with oxtail (he used A LOT), but if you can't find it, you can always use beef short ribs.
He covered it with water and brought it to a boil. Then he dumped the water down the drain and started again. He did this two or three times. Before adding more water and leaving that to simmer.
Then one of my favorite things he did was take two whole red onions, peeled them and put them right on the burner of the stove to char them and release flavor. I have never seen this done before.
Then he took fresh ginger and made a bunch of cuts and tears in it (also to release flavor).
He added the onions, 4 large chunks of ginger, a huge amount of star anise (about 15 or 20 star anise), cinnamon sticks (I'd say 5-7 of them) and MSG (probably 6 or 7 tablespoons) to the pot with the oxtail (I've replaced the MSG in the recipe with a bit of salt) and fish sauce (he added about a cup of fish sauce).
That simmered for about 4 hours. He skimmed it constantly removing the impurities that rose to the surface. When I say constantly, I mean CONSTANTLY.
Then he took a huge round of beef and boiled it for about a minute before he sliced it paper-thin.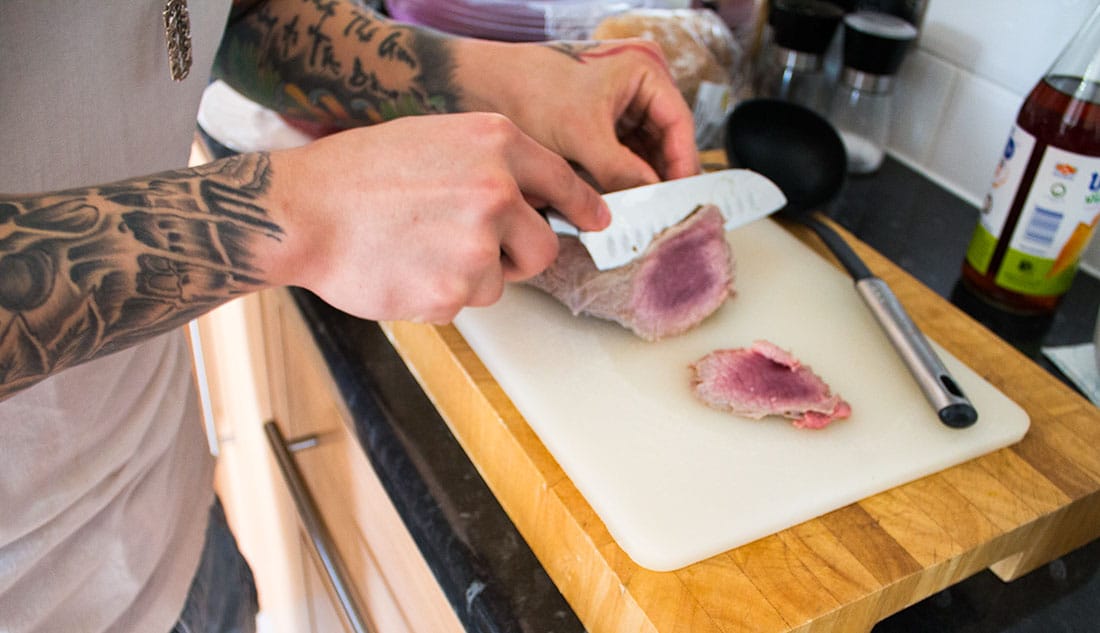 I'm not sure why he boiled it before slicing. I skipped that step in the recipe.
To cut the meat this thin, you need a really sharp knife.
One great tip she showed me was how to sharpen a knife using the rough bottom of a ceramic bowl. It works really well and I've been doing it ever since.
Then he prepared the topping for the soup. He used cilantro, lemon wedges, green onions, a variety of Asian chilies and sauces.
He prepared the noodles that he'd been soaking in cold water all day and started building the bowls with the noodles and garnish that everyone chose. I chose the sliced beef, green onions, cilantro, and lemon juice.
When he poured the hot soup (which was just boiled) over the meat, it cooked it perfectly.
I have to say that it was one of the best things I have ever tasted. It was full of beautiful Asian flavors and The best part was that because he made so much, we got to eat it for a couple of days!
Thank you, Tuan and Hannah, for a lovely day and the fantastic food!
Stay Updated
Receive new recipes & dinner ideas straight to your inbox!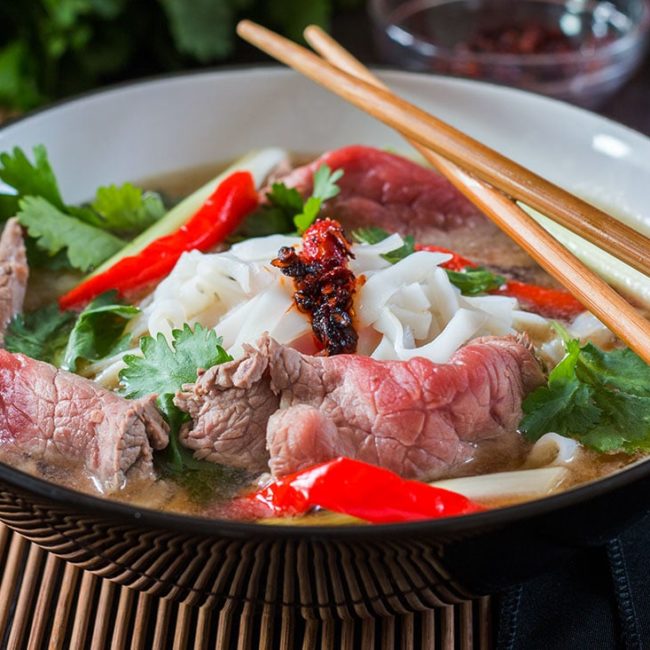 Let's Make Tuan's Vietnamese Beef Noodle Pho
This recipe for Tuan's Vietnamese Beef Noodle Pho makes a delicious, nourishing soup packed full of authentic Asian flavors.
Prep30 minutes
Cook3 hours
Total3 hours 30 minutes
Ingredients
Beef stock:
6 pounds oxtails or beef short ribs
3 quarts water
2 medium red onions whole and peeled
1 piece large whole unpeeled fresh ginger halved lengthwise
3 cinnamon sticks broken into pieces
6 star anise pods
½ cup Asian fish sauce
salt & pepper to taste
For the garnish:
1 pound rice noodles cooked al dente and rinsed in cold water
1 pound beef round sliced very thin
Asian fish sauce
green onions trimmed and sliced lengthways
Sriracha chili sauce
Lemon wedges
Cilantro sprigs
whole Asian pickled red chiles
Instructions
In a large soup pot, cover the oxtails or short ribs with cold water and bring to a boil over high heat. Drain off the water (Tuan repeated this step several times). Add the 3 quarts water of water and bring to a boil.

Lower the heat and simmer (skimming impurities as they rise to the surface).

Meanwhile, place the whole onions right on the burner of the stove and allow to char slightly (see photos).

Add the onion and ginger to the pot along with the cinnamon sticks, salt, star anise, and fish sauce.

Simmer for 3-6 hours, skimming impurities as they rise to the surface.

Strain the broth in a large sieve set over a heatproof bowl. Discard the onions, ginger, cinnamon sticks, and star anise. Remove the meat from the oxtails and add to the stock. Place the stock and meat in back to the stockpot over medium meat.

Add more fish sauce to taste and bring to a boil.

Add the noodles, sliced beef and whatever garnish you choose to the bowls.

Cover with hot stock and serve.
Nutrition Information:
Calories: 2299kcal (115%)| Carbohydrates: 102g (34%)| Protein: 242g (484%)| Fat: 96g (148%)| Saturated Fat: 38g (238%)| Cholesterol: 818mg (273%)| Sodium: 6181mg (269%)| Potassium: 689mg (20%)| Fiber: 2g (8%)| Sugar: 4g (4%)| Vitamin C: 4.7mg (6%)| Calcium: 247mg (25%)| Iron: 31.2mg (173%)
Erren's Kitchen is written and produced for informational intentions only. We are not certified nutritionists, and the nutritional information found on this site has not been assessed or authorized by a nutritionist or the FDA. The nutritional information found in our recipes is offered as an estimate and should not be considered a guarantee or fact. The estimated data is provided as a courtesy and calculated through a third-party online nutritional calculator, spoonacular API. Although we do our best to provide accurate nutritional information, these figures should be considered rough estimates. Many factors, such as brands or products purchased and the nutritional fluctuations that naturally occur in fresh produce, can alter the effectiveness of the nutritional information in any recipe. Furthermore, various online calculators provide different results depending on their particular algorithms and nutrition fact sources. To obtain the most precise nutritional information in a provided recipe, you should calculate the nutritional information with the exact ingredients you are using when preparing the recipe using your preferred nutrition calculator.