This recipe for Skinny Seasoned Baked Onion Rings makes a simple side dish of homemade and low-fat onion rings that's so much healthier than fried.
This version has a spiced breadcrumb coating that will make it a new family favorite.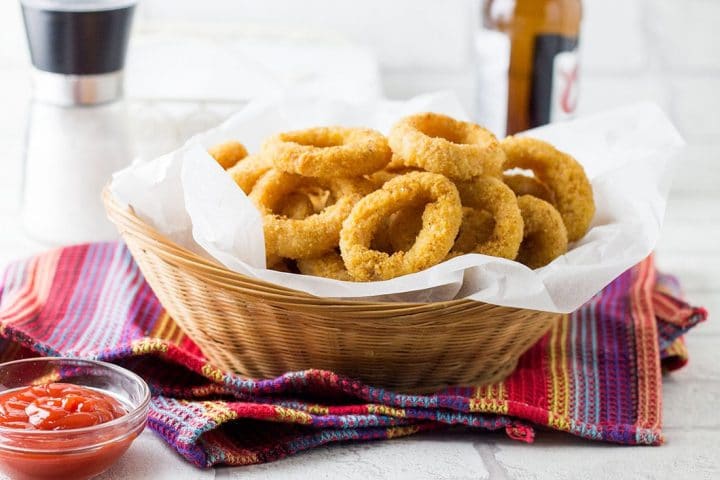 Want to be healthier but can't give up onion rings?
Homemade onion rings don't have to be unhealthy – this version coats the onion rings in spices too to give them a kick of flavor.
I absolutely LOVE onion rings. It's one of those things that if I see them on a menu, I almost always give in to temptation.
Ya know what ruins an onion ring? Grease.
There is nothing worse than biting into an onion ring and getting equal amounts of grease in your mouth. It happens a lot.
As you may know, I am on a diet and I have been playing around with a lot of different foods to find healthier versions. My Seasoned Baked Potato Wedges are another "skinny" success story, why not give those a try?
These onion rings are one of those recipes. I make things with a low-fat cooking spray which makes them not only low fat, but it resolves the issue of greasy onion rings as well.
I soak the onions in low-fat buttermilk. This is to help make the onions as tender as possible when cooked.
I'll be honest, for photographic purposes, I coated mine twice to get a nice thick coating for the photos.
To do that, I followed the recipe instructions and then chilled them for an hour before adding the second coating.
Chilling the onion rings between coats helps keep the breading on when you dip them in the egg mixture a second time.
They are delicious with one coating or two so it's up to you on how much time you want to put into it.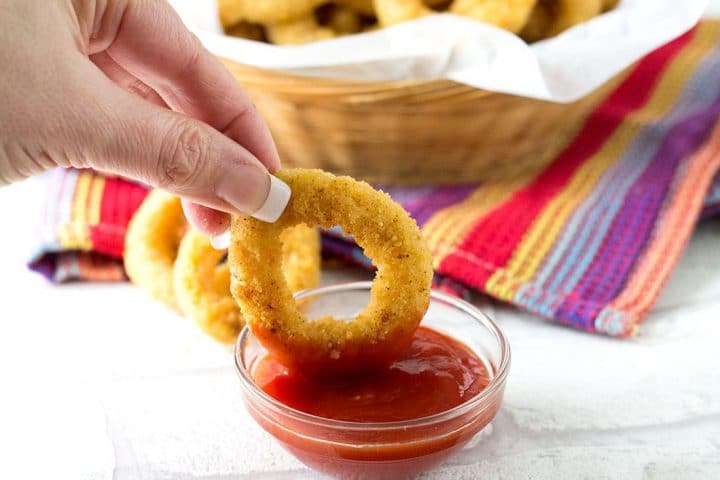 Cook's Tips:
For a thicker coating like I have, chill the onion rings after applying the breading for one hour and then repeat the coating instructions again.
★ Did you make this recipe? Please give it a star rating below!