This super healthy, split pea version of Tarka Dal is a delicious vegetable curry that will appeal to the taste buds of vegetarians and meat-eaters alike.
This recipe is packed full of flavor and a perfect warming meal on a chilly day.
In the UK, Indian food is as much of the culture as Chinese or Italian food is in the US. It's a regular thing that's ordered in, a favorite for eating out and the shelves in the grocery stores are lined with all different mixes, jars, and packets to make it at home.
When I first got here, I hated it, but as time went on and I got used to the new flavors, I grew to love it and if we were to move back to the US, I would really miss ordering in 'a curry' (as it's called in the UK).
This is one of my favorite Indian dishes. It's kind of like a curry version of split pea soup (although traditionally I think it's made with lentils). I also love making Quick and Easy Saag Bahji (Spinach Curry), why not cook both, and have a wonderful Indian feast?
I'll be honest, It's not as good as my local Indian restaurant makes, but it's a really good close second. I serve it on rice, but it can be eaten alone as a thick soup.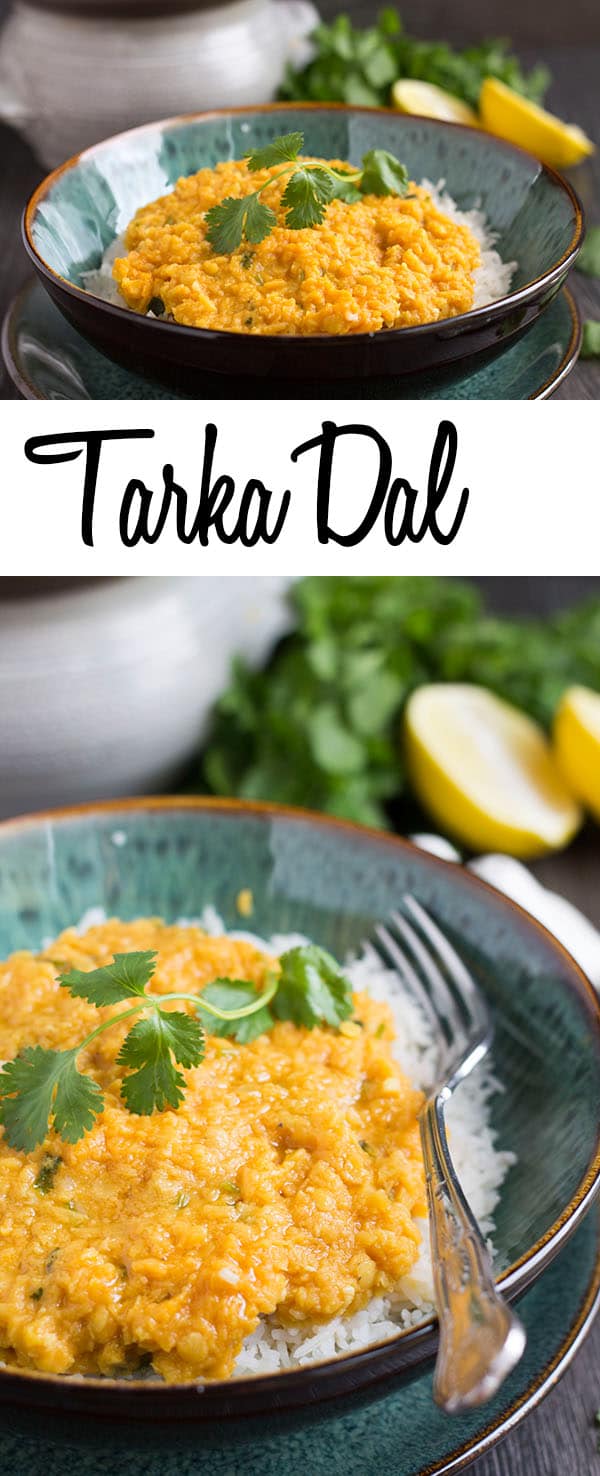 Stay Updated
Receive new recipes & dinner ideas straight to your inbox!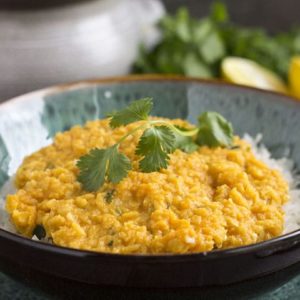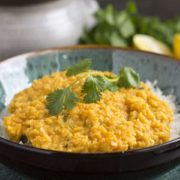 Let's Make Tarka Dall
A hearty vegetarian dish that will appeal to anyone, even the meat-eaters amongst you.
Prep15 minutes
Cook1 hour
Total1 hour 15 minutes
Ingredients
½ pound /250g yellow dried split peas rinsed until the water runs clear
4 cups /1 liter Chicken stock
½ cup /120ml of water
1 tablespoon vegetable oil
2 tablespoons rounded butter
1 tablespoon Ground Cumin
1 large onion Chopped
inch ¾ piece fresh ginger peeled & minced
3 cloves Garlic Chopped
3 tomatoes pureed
1 teaspoon Turmeric
1 teaspoon Garam Masala
1½ teaspoons ground coriander
salt & pepper
A good handful of chopped fresh cilantro/coriander chopped
Instructions
Place the peas and stock into a pan, stir well and bring to the boil. Cover the pan with a lid and reduce the heat to a simmer. Simmer, stirring regularly, for 40-50 minutes, or until the peas are just tender, adding some water as necessary. When the peas have cooked, remove them from the heat and whisk to break them down to your desired consistency. Set aside to cool.

Heat the oil & butter in a pan over a medium heat add the onion and ginger. Fry for 4-5 minutes, or until golden brown then add the garlic and cook for another minute. Puree the tomatoes in a food processor, add them to the pan and mix them in. Add the remaining spices and the water to the pan and stir well. Simmer over a medium heat for 15-20 minutes, or until the oil from the sauce has risen to the surface of the sauce. When finished, puree the sauce in a food processor and add it to the cooked peas & stock mixture and stir well (adding more water if necessary to loosen the mixture). Bring the mixture to the boil and season to taste, with salt and black pepper and chopped cilantro/coriander just before serving. Serve on rice or alone as a soup.
Nutrition Information:
Calories: 400kcal (20%)| Carbohydrates: 50g (17%)| Protein: 21g (42%)| Fat: 13g (20%)| Saturated Fat: 7g (44%)| Cholesterol: 22mg (7%)| Sodium: 412mg (18%)| Potassium: 1115mg (32%)| Fiber: 16g (67%)| Sugar: 11g (12%)| Vitamin A: 1045IU (21%)| Vitamin C: 17.1mg (21%)| Calcium: 72mg (7%)| Iron: 4.5mg (25%)