This recipe for Spiced Ginger Crinkle Cookies is ideal for holiday baking. These gingerbread flavored crinkle cookies are full of flavor, chewy, and coated in sugar to reveal their crinkle cookie cracks.
Let the Christmas baking begin and these cookies are at the top of my list for festive treats!
These Ginger Crinkle Cookies are oh so amazing! They are loaded with spicy goodness which is complemented by the molasses giving them a great depth of flavor! Then sugary coating adds just the right amount of sweetness which balances it all out perfectly! Crinkle cookies are so versatile, why not try my Chocolate Christmas Crinkle Cookies, another festive winner!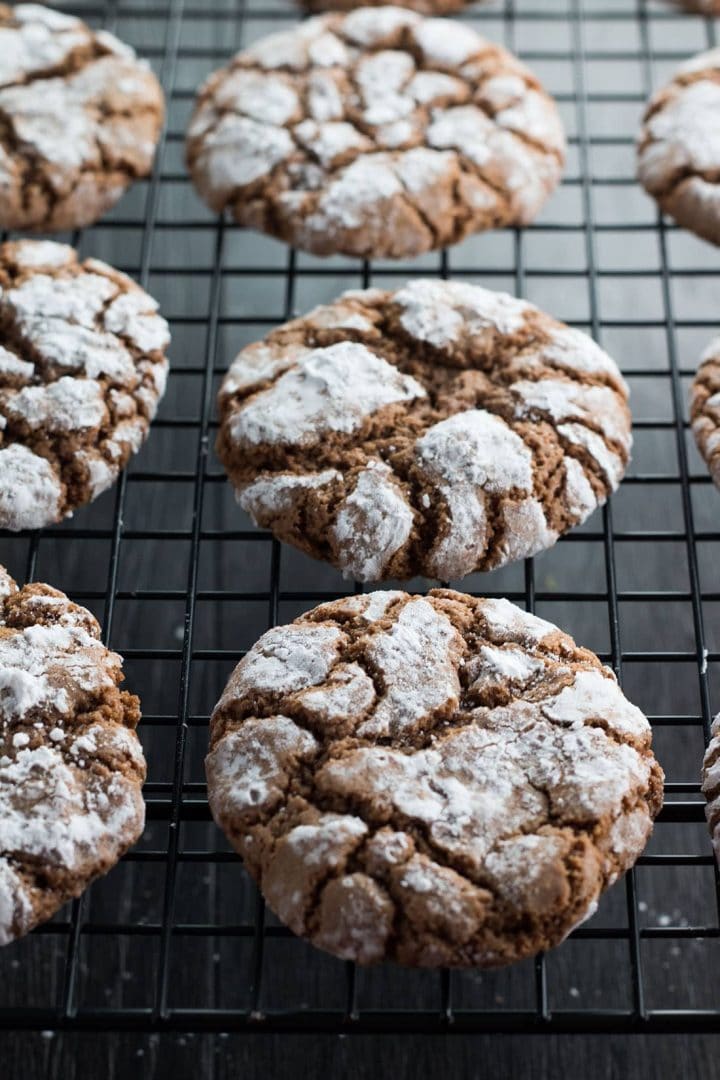 A couple of weeks ago, I tried to make chocolate crinkle cookies, but the recipe I developed was too buttery, so when I baked them the sugar melted into a sort of icing. I fixed the problem by using sprinkles instead, but I was determined to come up with a classic crinkle cookie that worked.
These Spiced Ginger Crinkle Cookies were totally worth the wait!
They are delightfully soft and chewy with those nice crisp edges, but if you'd like more of a crisp throughout ginger cookie just bake them a few minutes longer than what is in the recipe.
Whether you are baking for a Christmas party or you're you are looking for that perfect, festive treat to make for your friends and neighbors, I highly highly recommend trying these wonderful cookies!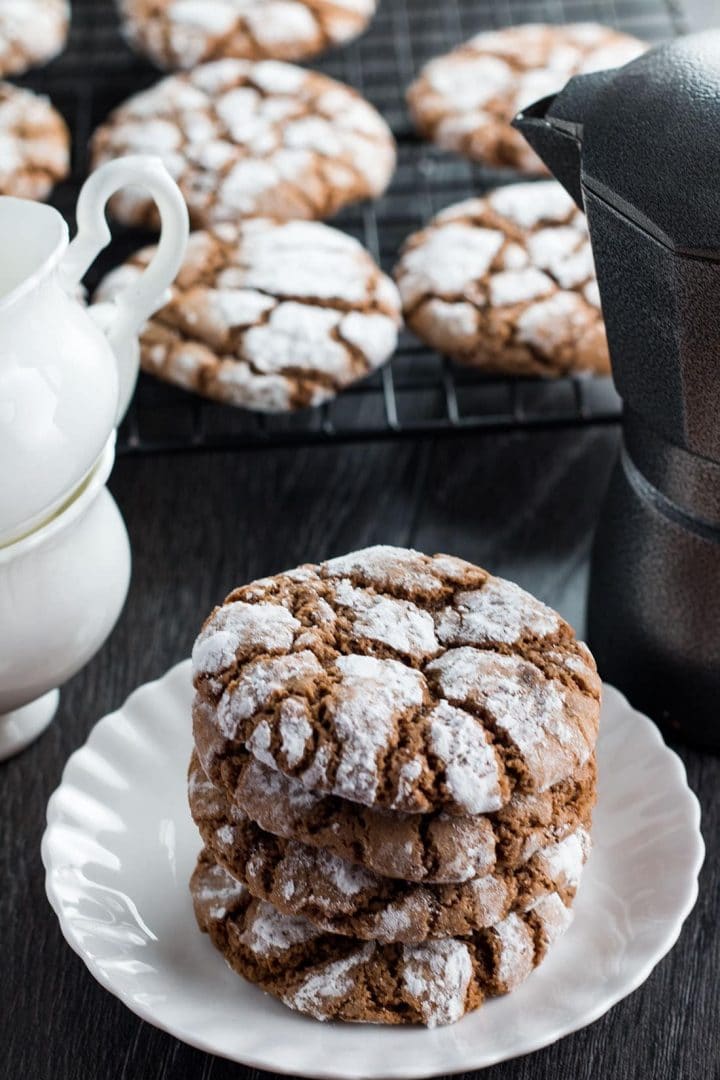 These are so good and they are definitely a cookie people of all ages will love. The dough is really easy to work with and doesn't to chill overnight. And the scent in the kitchen when baking them is like gingerbread heaven!
Other Cookie Recipes You'll Love
Baking Tips For the Best Crinkle of Your Cookies:
Bake one batch at a time on the middle rack. You'll get the best possible results when doing so. If you absolutely need to bake more than one batch at a time, not only turn the pans but rotate the baking sheets from the top rack to bottom rack halfway through the baking process to encourage even baking.
Make sure you're using baking soda that's not too old. This can affect how well the cookies rise and bake.
Over mixing the cookie dough once the flour is added will also affect the end result of the bake. When Mixing, only mix until the flour is combined at a lower speed (when in doubt mix by hand).
Be sure to thoroughly chill the cookies before baking.
Stay Updated
Receive new recipes & dinner ideas straight to your inbox!
Let's Make
Spiced Ginger Crinkle Cookies
These are wonderful holiday crinkle cookies! Perfectly soft, tender and chewy, these sugar-coated cookies are sure to satisfy!
Prep15 minutes
Cook10 minutes
Total25 minutes
Ingredients
3 cups unbleached all-purpose flour
½ cup light brown sugar, packed
½ cup granulated sugar
1 teaspoon baking powder
1 teaspoon ground cinnamon
2 teaspoons ground ginger
½ teaspoon pumpkin pie spice
½ teaspoon salt
1½ sticks butter chilled and cut into cubes
1 teaspoon vanilla extract
¾ cup molasses
3 tablespoons milk
1 cup confectioners sugar
Instructions
In a food processor, mix together the flour, brown sugar, granulated sugar, baking powder, cinnamon, ginger, allspice, and salt until combined.

Add the butter. Blitz until it resembles breadcrumbs (If you don't have a food processor, at this point you can use a pastry cutter to cut the butter into the flour mixture.)

Add the molasses, vanilla, and milk. Mix again until the dough comes together.

Divide the dough in half and shape each half into two round disks. Cover them in plastic wrap and chill 2 hours minutes.

Preheat the oven to 350F. Line the 2 baking sheets with nonstick foil or baking paper.

Take the chilled dough and roll the dough into 2 inch round balls. Work as fast as you can so as not to allow the dough to get too warm.

Roll each dough ball in confectioner's sugar until evenly coated. Place the coated balls 1-inch apart on the prepared baking sheet.

Bake the cookies until set - 10 to 12 minutes (being careful not to overbake).

Cool the cookies on the sheets 2 minutes, then transfer to a wire rack to cool.
Nutrition Information:
Calories: 193kcal (10%)| Carbohydrates: 33g (11%)| Protein: 1g (2%)| Fat: 5g (8%)| Saturated Fat: 3g (19%)| Cholesterol: 15mg (5%)| Sodium: 105mg (5%)| Potassium: 200mg (6%)| Sugar: 21g (23%)| Vitamin A: 180IU (4%)| Calcium: 40mg (4%)| Iron: 1.3mg (7%)