If you are looking for a simple dish, that both tastes and looks beautiful, this recipe for Shrimp and Asparagus Saffron Risotto will not disappoint!
I first posted this recipe in 2014, soon after starting this blog.  Although it's been quite popular, the photos were pretty awful.
I got some fresh asparagus at the market the other day and knew I just had to make this.  I brought it up to print it out and when I saw the photos I knew I had to update the post!  So I'm posting it again with new and improved photos that do the recipe the justice it deserves.
I am crazy about saffron.  Just do a search for it and you'll find multiple recipes.  I just can't get enough of it so any opportunity I get, I create a new recipe to fulfill my cravings!
Love Saffron?  Check out some of these recipes on Erren's Kitchen…
This luscious recipe is versatile too!  You can replace the shrimp with crab, scallops or even chicken.
You can also change up the asparagus for broccoli, peas or spinach.
This is a great Springtime recipe, but I make it all year round.
I grew up with an Italian grandmother and have been eating Italian food my whole life, but before moving to the UK, I never had Risotto before.  I ordered it at an Italian restaurant because the food was nothing like Italian American food and it was the only thing that sounded like something I might want to eat.
This recipe is my version of the meal I had that night.  Needless to say, it was delicious and mine is too!
I have a problem with risotto that requires you to stir the entire time you are cooking.  When I make it that way, it only comes out well half the time.
I found a way to make risotto by adding the stock all at once, covering it and letting it cook on a low heat until absorbed.  When I make it that way, it comes out perfect every time.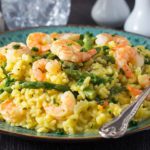 Shrimp and Asparagus Saffron Risotto
Ingredients
4

Cups

Chicken Stock

Teaspoon

Saffron Threads

4

tbsp

unsalted butter

1

cup

dry white wine

2

small shallots

peeled and finely chopped

2

Celery stalks – finely chopped

2

Cloves of Garlic

chopped

2

Cups

Risotto Rice

20

asparagus

spears removed

7

oz

raw peeled shrimp/prawns seasoned with salt and pepper

2

tablespoons

lemon juice

A handful of flat leaf parsley – chopped

2/3

cup

grated Parmesan or Romano cheese

plus more for serving

sea salt and freshly ground pepper
Instructions
Bring stock to a simmer in a saucepan; add the saffron and leave to infuse.

Blanch the asparagus in a pan of boiling water until just tender, refresh under cold water, then slice into lengths.

In a separate pan, saute the shallots, and celery in 2 tablespoons of butter together until they are cooked and soft but not browned.

Add the garlic and cook for another minute.

Add all the rice in one go and stir it around with the other ingredients to toast the grains thoroughly without browning.

Raise the heat to high, add the wine and reduce it until nearly all of the liquid is absorbed into the rice.

Stir in the stock, reduce the heat, stir and leave to cook covered 15-18 until the rice is just under cooked (Checking after about 15 minutes to make sure no additional stock is needed. If the risotto looks dry, add some of the remaining stock).

Add the Shrimp, and cook until pink (about 3 minutes).

Add in the asparagus spears, lemon juice, and chopped parsley. Mix together, taking care not to destroy the asparagus spears or the Shrimp.

Salt and pepper to taste.

Before serving, mix in the remaining butter & the cheese.