This homemade ranch dressing made with buttermilk is ready in minutes! Once you try this delicious recipe, you won't buy bottled again!
Perfect with any salad or served as a party dip, this will be your go to dressing for years to come!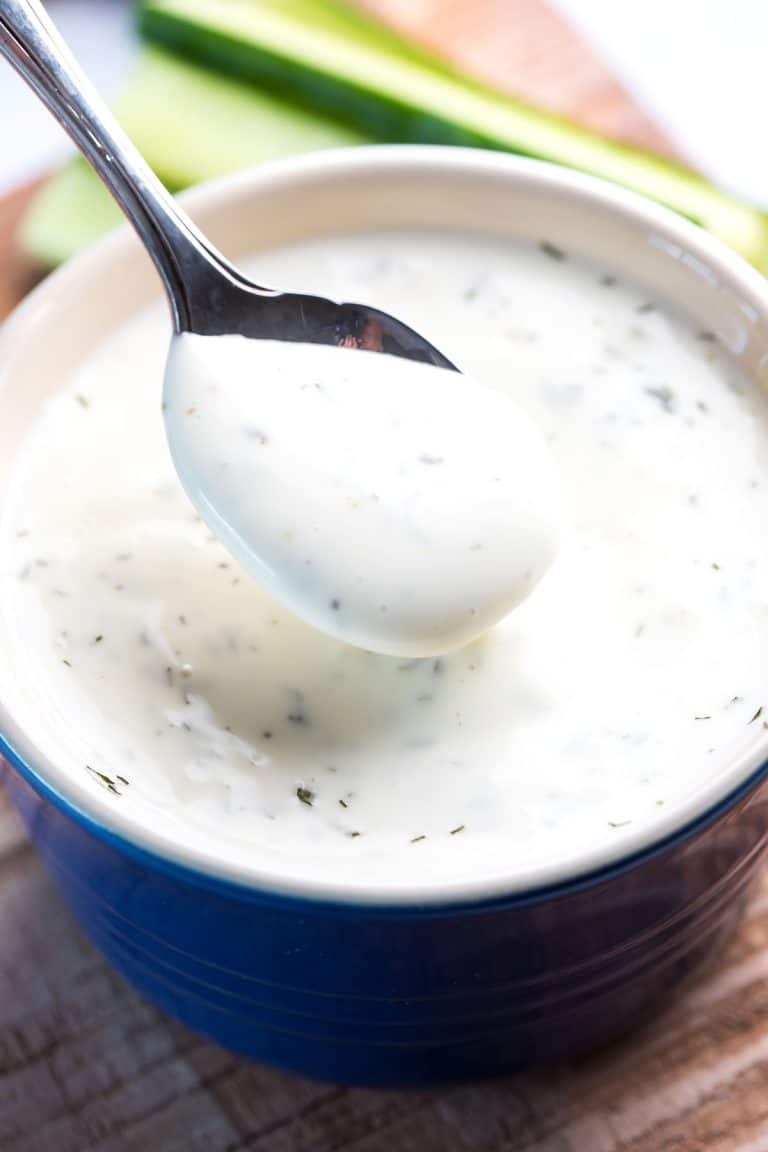 Salads can be bland and boring and I'm always looking for ways to dress them up and make them interesting. Instead of buying a branded ranch dressing, I decided to make my own. Boy was this a great idea! It was fresh, tasty, and didn't have all the additives you find in store-bought bottles.
I'm so pleased to share my take on the famous salad dressing, I just know you're going to love it as much as I do.
Why This Recipe Works
Buttermilk gives this ranch dressing that signature tang everyone loves.
Fresh ingredients mean this is a healthier alternative to store-bought salad dressing.
Ready in under 20 minutes makes it quick, convenient, and without any preservatives.
Ingredient Notes
Mayonnaise: I used full-fat mayonnaise, but half fat will work just as well.
Buttermilk: Buttermilk gives a unique tang to the dressing, if you don't have any you can make your own by adding acids such as white vinegar or lemon juice to milk. Read on for more information on how to make it. Just keep in mind your dressing won't be as thick with homemade buttermilk.
Onion Powder: I used onion powder for convenience and it helps keep the dressing smooth.
Garlic Powder: I used garlic powder for convenience and so as not to overpower the flavor of the dressing.
Getting Fresh Homemade Flavor
I created this recipe to not only be quick and easy, but to also last in your fridge for a couple of weeks, so instead of using my usual fresh ingredients, I opted for ground or dried herbs and spices.
If you want fresher flavor you can absolutely use fresh garlic and dill, but keep in mind it will only stay good in the fridge for a few days.
Homemade Salad Dressing That Won't Separate
If you have ever whisked up a dressing, poured it into a bottle, and had it separate in a matter of minutes, then you know the pain of a salad dressing that just won't combine. The solution – using a blender or food processor to mix it together and stay combined.
This is called emulsification, and it's the key to making the highest quality dressings that once mixed, stay mixed for days! All you need is a food processor, blender, stick blender, or in a pinch, shake it together in a jar – just make sure you shake it long enough to bring it all together.
How To Make Homemade Ranch Dressing
Add mayonnaise and buttermilk in a blender.
Sprinkle in the dill, garlic and onion powder.
Blend together until smooth.
Serve over your favorite salad greens.
Step by Step Instructions
Add mayonnaise to the blender. Pour in the buttermilk.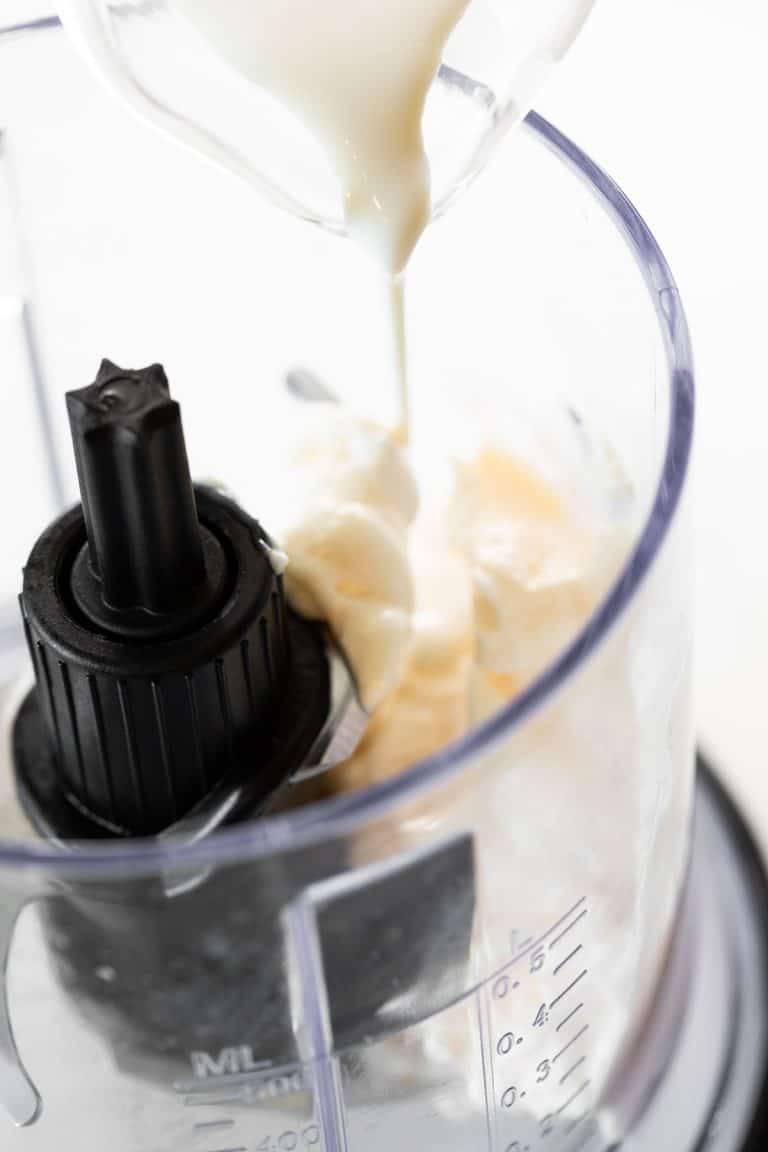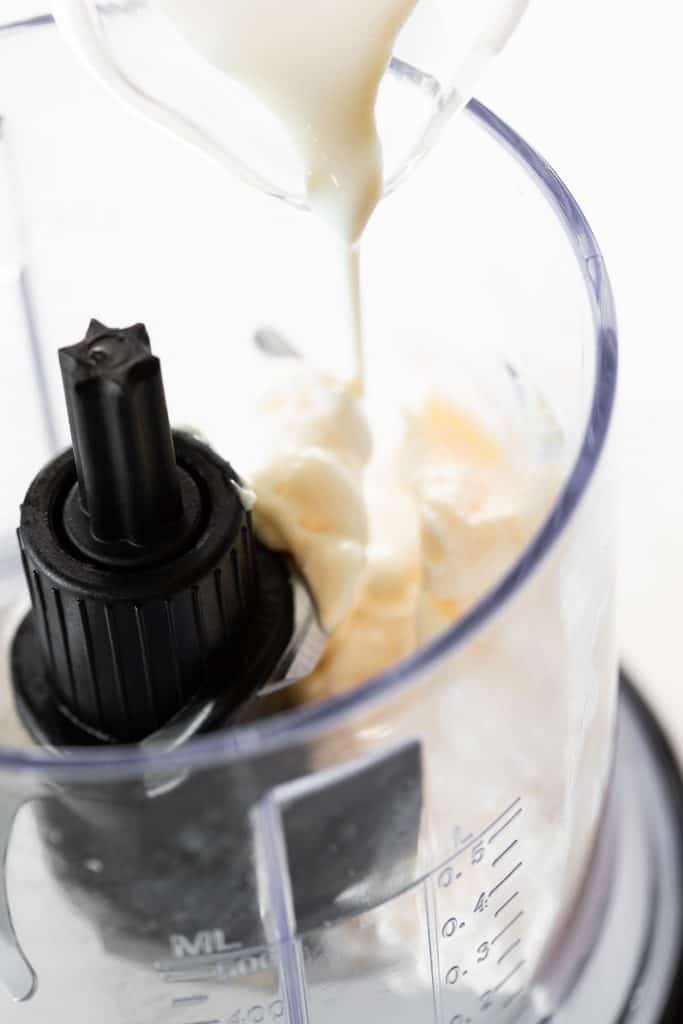 Add the garlic powder, onion powder.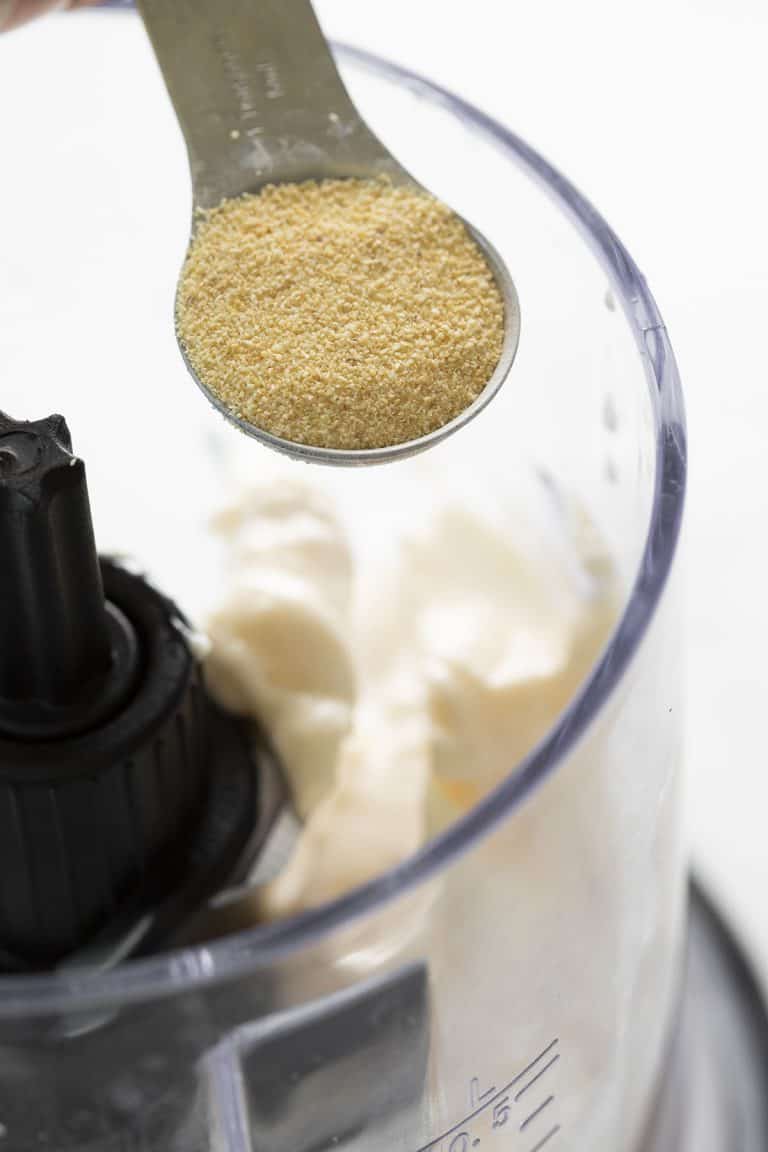 Add the dried dill.
Blend until smooth and fully combined. Serve and enjoy!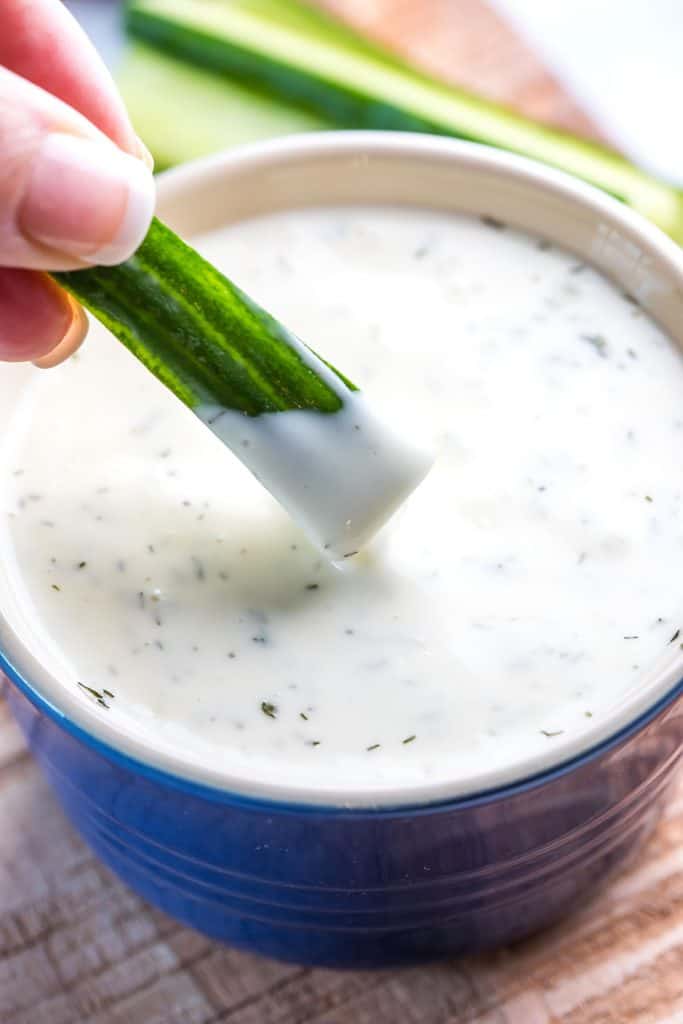 How to Make Buttermilk
If you don't have any buttermilk on hand, you can make your own using milk or cream and an acid such as lemon juice or vinegar.
A simple rule of thumb for this is 1 cup milk = 1 tablespoon of vinegar or lemon juice.
For this recipe: 1/3 cup buttermilk = 1/3 cup milk + 1 teaspoon vinegar
Make ahead and Storage Instructions ✧
Stored in an airtight container, this dressing will last for up to 2 weeks in the fridge (just be sure to use the freshest buttermilk you can find and use the date on the bottle as you use by date).
Tips & Variations
Full fat mayo and buttermilk emulsify either and make it less likely to separate.
Store creamy salad dressings in the refrigerator until 10 minutes before serving. They taste best when served at room temperature.
If your dressing thickens as it chills, just thin it with a little milk or water before serving.
To give your homemade ranch dressing an extra kick you can add some cayenne pepper or a dash of hot sauce.
Chopped chives add an extra flavor element.
Stay Updated
Receive new recipes & dinner ideas straight to your inbox!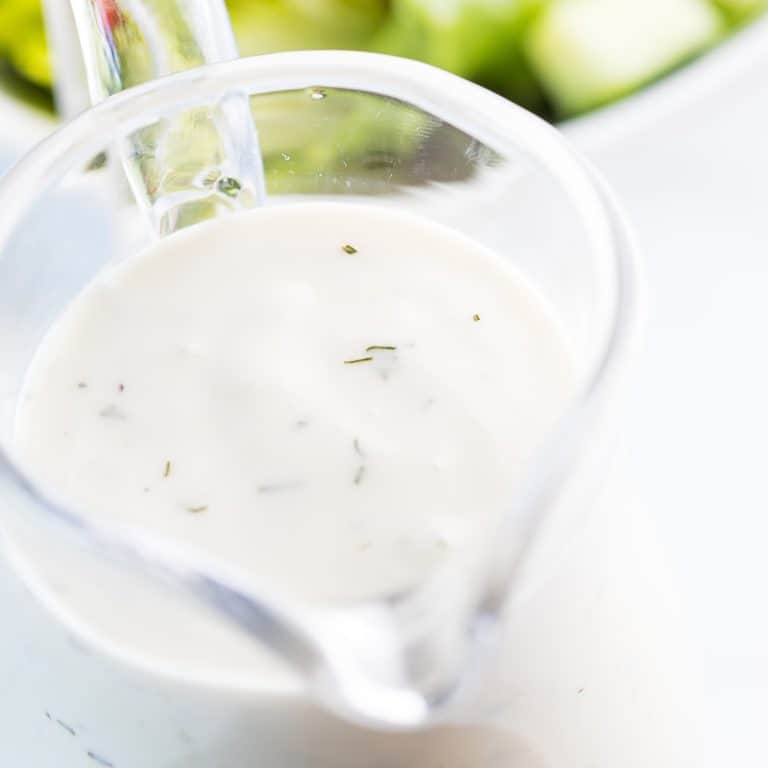 Let's Make Homemade Ranch Dressing
A delicious fresh salad dressing made with mayonnaise, buttermilk, garlic, onion powder and dried dill. You'll never want to buy it in the store again!
Prep10 minutes
Total10 minutes
Ingredients
½ cup mayonnaise
⅓ cup buttermilk
2 teaspoons garlic powder
2 teaspoons onion powder
1 teaspoon dill dried
1 teaspoons salt
½ teaspoon pepper
Instructions
Add all of the ingredients into a blender and blend well to combine.

Taste for seasoning and add salt as needed.

*Add to an airtight container and store in the fridge. This recipe makes about 1 ½ cups of dressing.
Tips + Notes
A blender is used for this recipe as it emulsifies the dressing well, making it less likely to separate. If you don't have a blender, you can, you a food processor or in a pinch, you can shake it together in a jar – just make sure you shake it long enough to bring it all together. *Stored in an airtight container, this dressing will last for up to 2 weeks in the fridge (just be sure to use the freshest buttermilk you can find and use the date on the bottle as you use by date).
Nutrition Information:
Calories: 847 (42%)| Carbohydrates: 13g (4%)| Protein: 5g (10%)| Fat: 87g (134%)| Saturated Fat: 15g (94%)| Trans Fat: 1g| Cholesterol: 56mg (19%)| Sodium: 3127mg (136%)| Potassium: 256mg (7%)| Fiber: 1g (4%)| Sugar: 6g (7%)| Vitamin A: 214IU (4%)| Vitamin C: 1mg (1%)| Calcium: 127mg (13%)| Iron: 1mg (6%)
Erren's Kitchen is written and produced for informational intentions only. We are not certified nutritionists, and the nutritional information found on this site has not been assessed or authorized by a nutritionist or the FDA. The nutritional information found in our recipes is offered as an estimate and should not be considered a guarantee or fact. The estimated data is provided as a courtesy and calculated through a third-party online nutritional calculator, spoonacular API. Although we do our best to provide accurate nutritional information, these figures should be considered rough estimates. Many factors, such as brands or products purchased and the nutritional fluctuations that naturally occur in fresh produce, can alter the effectiveness of the nutritional information in any recipe. Furthermore, various online calculators provide different results depending on their particular algorithms and nutrition fact sources. To obtain the most precise nutritional information in a provided recipe, you should calculate the nutritional information with the exact ingredients you are using when preparing the recipe using your preferred nutrition calculator.