Whip up this delicious Chicken Cobb Salad with bacon, avocado, hard boiled eggs and blue cheese. Perfect for dinner or summer entertaining.
Serve with homemade ranch dressing for the perfect weeknight meal.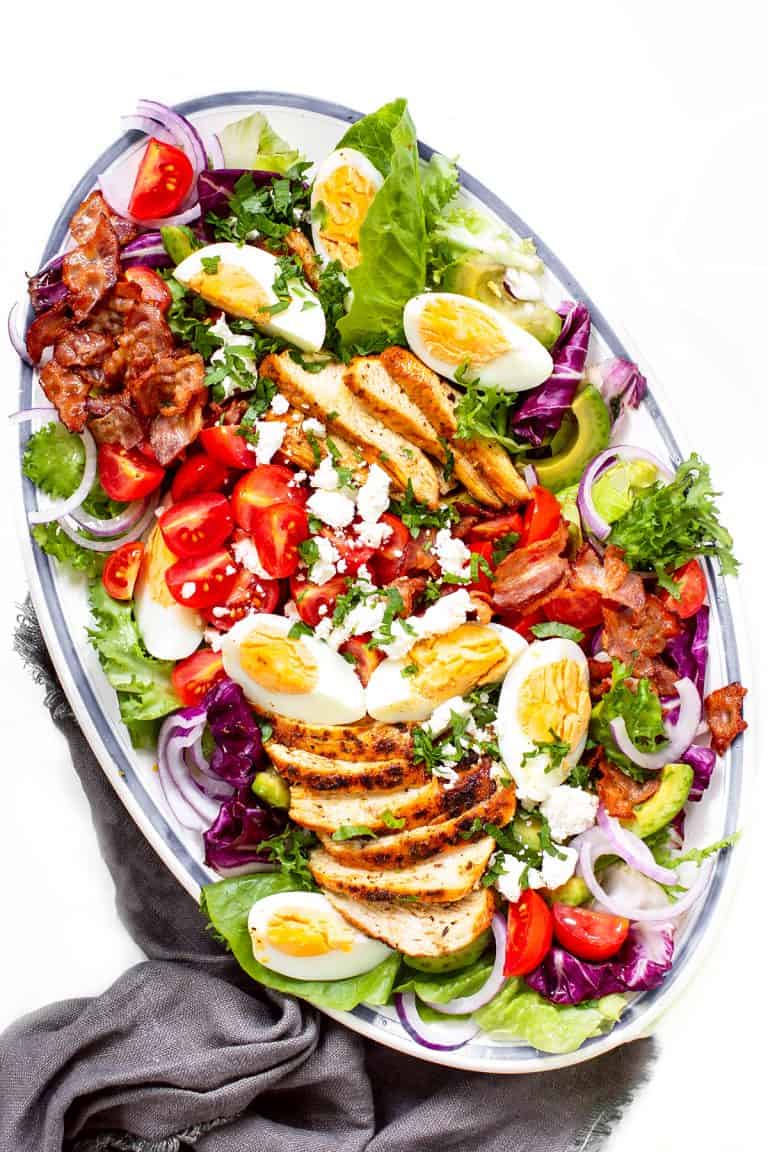 Cobb salad is my husband's all time favorite salad. He orders it every time he sees it on a menu and during the summer, I always make sure I work it into our dinner rotation.
Summer is a time for salads. They're fresh, easy and oh so delicious. This wonderful Chicken Cobb Salad recipe is perfect for hot days and entertaining friends.

Why This Recipe Works
This is no ordinary salad, it's packed full of flavor with chicken, crispy bacon, avocado and hard boiled eggs. Seriously hearty!
Easy to prepare and ready in no time at all it's a no brainer for summer entertaining.
This is a great recipe for using leftover cooked chicken and all the ingredients are easy to find.
What is Cobb salad?
The Cobb Salad is an American garden salad named after the man who developed it, in 1937. Bob Cobb made this dish in his Los Angeles restaurant, layering rows of ingredients on top of chopped lettuce, and from there it worked its way up as the popular salad it is today.
What's in A Cobb Salad
Classic Cobb salad ingredients are salad greens (a variety of different lettuce), tomato, crispy bacon, grilled or roasted chicken, hard boiled eggs, avocado, and blue cheese. Many variations include chives, red wine vinaigrette dressing.
Ingredient Notes
Salad Greens: I use mixed salad greens, but you can use any lettuce you have on hand.
Chicken: Leftover grilled chicken breast or store bought rotisserie chicken are both great, easy options.
Bacon: Use what ever bacon you like best.
Avocado: I use Hass avocados, but use whatever you prefer. Just check your avocado for freshness, if it yields to firm but gentle pressure it is ripe and perfect to slice into a salad.
Tomatoes: I use baby plum tomatoes for ease, however, any variety is fine.
Boiled eggs: Prepare your hard boiled eggs in advance to make this salad in super quick time.
How To Make Chicken Cobb Salad
Boil the eggs. Allow to cool, slice.
Fry the bacon until crispy. Chop.
Slice the cooked chicken breast.
Make a layer of salad greens, top with avocado, tomatoes, onion, grilled chicken and blue cheese.
Drizzle with vinaigrette.
Serve and enjoy!
Step by Step Instructions
Begin by hard boiling the eggs.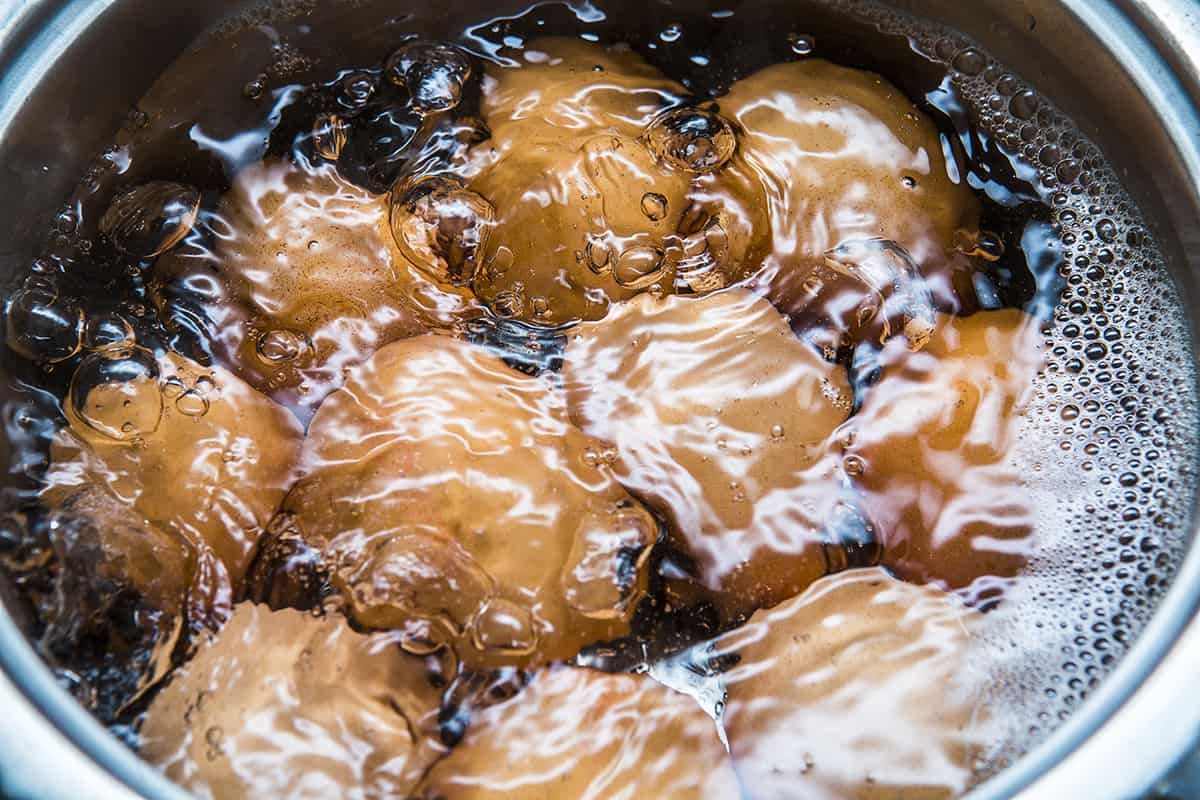 Once the eggs have cooled, chop them into slices.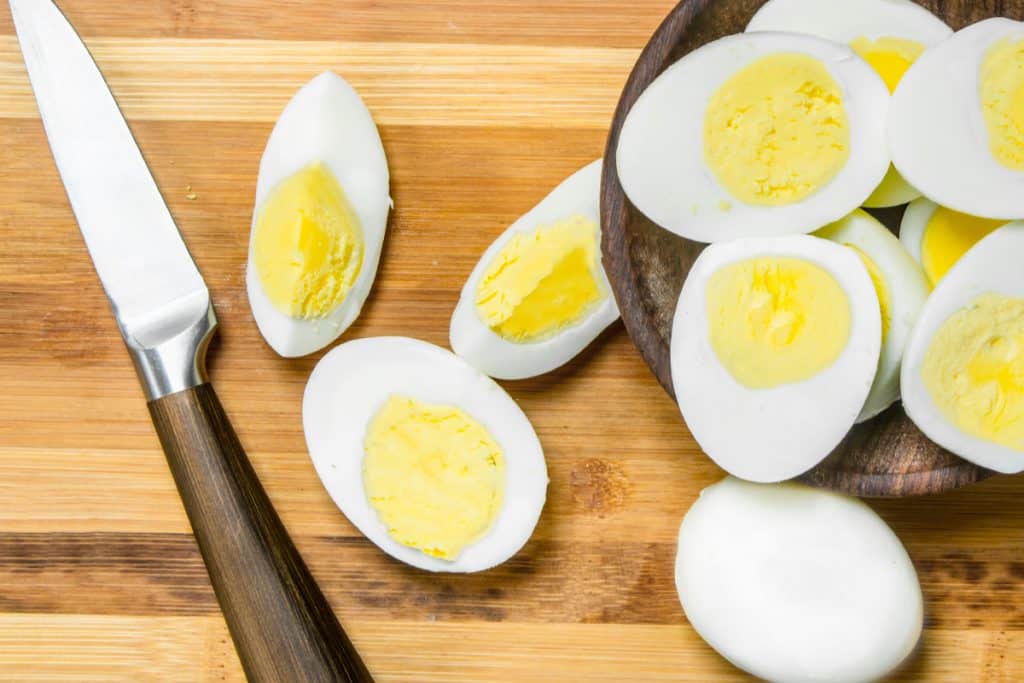 Fry the bacon until crispy.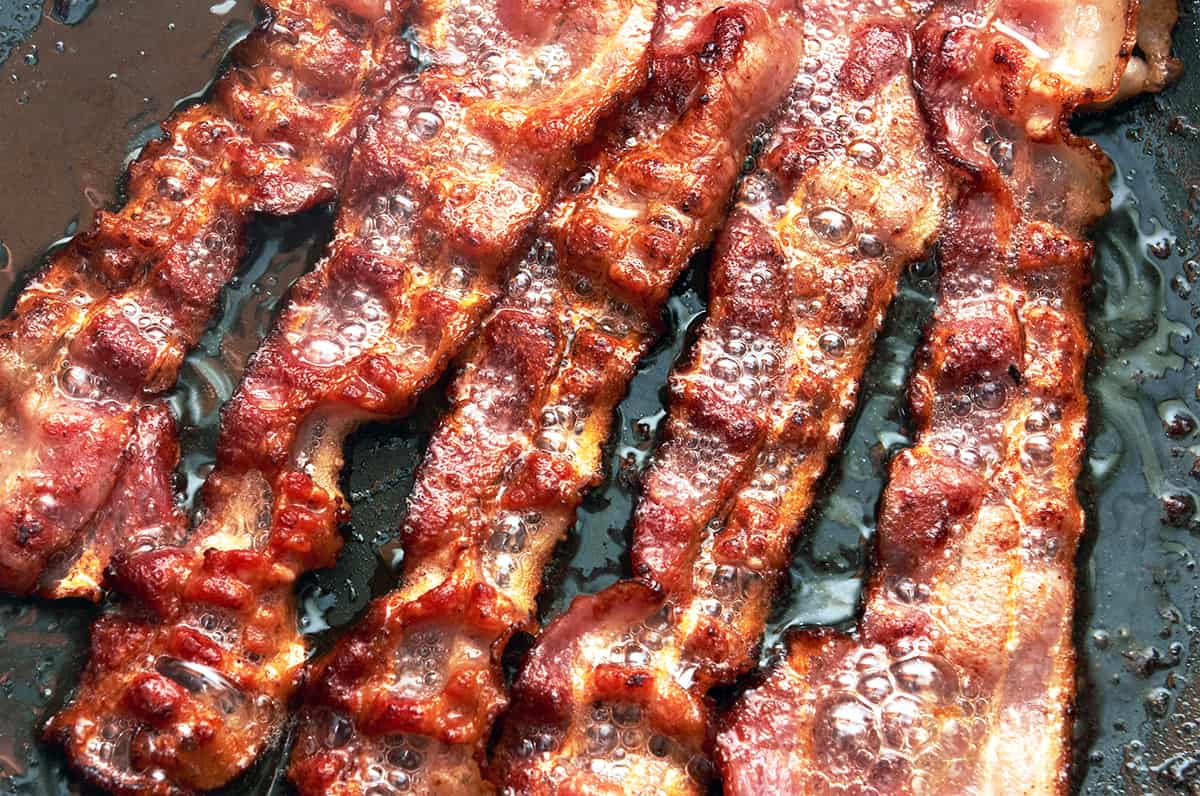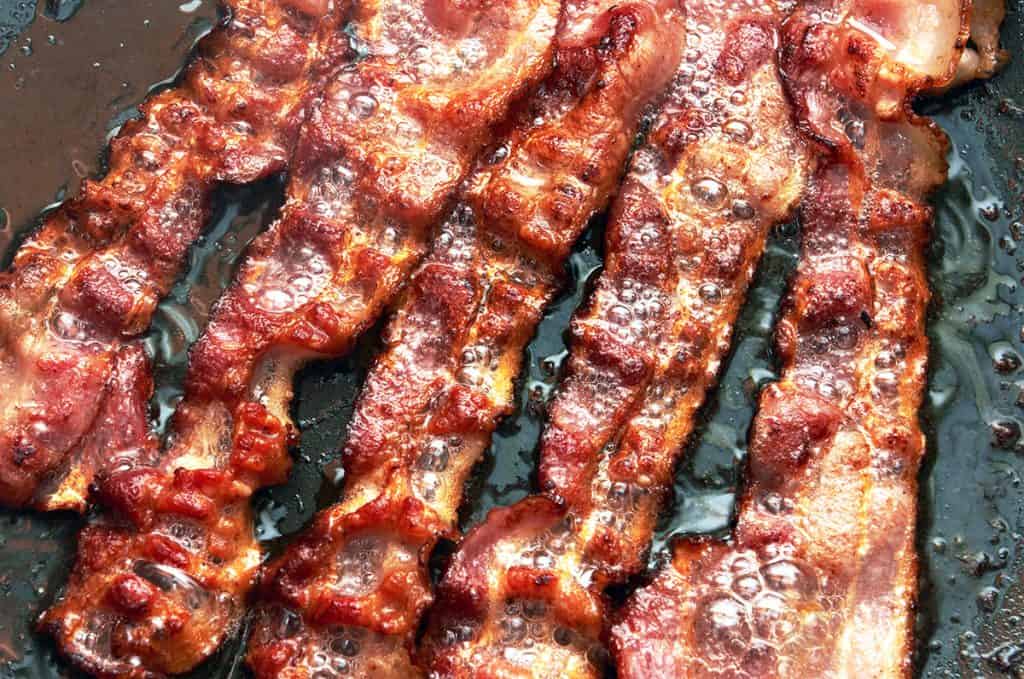 Prepare the fresh salad ingredients and layer it up! Drizzle with vinaigrette. Serve and enjoy.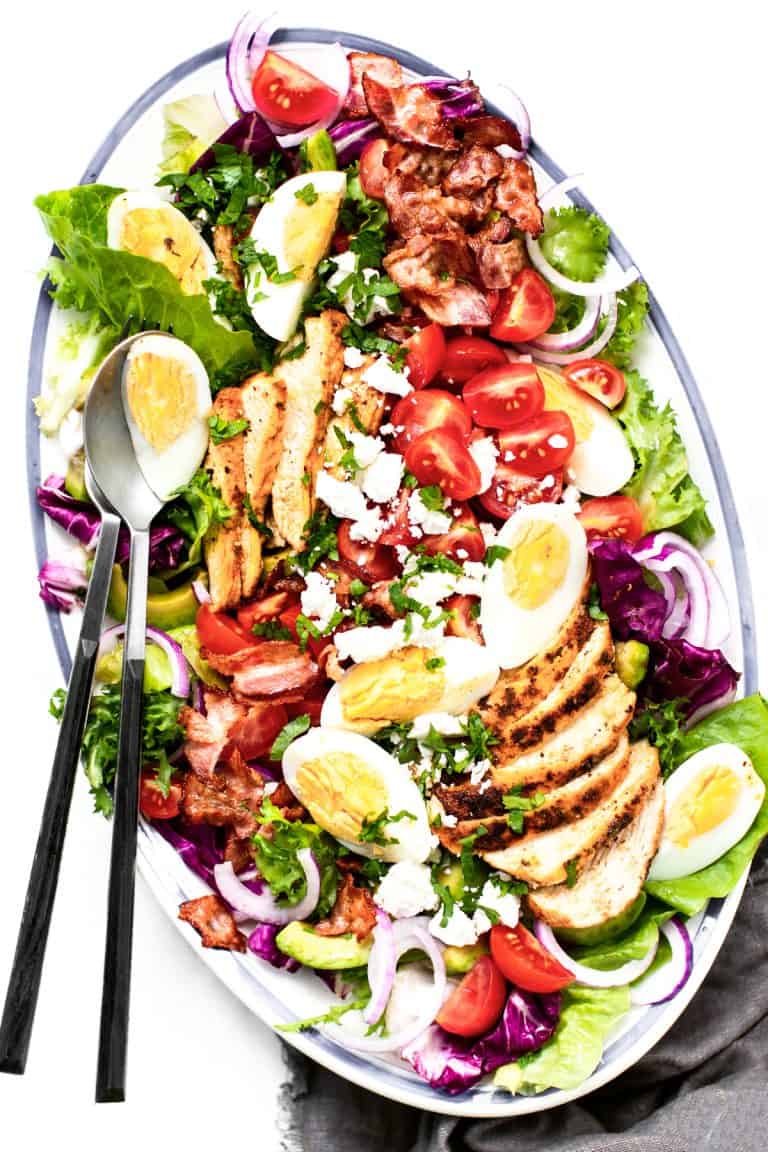 This easy, colorful salad is a real beauty! The presentation really makes it look impressive. You can't go wrong with this classic salad! Make this delicious salad for lunch or dinner! I promise you'll enjoy every bite!
Dressing Options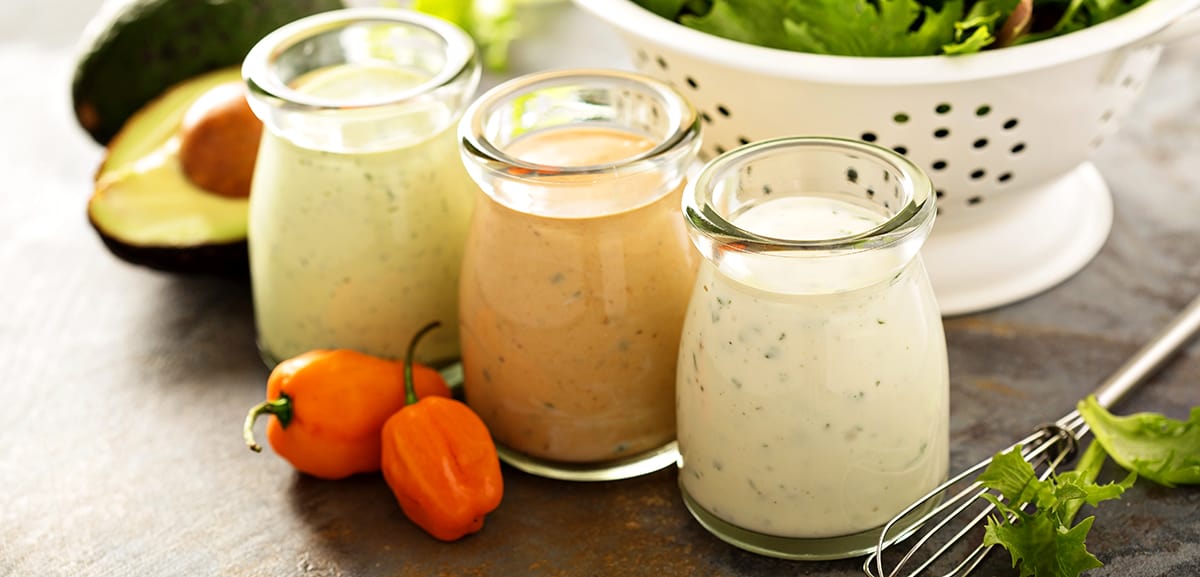 My Homemade Ranch Dressing Dressing is my go-to option for cobb salad. It takes minutes to throw together and compliments the salad nicely.
If ranch dressing isn't your thing, here are a few other ideas:
Erren's Top Tips
If you aren't a fan of blue cheese you can replace it with feta cheese or any other crumbly cheese of your choice.
Don't feel restricted by the ingredients of this recipe, feel free to make it your own, literally any salad ingredient works well, such as cucumber, radishes, even olives!
Use your favorite salad dressing, although many recipes call for a vinaigrette you could use any dressing or vinaigrette of your choice.
Add croutons for an extra layer of texture.
FAQs
What is the difference between Cobb salad and chef salad?
A Cobb salad is typically made with mixed greens, chicken, bacon, tomatoes, hard-boiled eggs, avocado, blue cheese and a vinaigrette dressing. A chef's salad is similar, but made with lunch meats like ham and turkey, hard-boiled eggs, cucumbers, tomatoes, carrots, and cheddar cheese.
Make ahead and Storing Instructions ❄
Making Ahead: This salad is perfect for making ahead, prepare the chicken, bacon and boiled eggs the day before and simply layer up your salad on the day.
In The Fridge: This salad keeps in the fridge for up to 3 days in an airtight container.
Stay Updated
Receive new recipes & dinner ideas straight to your inbox!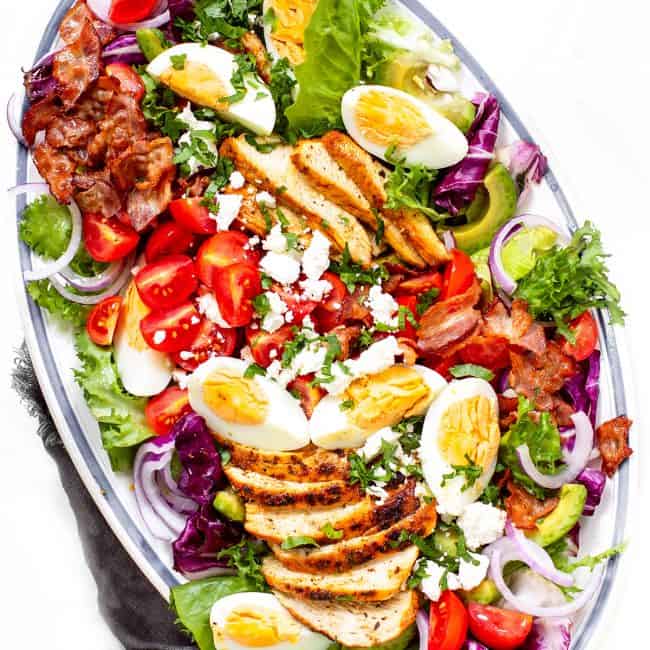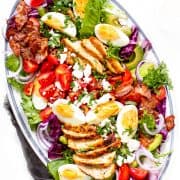 Let's Make Chicken Cobb Salad
A hearty salad made with chicken, bacon, tomatoes, hard boiled eggs, avocado and lots of blue cheese! So tasty it will become your go to summer dinner – guaranteed!
Prep10 minutes
Total10 minutes
Ingredients
12 oz lettuce coarsely chopped
2 hard-boiled eggs peeled and quartered
12 oz cooked chicken sliced
8 slices bacon cooked chopped
1 avocado sliced
½ red onion sliced
6 oz blue cheese crumbled
6 oz cherry tomatoes halved
Instructions
Place the lettuce in a large bowl or platter. Arrange the hard boiled eggs, chicken, bacon, avocado slices,tomatoes, and crumbled blue cheese in rows over the greens. Garnish with herbs and season with salt and pepper, to taste

Drizzle with the dressing of your choice and serve.
Nutrition Information:
Calories: 1889kcal (94%)| Carbohydrates: 41g (14%)| Protein: 80g (160%)| Fat: 159g (245%)| Saturated Fat: 63g (394%)| Polyunsaturated Fat: 18g| Monounsaturated Fat: 68g| Trans Fat: 1g| Cholesterol: 617mg (206%)| Sodium: 3729mg (162%)| Potassium: 2735mg (78%)| Fiber: 19g (79%)| Sugar: 14g (16%)| Vitamin A: 4716IU (94%)| Vitamin C: 68mg (82%)| Calcium: 1061mg (106%)| Iron: 6mg (33%)