Serve up these homemade Iced Cranberry & Orange Swirl Scones for the perfect breakfast treat. The fruity tartness of the cranberries & orange zest is balanced perfectly by the sweetness of the icing.
This is the third version of this recipe I've done. The first was my recipe for Cinnamon Swirl Scones followed by my Iced Raspberry Scones. Both were a big hit and I love thinking up new ways to fill these flaky, buttery scones.
I created these for Christmas. I love the combination of orange & cranberries around the holidays, but I wasn't well and never got a chance to post them. That said, they are so good I think they're great all year round.
These scones are fantastic freshly baked and warm or served the next day (although I have to say I had them warm and thought they were amazing).
They are light, flaky and so good that you will make them again and again! I know they may look complicated to make, but making scones isn't hard and I think they can be made without much effort. If you look at the photos of the two varieties I have already done, you'll see they don't always turn out perfectly shaped, but I can say that they always taste amazing!
The dough is really uncomplicated. The key is to cut the butter into dry ingredients until it looks similar bread crumbs.
After that, you really just mix in the other ingredients with a wooden spoon – simple! After that, you roll out the dough, spread over the filling, roll it up like a cinnamon roll, and cut them out. The filling is just raspberries sprinkled with sugar – really, it doesn't get much more straightforward than that!
For the filling I used, fresh cranberries, orange zest & cranberry jam you can get it here on Amazon.com. (As an Amazon Associate, a small commission is made from qualifying purchases). If you can't find cranberry jam, the jarred cranberry sauce (the kind that's more like a jam; not the canned kind that's like jello-o) will work too.
More Great Breakfast Recipes
★ Did you make this recipe? Please give it a star rating below!
Stay Updated
Receive new recipes & dinner ideas straight to your inbox!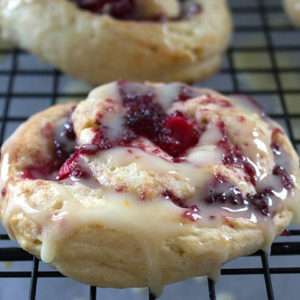 Let's Make
Iced Cranberry & Orange Swirl Scones
These wonderful scones balance sweet and tart flavors to perfection.
Prep15 minutes
Cook20 minutes
Total35 minutes
Ingredients
For the scones:
3 cups all-purpose/plain flour
½ cup sugar
1 tablespoon baking powder
½ teaspoon salt
½ cup cold butter cut into small pieces
¼ cup whipping cream
½ cup milk plus extra for brushing
1 teaspoon vanilla
1 large egg
For the filling:
1 cup of fresh cranberries
the zest of 1/2 an orange
​½ cup cranberry jam/jelly or in the UK jarred cranberry sauce see post for link to buy
For the glaze:
2 tablespoons butter melted
1 cup powdered sugar
the zest of 1/2 orange
3–5 tablespoons freshly squeezed orange juice
Instructions
Preheat the oven to 375°F/190°C

Line a cookie sheet with parchment paper.

In a large bowl, sift together the flour, sugar baking powder, and salt.

Cut the butter into the flour mixture until it resembles coarse bread crumbs.

In a separate bowl, whisk together, the cream, milk, vanilla and egg. Stir in the wet ingredients until combined then turn out onto a lightly floured work surface to completely bring it together with your hands. Press the dough out into a rectangle about 10-x-14-inches.

Spread the cranberries, zest and cranberry jam (as pictured) evenly across the dough.

Roll the dough up tightly from the 10-inch side.

Slice the dough into 8 rounds and place them on a parchment lined cookie tray.

Brush the tops of the scones with milk.

Bake the scones for about 20 minutes until lightly browned. Allow the scones to cool for at least 10 minutes before adding the glaze.

For the glaze:

In a mixing bowl whisk together 2 tablespoons of the juice, the melted butter and powdered sugar.

Add in more juice as needed 1 teaspoon at a time until it is the desired consistency.

Once the scones have cooled ten minutes, drizzle with the glaze and serve.
Nutrition Information:
Calories: 348kcal (17%)| Carbohydrates: 55g (18%)| Protein: 4g (8%)| Fat: 12g (18%)| Saturated Fat: 7g (44%)| Cholesterol: 46mg (15%)| Sodium: 199mg (9%)| Potassium: 197mg (6%)| Fiber: 1g (4%)| Sugar: 26g (29%)| Vitamin A: 430IU (9%)| Vitamin C: 8mg (10%)| Calcium: 71mg (7%)| Iron: 1.7mg (9%)
Are you making this recipe? I love to see your creations so please tag @ErrensKitchen on Instagram and hashtag it #ErrensKitchen