This classic British recipe for Raisin Scones are fantastic straight from the oven or split and toasted the next day. These raisin scones are best enjoyed still warm from the oven and smothered in butter and jam.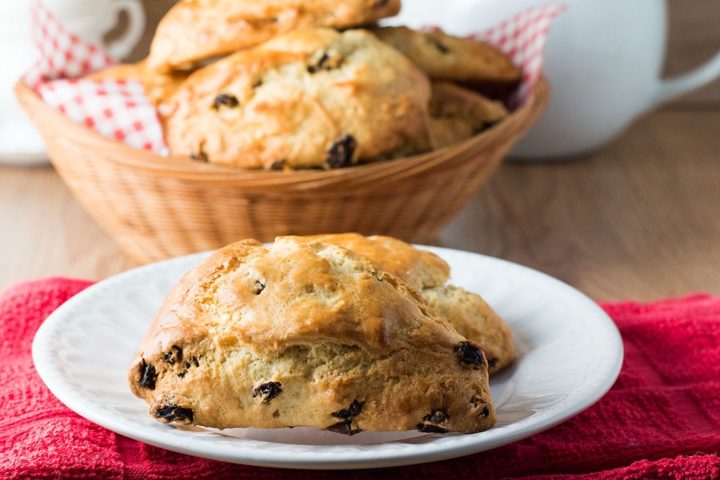 What better breakfast is there than warm scones straight from the oven? Crusty on the outside and fluffy in the middle, these raisin scones are just perfection. Scones are great for a holiday breakfast or brunch, and they make a great weekend treat too.
Scones with raisins are really popular in the UK, but I never cared for them (so I thought), and given the choice, I have always gone for plain. Boy! was I wrong because these really are outrageously good!
Making scones is so much simpler than you'd think. It's really quite simple. To make them, I start with cold butter cut into cubes. The cubed butter is added to the dry ingredients. It's coated and then I rub the butter into the flour between my palms to create flat shards of butter.
Mix in the wet ingredients, turn out onto a floured surface, roll out into a disc, and cut into wedges.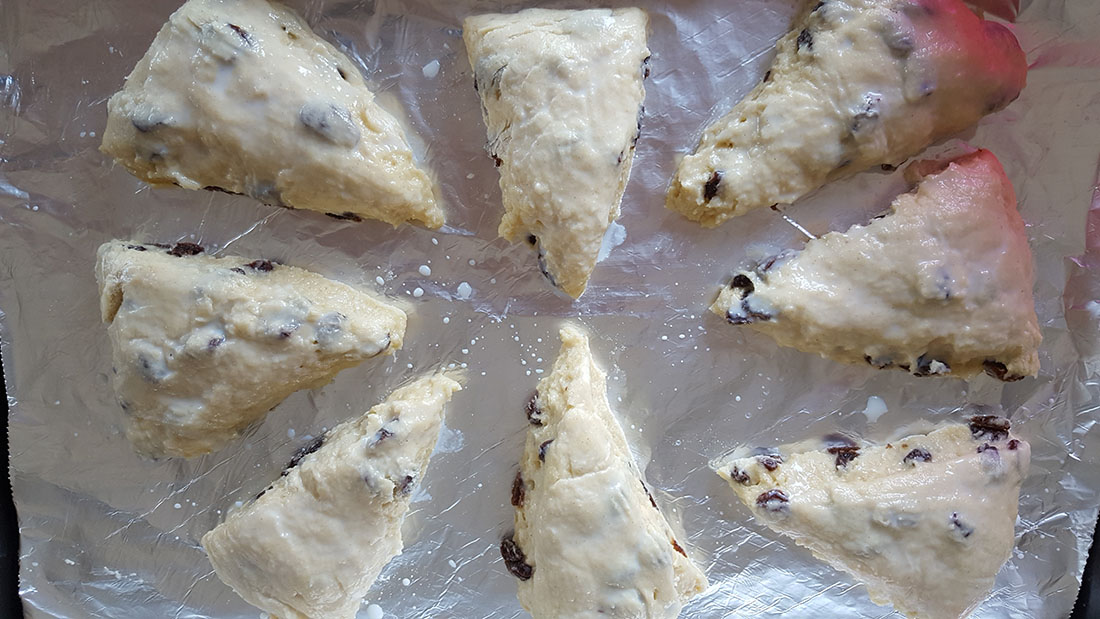 Coat with milk before baking on a baking sheet lined with nonstick foil (you can use baking paper, but I find the nonstick foil works best)
Serve Warm!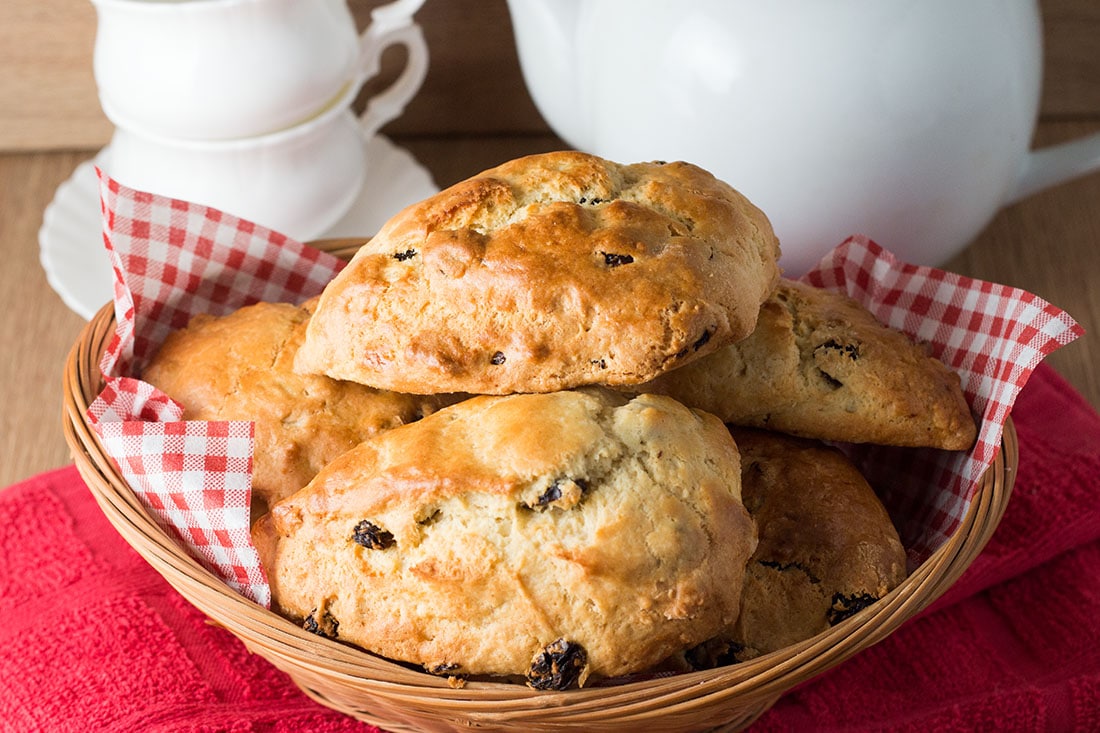 I think butter jam makes the perfect treat.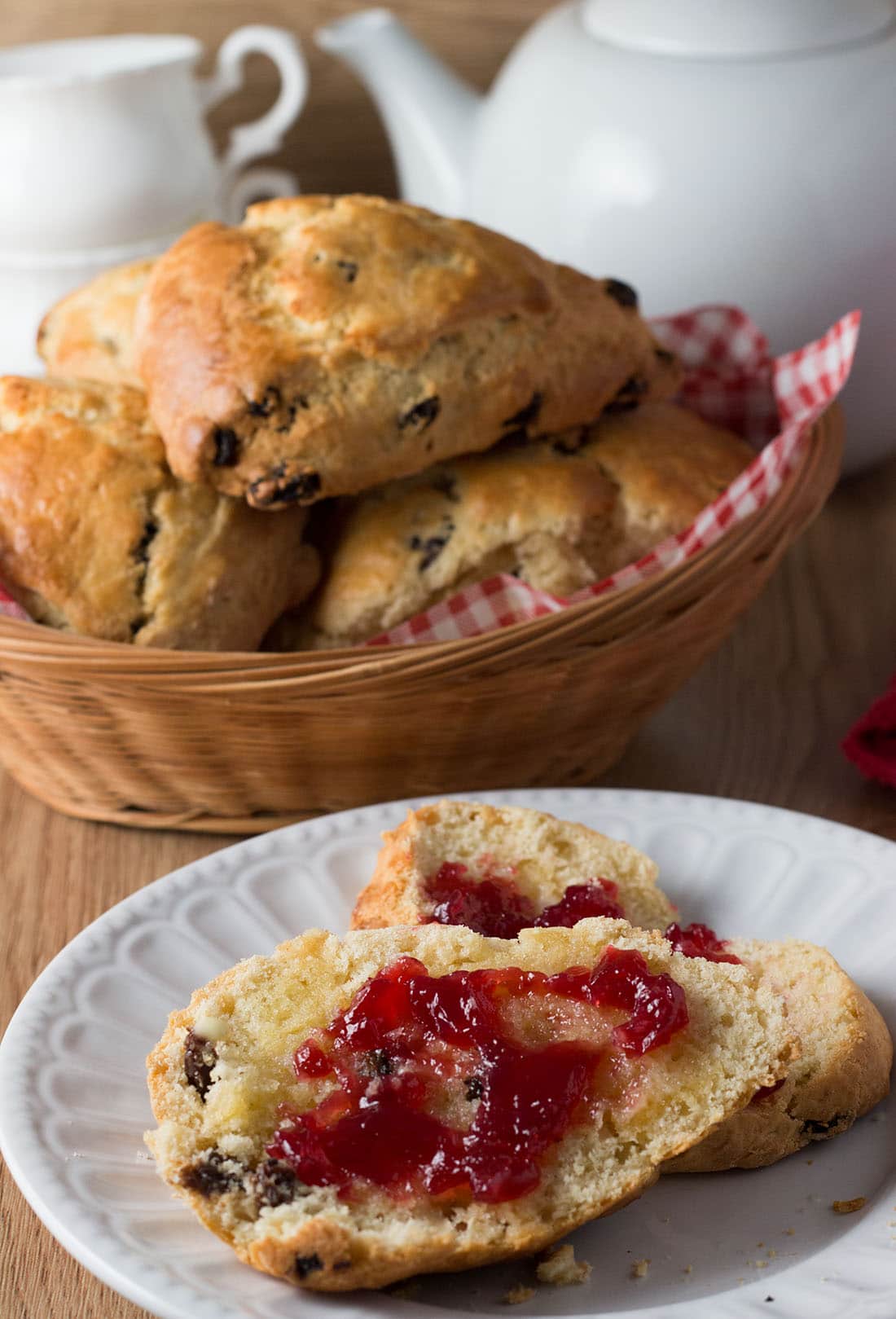 In my opinion, these are best served when they are still a bit warm. That's when they melt in your mouth. Yes, they are definitely still good once they cool completely, but just like many other baked goods they are outstanding when eaten warm.
More Great Breakfast Recipes
Stay Updated
Receive new recipes & dinner ideas straight to your inbox!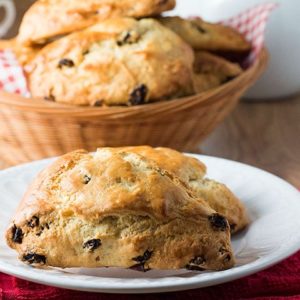 Let's Make Raisin Scones
This classic British recipe for Raisin Scones are fantastic straight from the oven or split and toasted the next day.
Prep15 minutes
Cook20 minutes
Total35 minutes
Ingredients
3 cups all-purpose flour
½ cup granulated sugar
2 egg
2 tablespoons baking powder
½ teaspoon salt
4 oz butter (½ cup, 1 stick, 8 tablespoons), cut into small cubes
1 cup cream or milk
1 cup raisins
Instructions
Preheat oven to 375F.

Sift together the flour, sugar, baking powder and salt.

Add the cubed butter into the flour mixture, coat, and work into the flour by rubbing between your palms to flatten the butter into the flour until it resembles large crumbs then mix in the raisins.

In a separate bowl, beat together the cream and eggs.

Mix the egg mixture into the flour mixture to bring together. If it's too sticky, add a little more flour. If the mixture seems too dry add more cream until the dough comes together.

Scoop the mixture out onto a lightly floured surface and with floured hands, knead until smooth and free of cracks, about 25 to 30 times.

Place a piece of parchment paper that is measured to your pan size onto your surface and dust the paper lightly with flour. Transfer the dough onto the paper and press the dough gently into a disk. Then using a floured rolling pin, roll the disk into a 9-inch round, about 1 inch thick.

Transfer the paper with the dough onto a sheet pan and cut it into 8 equal-sized wedges. Brush with milk and bake 20-25 minutes or until golden.
Tips + Notes
If you are outside the US or Canada, Please use the Metric recipe (by clicking the metric button above the ingredients in the recipe). Ingredients like flour and butter are different from country to country. The metric recipe is not a conversion but a recipe that differs according to the ingredients available in your region (when I lived in the UK, I created the metric recipe using European ingredients). Happy Baking!
Nutrition Information:
Calories: 412kcal (21%)| Carbohydrates: 65g (22%)| Protein: 8g (16%)| Fat: 14g (22%)| Saturated Fat: 8g (50%)| Cholesterol: 74mg (25%)| Sodium: 284mg (12%)| Potassium: 558mg (16%)| Fiber: 3g (13%)| Sugar: 14g (16%)| Vitamin A: 463IU (9%)| Vitamin C: 1mg (1%)| Calcium: 186mg (19%)| Iron: 3mg (17%)