This recipe for Slow Cooker Honey Soy Glazed Chicken makes delicious, tender chicken in a sweet and sticky soy glaze. Perfect for a weeknight dinner.
I know you don't often see slow cooker Chinese food when you can whip up a stir fry in no time, but cooking this dish in the slow cooker makes the chicken melt in your mouth tender.
Plus you have the added benefit of throwing it together in the morning and coming home to a meal that requires almost no effort at all.
When I made this, I told my husband to be warned that I was trying something new and it was the first try at developing the recipe, so he knew that it might now be as good as it could be.
He watched me throw it together and wasn't at all convinced it would turn out any good. The sauce was quite thick when I added it to the slow cooker and he thought it would burn, but my slow cooker builds up a lot of condensation that drips into the food as it cooks and thins out everything I cook in it. If your slow cooker doesn't do that, I would suggest saving the thickening until the end so it doesn't around the sides.
This was my first and only attempt at developing this recipe. It came out absolutely perfect and the whole family just loved it/ I hope you do too. Why not serve alongside some of my other amazing Chinese recipes, such as Perfect Chinese Noodles (Lo Mein) and Slow Cooked Chinese Duck with Plums, for the ultimate Asian feast! Loved glazed dishes? why not try my Glazed Salmon too?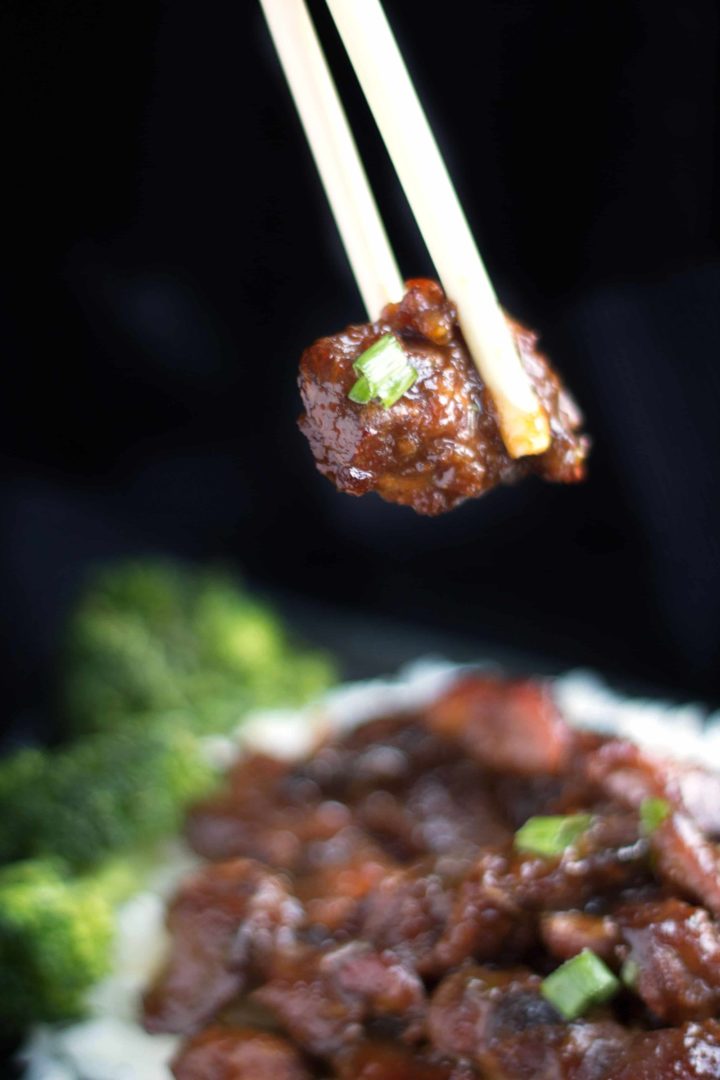 Stay Updated
Receive new recipes & dinner ideas straight to your inbox!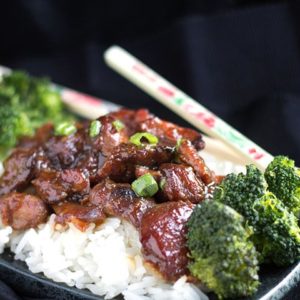 Let's Make Slow Cooker Honey Soy Glazed Chicken
This wonderful recipe will give your weeknight dinners a boost.
Prep15 minutes
Cook4 hours
Total4 hours 15 minutes
Ingredients
1-2 Tablespoons vegetable oil
2 pounds boneless skinless chicken thighs, cubed
3 tablespoon cornstarch
2 cloves garlic chopped
4 green onions sliced into rounds
¼ cup honey
¼ cup light soy sauce or low-sodium soy sauce
¼ cup dark soy sauce true dark soy sauce should not be salty it's more for color & some flavor
½ cup rice wine vinegar
¼ cup brown sugar
freshly ground black pepper
1 cup cold water
Instructions
Coat the chicken in the cornstarch.

Heat 1 tablespoon of oil over medium-high heat in a large frying pan. Brown the chicken on all sides.

If needed, add the rest of the oil to the pan. Quickly saute the onions and garlic together with the chicken for about a minute just to soften and release the flavors.

Lower the heat and add the honey, dark & light soy sauce, rice wine vinegar, and black pepper. Mix until combined. Slowly add the water and stir to combine. Mix in the brown sugar stirring until dissolved. bring the mixture to a boil to thicken.

Pour the mixture into the slow cooker, cover and cook on low for 4-6 hours, or until the chicken is cooked through and tender.

Serve over rice.
Nutrition Information:
Calories: 467kcal (23%)| Carbohydrates: 40g (13%)| Protein: 52g (104%)| Fat: 9g (14%)| Saturated Fat: 2g (13%)| Cholesterol: 142mg (47%)| Sodium: 1184mg (51%)| Potassium: 968mg (28%)| Sugar: 31g (34%)| Vitamin A: 120IU (2%)| Vitamin C: 2.7mg (3%)| Calcium: 40mg (4%)| Iron: 2.2mg (12%)