This phenomenal recipe for Fresh Strawberry Cupcakes with Whipped Cream Frosting uses fresh strawberries to both flavor & color the cake.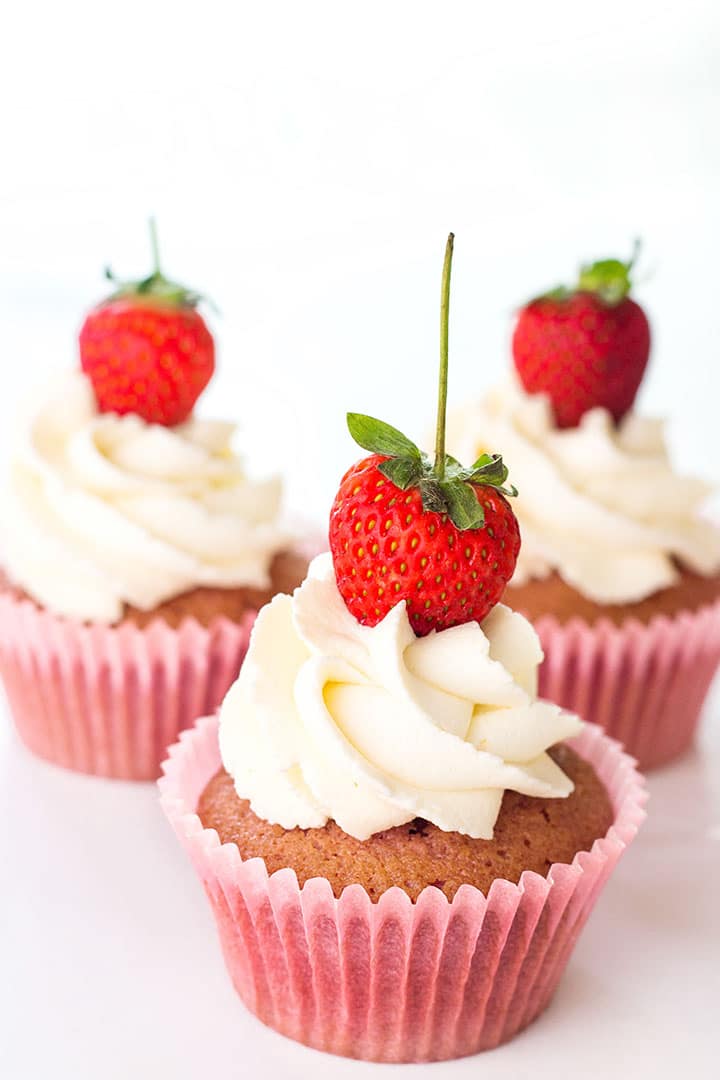 This cupcake recipe makes soft, tender and moist strawberry cupcakes packed with fresh strawberry flavor and topped with a whipped cream frosting that is absolutely fantastic.
The best part is these cupcakes have no artificial colors or flavors. Just pure, fresh strawberry in every bite.
There's something really special about a great cupcake. Maybe it's the swirl of frosting that adorns the dainty, delicious cakes or the simple nostalgia of knowing it was made with love. Either way, little fancy cupcakes are one of my favorite desserts in the world.
This time of year, when I bake, I love to bake with fresh seasonal fruit and while living in England, nothing says British Summer like Strawberries.
Why this recipe works:
Pureeing and cooking down the strawberries instead of adding chopped strawberries adds flavor without worrying about the wet, weighed down cake you often get from fresh fruit in the cake.
The reduced strawberries add a lovely pink color to the cake without artificial food dyes.
The fresh whipped cream is the perfect match to the fresh strawberry flavor in the cake – what could be better than Strawberries and Cream?
Before I go into how to make the cupcakes, I just have to stress how unbelievably delicious this whipped cream frosting is! It is fresh, creamy and oh so scrumptious! I'm telling you that once you try it, it will become a favorite you use time and time again.
I've used the whipped cream in countless recipes on this site. To name a few, it's used with my Vanilla Cream Sponge Cake, Banoffee Pie, Dark Chocolate Cream Horns, and many more. It's a family favorite!
Here's how to make the cupcakes:
Clean and hull the strawberries and add them to a food processor.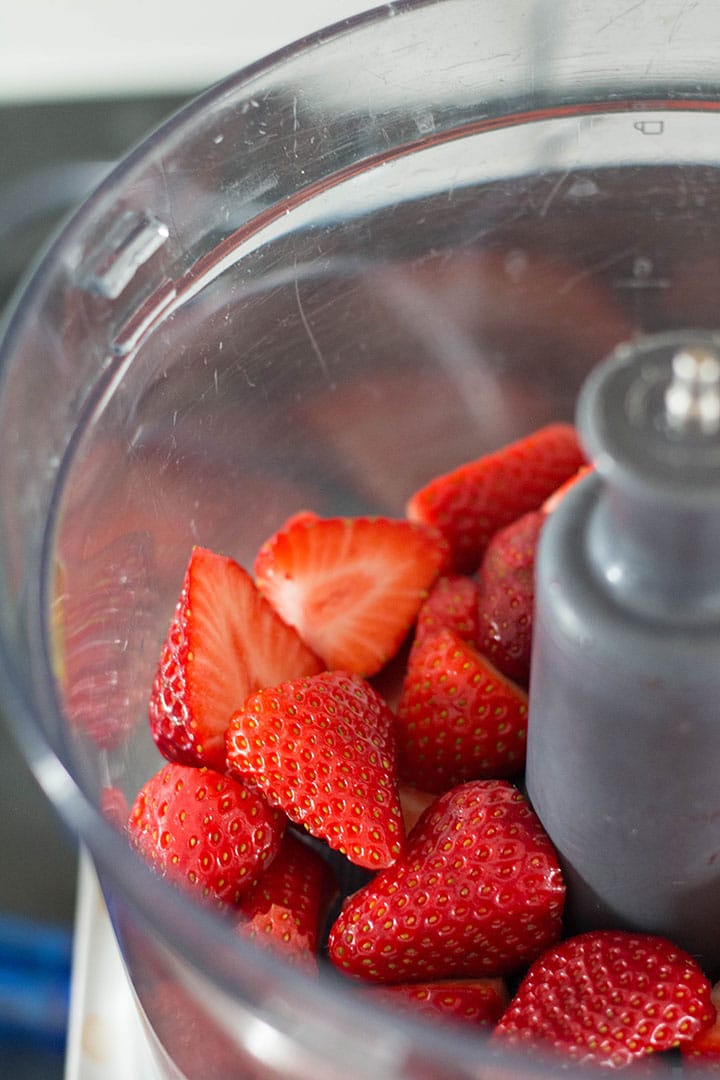 Puree until fully broken down.
Place a strainer over a saucepan and strain the seeds from the puree.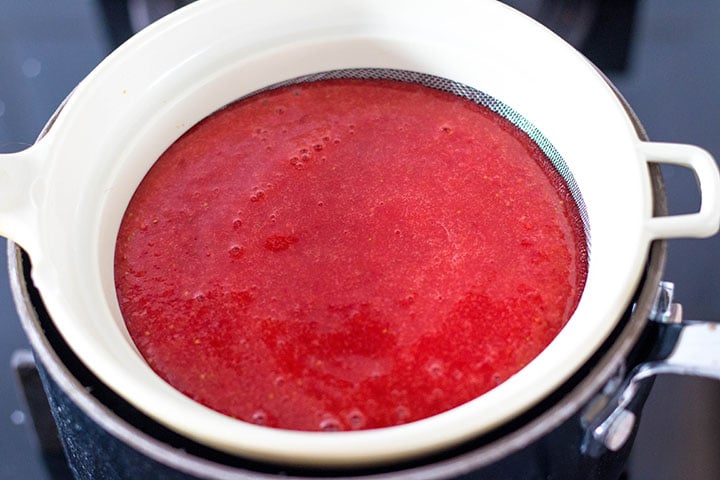 Bring juice to boil over medium-high heat and cook (stirring occasionally), until reduced to 1/2 cup of syrupy liquid.
Set aside to cool while preparing the ingredients for the cake.
Start the cake by creaming the butter and sugar together until light and fluffy.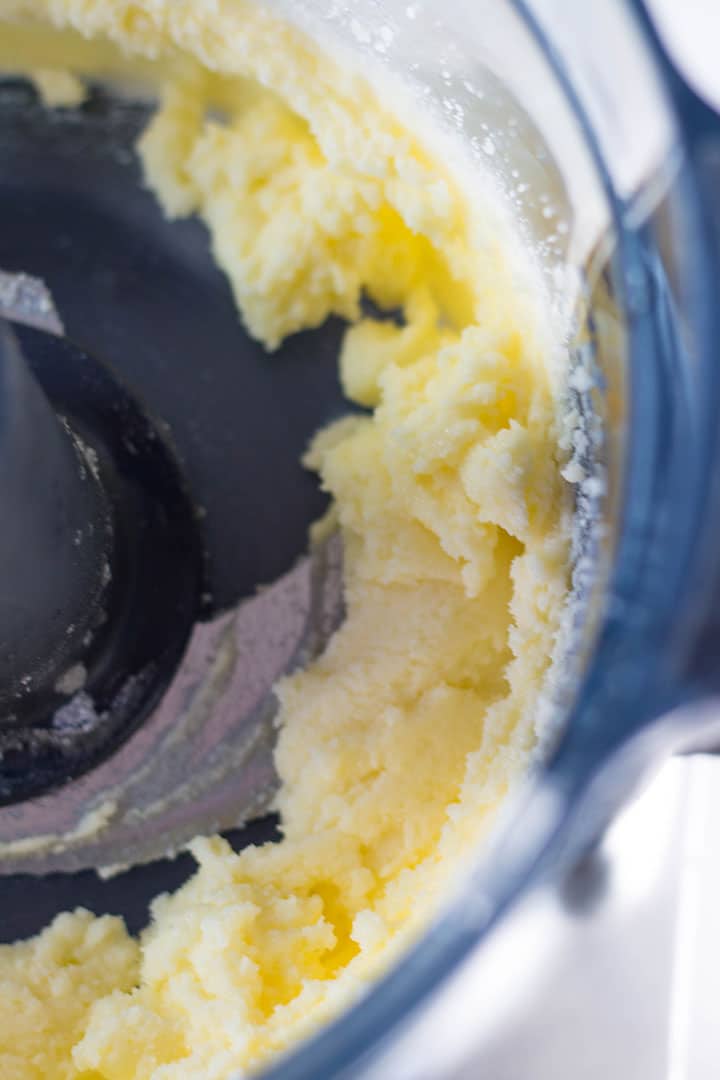 Add the milk and strawberry reduction.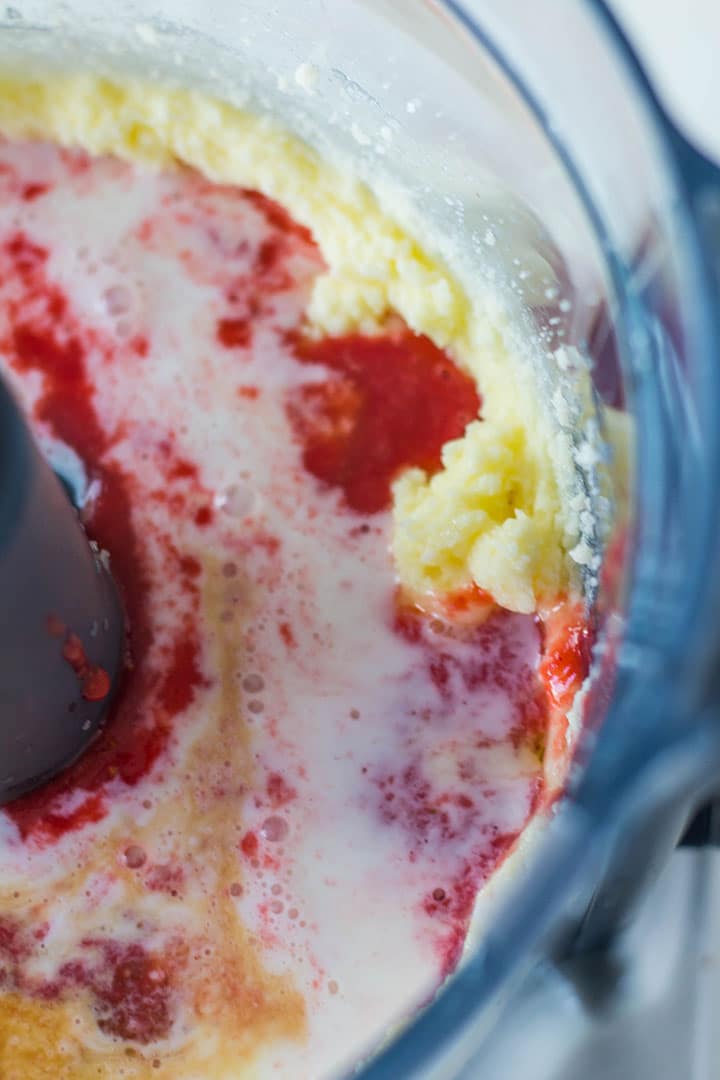 Beat until smooth.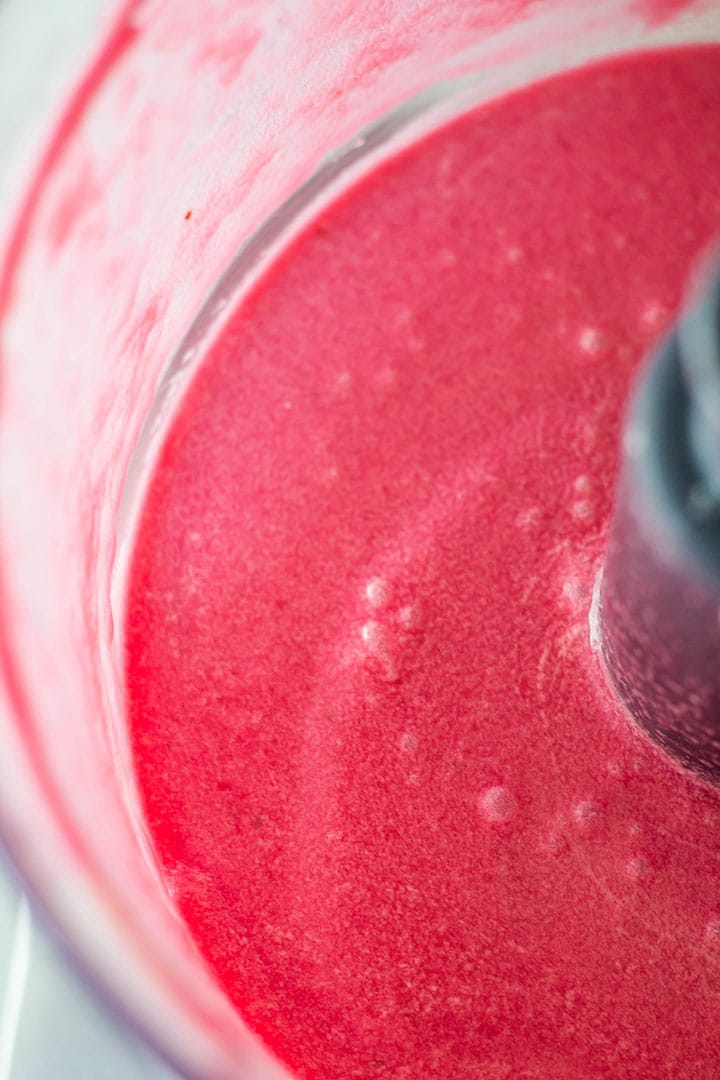 Add the eggs.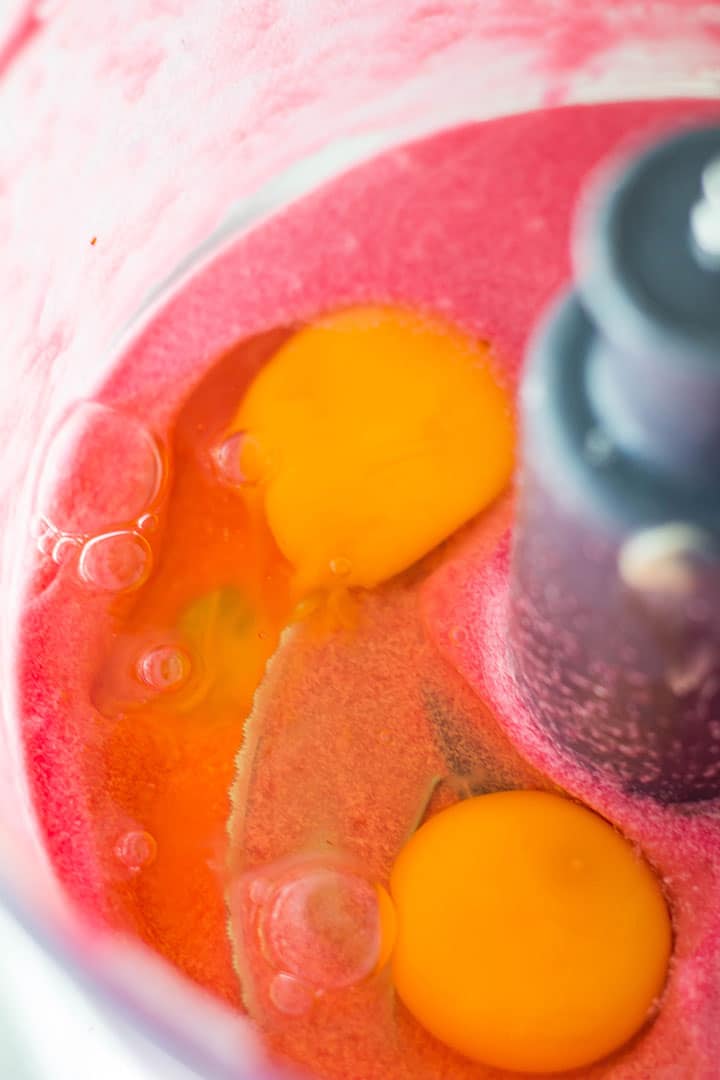 Followed by the vanilla and mix until combined. Add the remaining dry ingredients.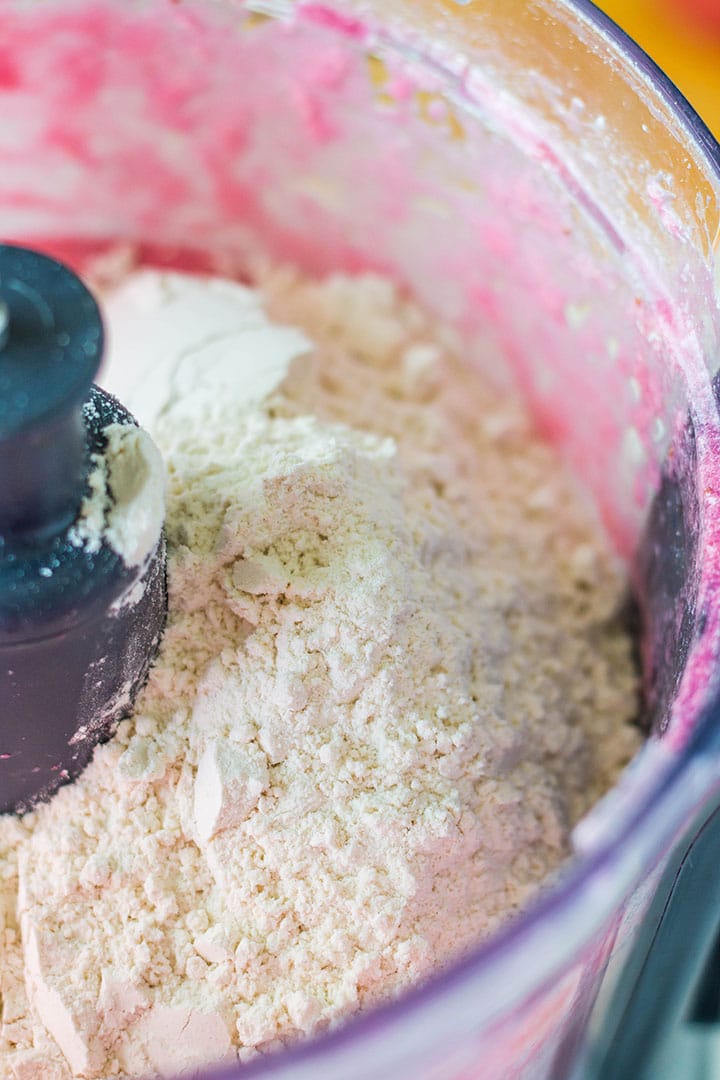 Mix until just combined being careful not to over mix.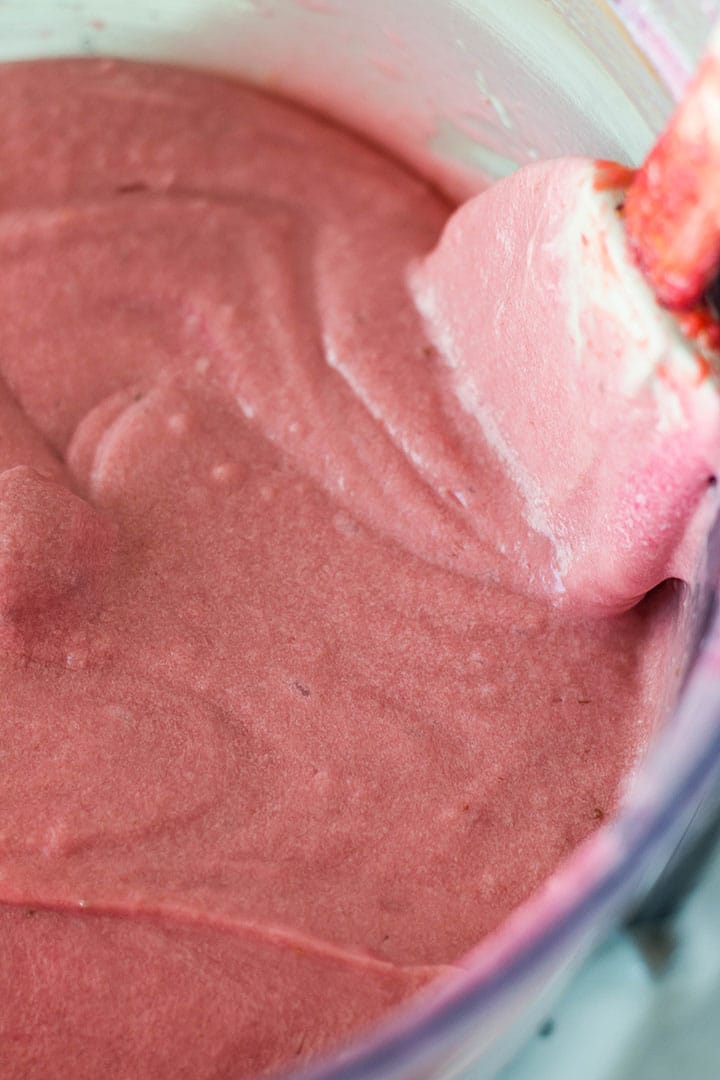 Using an ice cream scoop (to ensure uniform cupcake sizes), add the batter to the cupcake papers in the pan.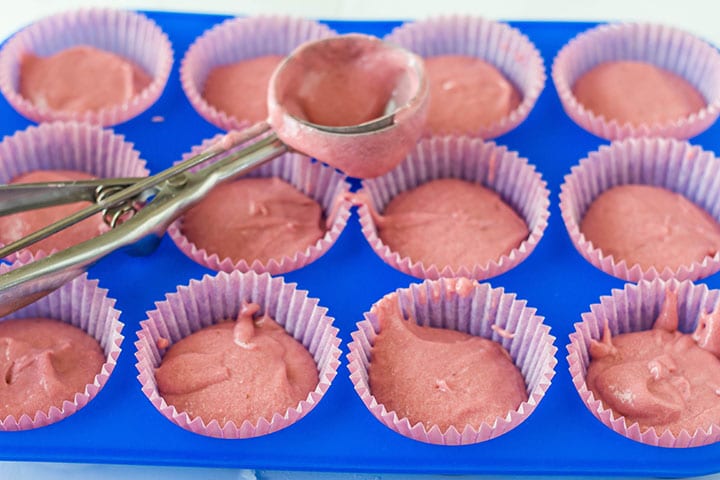 Bake.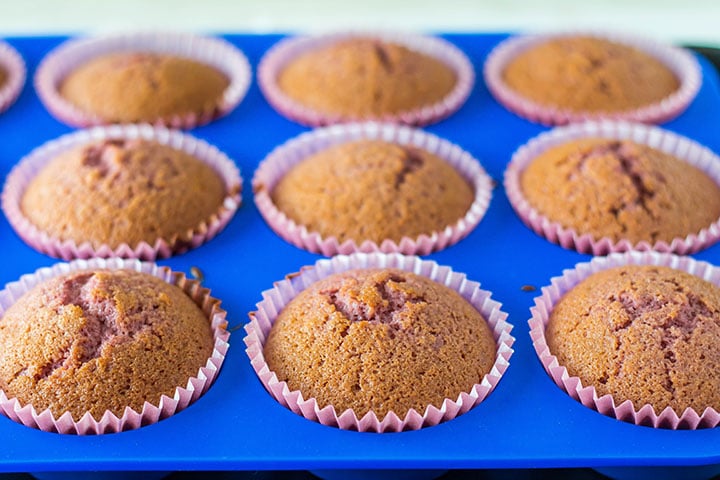 Allow to cool completely before frosting.
To make the whipped cream:
Place all of the ingredients in a food processor (or mixer).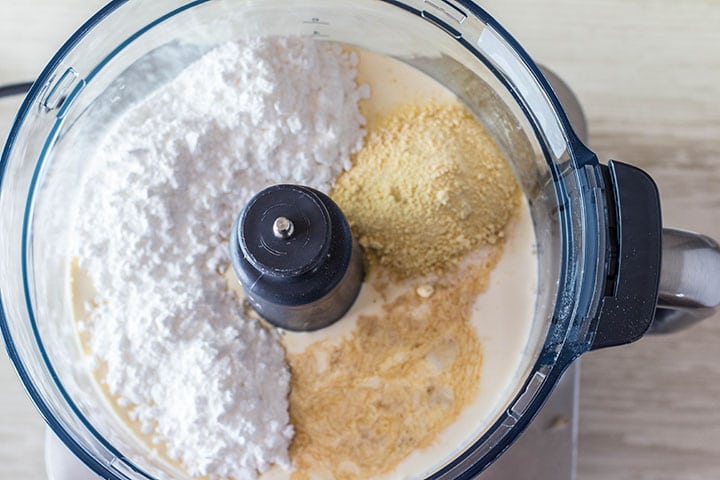 Whip using the regular blade attachment until thick (you'll see ripples form in the thick cream).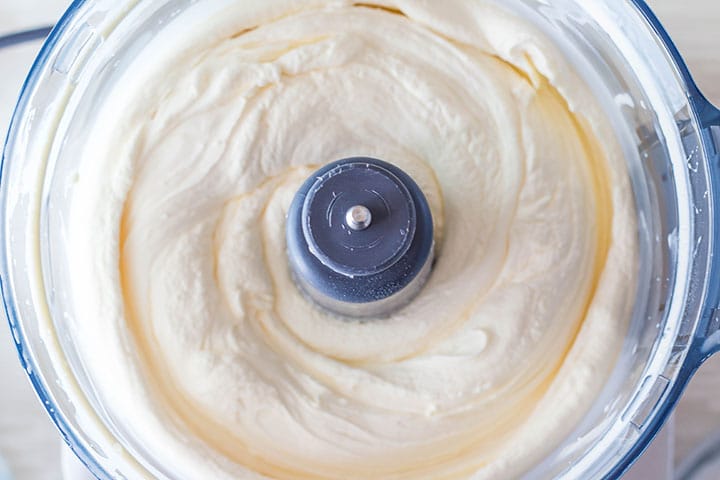 You'll know it's done when you can run a spoon through it and the cream doesn't collapse into the crevice formed. You'll also be able to lift the blade with the cream on it without the cream falling off when tilted.
Once the cupcakes are cooled, swirl on the whipped cream frosting. This frosting holds its shape for days without flattening.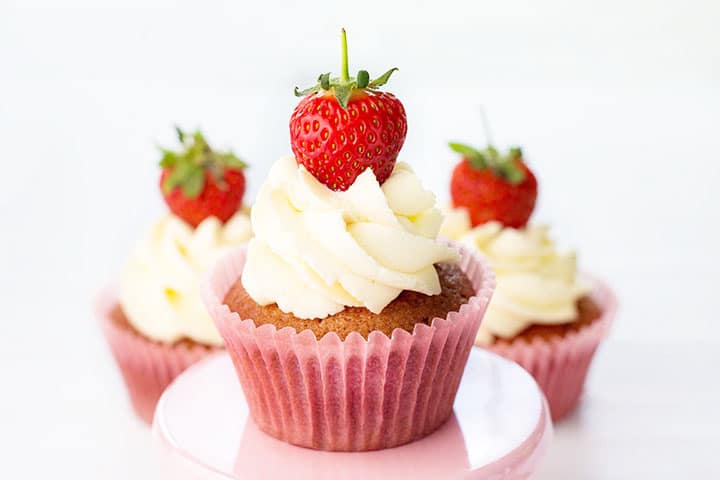 Baker's Tips For This Recipe:
When straining the pureed strawberries, place the puree into a fine-mesh strainer and firmly press the mixture through the strainer, mixing and scraping along the way to keep the strainer from being clogged with seeds.
When cooking down the strawberries, once it reduces by half, start measuring the liquid. You want it to reduce down to half a cup, but don't stop too early. You want to get the most flavor out of the reduction as possible.
When making the whipped cream in a food processor, watch for the waves that form in the thickening cream. Over mixing may result in an overly thick, butter consistency that can curdle.
If you like a large swirl of whipped cream It may be a good idea to double the whipped cream recipe. This recipe makes 12 large cupcakes (paper's 3/4 full) so if you like I big swirl, buy enough to double just to make sure you have enough to cover all of the cupcakes.
Tips for Perfect Cupcakes:
Use good quality ingredients. The difference between things like 'vanilla flavoring' and pure vanilla extract is monumental in the quality of your cupcake flavor. This goes for high-quality cocoa powder in chocolate cakes and butter over margarine.
Always have your ingredients at room temperature. When you use chilled eggs or milk in the cake batter, they won't combine as well with the dry ingredients. Ingredients that are Poorly combined can cause a cake to be too dense rather than light and fluffy.
Be careful not to overbeat the batter. It's good practice to beat cake batter on low until ingredients have just combined. Over mixing the batter can result in a cupcake that's flatter, denser, and cause a tighter grain (almost bread-like).
Use an ice cream scoop to add the batter to the pan. This not only ensures that the cupcakes are uniform in size, but that they bake evenly too.
Always Pre-heat your oven. I know it's one of the first things in every recipe and you may think I shouldn't have to say it, but I'm going to say it – Preheat your oven. If your oven isn't thoroughly preheated, your cupcakes may not bake properly. They can end up uneven or won't rise properly.
Invest in an oven thermometer and use it to check the temperature of your oven before baking. An oven thermometer can take the guesswork out of over and undercooked cupcakes and ensure you actually are using the correct temperature that the recipe calls for.
★ Did you make this recipe? Please give it a star rating below!
Stay Updated
Receive new recipes & dinner ideas straight to your inbox!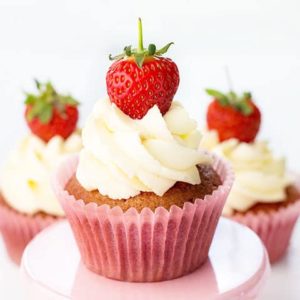 Let's Make Strawberries and Cream Cupcakes
These super moist Strawberry cupcakes with whipped cream frosting reign supreme in the cupcake world. Soft, fluffy, and bursting with fresh strawberry flavor. Homemade tastes so much better than a box!
Prep15 minutes
Cook20 minutes
Total35 minutes
Serves: 12 Large Cupcakes
Ingredients
For the cupcakes:
1 lb fresh strawberries cleaned and hulled for the batter
¾ cup butter softened
1¾ cups granulated sugar
½ cup milk room temperature
2 large eggs room temperature
2 teaspoons vanilla extract
2¼ cups all-purpose flour
2 teaspoons baking powder
½ teaspoon salt
For the cream:
1¼ cups Whipping Cream
6 tablespoons powdered sugar
1 teaspoons vanilla extract
1 tablespoon skimmed milk powder
Instructions
For the Cupcakes
Preheat oven to 350°F. Line A12-count muffin pans with cupcake liners.

Add the hulled strawberries to a food processor and puree until fully broken down.

Place a strainer over a saucepan and strain the seeds from the puree, mixing and scraping the strainer to stop it from being clogged by seeds.

Bring strained liquid to boil over medium-high heat and cook (stirring occasionally), until reduced to a ½ cup of syrupy liquid. Set aside to cool while preparing the ingredients for the cake.

Cream the butter and sugar together until light and fluffy. Add the milk and strawberry reduction and blend until smooth. Mix in the eggs and vanilla.

Add the flour, baking powder and salt. Mix until combined.

Using a large ice cream scoop, fill the cupcake liners 3/4 of the way full. This recipe makes 12 large cupcakes.

Bake for 20 minutes or until the tops of the cupcakes spring back when gently touched and a cake tester comes out clean.

Allow to cool in the pan for 5 minutes, then transfer to a rack to cool completely.
To make the frosting:
Add all of the ingredients into a food processor or mixer. Whip until thick (You'll know it's ready to use when you run a spoon through it and it doesn't collapse into the crevice).
Decorating the cupcakes:
Using a piping bag, swirl the icing onto the cupcakes and top each one with a strawberry.
Nutrition Information:
Calories: 439kcal (22%)| Carbohydrates: 56g (19%)| Protein: 4g (8%)| Fat: 22g (34%)| Saturated Fat: 13g (81%)| Cholesterol: 93mg (31%)| Sodium: 226mg (10%)| Potassium: 176mg (5%)| Fiber: 1g (4%)| Sugar: 36g (40%)| Vitamin A: 785IU (16%)| Vitamin C: 29.5mg (36%)| Calcium: 61mg (6%)| Iron: 1.4mg (8%)